Plastic dishes are very popular today, because they become indispensable when a large number of guests arrive, picnics or hikes. For the first time, plastic glasses began to be made in the United States, and later plastic plates, spoons, forks and knives appeared, which are widely used around the world. Modern needlewomen have found another use for plastic forks: they learned how to make original crafts out of them. In this article, you will learn how to make a snow-white herringbone made of plastic forks.
Materials (edit):
– disposable wine glass;
– plastic stand for wine glass;
– disposable forks -76 pcs;
– glue gun;
– cotton buds.
Master class: Christmas tree made of plastic forks
Buy a couple of packs of forks in advance so that they are enough for making a craft. Take a clean and dry plastic glass – you will stick the forks on it.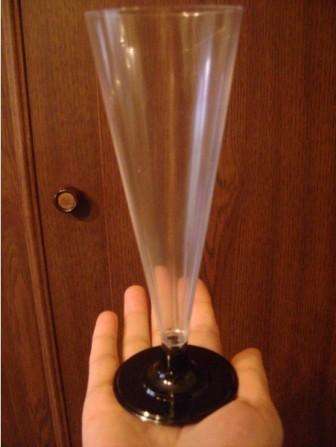 For the wine glass, pick up two coasters that you want to glue together. You will have a solid base for your Christmas tree..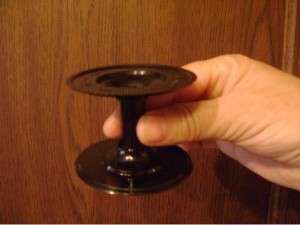 Now turn the glass over and glue it with its wide part to the workpiece from the coasters. You have a cone-shaped shape for a Christmas tree..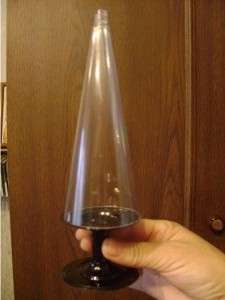 Also read: Christmas tree made from a bottle of champagne and chocolates
Cut off some of the forks, but it is important that they are all the same length. Start gluing the Christmas tree forks from the bottom of the glass.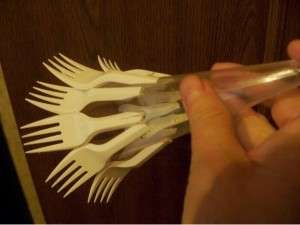 After gluing the bottom row, proceed to the next one, while the forks are glued in a checkerboard pattern. Continue gluing the forks all the way to the top of the tree. When doing this, gradually shorten the plastic handle..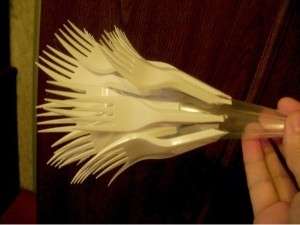 Take a few cotton swabs and fold them crosswise. You will have a snowflake. It can be glued to the top of the tree.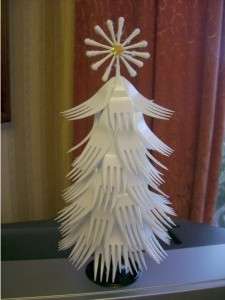 If you want the craft to be green, cover the tree with spray paint. Winter beauty is ready.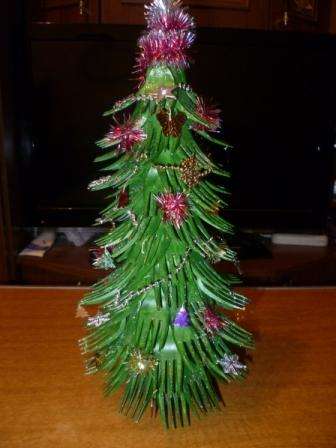 A Christmas tree made of plastic forks can be made in different ways. For example, if you do not have disposable glasses and stands for them, use several plastic sour cream cups. The basic principle of the craft is to prepare a cone-shaped base and glue it over with disposable forks. You can make a frame of a tree out of cardboard or a plastic bottle with your own hands..
A beautiful plastic Christmas tree can be used as a winter interior decor. Such a craft is easy to do with children in kindergarten, as it requires minimal costs and looks very creative. Do not rush to throw out the used disposable tableware, because it can be used for needlework.