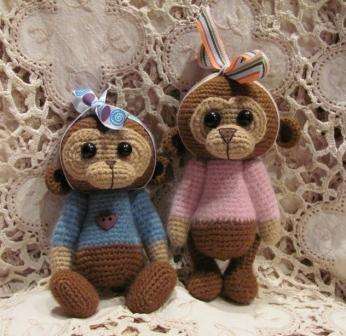 Monkeys are funny animals that, due to their direct nature, are liked by both adults and children. Soft toys in the form of this animal will amuse any child and will please an adult. How to make a DIY monkey craft? In this article we will tell you about how to crochet a monkey in the amigurumi style. A simple master class will help you make a funny toy monkey, which will become a wonderful gift and decorate the interior of a children's room.
Materials:
– Knitting;
– hook;
– beads;
– filler for toys.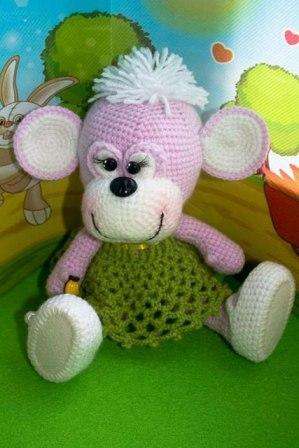 We remind you, the decoding of the designations in the diagrams:
Air loop – VP
Column with crochet – CH
Stobik without crochet – RLS
Connecting Column – SS
Amigurumi monkey master class
Begin knitting at the top of the head and finish at the end of the torso. There will be 29 rows in total and you will have a beautiful monkey..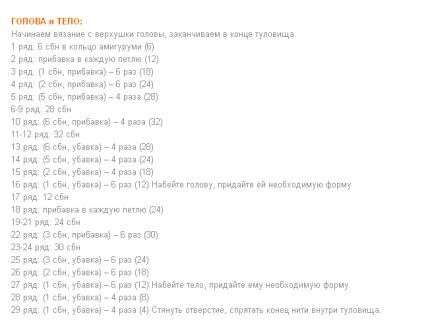 Weaving begins with an amigurumi ring of six single crochets. See the diagram and repeat the weaving. When the head is ready, fill it with padding polyester. Also fill the torso with padding polyester.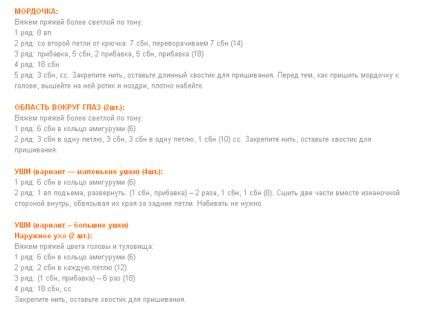 The muzzle and ears of the monkey are woven separately, also according to the pattern. Separately knit the handles, legs, fill them with padding polyester. Don't forget to combine yarns to make your monkey look funny and cute..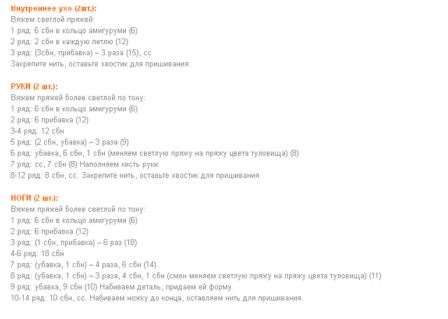 Also read: Sock monkey master class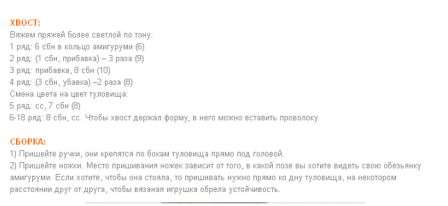 You can crochet a monkey of any size.
If you make her long front legs and insert wire into them, you can make a curtain holder toy. Separately, you can knit clothes for the monkey. Make your hair from cut threads.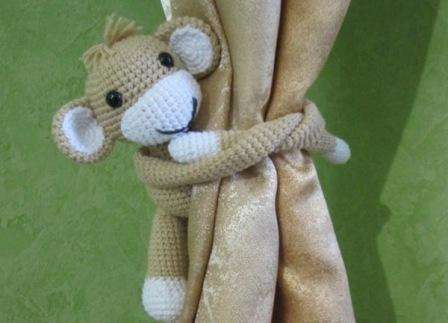 Original curtain holder
Useful video: How to knit amigurumi toys
Amigurumi is one of the most popular areas in needlework. Crocheted toys from threads are very original. They can be of different sizes with unique emotions, it all depends on the imagination of the needlewoman.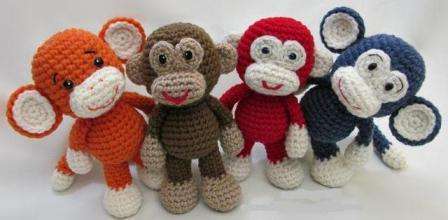 The principle of this knitting technique is in a spiral without closure. All parts are tied separately and then connected. At the heart of knitting amigurumi toys are spiral columns without a crochet, so learning this type of needlework is quite simple.
Amigurumi crochet monkey, will be a great gift for loved ones. DIY toys have an interesting appearance, and they are also safe, so they are suitable for small children. Now every mother can provide her child with quality toys.