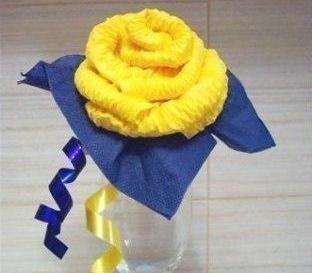 Paper napkins appeared in the 20th century and greatly facilitated the setting of the festive table. Modern needlewomen have learned to make various flower arrangements from napkins, which add a special flavor to the table setting. In this article, you will learn how to make flowers from napkins..
Rose from napkins
Today, in order to make a flower from napkins, you can use single or multi-layer napkins of different colors. If you want to make a rose, you will need two colors of napkins – for the bud and the stem. First, take a bud napkin and cut off 1/3 of it.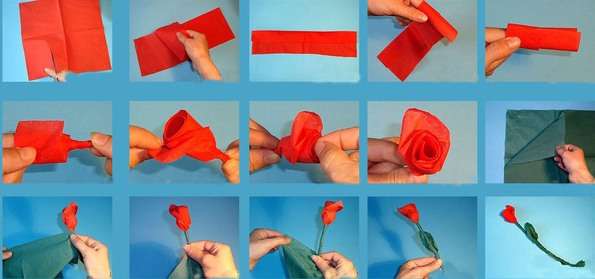 After that, bend it in half and start twisting it around your index finger. Then begin to spread the bud and shape the transition to the stem. Now take a green napkin and wrap it so that you get a stem. Form the leaf immediately.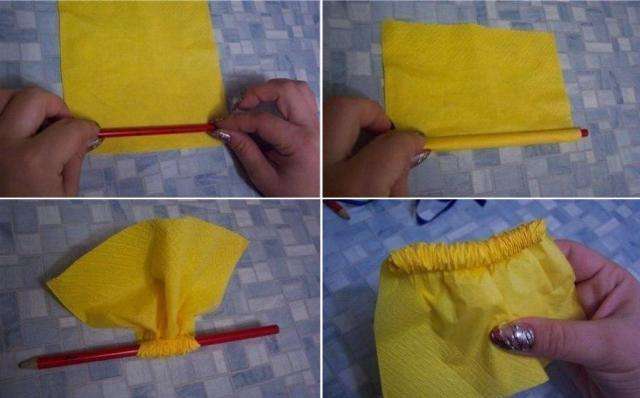 A rose can be made in another way. To do this, you need to lay out a napkin and wrap it around a pencil. After that, squeeze the napkin and take out the pencil..

Blanks are obtained, which can then be easily turned into a rose. At the bottom, the blank can be tied with a ribbon and decorated with another napkin of a different color..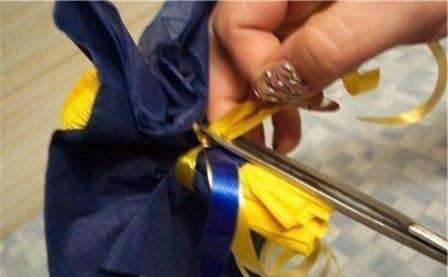 You can put such a rose in glasses or on a plate..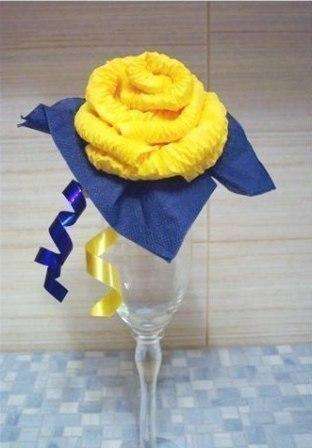 See also: Fabric flowers
Napkin dandelion
Multi-layered flowers from napkins can be made not only for decorating the table, but also for DIY crafts in school or kindergartens. To make a panel with a dandelion, you will need yellow and green napkins, as well as the base on which they need to be glued. Take a three-layer napkin and fold it several times. Then cut into small squares, the width of which will be equal to the diameter of the flower. The squares are superimposed on each other, and after that they need to be cut so that circles are obtained..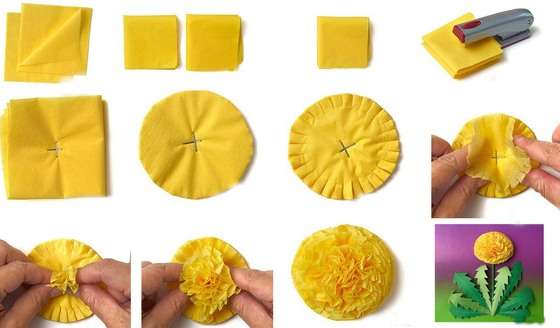 Take a stapler and insert the staples in the center at right angles. Now it remains to lift each circle up in order to slightly fluff the flower. You can cut dandelion leaves out of colored paper and glue them and the flower onto cardboard. The dandelion panel is ready. Similarly, you can make various flowers that will decorate your room or will be used for wedding decor..
Watch a useful video: How to make a rose from a napkin
Cloves from napkins
To make a carnation, you will need a three-layer napkin that needs to be folded like an accordion. You can tie a wire in the center of the napkin and begin to lift the edges of the accordion to form a bud. After that, you can fix the finished buds on the stems and insert into a vase. Carnations are not only red, but also white and pink, so you can get a fairly original composition.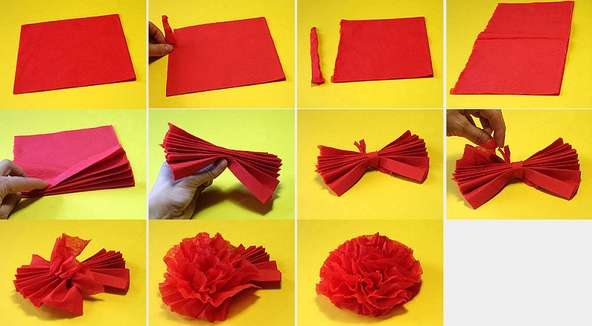 Napkin carnation – DIY flowers
It is quite simple to make flowers from napkins with your own hands, while they will look original both on the panel and on the festive table.
Watch a helpful video: Napkin Clove
Imagine and improve in different directions of needlework.