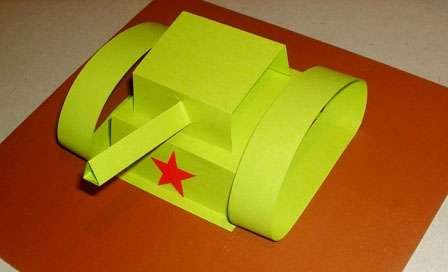 We all know perfectly well that children love military equipment. Today we will tell you about the tank. But the conversation will not be about a metal military machine that works on the battlefield, but about a do-it-yourself paper craft, a toy. Boys are the future defenders of the Motherland, the country.
Making a paper tank is extremely interesting. So, it is necessary to tell how we will make the craft of military equipment with our own hands. To work, you will need PVA glue, colored paper (cardboard) in green and red, and, of course, scissors. Use a pencil and ruler to complement.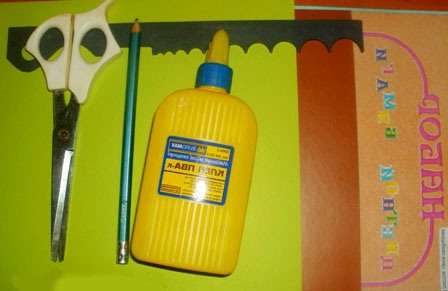 Paper tank for beginners, master class
Initially, we start creating tracks for a combat vehicle. Two strips of three centimeters wide and 22 in length are cut out of paper. Next, you need to carefully bend the strips, making a ring. We glue the edges with PVA.

A rectangular shape is cut out of green paper. We take the dimensions 8 by 14 centimeters. Now from two edges you need to step back about half a millimeter and mark with a line. Now we measure three centimeters from each resulting line to the center of the figure. We draw lines. It is imperative to check the evenness of the measured lines several times..

Now, along the marked lines, we make bends so that we get the hull of the future tank. The next task is to make a tank turret. Cut out a rectangle from green cardboard. Dimensions – 8 by 10 centimeters. From the edges we measure the distance of 5 millimeters and 2 centimeters. Draw bends along the lines.
Cut a rectangle out of a 6 by 10 centimeters rectangle and fold it in half twice. We carry out a triangular barrel shape. To do this, we make cuts along the edges and glue the part..

As soon as all the parts of the tank are ready, we proceed to its assembly. Initially, the muzzle is glued to the tower, and then the tower itself is glued to the hull.

When everything is ready, we put caterpillars on the tank made of thick paper.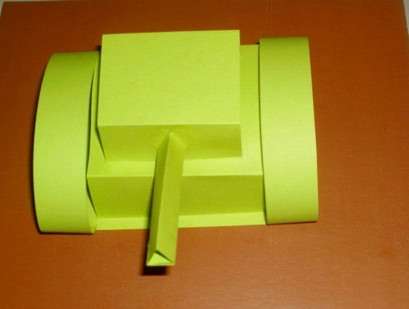 DIY paper tank, diagram for beginners
Why did we need red cardboard? And so that now you can cut out a star and stick it on the front side of our military equipment from paper.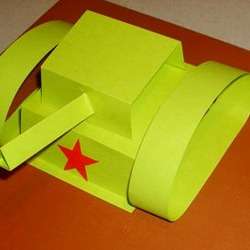 That's all. The work takes about half an hour, even for beginners. Your child will happily do this kind of paper craft and teach his friends.