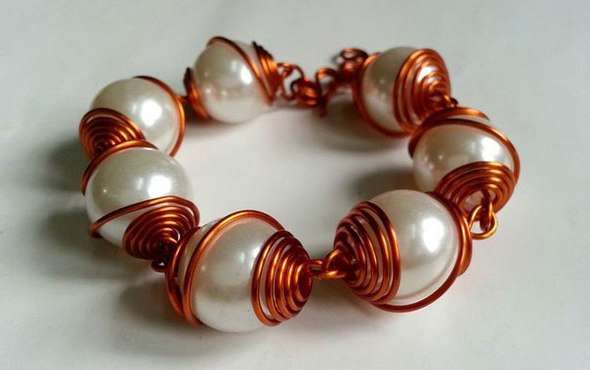 The bracelet is a favorite adornment of many girls, because it can add zest to the image and emphasize the beauty of a woman's wrist. Today on the market you can find many beautiful jewelry made of precious and non-precious metals, however, hand-made products are more popular. In this article, you will learn, how to make original wire bracelets. Now you can make beautiful accessories for yourself and loved ones yourself.
Bracelet made of wire and beads
In order to make such a bracelet, you will need wire, round-nose pliers, beads, connecting rings. Take a piece of wire and thread it through the bead. Bend one end with round-nose pliers so that the bead does not fall out.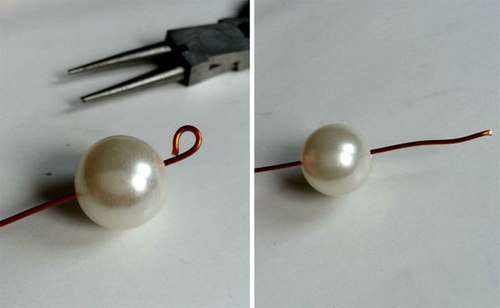 Take the wire from the other end, start twisting it, and then wind it around the bead. Make tight loops at the base of the bead.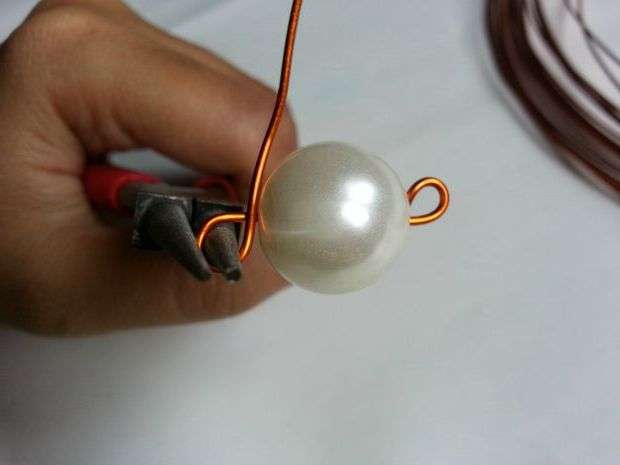 After wrapping a part of the bead, stretch the wire to the opposite edge and wind it around the loop that you made earlier. You will have a bracelet blank. For an adult wrist, you will need about 7 of these blanks.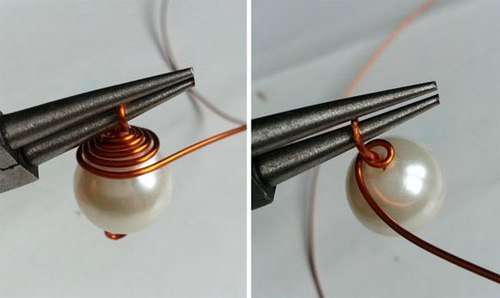 You can connect the bracelet with rings that are bought in an accessories store or are made of wire. A denser bracelet will turn out if you connect it with the loops that are on the beads. To do this, you will need to slightly unbend one loop..

It remains to make a wire hook. To do this, fold the piece of wire in half and then twist it with round-nose pliers.
DIY bracelet from rings
This bracelet is made even simpler than the previous one. You need to disassemble the chain into links and find identical flat rings. After that, take two flat rings and start connecting them with links. You must connect every two rings with 7-8 links..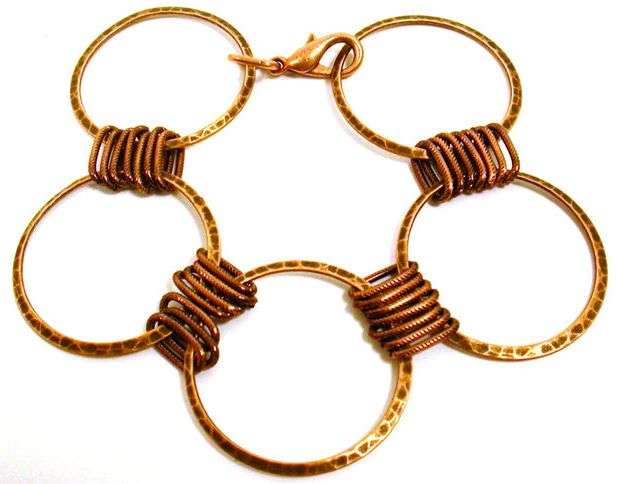 Ring bracelet
In this way, connect about five large rings. The dimensions of the finished bracelet depend on the size of the rings and links. To make the bracelet easy to fasten, attach a hook or clasp.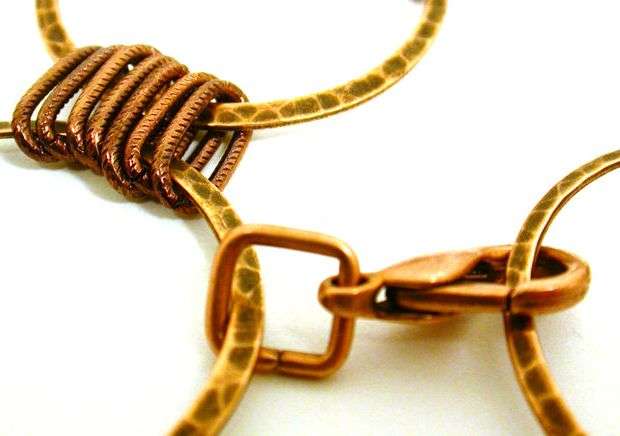 Even children can make a bracelet from rings with a little help from their parents. In addition to this bracelet, you can make a necklace and earrings. For these jewelry, you can buy additional fasteners at the hardware store..
Also Read: How to Weave Beaded Bracelets for Beginners
Wire bracelet. Master Class
You need to prepare in advance the same lengths of wire, which you will then tighten with round-nose pliers. The bracelet looks like interconnected hooks.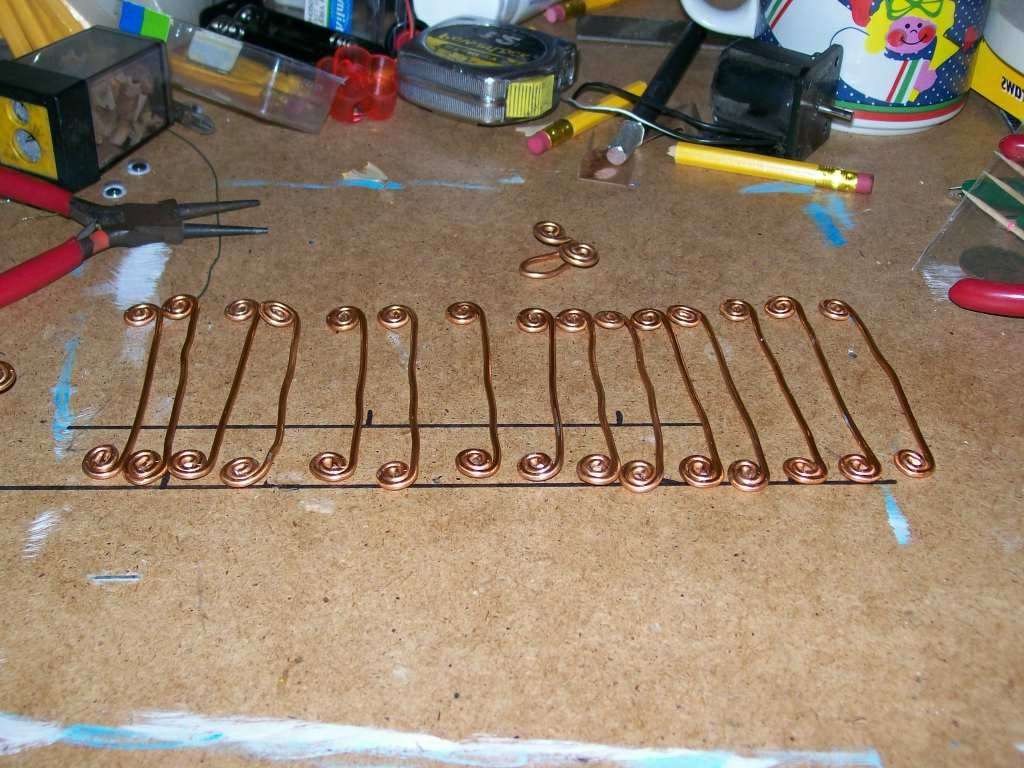 Begin to twist the spiral on both sides. Prepare such blanks in advance, and then bend them in half. You will have hooks that will remain connected together..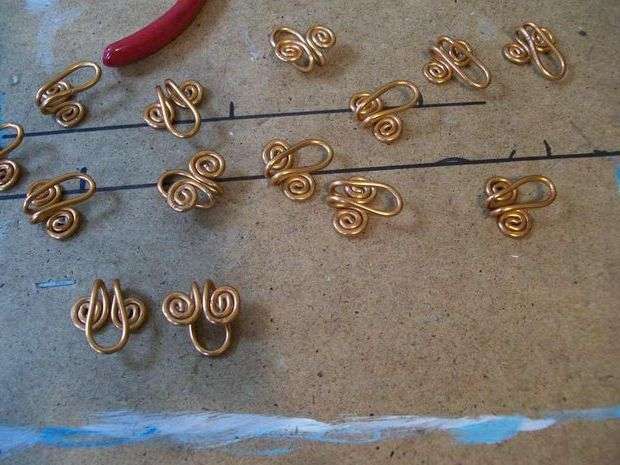 This wire bracelet looks very delicate and graceful on the hand.
DIY jewelry can be made from almost any material.. Wire bracelets are convenient to use and look very original. Be creative and you can make beautiful wire bracelets.