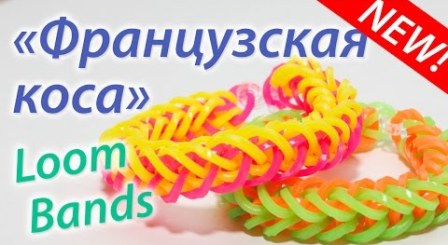 French braid – this is a pigtail about which legends have been written for more than a decade. She is very popular not only in hairdressing, but also in such a popular business as weaving bracelets with Rainbow Loom rubber bands..
Today we will continue a series of video selections that reveal different ways of weaving bracelets from multi-colored elastic bands. In the video master classes, weaving will be considered on a large loom, on a mini-machine, a slingshot, a fork and pencils. In fact, it does not matter which device to use for this, but different methods are convenient in their own way, and not everyone has a full-fledged Rainbow Loom machine. So let's take some time and watch the video:
How to weave a bracelet from rubber bands French Braid
A very accessible and informative video turned out – as you can see for yourself, there is nothing complicated and heavy in weaving a French braid bracelet. The main desire and the minimum set of rubber bands. Now let's see how the same pigtail can be made using a slingshot and a hook:
How to Weave Elastic Bracelets – French Braid on a Slingshot
Since this is one of the simplest bracelets, this jewelry requires two colors of elastic bands. No complicated steps, just careful repetition of simple steps using the hook. You can also do it by hand, but the hook still greatly speeds up the creation process. Now let's look at this same work in pencils:
Elastic bracelet "French braid" on pencils
Indeed, if you have patience and attention, you can do not only simple things, but also try to create toys or phone cases. But this is yet to come, let's learn how to work with the machine:
How to make a French braid bracelet on the Rainbow Loom
Please see the video master – classes on the topic: bracelets Dragon Scales from rubber bands
Now we will use cutlery not for its intended purpose, but more specifically – a fork. The weaving method on a fork is no different from others, but everything is worth trying:
Fork braiding: French braid
And finally, we will use a mini machine – a simplified version of its large "brother". For weaving simple products, this is quite enough. And for beginners, a mini machine is an ideal option, since it is very simple and convenient.
Weaving a French braid on a mini loom
That's the whole selection, it pretty well reveals all the tricks of how to weave bracelets from rubber bands called FRENCH BRAID. We will continue to prepare collections of video lessons on weaving with rubber bands, so we look forward to seeing you