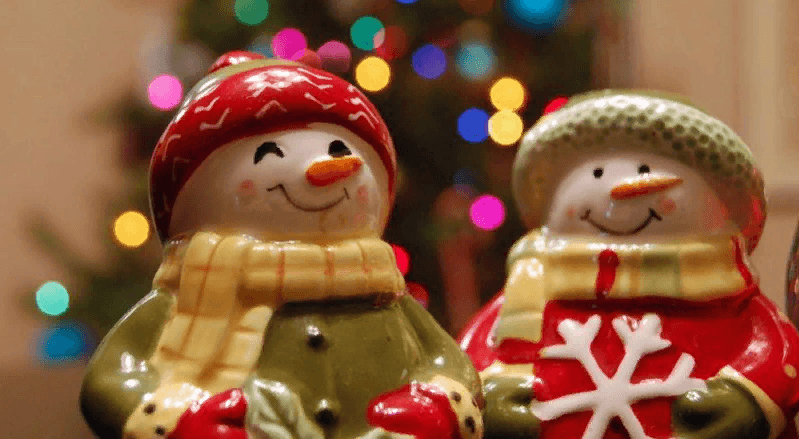 Probably, each of us loves to decorate the Christmas tree for the New Year. Indeed, this activity is considered magical. However, you can not buy toys for your beauty, but make it yourself. In the old days, it was a normal practice to make not only Christmas tree decorations ourselves, but also small gifts for friends and family. Would you like to try to revive this interesting and useful tradition in your family now? After all, creativity not only unites, but also helps to reveal hidden talents, especially in children. You will also please your loved ones with exclusive souvenirs that they can use to decorate their home or Christmas tree. This practice also helps to save the family budget..
Rat – stargazer (soft toy)
If you pay close attention to this article, then you will be able to make original New Year's toys with your own hands. 2020 is the year of the rat, so a cute little rat will be a topical New Year's souvenir. Workshop on making such a lovely toy.
Materials:
Small shreds of white / gray and pink fleece, velvet or micro-corduroy.
Cotton wool \ sintepon as stuffing.
A coil of thick, but well-bendable, dragging.
Peach color acrylic threads.
Black threads – thick, for antennae.
White thread with a sewing needle.
Dark blue satin shred for cloak and cap.
A pair of small beads for eyes or ready-made eyes.
Scissors.
Pliers.
PVA glue.
It will take about an hour to manufacture the product..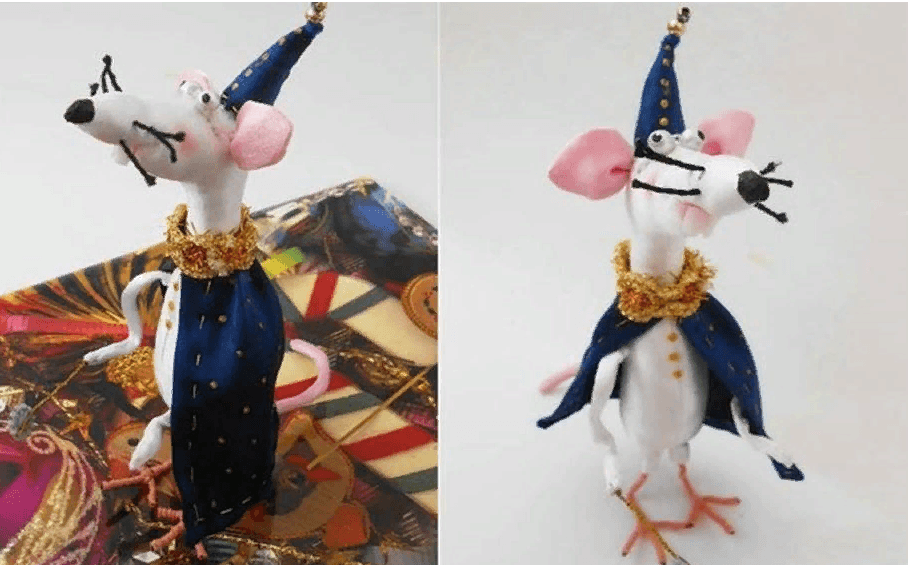 Getting started:
On the cardboard we draw the patterns of the head and torso, moreover, at the bottom of the torso we draw another small rectangle, it will be needed to fix the hind legs.
Fold the fabric face inward and redraw the patterns onto the fabric. You need 2 parts.
We also sew parts from the inside out, on a typewriter, and if manually, then with a seam "back the needle". Do not touch the rectangle yet.
We turn the body out and stuff it.
Using pliers, we form rat legs from the wire, if your wire is thin, it is better to twist it for greater strength.
Lubricate the wire legs with thicker PVA glue, wrap them with acrylic threads. You can add glue if necessary, and remove the excess with a napkin..
We insert the wire wrapped legs into the rectangle and sew it like a panties. The wire must be firmly fixed there.
For the front legs, we pierce the torso with a wire through and through, then we wrap them with acrylic threads or can be sheathed with a strip of white fabric.
Now we make ears from pink fabric, for this we cut out 4 parts, sew them in pairs and after making a fold, we sew their head.
The ponytail is also made of pink fabric, or you can use just a pink lace.
We make a roller from a strip of pink fabric and sew it to the place where the eyes will be attached. Now you can attach either ready-made eyes or white beads to it, and draw the pupil with a black marker.
Now we make a mustache from thick black threads, draw a nose with a marker, and cut out teeth from a plastic container.
It remains to sew a cape and cap from blue satin. The decoration on the table or on the Christmas tree is ready.
Christmas tree button decorations
Of course, make a Christmas toy with your own hands will work for everyone. Very creative, beautiful and elegant Christmas balls are made from ordinary buttons. We will now give you a couple of options for such balls, for the first take:
Strong narrow ribbon.
Foam ball as base.
Pins with multicolored heads.
As many bright and different buttons as possible.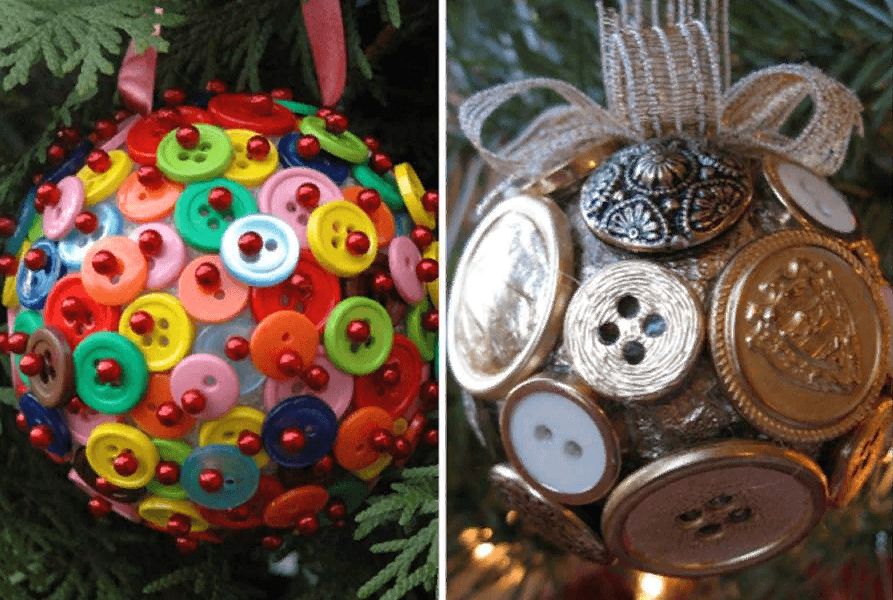 How to make? 
With pins we stick all the buttons in a chaotic order on the ball, and at the end we also attach a loop with pins, for which the ball can be hung.
Such a ball is not afraid of weather disasters, so it can be successfully used to decorate street trees..
In the second version, we first paint the foam ball in golden metallic, this can be done with acrylic enamel. When the enamel is dry, use a glue gun to attach the buttons to the ball. It is better to make a loop or bow to match the ball, golden or silver.
Natural material as the basis of Christmas tree decorations
It is worth saying that by 2020 New Year's toys can be made from natural material. Here are some examples of original and holiday crafts as Christmas decorations..
Pine cones – pendants.
We take a few pine cones, a bag of colorful felt balls, a glue gun and a spool of coarse threads.
On each scale of cones we glue a colored ball, and at the top of the cone we make a loop of harsh thread.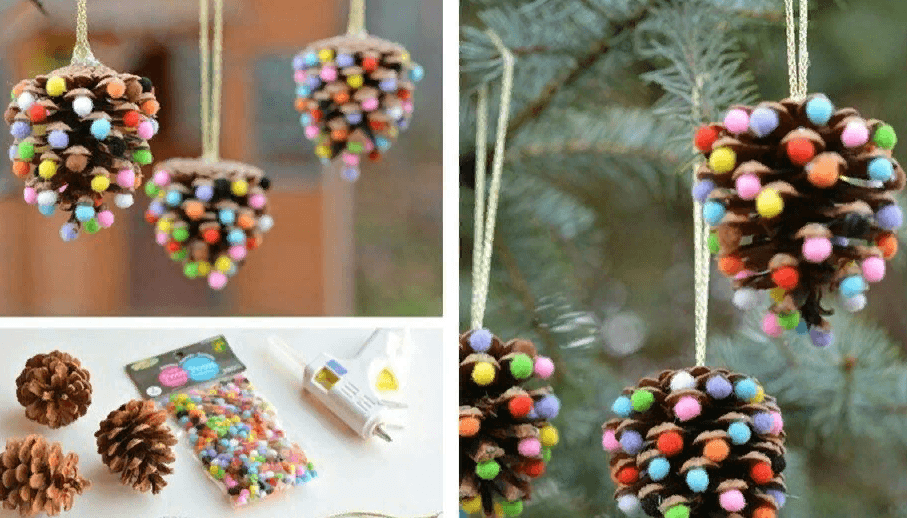 Cinnamon stick Christmas tree pendant.
You will need to make crafts:
cinnamon sticks.
artificial spruce branches.
glue gun.
medium-sized bright buttons.
jute twine in a skein.
Now we are assembling the suspension:
Making twigs of different sizes, cut from artificial spruce branches.
Using jute twine, we tie them to cinnamon sticks.
We decorate them with multi-colored buttons.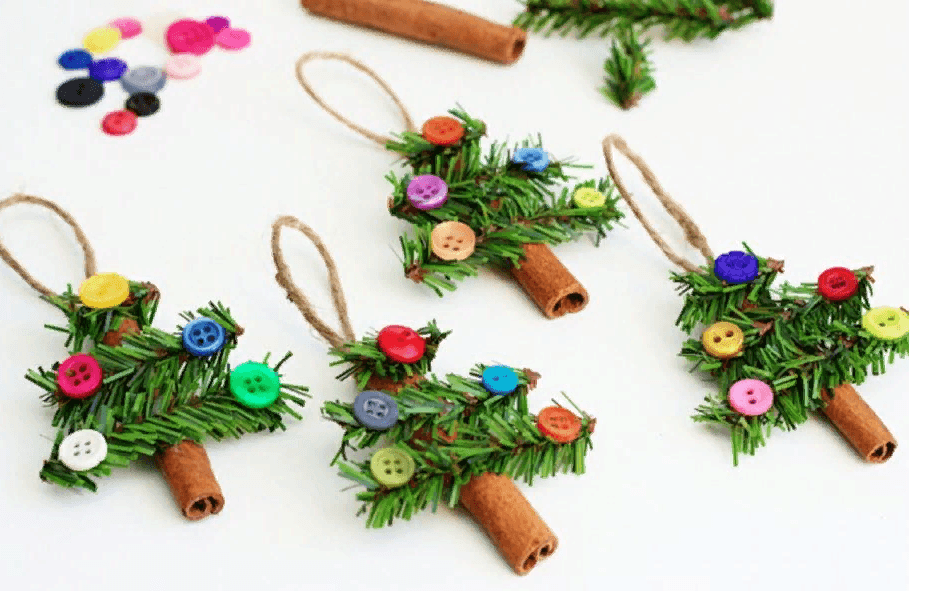 Walnut balls.
Despite the simplicity, such balls look very, very impressive..
Necessary materials:
unnecessary newspapers for the base of the balls.
walnuts.
any thread in the spool.
wide satin ribbon.
glue gun.
artificial branches and leaves.
golden spray in a can or gold acrylic paint.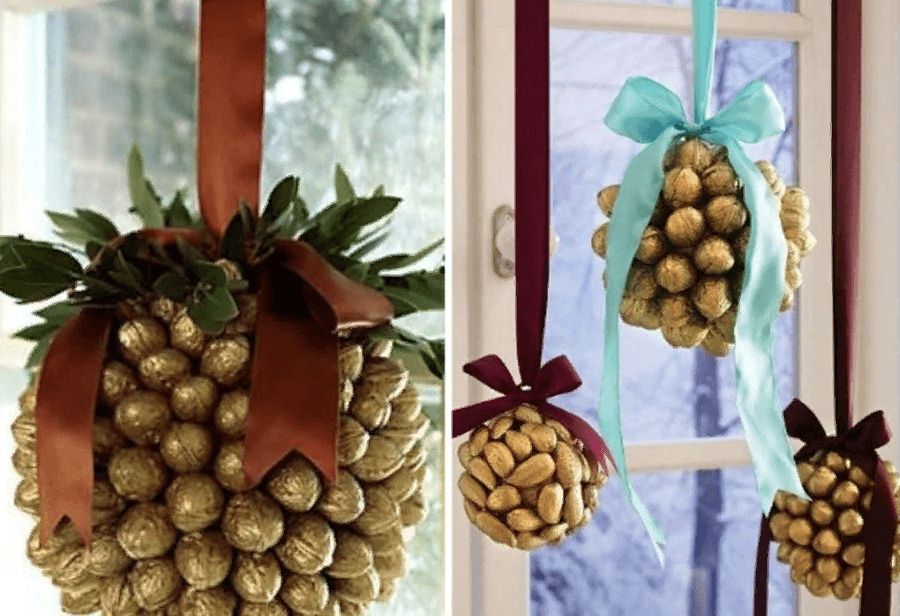 We collect balls:
We knock down a dense ball in the shape of a ball from newspapers, you can also wrap it with threads for strength and glue their end with a pistol.
We paint this ball with a sponge, dipping it in a bowl of paint.
After the paint has dried, glue the ball with walnuts tight enough.
Now we paint the nuts, preferably from a spray can.
It remains to decorate the top of the ball with artificial greenery and attach a ribbon in the form of a bow for hanging.
In the same way, you can replace nuts with any seeds, or acorn caps..
Decorations from improvised / waste material
Very original toys can be made from what is lying around in the house or even from garbage. So, you will like the next DIY Christmas toy idea. Indeed, for such creativity, you do not need to acquire something expensive..
Burnt out light bulbs? No snowmen!
If a lot of burned-out light bulbs have accumulated at home, then do not get rid of them. They will become the basis for making interesting crafts. But in order for them to turn into snowmen, you need:
several burned out bulbs.
a pack of white napkins.
thin wire.
flour paste.
white thread.
thin twine.
watercolor \ gouache.
hair fixation spray.
markers.
glue gun.
PVA – glue.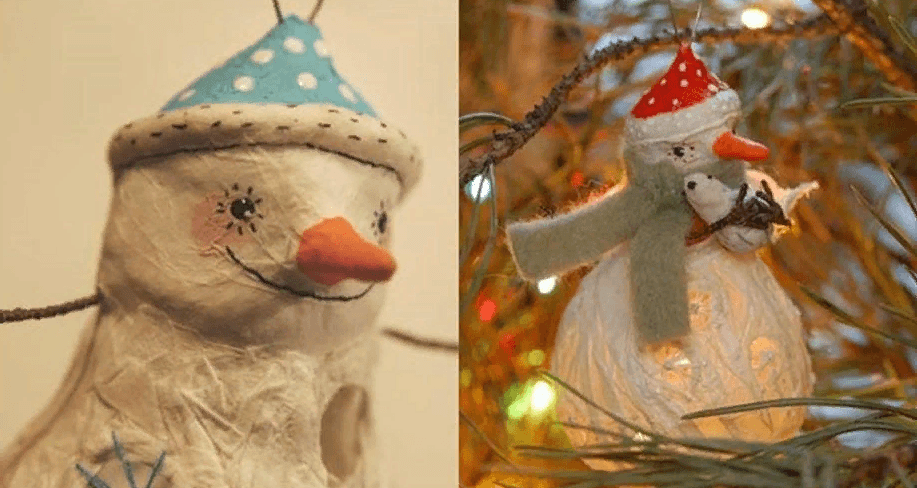 We collect snowmen:
Making a wire frame.
We attach it to the base of the lamp, but so that the arms are on the sides of the body.
At the top of the frame we make a loop for hanging the toy.
We wrap the light bulb with twine, while the frame is also attached with twine in the process.
Now liberally grease the light bulb with glue and wrap it with white napkins in several layers. Scratch holes with toothpicks right on the still damp napkins.
Gluing napkins on the base, we make a snowman's head.
We form a carrot nose from a napkin and attach it to the head.
We wait until the napkins dry and process the light bulb with hairspray.
It is better to wrap your hands with black threads, winding them on glue.
Draw snowflakes in the holes with a blue felt-tip pen.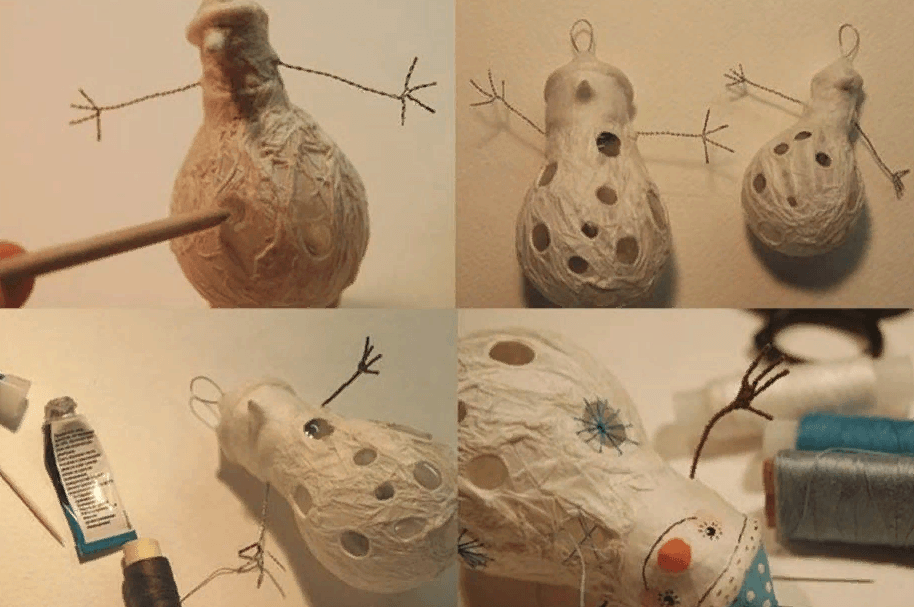 We draw a face with felt-tip pens, paint a carrot with a hat with paints. You can tie a piece of colorful fabric around your neck like a scarf.
Felt decorations – toys
If you are interested in new Christmas toys that are not difficult to make with your own hands, then our article will offer you many master classes. For the manufacture of such crafts, you can use absolutely any materials. For example, it can be felt. Felt makes the most fun and cute decorations. Felt is also convenient because the sections do not crumble and therefore do not require processing..
For toys you will need:
different pieces of felt.
cardboard box.
A little padding polyester.
sequins.
beads.
colored threads.
narrow braid for eyelet.
PVA – glue.
needle.
scissors.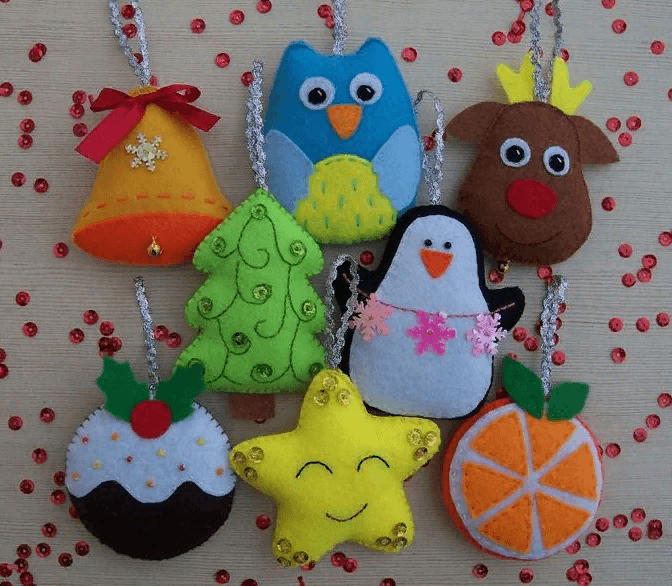 We collect the toy:
On a cardboard we draw what we liked and then cut it out.
Using this template, we cut out details from felt.
They can be decorated with either embroidery or beads / sequins.
Sew the parts along the edge, fill them with padding polyester and make a loop at the top for hanging.
Paper christmas decorations
Each of us will be able to try to make a New Year's toy out of paper. Of course, children will love this activity the most..
Rainbow pendant.
It can be done with children. You will need:
colored paper of three different colors A4.
PVA is a glue, although a stapler can also be used.
scissors.
narrow ribbon for the eyelet.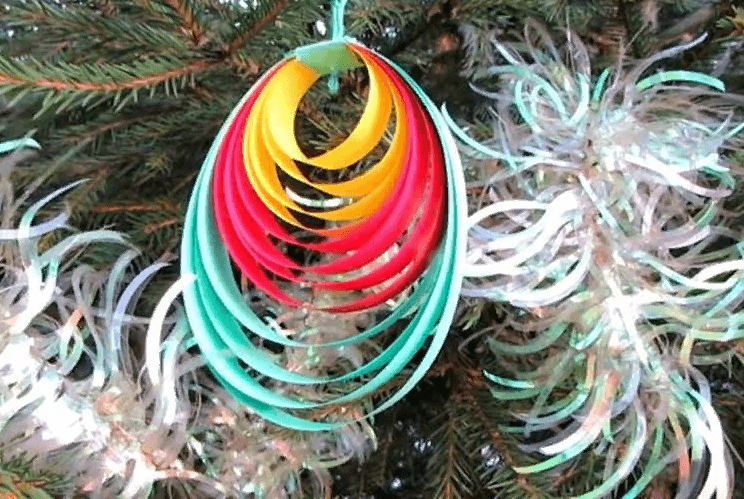 Assembling the suspension:
Cut the paper into strips – 12 strips of 2 cm wide are obtained.
Consecutively shorten all strips, do not touch the first, step – one and a half cm.
We collect everything in a pile and fasten it with a stapler or glue on the edge.
Now we fold each strip into a ring, leveling it. Each next ring will be slightly more than the previous one..
We fix each folded ring with glue / stapler.
At the end of the work, attach the hanging ribbon.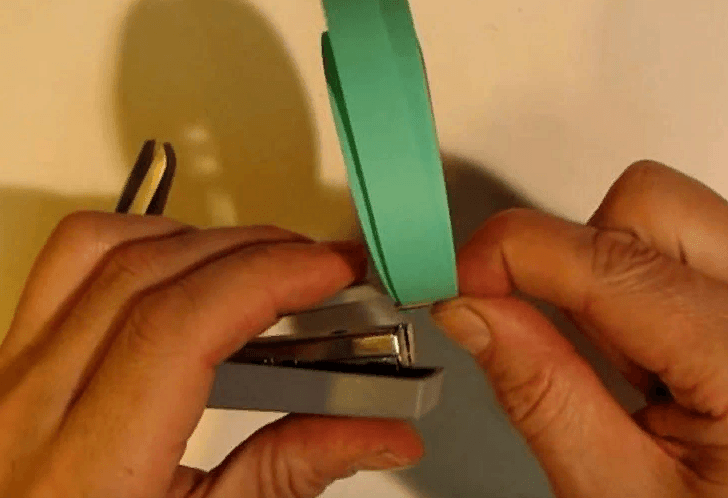 Snowman with top hat and tie
And one more snowman will turn out to be made from waste material. For work you need:
glue stick.
thick colored paper, cut into strips.
a pair of beads – black.
thread to hang.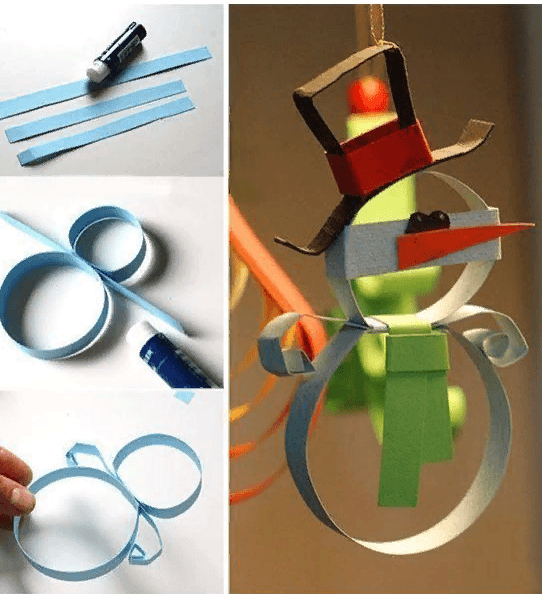 We collect the snowman:
We make rings with glue from strips.
Glue a strip imitating hands between the rings of the head and body..
Making a cylinder.
Making a face.
We fasten the loop.
Summing up
The creation of any New Year's toys is always a holiday! Therefore, such an activity will definitely give you happiness. In general, find free time and appropriate mood for him..