Weaving from newspaper tubes or, as they say, weaving from a paper vine is becoming more and more popular among lovers of needlework. Thanks to this simple technique, you can decorate the interior, create accessories and delight loved ones and friends with gifts. You can start getting acquainted with newspaper weaving by creating a hat with your own hands. Weaving a shape from prepared tubes, you will not only spend your leisure time interestingly, but also make an original accessory..
Materials (edit):
– newspaper or paper tubes
– glue
– clothespins
– cardboard circle
– blank template.
How to make a hat from newspaper tubes
If you have already tried to weave a hat from tubes and you have not succeeded, do not be discouraged. Perhaps you forgot to use the template, because only experienced craftsmen with a lot of practice can afford to do without blanks..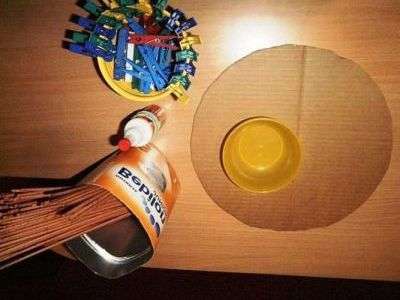 Materials for making hats from newspaper tubes
At the beginning of the weaving practice, it is not necessary to purchase a template; it can be replaced with a bowl of the desired size. You will need cardboard to create fields. A circle of the desired size is cut out of it. The tubes are twisted from newsprint or a wide cash register. The method of twisting from the cash register is the same as from newspaper sheets. If it doesn't work right away, try to fix the parts not only with clothespins, but with masking tape on glue or tape.
For beginner hat makers, it is better to choose an easy weaving option, without complex transitions and patterns. This will help focus on the weaving process and master the main features of this needlework..

We connect eight tubes in pairs and lay them crosswise on a circle made of cardboard. For convenience, we will fix them with clothespins. The work continues with a new tube with a sequential weave in a circle, until the desired size of the bottom of the cap. In this case, the paired tubes must be divided and intertwined separately. Prepare enough tubes for the base of the hat so that the brim of the hat is denser.
Also read: Weaving from newspaper tubes
When it's time to braid the template – a blank, it is better to attach the base tubes to the edges of the bowl with clothespins, or stick with adhesive tape.

After giving the hat the desired shape, proceed to creating the fields. To do this, you will need a cardboard circle again. A blank is placed on it exactly in the center, attaching paper tubes of the base to the cardboard circle with clothespins at regular intervals.

At the same time, it is up to you to decide whether to pull out a blank bowl or not, it all depends on how convenient it is for you to work with newspaper tubes and how well you have mastered this technique. To maintain uniform weaving in a circle, you will have to remove the clothespin, no matter what it interferes with weaving and fasten it again. The work will be much easier when you gain at least a little experience..
After weaving the fields of the desired size, the working tube is cut off, hidden from the inside of the cap and fixed with glue. For a safety net, you can also walk around the edges of the hat with glue..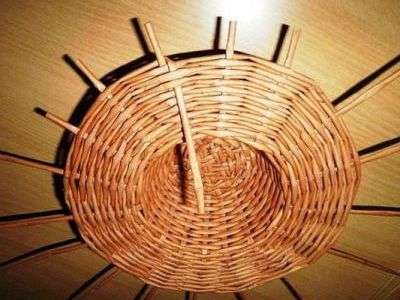 It is better to paint over the newspaper font when the product is ready. To do this, the hat is covered with acrylic white paint with PVA, and then tinted with any color or stain. If desired, you can decorate it with flowers, ribbons.
That's all. Your newspaper tube hat ready! Admire, wear, decorate or give to loved ones! After you master the basics of newspaper weaving, try making more complex products from newspaper tubes..