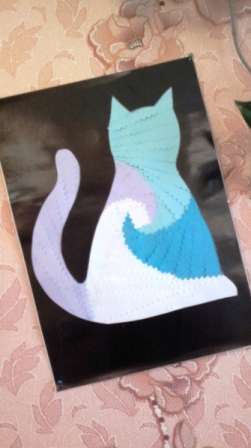 Crafts using the Iris Folding technique look unusually beautiful. Their peculiarity lies in the neat gluing of strips of paper according to a certain pattern. The result is an original colored applique. Even children can master this technique, the main thing is to choose a suitable template and paper of different colors. We offer you some ideas for making DIY Iris Folding.
Iris Folding Technique for Beginners
If this is your first time going to make Iris Folding's craft, then start with a simple drawing. For example, you can print a maple leaf template. After that, cut it out and transfer it to cardboard, which in the future will become the basis for crafts.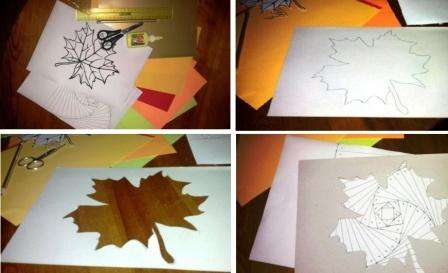 Now you need to cut out the silhouette of your leaf with a clerical knife. On a separate sheet of paper, draw a diagram according to which many of Iris's works are performed..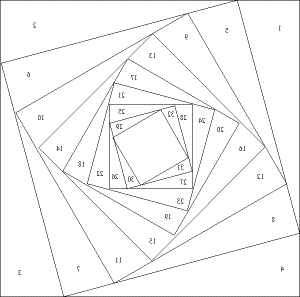 Attach your cardboard blank to this diagram, face down. For convenience, secure with paper clips so that the circuit does not slide out.
Cut strips of office paper. The width of the strips can be about 3 cm. Each strip must be folded in half lengthwise. The colors are most often indicated in advance by numbers and laid out in turn, but you can try the chaotic option..

When you have glued all the strips, glue a square in the center. If you do not want the wrong side of the work to be visible, cover the strips with a white sheet of paper..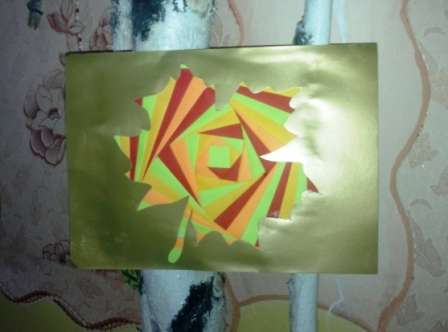 Flip the cardboard over and you have an original piece of paper..
Iris Folding master class. Cat
Print out the outlines of the cat on paper and then transfer them to cardboard. As in the previous master class, cut the cat out of cardboard so that only the basis for the craft remains.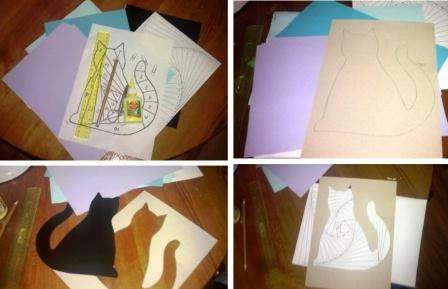 Take Iris Folding's diagram and attach it to the front of the cardboard so that the strips of paper can be glued to the wrong side of the cardboard. Secure the diagram with paper clips or clips.
To diversify the folding crafts, take curly scissors and cut the paper into beautiful strips. In this case, you do not need to fold the strips of paper in half, as they differ in their original shape..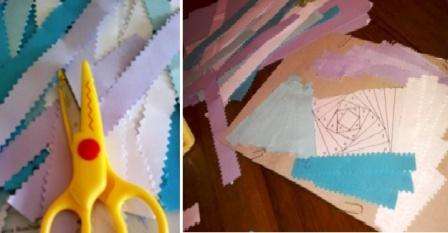 Determine for yourself the order of sticking strips of different colors. After all the strips are glued, remove the circuit and turn your craft over. The cute kitty is ready. This application can be presented to mom or girlfriend.

This is how the cat turned out.
Iris Folding's technique is easy to learn even for a beginner. We hope that these master classes will inspire you to create creative panels and do-it-yourself applications..