Various holidays are also celebrated in our country in autumn. The brightest and most beloved holiday is Mother's Day, which is usually celebrated in autumn. For this day, children at school and in kindergartens are preparing concerts for mothers. In addition, the kids make various crafts on their own. These crafts are usually presented to mothers during the holiday. In this article, we have selected for you Mother's Day crafts, which are very easy to make in elementary school with your own hands. We hope that you will like our ideas and you will be able to make something interesting..
Mom's Day Crafts
Gift for mom from napkins.
It is very easy to make a touching gift for mom. Now we will offer you an interesting master class with which you can express your love for your mother. To make such a wonderful gift, prepare:
red cardboard sheet,
glue stick,
paper napkins (pink and white),
narrow satin ribbon,
scissors and double-sided tape,
a simple pencil and a sheet of yellow colored paper,
album sheet.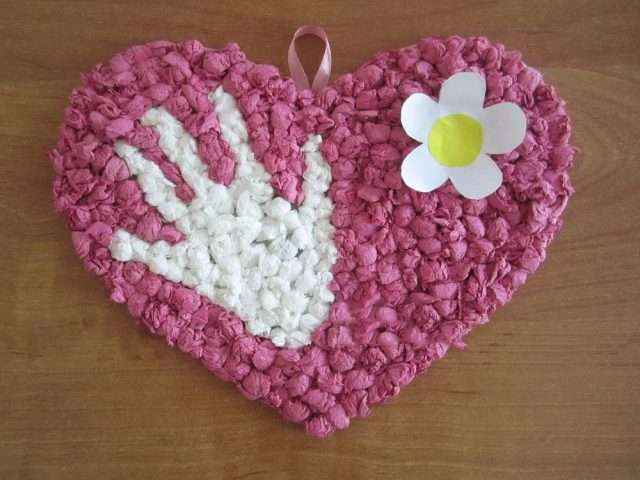 Progress:
Hand draw a heart on a piece of cardboard. Cut it out.
Turn the heart over with the white side up and place your palm on the sheet. Circle it with a simple pencil.
Now take white and pink napkins. Cut each napkin into 4 even strips. Then cut each strip into squares, which will be 3×3 cm in size..
Further, each such square must be rolled into a lump. At the same time, you should not press down the paper too much. The finished lump should be fluffy, but not hard..
Lubricate the palm that you drew with glue. You need to lubricate along the contour. Place the white lumps on the glue. Also, they should fill the entire space of the palm. In this case, the balls are quite tightly attached to each other..
In order for the balls to stick well, the workpiece must lie down for a while. After that, from the satin ribbon it is worth cutting off a segment, which is glued to the heart from above by means of double-sided tape. This will be a pendant for the heart..
The space that is not filled with balls around the palm is smeared with glue. Now lumps of pink napkins are laid out on the glue. Lumps should be laid out close enough to each other..
Now it is worth drawing a flower with petals on a white sheet with a pencil. Cut it out with scissors and glue it to the heart. Cut the core out of yellow paper and glue it also to the flower.
After that, on the back surface, you can glue the warm words that they were written on paper.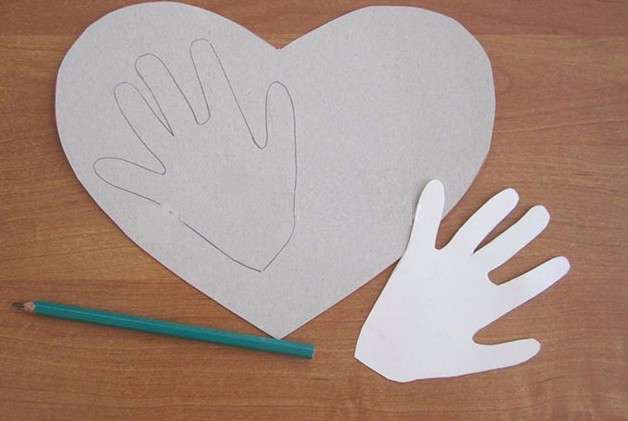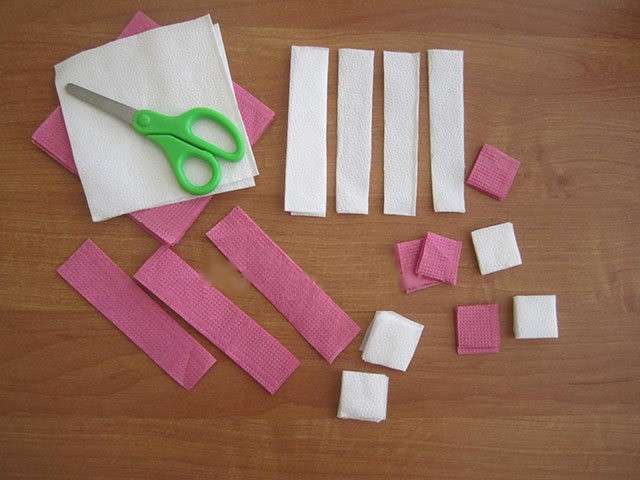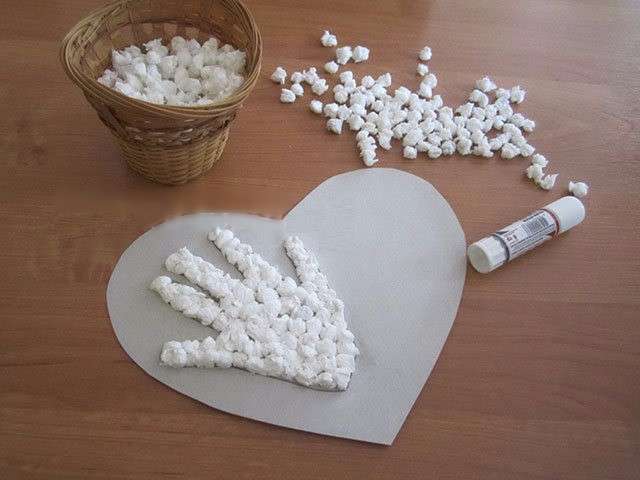 Interesting craft for mom. 
On a public holiday, it is customary for mothers to give cute gifts. Basically, gifts are made for mothers from paper and cardboard. For the next craft, you will need colored paper and cardboard..
A palm is drawn on another sheet, which needs to be cut.
First, a pot is made from cardboard. Of course, in this case, cardboard of cheerful colors is used..
Flowers are drawn separately on bright cardboard, which will be used to decorate the palm. The palm is glued to the pot and as a result, a wonderful craft is ready.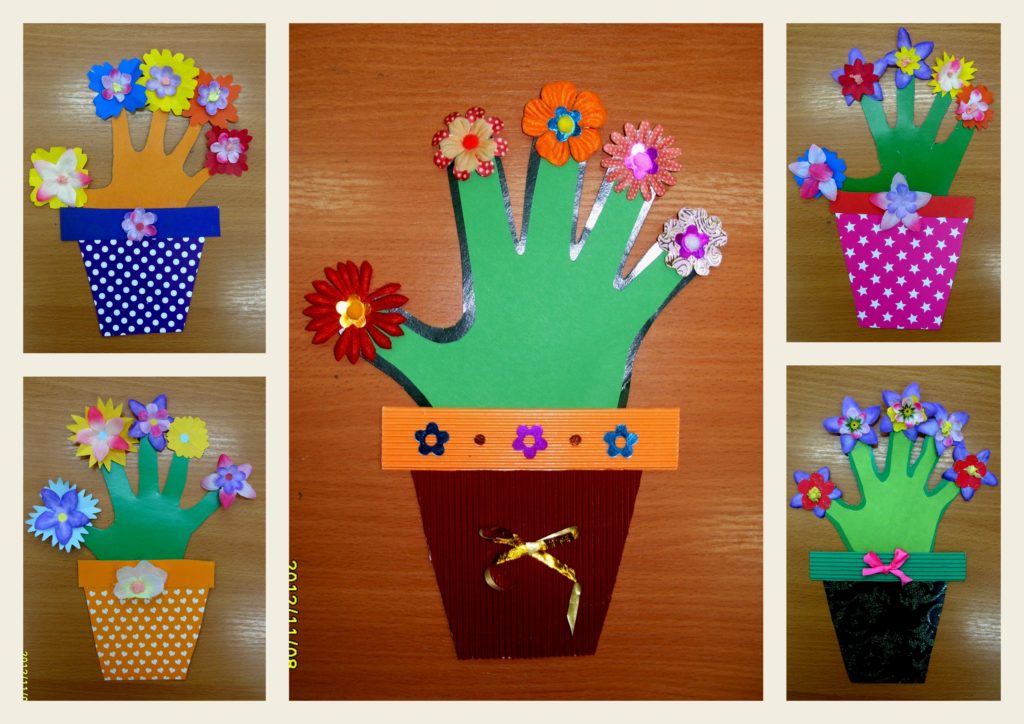 Snails for mothers.
In this article, we list the first graders crafts that are made for Mother's Day. It is very easy to make cute crafts out of colored paper, which will be a great gift for mom..
Strips are cut out of colored paper, from which the heart is glued. Strips are cut from cardboard. On the stripes it is worth depicting facial features.
Flowers for mothers.
Of course, mothers love to receive flowers as a gift. On a bright holiday, mom can be pleased with cardboard flowers. Just cut a cardboard tulip bud and a stem. These elements are glued to each other with glue. You can use a ribbon for decoration..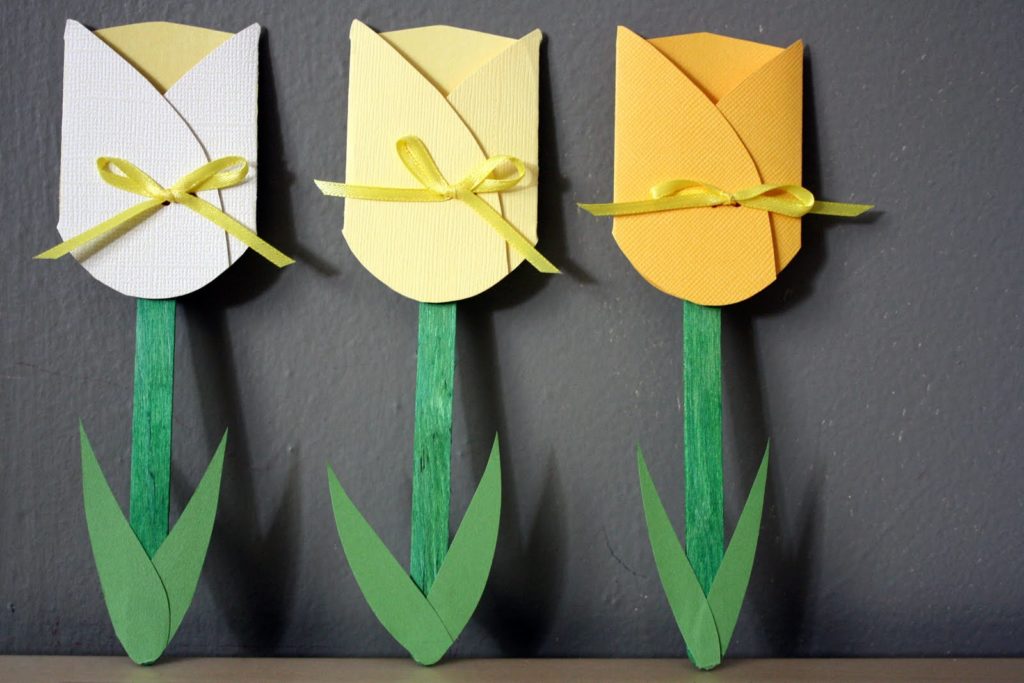 Vase with flowers for mom.
A variety of simple crafts for Mother's Day are enough for first graders to make. The following craft is also very easy to do. For work, you should prepare:
plain paper napkins,
plasticine,
unnecessary markers,
old yogurt cups.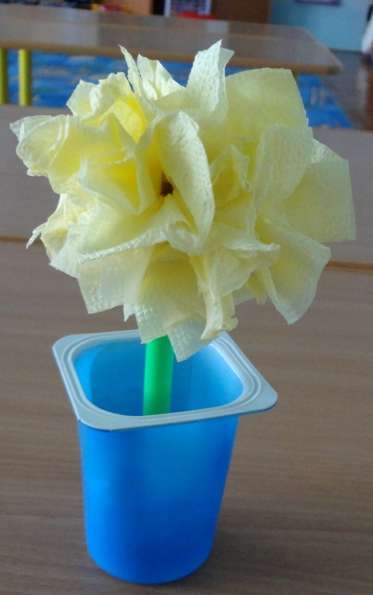 Progress:
Napkins are cut into squares.
You need to roll a ball out of plasticine. It is put on a felt-tip pen.
Now the napkin is attached to the plasticine by cutting. It is worth filling the whole ball with napkins.
A rod with napkins is attached to the glass by means of plasticine.
The label on the cup is sealed with a label on which you can write a good wish for mom.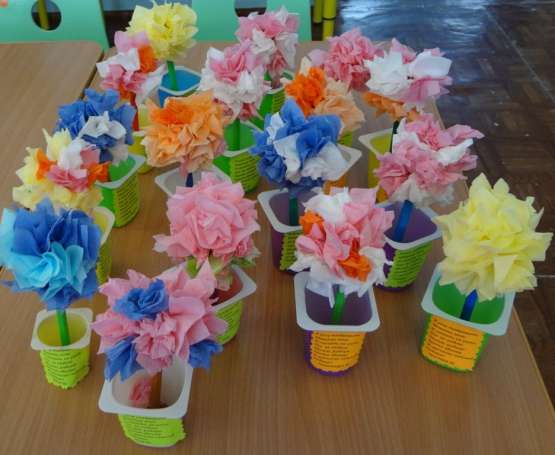 Finally
As you can see, you can make a wide variety of crafts for Mother's Day. Any such craft will give you a great mood. Therefore, make crafts for mothers in creativity lessons and give your loved ones happiness..