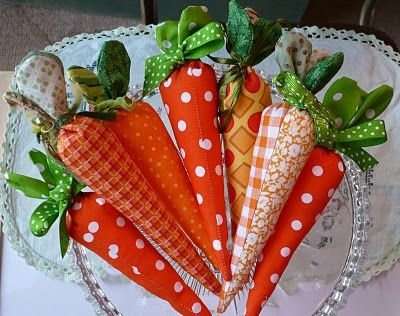 Carrots are a very healthy and very beautiful vegetable! Therefore, many designers create their own bright and unique compositions, including this element made from a variety of materials.!
We are with you, we will follow their example and decorate our cozy kitchenette with a basket of carrots, sewn with our own hands! Such a still life in your kitchen will be able to instill appetite in the most capricious and difficult-to-feed child with just its appearance! Trust me, Checked!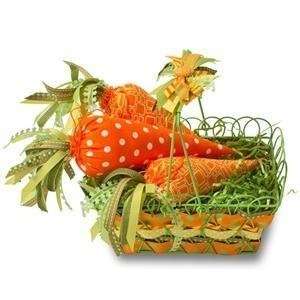 Fabric carrot master class
To "harvest" such a "crop" with your own hands, you absolutely need to prepare the following working tools and "seed":
All kinds of pieces of fabric in orange and green tones;
Sintipon for filling carrots;
Paper, pencil, pattern ruler;
Needles with thread;
Scissors;
Pins;
DESIRABLE, but not required – a sewing machine.
When you are "armed" with all this, we will begin our "hard" work on sowing, and then collecting the "crop":
1. Draw patterns for carrots on paper, cut them out with scissors;
2. We put the patterns on the fabric, folded with the face in the middle, pin it off with pins and cut it out, leaving seam allowances of about 1 cm: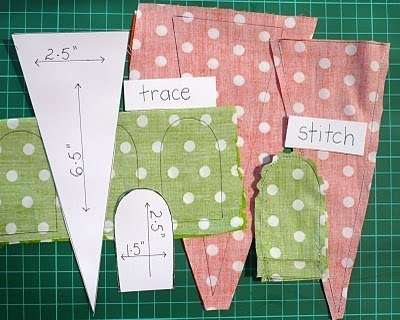 3. Sew the workpieces on a sewing machine. If you do not have such "luxury", then we sew a needle forward with a specially invented seam;
4. We turn out the details, carefully with a pencil we straighten all the bends and corners;
5. We stuff the craft very tightly – carrots with synthon: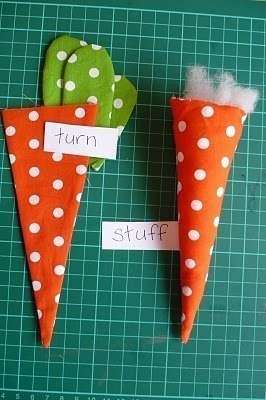 6. Sew the very top of the carrot with a basting stitch. We insert the "curly forelock" carrots into the tightening hole, tighten everything well on a thread. We fasten it on a knot. If you wish, you can fix the "forelock" even more strongly by stitching the green "forelock" of the carrot with the carrot itself at the junction of the green "forelock":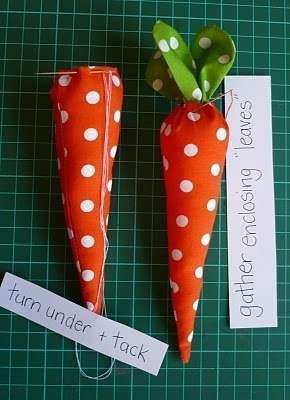 Having completed five to seven carrots according to the same principle, you can safely prepare your own kitchen composition or a whole garden bed with your own hands from felt.