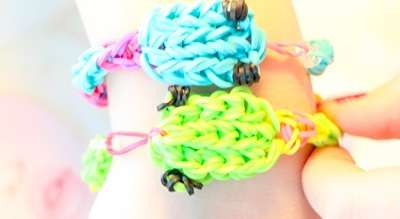 Recently, such handicrafts as weaving bracelets from rubber bands has become more and more popular. At first glance, loom bands are very simple, but they can be used to weave a large number of products with your own hands, including amigurumi toys, jewelry or clothes. In this article, you will learn how to weave bracelets from elastic bands on a slingshot. This set of Rainbow loom bands is one of the cheapest, therefore it is in demand among children and adults..
Elastic bracelets. Weaving methods on a slingshot
Of course, the easiest way is to weave bracelets on a professional machine. Thanks to the large number of columns, you can weave products of different thicknesses and shapes. If you only have a slingshot and a hook so far, don't be discouraged. There are also many possibilities with these tools, because some needlewomen generally only use a crochet for weaving bracelets from Rainbow loom bands.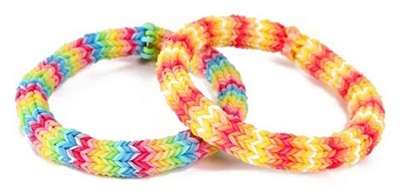 A slingshot is a tube in the upper part of which there can be two or four branches. Rubber bands cling to these teeth and then crochet. One of the most popular slingshot bracelets is the Fishtail. In order to make such a simple bracelet, you need to put on the first elastic band with an eight, and then two more without twisting. The principle of weaving consists in throwing off the third of the bottom elastic to the center and then putting on another elastic without twisting.
Watch the video: Elastic bracelets on a slingshot – " fish tail"
If you have learned how to weave such a simple bracelet on a slingshot, try other types. Quite often bracelets are woven on the slingshot, the French braid, the Sidewalk and the Dragon's Scales.
Weaving from elastic bands on a slingshot. Sidewalk
Bracelet Sidewalk it looks just amazing, so we recommend that you try to weave it on a slingshot. You will need to choose elastic bands of suitable colors and put on the first two with a figure eight, and then two more without twisting. Pry two elastic bands on one side and fold to the center, and then put on two elastic bands again.
Watch the video: Elastic bracelets # 1 Bracelet "Sidewalk"
After that, two elastic bands are thrown off from the opposite side and put on again. So weaving is repeated until the bracelet is of the desired length..
Weaving elastic bands on a slingshot – an easy way to make beautiful jewelry with your own hands. You can combine the colors of the elastic bands and using the same scheme you will get different bracelets. There are a lot of ways to weave on a slingshot. We hope that our article and video from it were useful, and you can use the slingshot to the fullest..