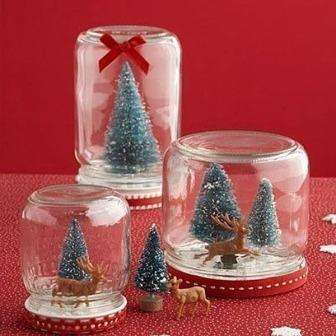 The whole family can make crafts on the theme of the New Year and winter. This activity is fascinating and will bring the household together very much. Outside the window, frost and wind swaying trees, cold and dark, and you all gathered together at one table to create a small family masterpiece: magic jar of snow do it yourself. In the warmth and comfort, there is always something to talk about both small and large. And you are also engaged in a useful business, the result of your efforts will only be a small miracle. You can even feel like a wizard. The New Year's product will decorate the apartment and always remind you that you should gather like this more often. And, of course, all relatives will appreciate the family gift, because there is a particle of soul in things made by hand..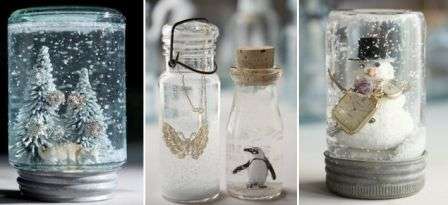 What you need to work:
• Small jar with screw cap.
• Decorative plastic element such as a herringbone, snowman or any other product with a suitable theme.
• Glycerin.
• Sequins.
• Tinsel.
• Scissors.
• Hot glue gun.
See also: Photo of the idea of ​​New Year's crafts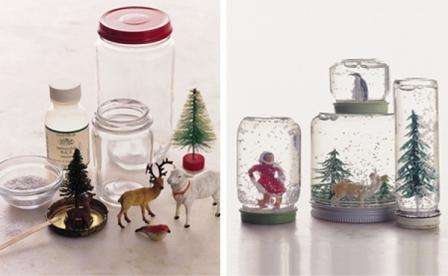 Begins the process of making a jar of snow:
First of all, we clean the jar of stickers and fill it exactly halfway with water..
Fill the remaining space of the jar with glycerin. We pour, so to speak, with a slide.
We glue the product of your choice to the lid of the jar, for example, we will focus on the Christmas tree. It is best to degrease the surfaces to be glued and make notches for better adhesion. You can use other waterproof glue in the work..
Add sparkles and small tinsel to the water with glycerin. Close the jar tightly. If there are air bubbles, add water or glycerin. The lid must fit tightly to the jar. To be sure, it can be salted with glue..
Now it remains to try. Flip and shake your can of snow and enjoy your hand-made Winter Magic.
It will be interesting for you to read: how to make a magic wand with your own hands
Video: How to make a snow globe (a jar of snow) with your own hands
Especially this craft will be appreciated by little children. And you will spend many unforgettable and wonderful minutes in the company of your child. Good luck! Happy New Year!