How to make a useful craft out of a fork.
Fork – a household item that has changed its shape throughout history. There was a time when the fork had only one prong, but in the 16th century it acquired a design familiar to us today. In the kitchen of each hostess, you can find a couple of old unnecessary cutlery and, using the motto: "New life for old things", turn them into original interior decorations.
Materials:
– iron, aluminum or silver plugs;
– pliers;
– drill;
– hammer;
– non-toxic paint for working with dishes.
Idea # 1. Fork photo stand.
You will need a four-pronged fork to create the stand. Using pliers, you need to bend the inner teeth in one direction (they will hold the stand itself), and the side ones in the other, while bending them slightly at the ends in order to hold the photo.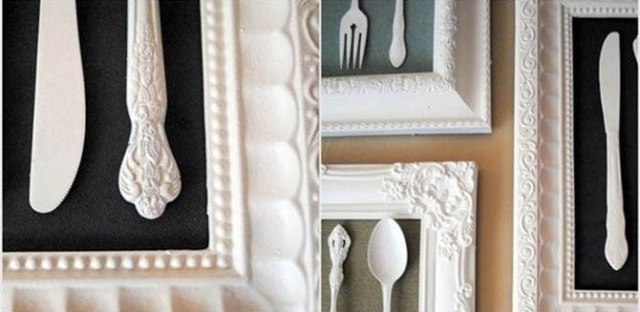 Idea number 2. DIY painting.
If you paint the cutlery, attach it to the canvas and frame it, you can get a creative panel to add zest to the interior of the kitchen..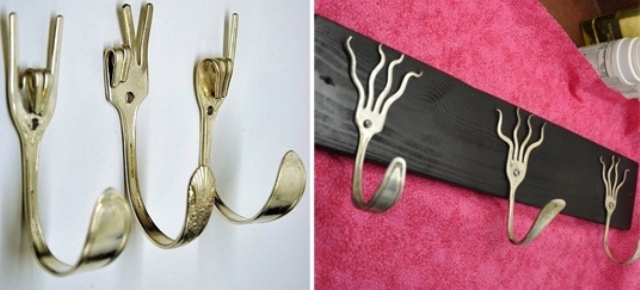 Idea number 3. Hooks for different purposes.
Shape the forks into a hook. The teeth can be bent in any shape, and holes for nails can be drilled at the base. These hooks are convenient to use in the kitchen for cups or in the hallway for keys..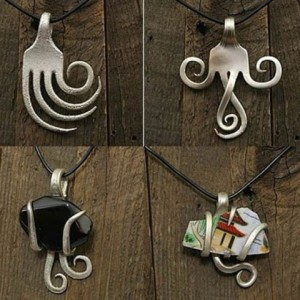 Idea number 4. Bracelets, rings and pendants.
With some imagination and a little effort, you can make real jewelry out of old forks. It is easy to make simple pendants and bracelets using pliers. Use a hammer to make the individual elements flat. Drill the holes for attaching the fasteners. If you have even a little jewelry making skills, you can make real works of art using additional techniques and tools..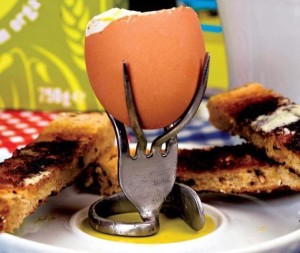 Idea number 5. Fork holders
Tired of buttons and magnets for sticking notes? Make fork holders. To do this, you just need to attach the plugs to the wall. Hand-made lovers offered options for souvenirs from forks that function as phone holders.
Also watch the video of making a holder from a fork
Before you throw away an old thing, think: can it be used to decorate the interior or turn it into an interesting souvenir? Today, with the help of photos of various ideas and master classes, you can do anything with your own hands. The main thing is to try and fantasize. Also see the entire section of DIY crafts on our website.