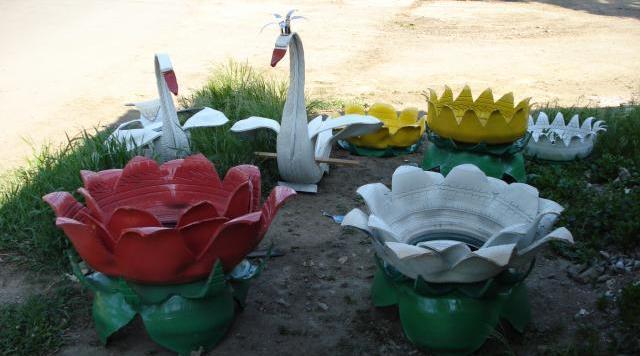 You can decorate a summer cottage or just a courtyard near the house with ordinary old wheels, and many needlework masters make real masterpieces with their own hands! Indeed, in our country, the recycling of used tires is not at the highest level, and we can observe a lot of tires thrown right into the street. But you can combine business with pleasure and create crafts – decorations for a summer cottage, a garden, a kitchen garden with your own hands. Let's see a selection of photos of handicrafts from a tire:
Flower beds from a car tire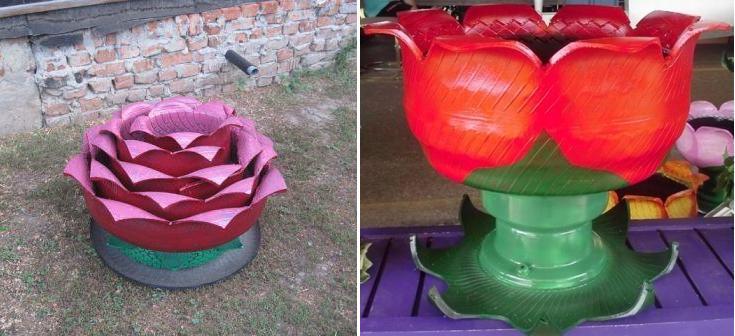 A couple of examples of how you can make beautiful flower beds out of tires.

We use tires in the garden
With the help of paint and imagination, you can create your own and real work of art. There can be a lot of options for the execution of flower girls, we will consider the master classes themselves in the following articles, and now let's look at the southern exotic – a palm tree:
DIY tire palm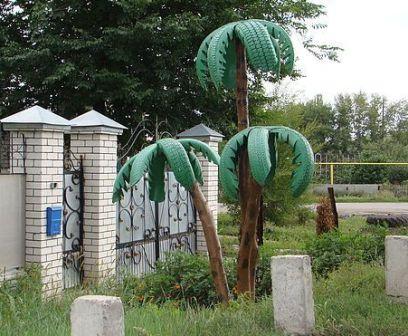 Crafts on the theme of a southern holiday are very popular with us, we have already published an article Palm from plastic bottles, which described in detail its manufacture. In addition to exotic plants, African predators can also be created:
Crocodiles from tires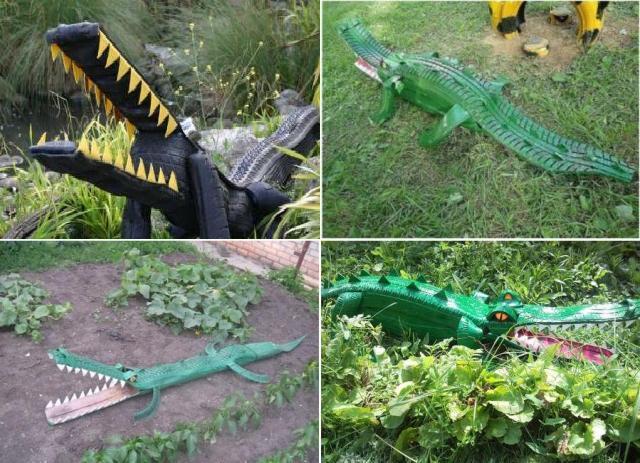 Decorate your garden with auto tire crocodiles
Such animals can not only arouse admiration, but also scare away unwanted guests … Indeed, they are made very beautifully and believably.
Tire elephants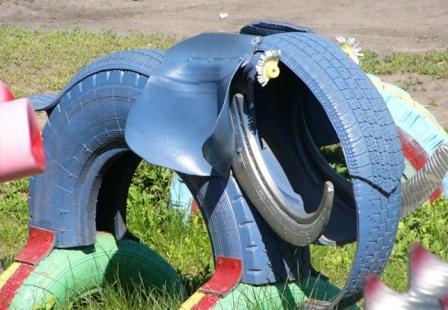 Elephant from an old tire and a camera in the garden
A colorful blue elephant, all from the same southern African countries, will look very good on the playground. Here are a couple more examples of these wonderful inhabitants of Africa:

Having made the correct coloring of the tire, you can create your own zoo from a variety of animals from around the world. And for this you just need: desire, a few tires and a little imagination. Here at someone's house, the tire was turned into snails and a black and white zebra:

Snails and Zebra: Crafts from tires for the garden and vegetable garden
To decorate the garden, you can come up with fancy birds, for example, a parrot can be a good home for flowers:

Parrot and swans: homemade from an old tire
For bird lovers, you can make these funny crafts: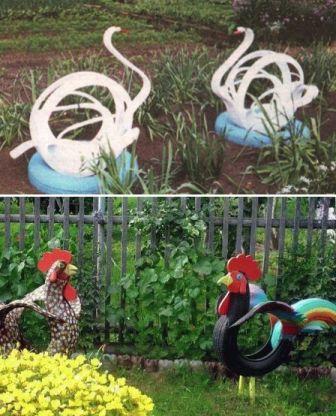 Birds – crafts from tires for a country garden
The poultry turned out to be very wonderful, even the swans made from tires do not look so impressive!
Tire turtles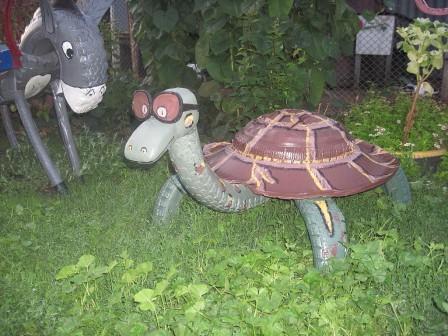 "Auto" turtle from used car tires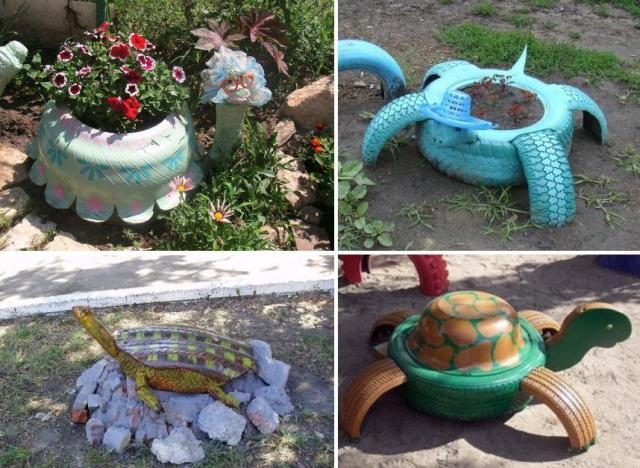 Car tire turtles
Tire cups
How about a good cup of tea ?? Do "a tea set" you can also decorate a flower garden, it will be difficult to pick up such a cup, but it looks great!

Crafts from tires for the yard
For a full-fledged tea set, these cups need good garden furniture, here are just the right samples from the tire:

Old tire as furniture
The furniture really turned out to be original, although it cannot withstand the weight of a person by itself, so the frame must be made of a metal structure.

Playground decoration using a tire
Fabulous animals can decorate both their playground and the area near the house. Few will be able to walk past them without a smile, and children will be interested in such figures most of all..
Funny horses

Horses from car tires
These assistants in the garden will help you transport something, or simply carry a tire with your carts – a flower garden.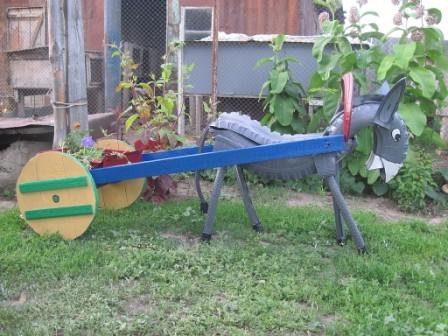 Garden Crafts

basket – flower garden for the garden
Well, at the end of our photo selection, let's watch a video in which I also use tires for needlework and which will be a good addition:
DIY tire crafts
That's all, we hope you liked the photo selection of crafts from tires and tires do it yourself, see you on the pages of our site!