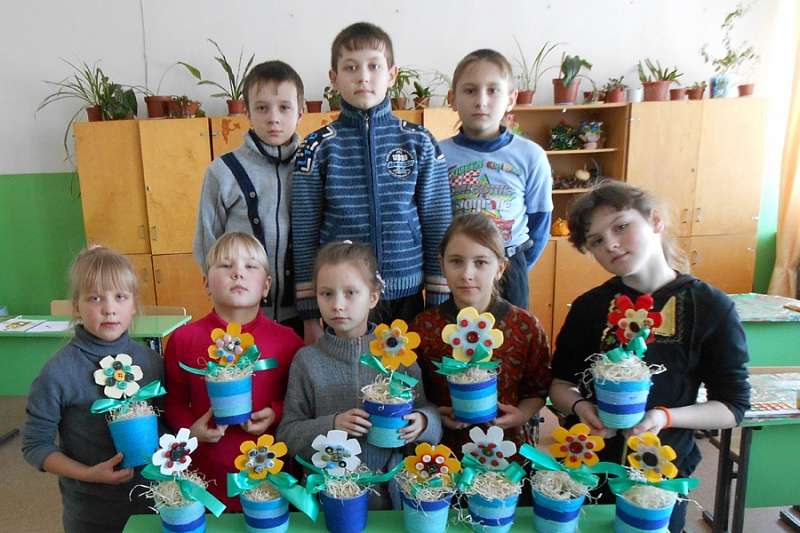 Many people are used to thinking that landscape design is the work of specialists. However, it is not. And nowadays, all gardeners love to decorate the area that is adjacent to their home. And for this purpose, a wide variety of materials are used today. Sometimes you can even find such materials in your closet. For example, every housewife has empty mayonnaise buckets at home. And if you have a similar container just lying in the far corner of the barn, then show your imagination and make extraordinary garden crafts from mayonnaise buckets.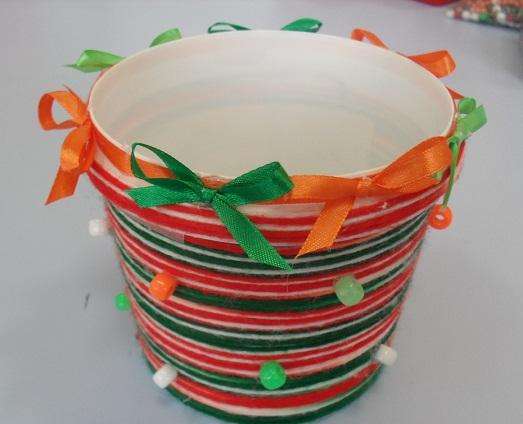 What can be done with unnecessary mayonnaise buckets
In order for you not to be bored, start tinkering with various crafts. It is worth noting that mayonnaise buckets are often used for crafts. Skillful and creative people will be able to make of them:
decorative containers,
decorations with elements of pots,
pots,
flashlights or bells,
complex compositions consisting of several parts.
But before you start making a craft, it is worth preparing everything you need for this work. So, you will need:
empty buckets,
acrylic paints,
brushes and sponge,
glue,
stencils,
transparent varnish,
various things for decoration (these can be: pebbles, glass and jewelry from the store).
How to make a planter from an empty mayonnaise bucket
From a mayonnaise bucket, you can make a simple and at the same time functional craft. Many people make flower pots from buckets. In this case, the decoupage decoration method is selected. This method will allow you to make a real masterpiece from a simple bucket..
And in order to make such a work of art, it is worth doing the following:
Take a clean bucket and treat it with alcohol in order to degrease the surface of the item.
Now, using a sponge (sponge), white acrylic paint is applied to the surface of the bucket. In this case, the surface you have as a result should turn out to be flat..
As soon as the first layer of acrylic paint dries, put another layer of the same color on top of it..
Now the themed napkins should be cut. However, it is worth cutting with details. For example, you can cut them into flowers or leaves. At the same time, it is recommended not to cut off the edges of such figures, but to pluck them out. It is also worth separating the top layer with the pattern from the main layer of the napkin..
Then it is worth applying PVA glue to the degreased surface of the bucket. Then the drawing is glued to the glue. In this case, the drawing should be carefully straightened..
As soon as the image is dry, it is worth adding additional details. This work will require paints and brushes..
Finally, the entire composition is varnished..
Advice! To make the plant comfortable to grow in such a pot, you should definitely make a drainage hole in it..
See what cute pots you can make yourself.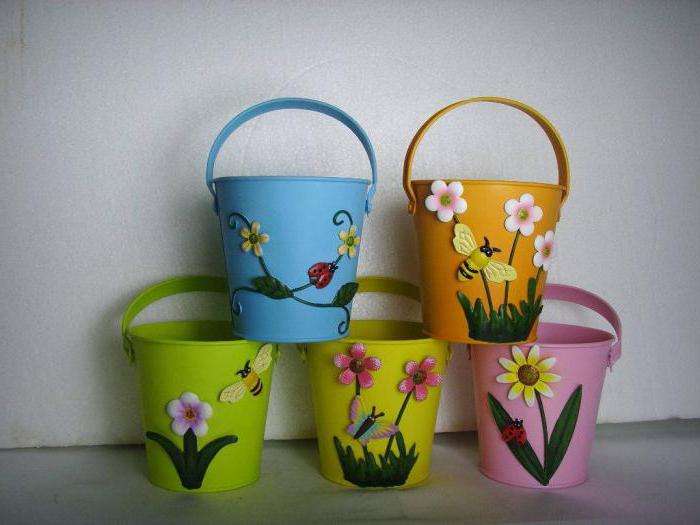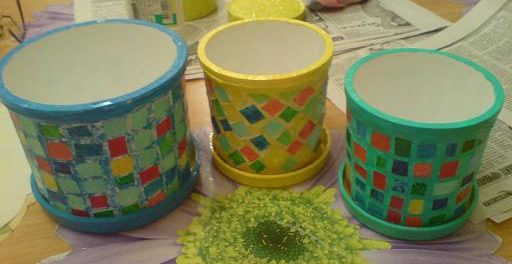 Bells from mayonnaise buckets
The mayonnaise bucket is a very useful thing in the household. Therefore, you should not throw away such unnecessary cans. And if this product is turned upside down, then you can get a beautiful and unusual craft. You can end up with an interesting bell or flashlight..
To make a bell, attach an interesting pendant or tongue to the bucket. And if you have any skills, then make even a real flashlight.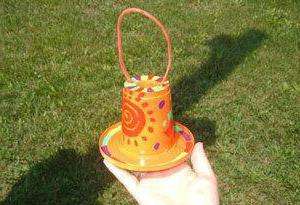 And so that the craft does not look boring, its inner and outer surfaces can be painted or decorated using the decoupage technique. You can also complement such a composition with various decorations and other curious effects. It is recommended to decorate the top of the bucket with a bow. But make the bow unusual. Use plywood for this purpose. Feel free to hang such bells on the street. Well, if you have them hanging in the gazebo, then make a beautiful satin bow for them..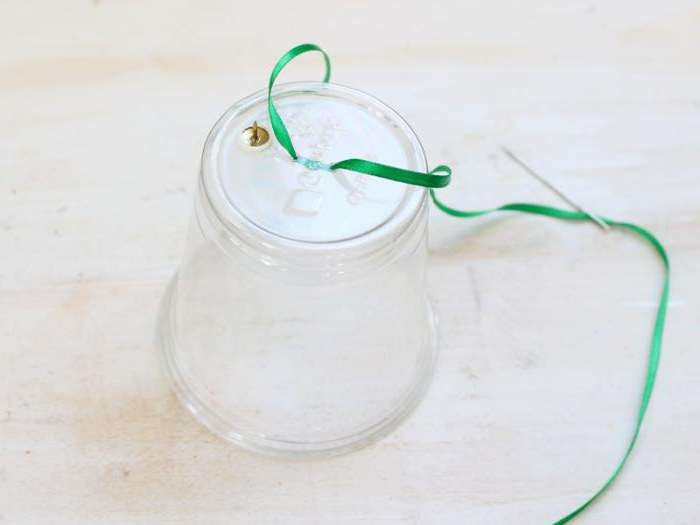 Sculptural compositions
Here you can see garden crafts that you can make from mayonnaise buckets. Look at photos of interesting ideas.
If you have a large amount of mayonnaise containers, then try to make complex, but very beautiful crafts. Dream a little. Be sure that you can get very beautiful crafts..
If we talk about a simple version of the craft, then you can make just such a beauty that will become a bright decoration of your summer cottage. It is very simple to make it, but you can cut out the bees from plywood, and then paint them..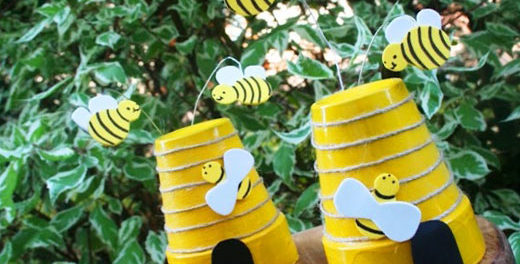 You can also make borders from empty mayonnaise buckets in the garden..
If we talk about compositions, then they can be completely different. For example, you can create such a masterpiece with your own hands. Such a sculpture will surely become a wonderful decoration for your summer cottage..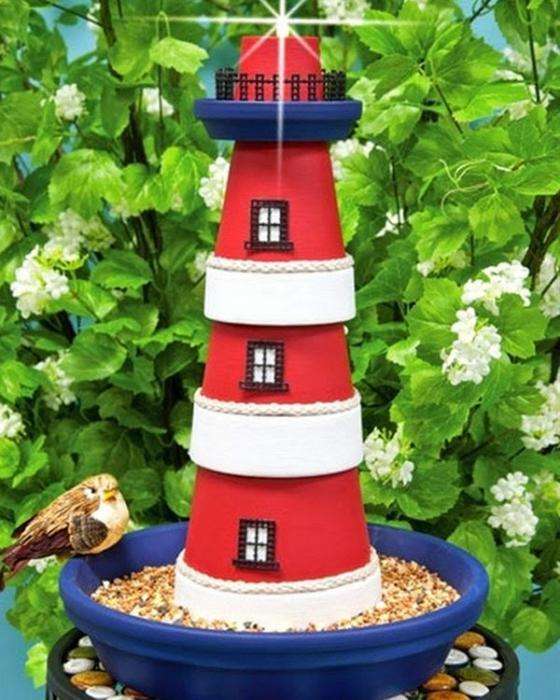 Mayonnaise buckets are commonly used as flower pots. Above, we described how to decorate buckets using decoupage technique. But if you work a little, you will get very nice pots, tied with a rope..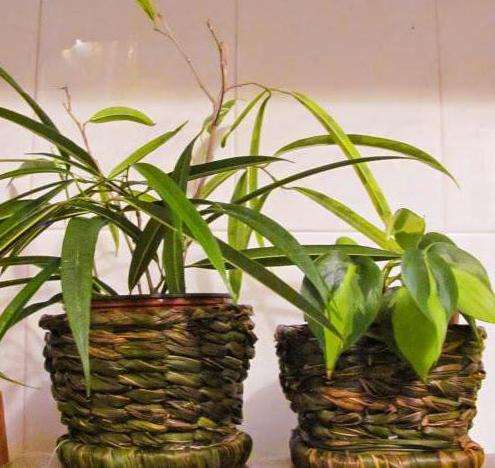 What to do with the lids
It is worth saying that along with the buckets, lids from this container also accumulate. However, you do not need to throw them away. You can also make original crafts from them. But what crafts to make from mayonnaise lids, it is worth telling you today. For example, you can make flowers like this for decoration..
Progress:
So, on cardboard it is worth drawing a flower of the desired shape. After which it must be cut.
Then we take a rubber ball with holes and not needed and apply a stencil to it. We also cut a flower from this material..
Now it's worth cutting out the middle for the flower. It can be red or yellow. Now we need to fold the flower. First, a large green flower is placed, then we put a red or yellow flower on top of it. Then we lay the middle. Now with the help of decorative nails we make a hole in the flower.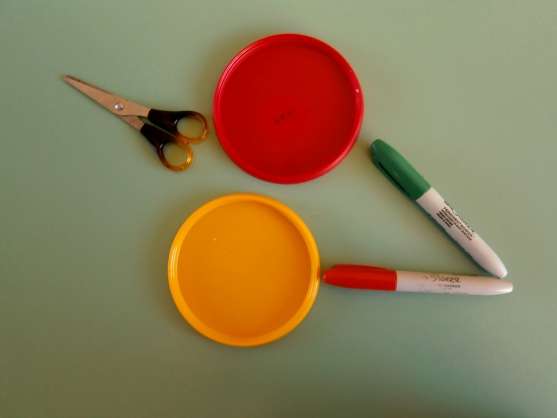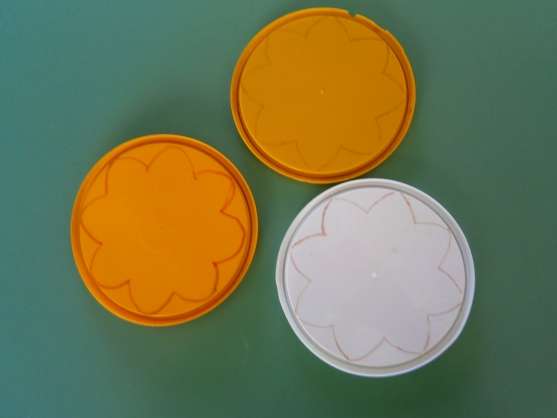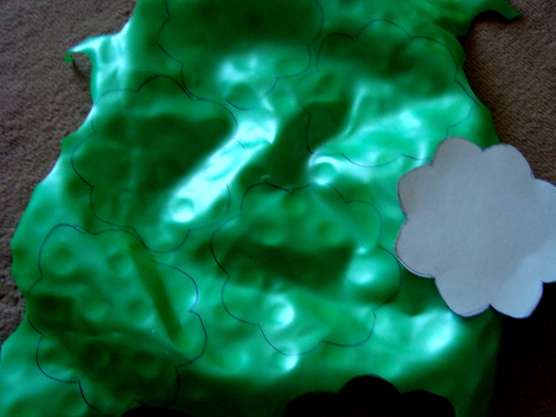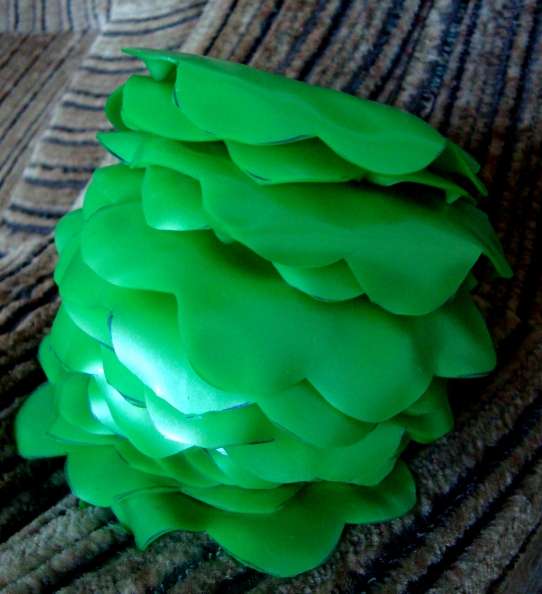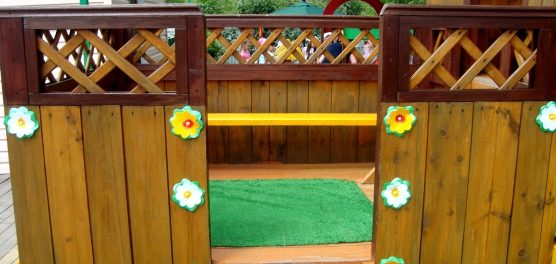 You can also make such a wonderful caterpillar from the covers. She will be able to decorate the group in the kindergarten. Surely, all children will be delighted with such extraordinary beauty.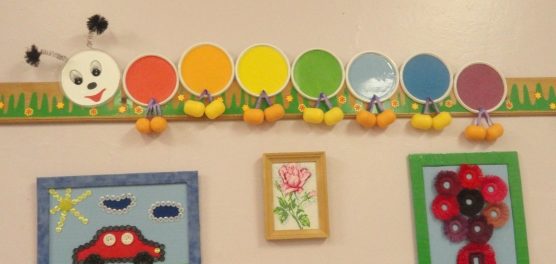 Finally
As you can see, there are many materials in the world that you can easily use to make crafts to decorate your garden or home. To enjoy the beauty, you should turn on your imagination and try to create something unusual..