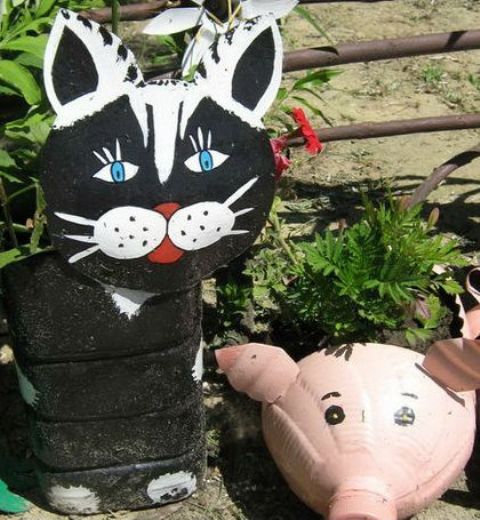 DIY cat from plastic bottles
Plastic bottles is in almost every home, moreover, that they can not only serve as a container for liquid, but also serve as an excellent material for creative ideas. Plastic bottles today come in a variety of sizes from small shampoo containers to cans for household products and building materials. In this article, you will learn how to decorate your garden or backyard with a DIY cat made from plastic bottles..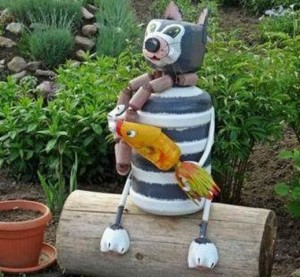 Materials for our craft:
– bottles of different sizes;
– acrylic paints or special paints for plastic;
– sandpaper;
– solvent;
– awl;
– scissors.

Craft for the garden cat from plastic bottles
Carefully consider the choice of paint, because the product will be on the street and over time it should not lose its attractive appearance. High-quality paint for plastic products does not fade, does not wash off or crack.
Prepare a container for staining. It must be dry, clean and fat-free. To do this, remove the label, remove the remnants of the glue with a solvent or alcohol.
Use sandpaper to rub the surface of the bottle to increase the adhesion of the paint to the surface..
Cut the tail and ears out of plastic and glue them to the surface in the right places. A mustache can also be made from cut bottles, wire or fishing line. Parts are inserted into the slots. To increase the strength of the attachment, you can make separate holes and twist them with wire.
We paint all elements in different colors. Eyes, mouth and nose can be drawn, or glue on parts from old toys. The legs can be made from plastic water bottles. Four necks with a lid will act as paws for a cat.

The appearance of the craft largely depends on your imagination. You can make not just one cat, but a whole cat family, which will decorate the lawn of your plot, flower bed or even a plot near the entrance in the city. So that the craft is not strong and light, fill it with pebbles or earth.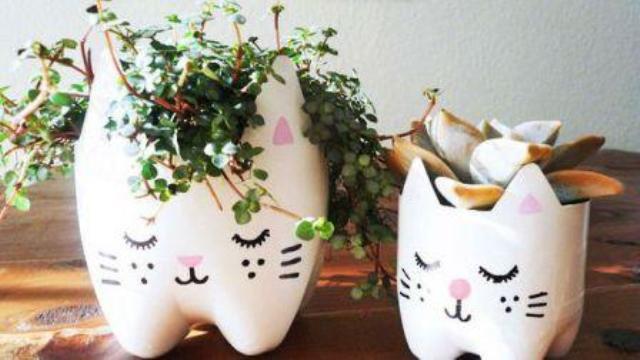 Do not limit yourself to just water bottles, there are other containers.. Cats of different shapes and colors will succinctly merge into the landscape design of your site.
 Watch a useful video: DIY cat craft
We also recommend that you read the section "Country crafts", where you will find a lot of new things for creativity in the country.