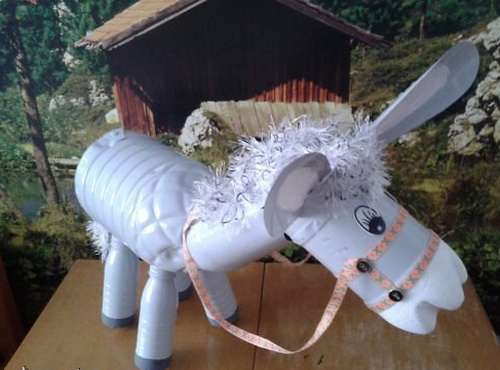 It will be several times more pleasant to work on the site if you beautifully refine the territory with your own hands. Of course, many garden crafts can be purchased at the store, but it is much cheaper to make them yourself. We offer you some ideas for making crafts from plastic bottles for the garden and vegetable garden. Beautiful photos and a detailed description will help you make unique products in the shortest possible time.
Description and photo of handicrafts from bottles for giving
Start with the simplest bottle products. To do this, you will need to cut several bottles into two parts, and then give the edges a curly shape. With just a little effort, you can make unique shades for your garden lights..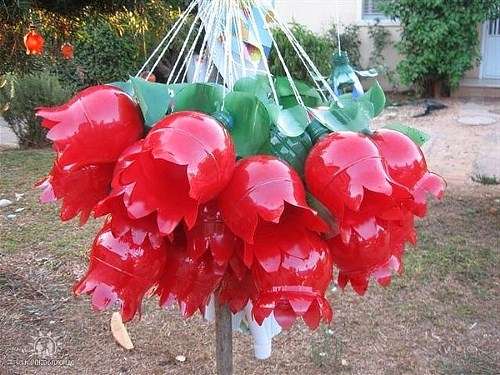 Photo of lanterns for the garden
From large plastic bottles, you can make a beautiful donkey, which will add zest to your landscape design. You need to prepare:
bottles for 2, 0.5 and 5 liters;
artificial flowers;
ribbons and other decorative items;
paint;
brushes;
Scotch.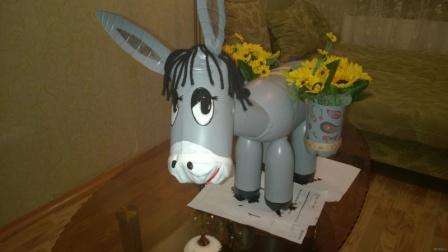 Photo and description of a donkey from plastic bottles
First you need to paint the bottles and wait until they dry completely. From small bottles you should make flower pots for your donkey to transport. The largest bottle should serve as the torso, and a little smaller as the donkey's head. All parts can be fixed with tape or self-tapping screws. Get creative and build your garden colt from plastic bottles.
You need to clean your country house, but you don't have a broom? Use plastic bottles again. To do this, the bottom of each bottle is cut off, and then small cuts are made along the length. You need to make other blanks in which to cut the neck. After that, the bottles are put on each other and fixed on a prepared stick..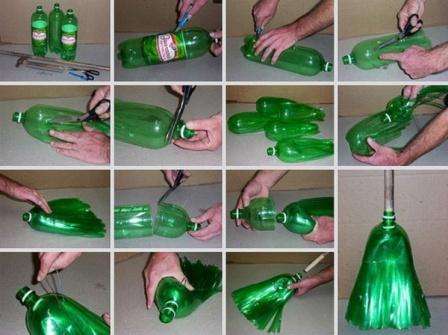 Flower pots made of plastic bottles look original in the garden. You can make an incision in the center, and then fill the container with earth and plant beautiful flowers in it..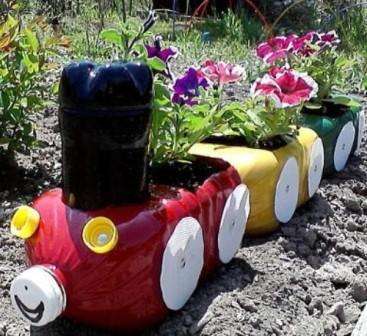 Photo crafts from bottles for the garden
Some needlewomen make cute bottle pots. You can give them the shape of bunnies, kittens or bears, it is funny to decorate and plant flowers in peaks.
There are a lot of ideas for crafts from plastic bottles for the garden and vegetable garden. With the help of photos and descriptions, you can make beautiful products for decorating landscape design with your own hands with minimal effort. Imagine, then your summer cottage will become a favorite place not only for work, but also for relaxation..