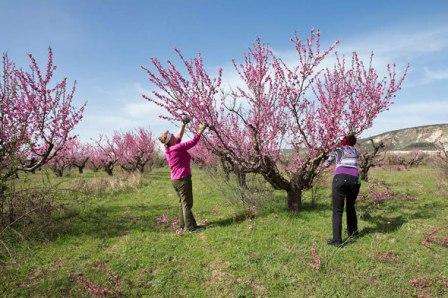 Pruning is an important step in tree care, on which the shape of the crown depends, as well as a good harvest. Many people think: what could be easier than cutting a tree, because you just need to take a good pruner and cut off excess branches. In fact, it is important to know when and how to prune the tree correctly. We invite you to find out about, how is peach pruning done in spring. Watch the video for beginner gardeners and use the helpful tips from this article, then your garden will not only bloom beautifully, but also bear fruit well..
Peach pruning in spring. Videos for beginners
Before you start pruning a peach, you need to decide on the types of shoots, of which the tree has six.
Growth shoots
Mixed shoots
Bouquet branches
Small twigs
Summer shoots
Spinning tops
Watch the video: Pruning peaches in spring
Spring pruning is carried out in order to form the crown of the tree, so you need to remove branches for different purposes. It is better to start pruning the tree in the period after the buds have swollen, but before flowering is complete. Summer residents consider pruning to be the optimal period when pink buds appear. The peculiarity of this period is that the likelihood of infection of the tree by cytosporosis is reduced. The result of good pruning is an increase in the quality and size of the fruit, as well as an increase in the yield of the peach..

Keep in mind that the peach is a rather finicky tree, so it is important to cut the branches right away, and not break or saw. It is advisable to pre-disinfect the instrument. Lubricate the pruning site with garden broth.
Useful video: How to trim a peach correctly
Peach pruning in summer and autumn
Summer tree pruning is neglected by many gardeners, although it is essential. It is often called sanitary pruning, as the quality of the fruit depends on it. In the period from mid-June to mid-July, you need to prune dried branches, thin out shoots that do not bear fruit, shorten weakly fruiting branches, and also cut branches growing in depth.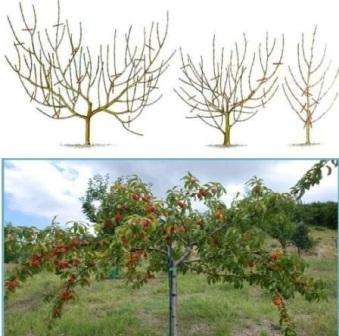 Also read: Repairing raspberries: growing and pruning care. Video
In the fall, the tree is pruned in order to prepare it for winter. All activities should be carried out after harvest and the end of the growing season. If pruning is carried out before mid-October, then the tree will tolerate the acclimatization period well. As a result, no more than 80 branches should remain on the peach..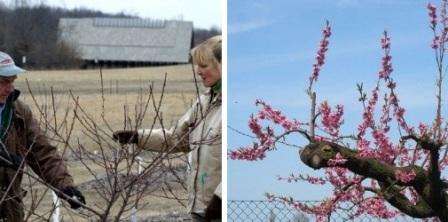 Peach pruning should be carried out in the spring to form the crown, in the summer – to improve the quality of the fruit, and in the winter – to prepare for the cold. With your own hands, you can grow beautiful peaches in the garden and be content with a rich harvest..