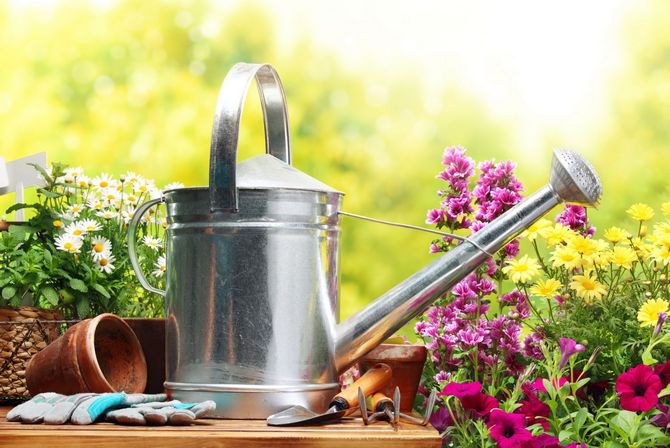 Who doesn't love flowers? Plant them in late autumn or early spring, after the first snow melts, and in the summer you will enjoy the aroma and beauty of various, multicolored flowers. For some, they simply serve as a decoration for a summer cottage, and for a summer resident, flowers are a faithful assistant in the fight against various pests. Nature has endowed plants with many properties useful for the garden. Among them there is a real weapon against rodents and insects, so why not take advantage of this gift of nature? But how can they help and how you can use them?
The main function of a flower is the formation of fruits (seeds) due to sexual reproduction, which is impossible without the attraction of insects that pollinate them. However, there are some types of flowers that can repel pests and pathogens..
Marigold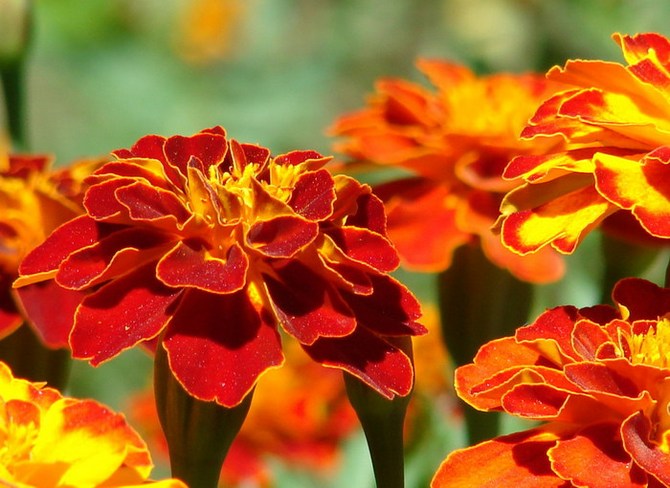 Unpretentious to care for and very common among gardeners are marigolds. The leaves of the plant have such a unique property as the formation of substances called phytoncides, which prevent the reproduction and development of bacteria, and also repel various soil worms (including nematodes) that harm potatoes and tomatoes. Marigolds will perfectly protect strawberries from weevils, planted around the perimeter of the garden, as well as when planting onions, cabbage – from scoops, cabbage whites and onions.
A widely used measure of control is a tincture of marigolds against aphids for the legume family and cultivated plants. For cooking, you will need chopped stems and marigold flowers. Having filled, half the container (usually a standard bucket) with raw materials is poured with water (40-60 degrees) and left to infuse for about two days. Liquid soap (40 grams) is usually added to the resulting infusion and used to treat aphid-affected gladioli bulbs. To lay the foundation for healthy soil at their summer cottage and protect plants from diseases, especially from fusarium, experienced summer residents in the fall bury dried stems and marigold flowers in the ground near the garden.
Tansy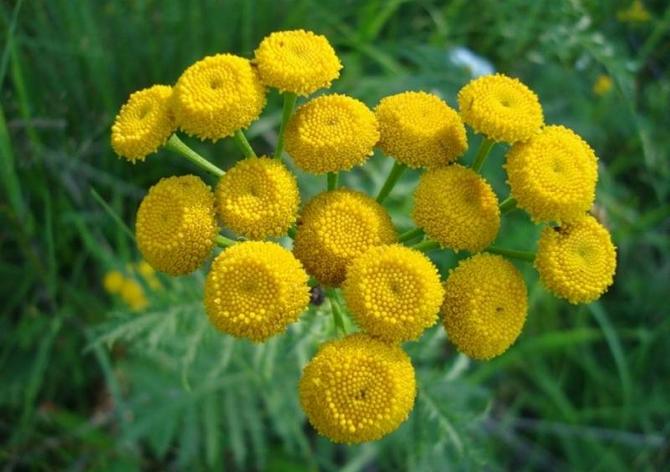 Many people mistakenly remove tansy from their gardens, considering it a weed. However, even in ancient times, it was used by people to treat plants against pests, besides, some of its varieties can be a wonderful decoration for your garden and vegetable garden. Insects hardly sit on tansy, mosquitoes and flies fly around it because of the essential oils (thujone, camphor, alcoids) contained in the flowers, which emit a sharp and unpleasant aroma. Powder made from dry inflorescences helps protect gooseberries, currants in the fight against such a common pest as moth.
By planting tansy on a section of soil, near the trunk, you will protect yourself from a pest that damages the fruit of apple trees. And to protect yourself from ants, you should plant it around the perimeter of the entire site..
Calendula (marigold)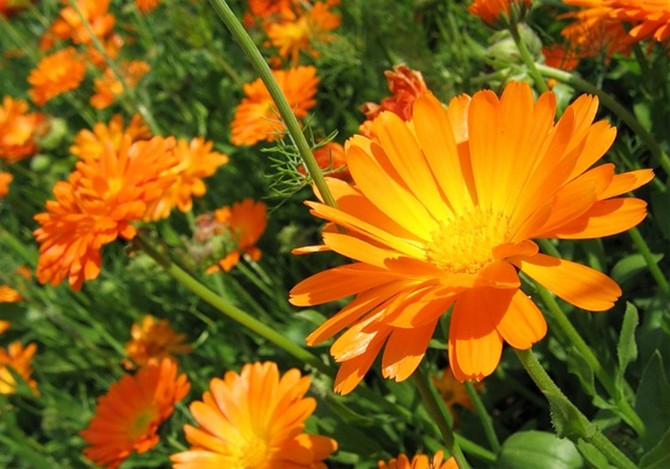 Who is not familiar with this flower? This touching calendula with yellow or orange petals is considered not only an ornamental plant, but also capable of repelling such pests as a bear, a five-point hawkworm caterpillar, an asparagus rattle. Calendula is planted next to vegetables (potatoes, cabbage, peppers, tomatoes) and always alternating, thereby protecting from pests.
If you plant marigolds next to strawberries, this will help protect them from aphids and will not develop fungal diseases. It will also save you from root rot. If you suddenly notice that aphids have stuck to the calendula stalk, you should not worry – the strawberry bushes will remain intact, since the pest will remain on the nails. Volatile biologically active substances formed by the plant suppress the reproduction and growth of pests. It is widely practiced to lay the leaves and stems of calendula in the soil, use them for compost, as well as to create special beds that naturally heat the roots of plants from below..
Feverfew (chamomile – Dalmatian, Caucasian, Persian)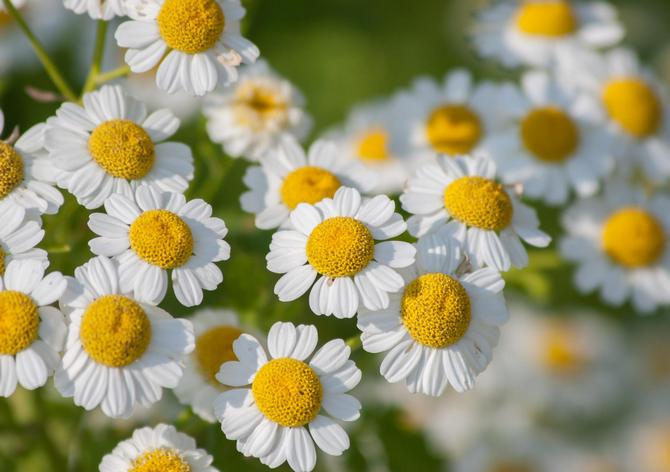 Feverfew, or chamomile as it is most often called, is very effective in pest control and is appreciated by many gardeners. A group of natural insecticides (pyrethrins and cinerins) contained in perennial flowers of the herb family penetrate the insect's body, paralyzing it. Do not worry, they are not dangerous to humans and animals, but toxic to fish and bees. Easily copes with such pests as: ants, flies, rams, fleas, lice, aphids, mosquitoes, spiders, mosquitoes, and the family of parasitiform ticks – Caucasian chamomile.
It is used as a natural substance to scare off arthropods – by fumigating a room or planting it next to vegetable beds and fertile trees to protect against moths and aphids. Chamomile is a popular method of protection against rodents – this is another amazing property of it. By treating young fruit and vegetable plants with a powder of dried pyrethrum flowers, you will get rid of fleas, larvae, caterpillars for a long time. Often in the fight against fleas, ticks in pets, chamomile tincture is used.
Nasturtium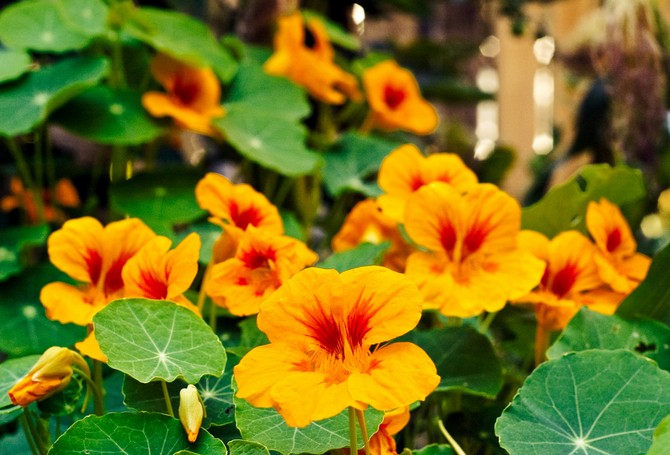 Nasturtium flowers not only have a pleasant aroma, but also fight against the reduction of garden pests. If you plant a few bushes in the garden between the tomatoes, this will help you scare off whiteflies, and cabbage from cabbage. Every florist knows that nasturtium helps to fight the diseases of peonies. Having dug it around the trunk of a fruit tree (cherry or apricot) – you will get not only a protector from pests, but also a substance that improves plant nutrition and soil properties – the yield will increase.
Among summer residents, it is common to use dry stems and leaves as a filler for planting vegetables. It will also help free the soil from late blight, which is rapidly spreading during dense planting – a fungal plant disease.
More about growing nasturtium
Geranium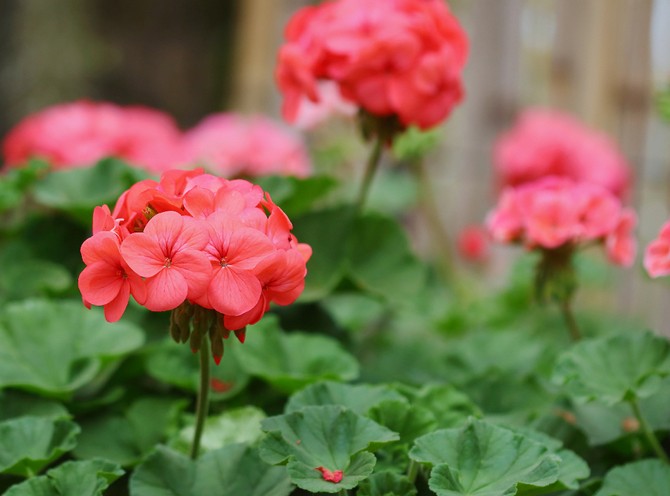 Geranium is loved by many gardeners, because it is not only a beautiful plant, but also very useful. We are used to seeing geraniums on home windowsills, but in the garden they can safely winter in the ground. It is worth planting in the spring between berry and fruit crops, thereby the smell of geranium will scare off many pests, especially aphids. Perfectly protects against harmful organisms that damage many plants, and is also very useful and indispensable in improving indoor air. According to many gardeners, there will be fewer flies if you decorate your house or balcony with potted geraniums..
More about growing geraniums
Petunia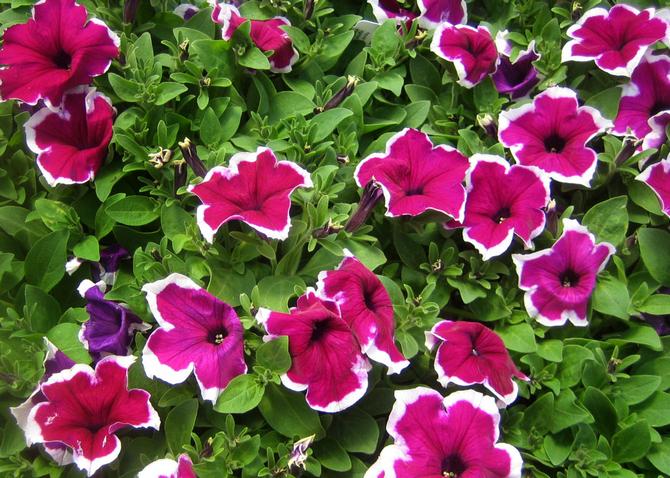 Large, beautiful and multi-colored petunia flowers have made her a favorite among flower growers. Perfectly repels garden pests, preventing the occurrence of diseases in plants of the legume group. It will also save from dangerous pests, cruciferous fleas, vegetable crops (turnip, Chinese cabbage, daikon), and its neighborhood will not harm garden flowers.
Details about growing petunias
Lavender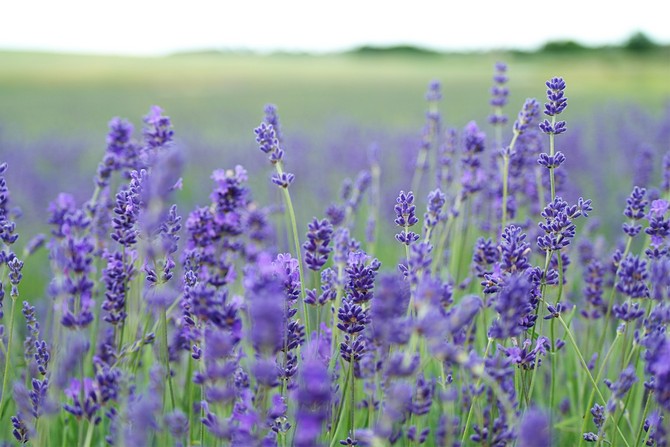 For people, the smell of lavender is pleasant, but the moth cannot stand it, which has been proven by its effective use for a long time. To keep wool and fur garments moth-free, place dried stems or lavender flowers in a cupboard. All gardeners face the problem of the appearance of ants, mucus and aphids in the garden, they cause a lot of harm. But how do you get rid of them? The most radical way is the use of chemistry, but it is best used as a last resort. The most faithful folk way is to use lavender, decorate your flower beds with it..
More about growing lavender