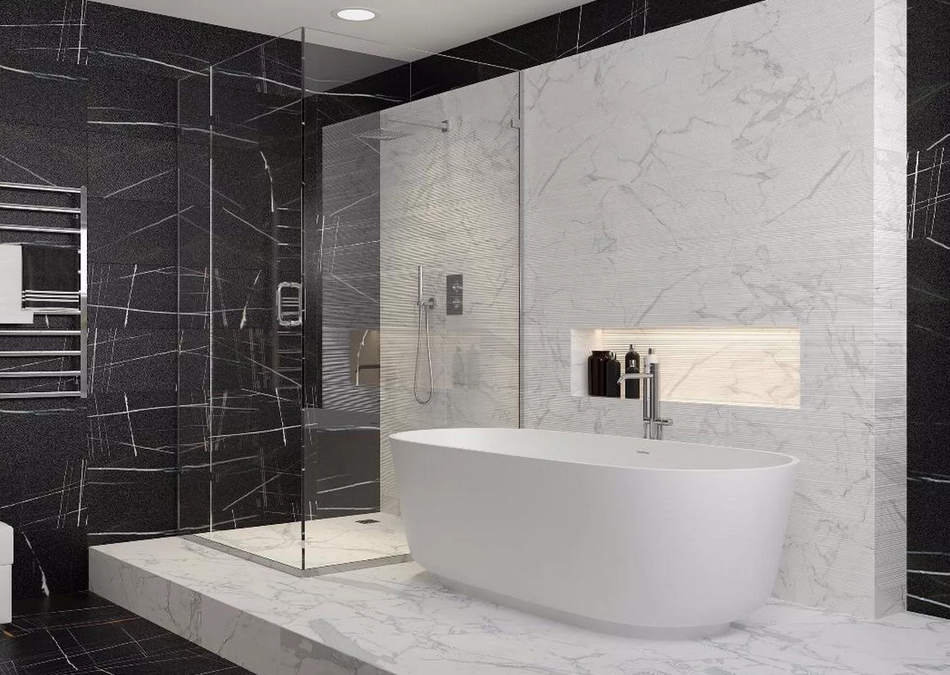 Marble Tiles – this is one of the types of porcelain stoneware that is popular in our time. The characteristics of the material are very similar to those of natural stone. The basis of the tiles is granite chips, which are coated with special mixtures. With the help of this material, you can beautifully clad the walls of houses inside and outside, create a luxurious flooring.
Advantages of marble effect tiles
It is not in vain that the material has become so popular among buyers. He has a considerable number of strengths, which should be dealt with in more detail:
• Durability and long service life. Thanks to a special method of obtaining marbled tiles, manufacturers are able to achieve maximum indicators of its strength. Marble-look ceramics withstands long-term contact with high levels of humidity. Even due to severe frosts, deformations will not appear on the surface of the material.
• Chic look and easy maintenance. Advanced technologies for creating artificial marble make it possible to decorate tiles with unique patterns that cause genuine delight. There are no unattractive inclusions, cracks and pores on the cut of the material, it is perfectly even. The process of caring for marbled tiles is very simple, since it is enough to wipe the material with a damp sponge as soon as dirt appears on it..
• High rates of thermal conductivity. This material is often used to create a modern underfloor heating system. A significant advantage is that the tile does not conduct electricity..
• Fire safety. The tile is not afraid of prolonged exposure to an open flame, does not ignite. Even after several decades, it will retain its rich hue, because the sun's rays do not contribute to its fading..
• Affordable cost. Marble tile prices are reasonable. Even a person with a limited budget can afford such material..
• Ease of installation. People without relevant experience can cope with such work. The main thing is that you strictly follow the instructions..
Labor results will meet your highest expectations.
Be sure to take a look at this modern and trendy material. Marble tiled surfaces will be transformed for the better right before your eyes.