A gift for a newborn baby should not only be beautiful, but also environmentally friendly. That is why the question often arises: "What to give a small child?" Remember that the gift must be practical, because at first the baby will not use it. DIY diaper cake is one of the best gifts for babies. A step-by-step photo will help you fold the cake and present an unusual surprise.
How a diaper cake is made. Master class with photo
The technology for making a cake from diapers is quite simple, and all that is required of you is creativity and imagination. Prepare all the necessary materials in advance, because in addition to diapers you will need:
– cake tray
– clothespins
– ribbons
– toys and decorative items
– postcards
– flowers
– double sided tape.
The appearance of the cake depends on the number of diapers you would like to use. To make a large three-tiered cake, you need at least 84 pieces. You can use diapers of different sizes or firms for each layer, so that the cake will remind you of the donor for a long time..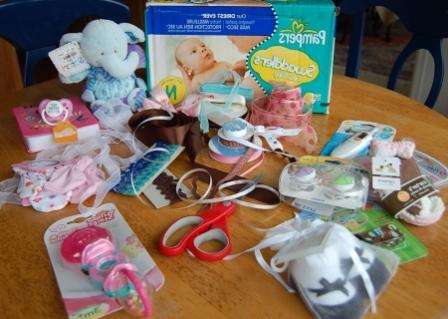 Lay the bottom tier first, about 50 diapers will come in handy for this. Take a tray or wrap a piece of cardboard with pretty paper. Then put the prepared stack of diapers around. Insert a roll of toilet paper into the center and tie the bottom tier with tape.
Also read: Crafts from cones with your own hands, photo schemes for children
Now divide the remaining diapers into a larger and smaller part to make two more tiers. Similarly, make two more tiers and secure them one on top of the other. To simulate a real cake, take colored ribbons and wrap them around the cake. You can fix them with double-sided tape. Use foamiran flowers or felt figures as decoration.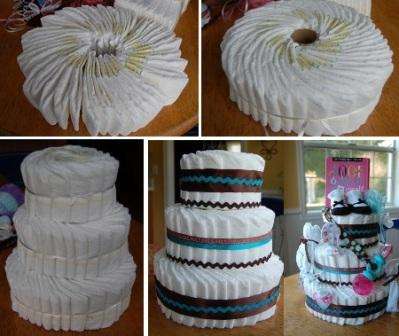 It remains to decorate the cake with useful gifts for the child. It can be a booklet, booties, bows, sliders, cream or shower gel. Choose everything in one color, then the cake will turn out to be truly creative and will look beautiful from all sides.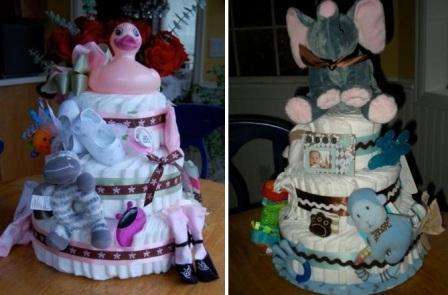 If the gift is for a girl, then give preference to pink colors, and blue and green are suitable for a boy..
Another step-by-step diaper cake master class: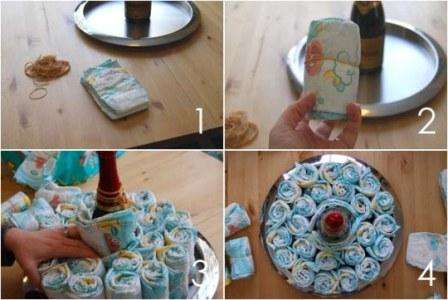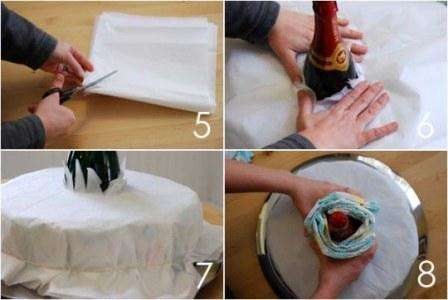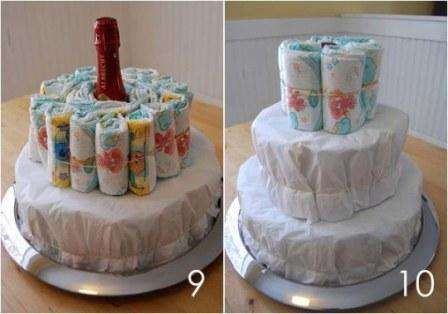 Hope that step by step photos of how to make a cake from diapers do it yourself will come in handy. Present beautiful and useful gifts that will remain in your memory for a long time and will be captured in the photo.