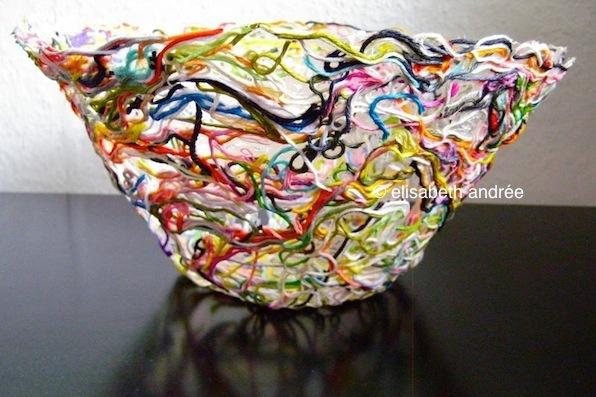 DIY crafts from yarn
Needlewomen always have leftovers of various materials that should not be thrown away immediately. Even the shortest knitting threads can be useful for creating original crafts. We want to tell you how make a craft vase of yarn, into which you can put various little things or use it as a candy bowl. Handicraft is not just a creative process, but also an opportunity for good communication with children or friends. Since handicrafts are highly valued, handicrafts can become the basis for developing your own business. Do not be afraid to experiment, create and amaze yourself and others!
Yarn Craft Materials:
– the remains of multi-colored yarn;
– flour;
– water;
– vase mold (you can use any bowl, salad bowl or vase).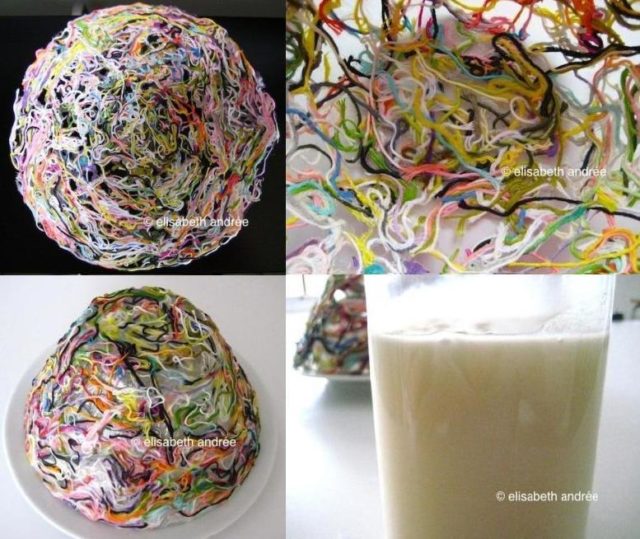 Stages of making a vase from yarn
1. To keep the vase in shape, we will moisten the yarn well in a glue solution. To prepare it, you need to take 2-3 tablespoons of white wheat flour and mix with 0.5 glass of cold water. Boil a glass of water separately and pour the mixture into it, stirring carefully so that no lumps form..
2. Before starting work, cool the glue well so as not to burn yourself. Cut the yarn into small pieces (about 4-7 cm). Use colored pieces or sort them by color.
3. Wrap the mold with cling film to make it easy to clean later..
4. The prepared threads are lowered into a container with glue and soaked well. The more glue is absorbed into the yarn, the better the craft will then keep its shape.
5. Turn our shape upside down and stick around with threads. You can lay out some patterns neatly. Try to keep as few gaps as possible and get smooth edges..
6. Leave the vase to dry for several days..
7. When the glue dries well, the yarn can be easily removed from the mold. If necessary, pry it lightly with a needle or scissors. The vase is ready!
The result is a rather original vase that will complement the interior of the kitchen or living room. By the same principle, you can make a chandelier or a glass for pencils. Solid color crafts are best decorated with additional decorative details, such as ribbons or beads..
Also watch a helpful video, which shows a few more crafts from yarn leftovers:
In the Crafts section you will always find master classes and instructions for making useful things with your own hands. You can also send your versions of instructions and master classes in the section "Add advice"