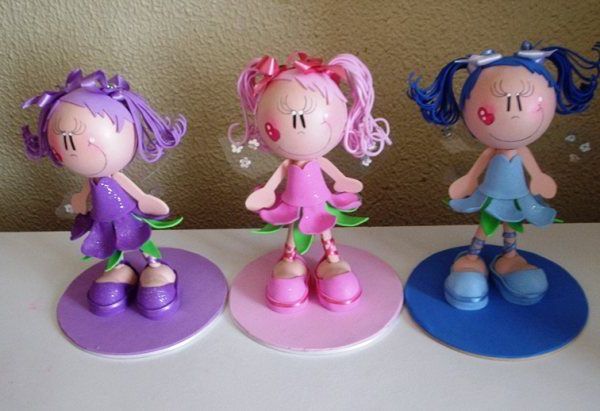 The number of dolls in the modern toy market is constantly growing. More recently, Barbie and dolls were popular, and today children like cartoon characters, as well as dolls that can talk, cry, want to eat, etc. Due to the variety, not only children, but also adults began to collect dolls, creating entire collections. DIY dolls are also in demand today, because they do not belong to mass production and can be truly exclusive.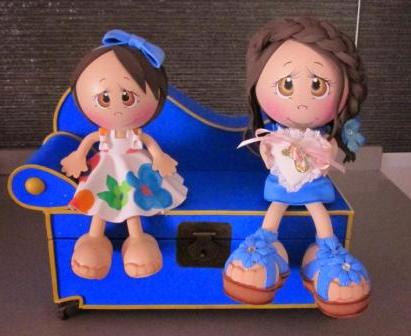 In this article, we will explain, how to make a doll from foamiran. In appearance, this material resembles colored porous rubber and is supplied mainly from China, Turkey and Iran. The thickness of the fom varies from 0.5 to 5 mm, while the surface is monochromatic and smooth, as well as embossed with various patterns and patterns. Thin foamiran is used to make flowers, and thicker sheets can be used to make dolls.
Materials for making dolls from foamiran:

– foamiran of different colors;
– scissors;
– felt;
– iron;
– glue;
– glue gun;
– paints;
– powder;
– wooden stick;
– wire;
– foam blanks;
– marker.
 Master class on how to make a doll from foamiran
1. All parts of the doll are made separately. Take a beige foam and foam ball for the head. Heat the foamiran with an iron and wrap the ball tightly. Gather excess pieces of material and seams in one place so that they can be covered with hair.
2. Cut a circle out of yellow or another color to make hair. Also heat and secure on the head. Hot glue the individual parts to keep track of them..
3. Now you need to cut a long strip of the same color as in step 2. Make cuts, heat the material with an iron and wind on a wooden stick.
4. Glue the resulting curl on the side of the head, divide it into two parts and throw one of them over the forehead to the other side. Glue some of the hair with glue so that it sticks to the bangs.
5. Trim your hair slightly so that it is the same length. Cut out bows or flowers from Thomas of a different color, and decorate the doll's head.
6. Draw the doll's face with a marker and blush.
7. Start making the doll's body. To do this, you can use a foam blank or wrap a suitable cap from glue or deodorant with foamiran.
7. Hands can be cut according to the pattern from thick foamiran so that they do not bend.
8. From felt or other fabric, sew a dress or other outfit for the doll. Find a suitable pattern for your clothes first, then transfer it to the material and sew.
9. To make the legs, use a flesh-colored wire and shape. Cut out a square, heat it with an iron and wrap the wire.
10. Dolls with big shoes look original. It's easy enough to make them. You need to take two foam balls with a diameter of 3 and 5 cm and cut off 1/5 part on one side, and 1/3 of each ball on the other. Then drain the styrofoam to create a flat boot..
11. Cut out a rectangle for the boot, heat the material and stretch the foam blank. To make the rubber suede fit snugly to the boot, glue it well. The sole can be made of a different color. Just trace the boot, cut out the stock and glue.
It is absolutely simple to make a doll from foamiran, while it will be truly exclusive.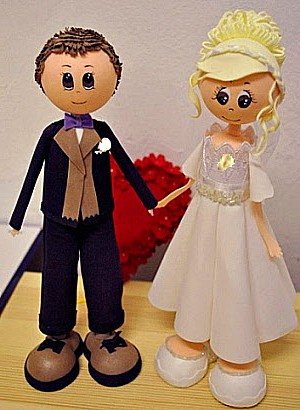 A creative doll is a good gift for a child or even an adult, because you can make a bride and groom or a doll-doctor, engineer, pilot.
Watch a useful video: dolls from foamiran, master class
A beautiful doll will decorate any interior and will remind you of the donor for a long time.
You can find more creative crafts and master classes here.