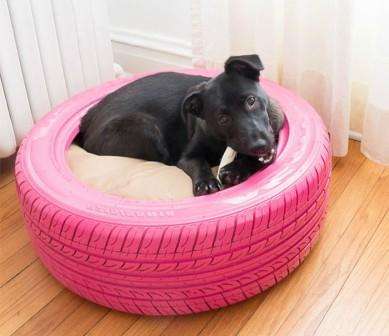 Do you think that only flower beds and fences can be made from old tires? We invite you to learn something new. Not everyone knows how to make crafts from car tires with their own hands, so we offer a lot of fresh ideas and step-by-step instructions. Give a second life to old unnecessary items and use them for interior decoration or landscape design.
Learning to make crafts from tires
Before you start making crafts from tires, decide what purpose they will serve. Modern craftsmen have come up with many ideas for products from tires, so you can make not only decor items, but also high-quality furniture.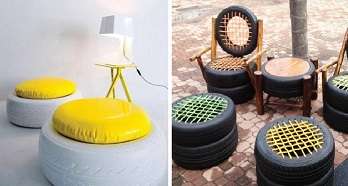 If you connect two tires together, and install strong glass at the top, you get a creative coffee table..
Tire furniture can look creative and stylish. Pay attention to how the set is made of an armchair and a coffee table. This set will appeal to fans of original ideas in the interior..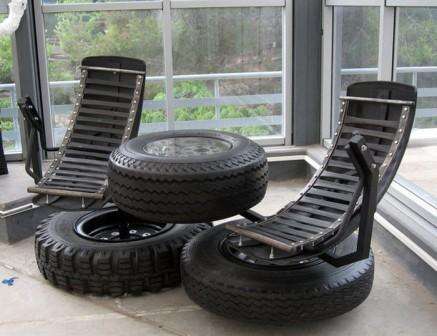 Does it often rain in your area? Why not make a comfortable umbrella stand out of your car tire. Minimum occupied space and maximum individuality in the interior of the hallway of a country house or summer cottage.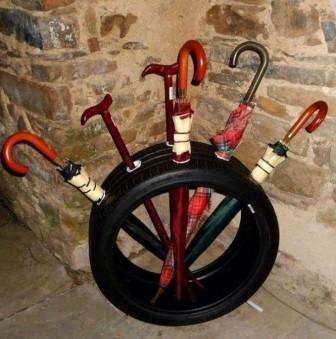 It is not necessary to buy chairs to make a cozy and complete resting corner. Take car tires and make your own chairs with a backrest and a soft seat. Guests will be delighted with such an unusual idea..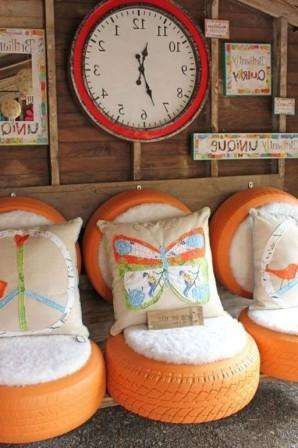 If your dacha has an uncomfortable descent to the water, make solid steps from car tires with your own hands. Even in rainy weather, it will be convenient to climb and descend on such steps..
Once you've gotten around to some creative ideas for how to make crafts out of tires, it's time to start learning. If you are a beginner, start with simple tire products, and in the future you can repeat more complex crafts..
Step-by-step workshop: How to make a swan out of tires
Beautiful swans from car tires have become the most popular type of decor for playgrounds or a summer cottage. Simple and original figures will transform any playground and delight children and adults.

Start your swan craft by preparing the tire. Depending on the size of the tire, certain tools will be needed. If the tire is without steel cord, then a sharp knife and water will be enough to cut it. A tire with a metal cord needs to be cut out with a grinder, which is difficult even for an experienced craftsman.

Before starting work, you need to chalk out the tire so that you know exactly where to make the cuts. Start cutting at the inner rings of the tire. The less you cut, the wider the wings of the finished swan craft will be. Do not rush to throw out everything that you cut off, pieces of tires will be needed to decorate the product. Cut the tire gradually along the chalked contour, while making sure that the junction of the wing with the tail is not completely cut.

If everything is done correctly, all that remains is to unscrew the tire and form a beautiful swan. To keep your figure stable, attach a thick wire to it. From a small piece of wood, try to make a head and glue it to a tire. Then use white and red paint to give the swan a natural look. You can install a swan on blue rings, imitating a lake.
Also read: DIY bus ottoman
How to make crafts from car tires with your own hands now you know. It remains to show your imagination and come up with what exactly you want to make. Use old and unnecessary items to good use and spend interesting leisure time.