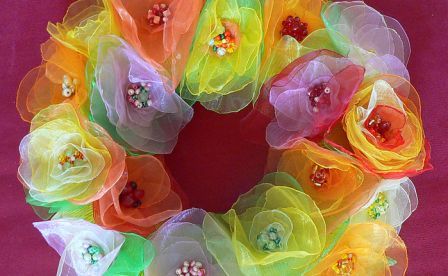 Tulle flowers
For centuries, flowers have been adorned at home and presented at festive occasions. In modern society, the durability and practicality of gifts has been more and more appreciated recently, so many have stopped giving fresh flowers. Despite this, every mother is pleased to receive a beautiful bouquet from her husband and child. In this article, we decided to show how you can make flowers from tulle, which will be a great gift for your mom with your own hands. The flower can be used as a souvenir, garment or hair decoration, as well as to create a beautiful bouquet..
 Materials for making tulle flowers:
-tulle;
-thin paper:
-scissors;
-threads;
-beads, beads, rhinestones.
Watch the video: DIY tulle flowers
See also: How to make a bouquet of polymer clay yourself
Let's move on to doing the work with our own hands:
1) It is necessary to cut 2 identical rectangles from tulle. For a large flower, you can take a size of 40 × 25 cm as a basis, and for several small ones – 2-3 times less. Cut out the same 4 rectangles from paper.

2) To make the product brighter, use multi-colored pieces of tulle and paper.
3) We fold the parts so that the tulle is on top and the paper is on the bottom.
4) Now you need to fold the accordion in 2 cm increments.Paper layers will help make the accordion even and press the tulle.

5) Fold the resulting accordion in half, tie the center with a thread. Now give the future flower its original shape, cutting the edges with scissors. Or just cut corners at each bend.
6) It remains to carefully spread all the layers of tulle, and then the layers of paper, giving the last the shape of the petals.
7) There is another way to make a tulle flower. Leftover fabric is useful for this, or cut narrow strips from a whole piece of tulle. We wind each piece on the arm and carefully remove it. In the middle, we tie it with a thread or ribbon. Cut the ends with scissors and fluff. It turned out a tulle bow. To make a flower, you need 2 such blanks. They must be sewn crosswise. We decorate the core with beads or beads.

Tulle keeps its shape very well, so it is convenient to work with it. Sew the details better, as the glue does not adhere them well. If you want to make a floral applique, use tulle and felt. By showing imagination and using the most common materials, you can make a beautiful bouquet for mom. A handmade gift from a child is much more valuable than expensive souvenirs and jewelry.
 Watch the video: DIY tulle roses
Also check out our section of the site with gifts