The teacher's favorite holiday is perhaps the world-famous holiday – Teacher's Day. In addition to teachers, this holiday is also loved by students. And if we turn to the observations of students, then we can understand that on this day teachers are the happiest and happiest people. On Teacher's Day, it is customary for teachers to give flowers and various gifts. You can also make colorful wall newspapers for them, which they will consider with pleasure. The evening of such a holiday, as a rule, ends with the teachers going to concerts that talented students have prepared for them. In addition to colorful bouquets of flowers, you can present candy crafts to the teacher. It is worth noting that such gifts look incredibly great. And it is very pleasant to receive such products. Therefore, be sure that the teacher will definitely like such a gift..
Sweet and Beautiful Teacher Gift Ideas
In this article, we managed to collect the best craft ideas. And if you decide to create something like this, then the most important thing in this case is, of course, the candies themselves. Sweets must be delicious. Therefore, you can choose them based on your taste or the preferences of the teacher. It is worth noting that it is recommended to inquire about the teacher's tastes in advance. To create an original edible gift, you can use:
caramel toffee,
chocolate candies,
chocolate bars and cookies.
On a note! In the creation of a gift, it is worth using those candies that have a factory packaging. At the same time, during the manufacture of a gift, it should not be damaged..
The next step is to determine the topic of the future presentation. Can be made: a cool magazine, a ballpoint pen, a school desk, and even a blackboard.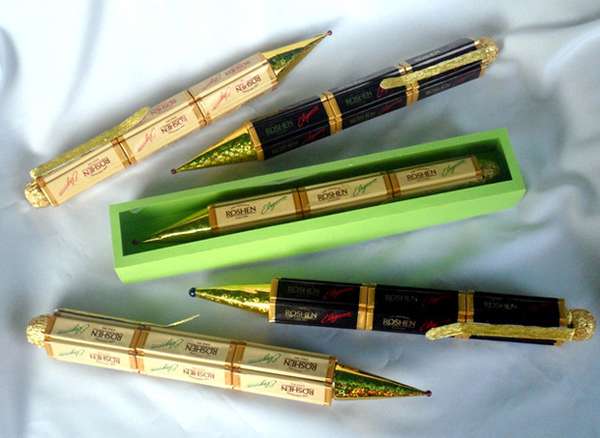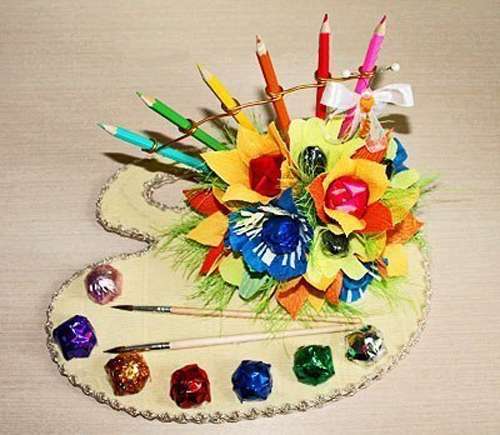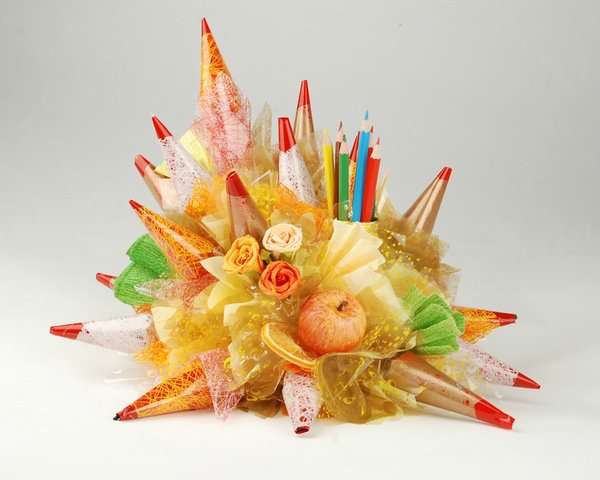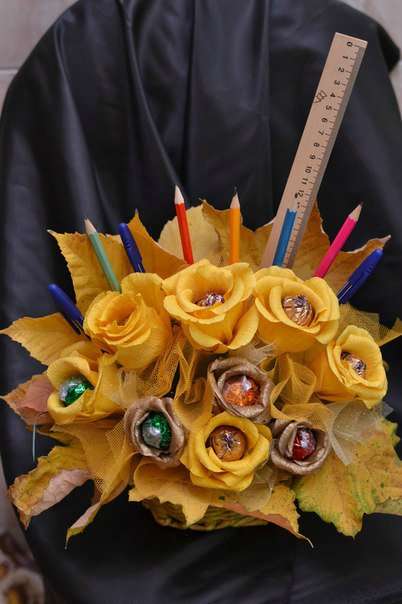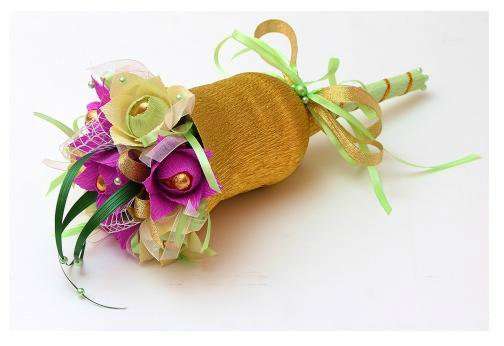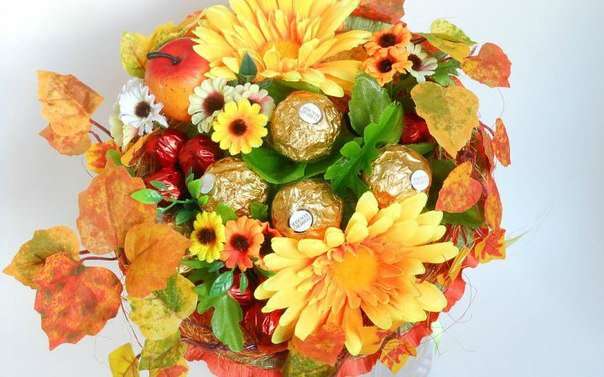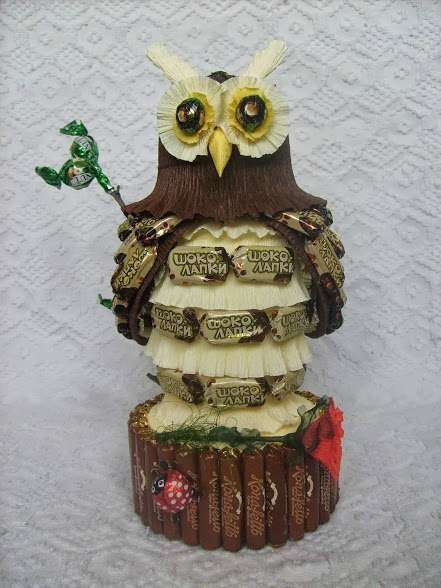 A simple master class for making a pencil from candy.
Not only beautiful bouquets can be made from sweets. It turns out that it is also possible to make very nice things from them, for example, it can be a pencil. To make crafts you will need: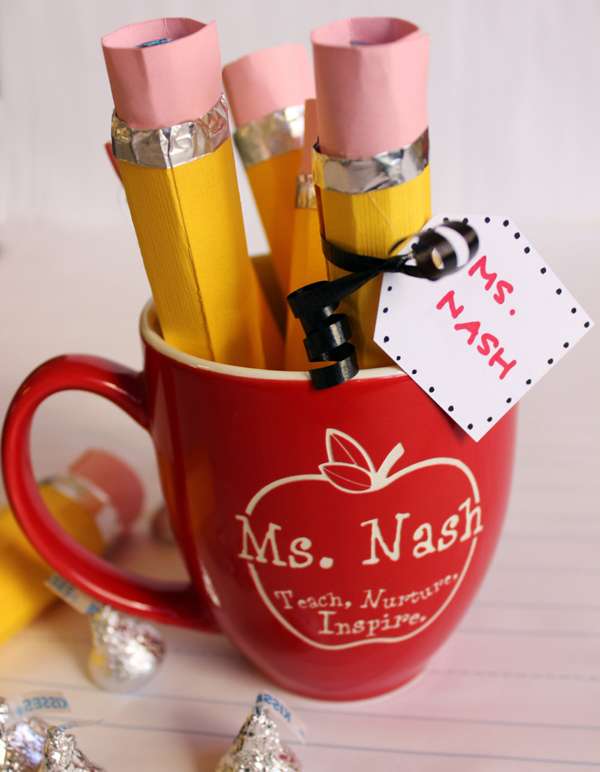 Candy that will have a pyramid or barrel shape.
Double-sided tape and glue.
Foil, scissors and colored paper.
Progress:
Details for the future product are cut out of pink and yellow paper. You need a base and an eraser. At the same time, the base folds into a large accordion.
A stick is formed from candy barrels. And the tip will be replaced by a pyramid candy. The candies are attached to each other with double-sided tape.
The strip of candy that was made is wrapped in colored paper. As a result, you will construct a pencil that will have an eraser. In order to determine the area of ​​the eraser on the pencil, you must use a thin strip of foil.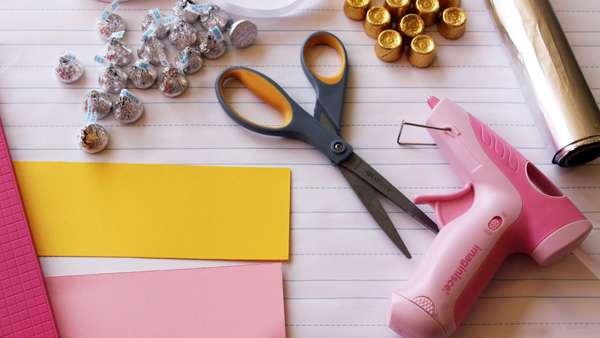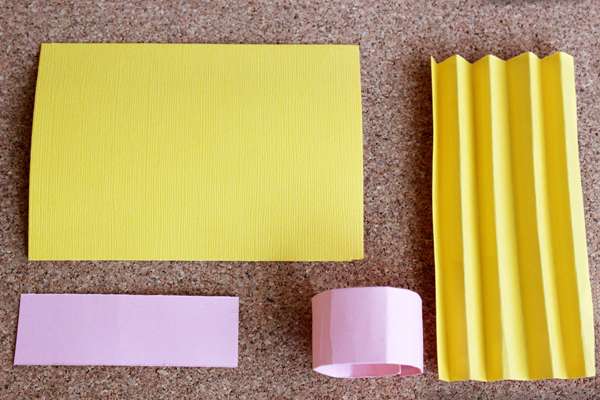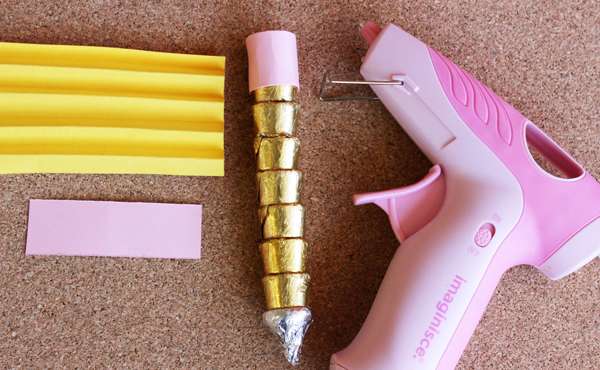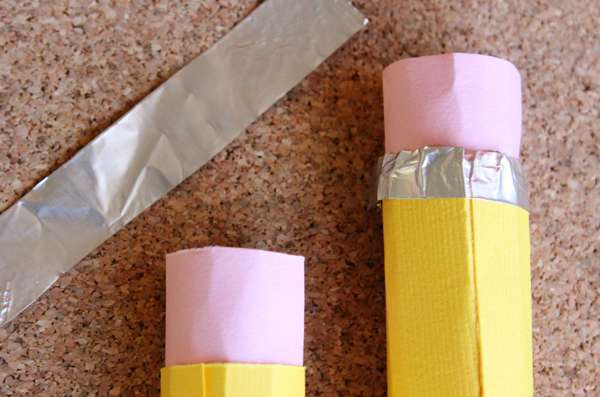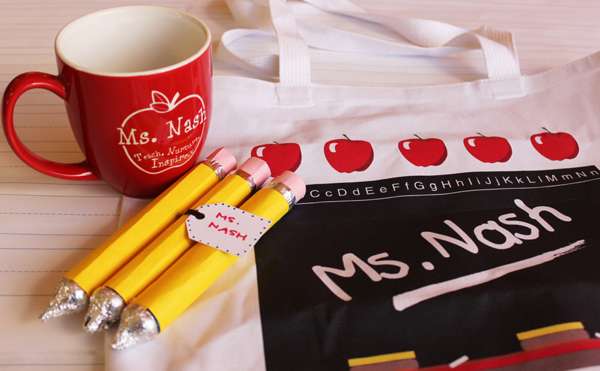 Cool magazine from a box of chocolates.
If you decide to make a gift of candy to the teacher, then you will make the right decision. After all, such presents are accepted by teachers with a bang. The next gift will definitely not be ignored and it will definitely leave pleasant memories in the teacher's soul. So, to create a product, you may need: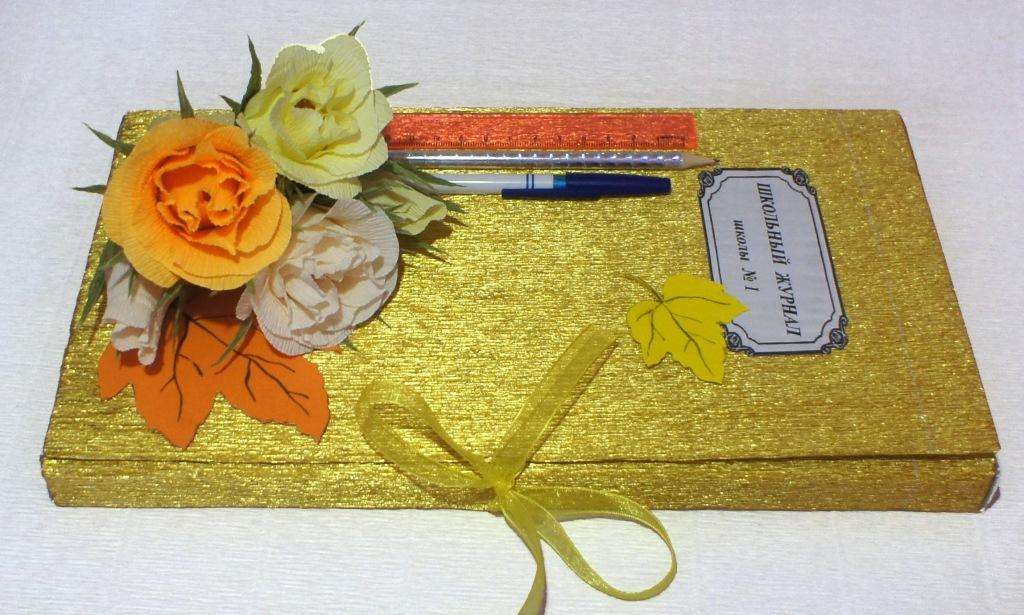 A box of chocolates that opens like a book.
Candy in individual packages.
Different colors of corrugated paper.
Scissors and glue.
Double-sided tape and toothpicks.
Colored cardboard and satin ribbon.
A piece of styrofoam, a pencil, a ruler and a decorating pen.
Progress:
Sweets are taken out of the box and pasted over with golden paper. It is worth doing this inside and out. In this work, special attention should be paid to the corners, which are glued quite carefully..
There may be congratulations inside the box, as well as sweets. Such a product will look very elegant..
At the next stage, tie ribbons are glued.
Now on the printer you need to print the inscription "Cool Journal". Be sure to make a beautiful frame. Then, cut out and glue on the magazine.
At the bottom left corner of the magazine is a piece of styrofoam. Its size is 5×5 cm..
Now glue small strips of double-sided tape to: a pen, pencil and ruler. Then they should be fixed on the box..
You need to stick flowers into a piece of foam, they can also be additionally used with glue.
Autumn leaves should be depicted on colored paper. It is worth choosing bright paper for this. Then the leaves are cut.
Different leaves on the box and glue. Other elements can be additionally glued to the flowers.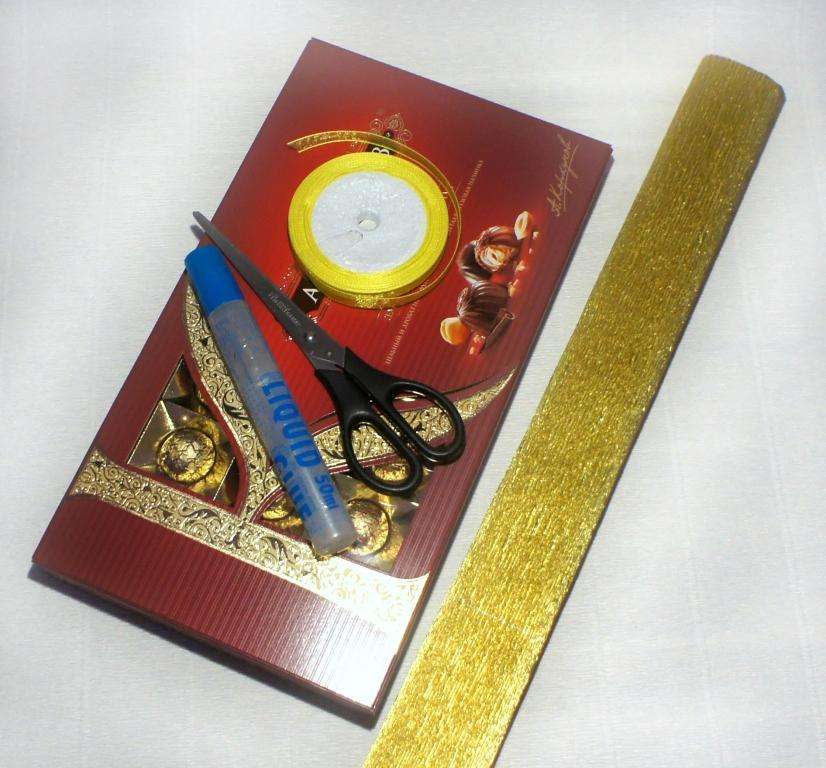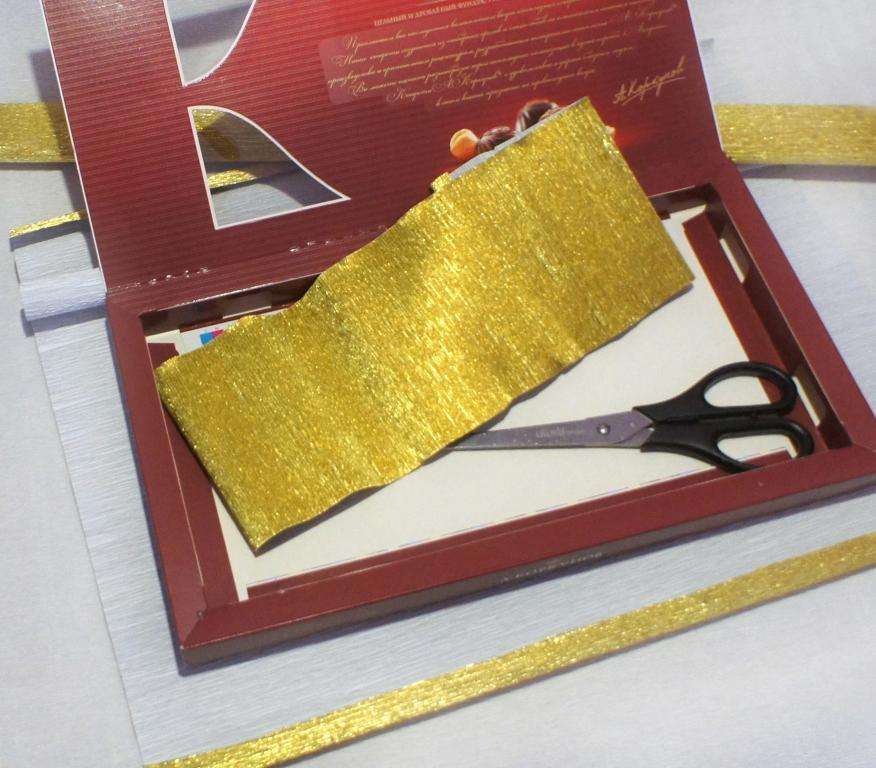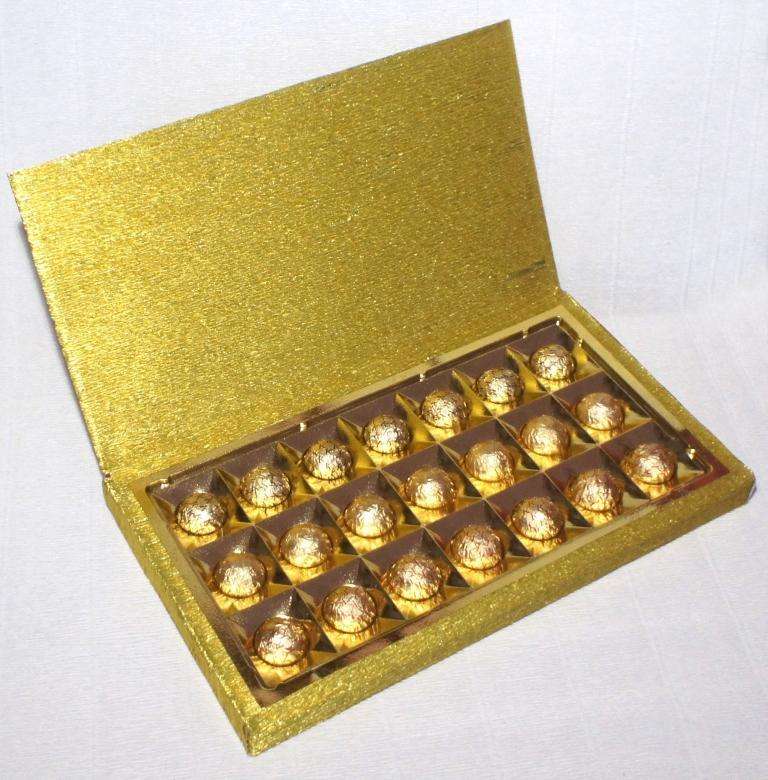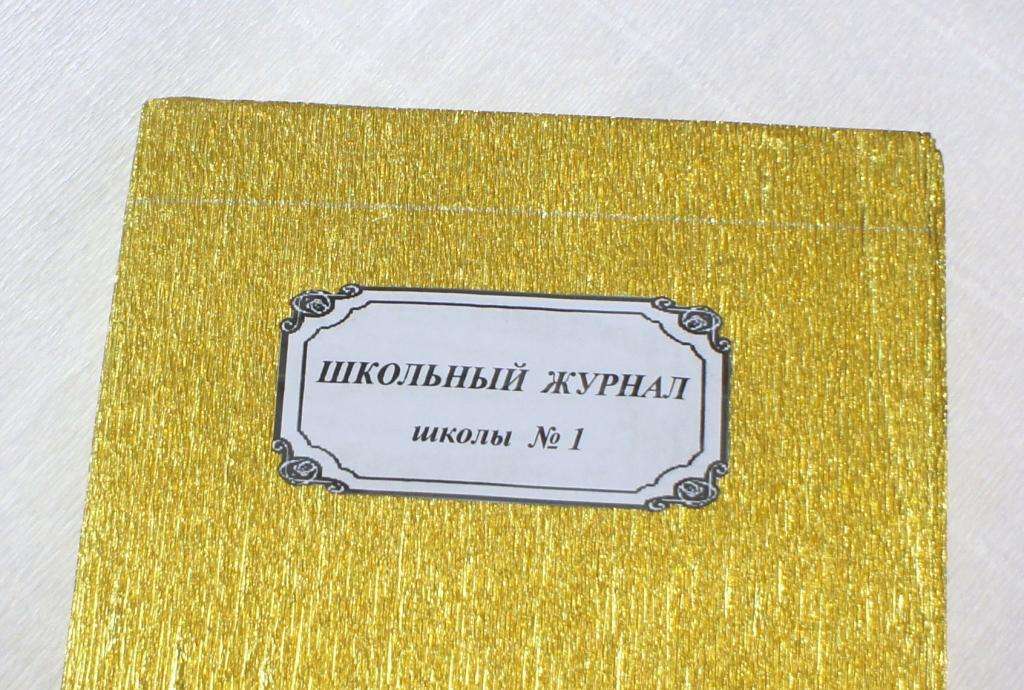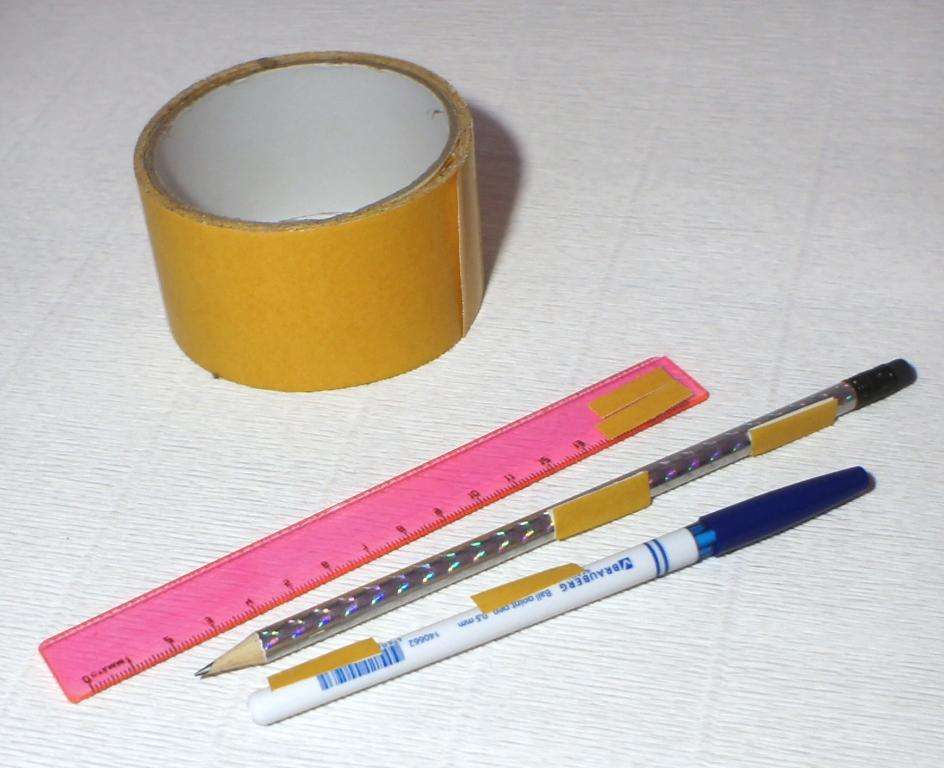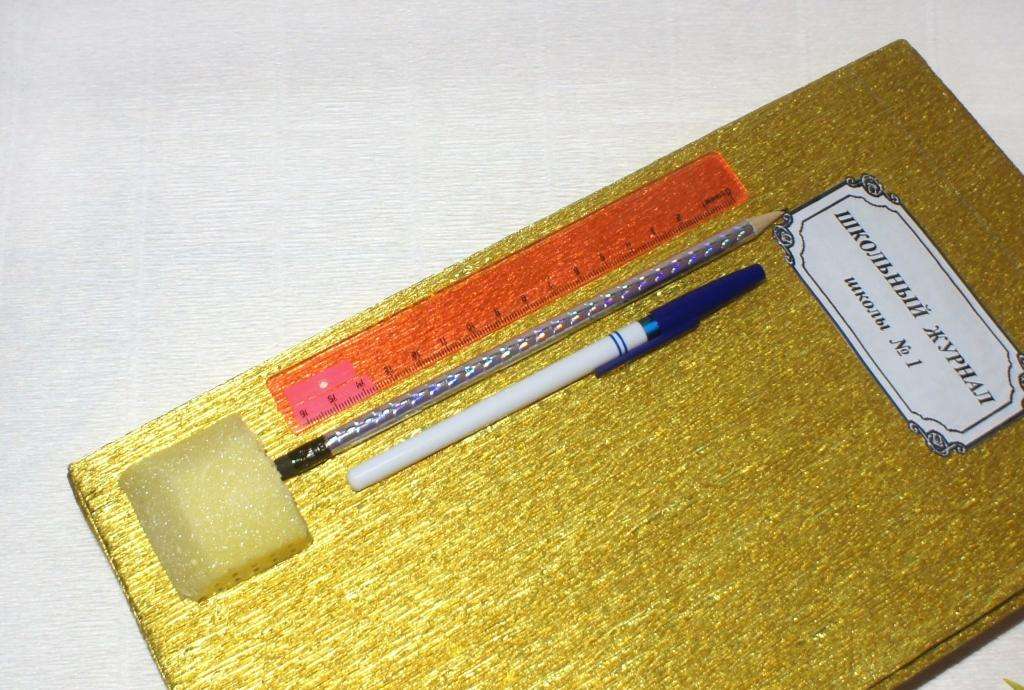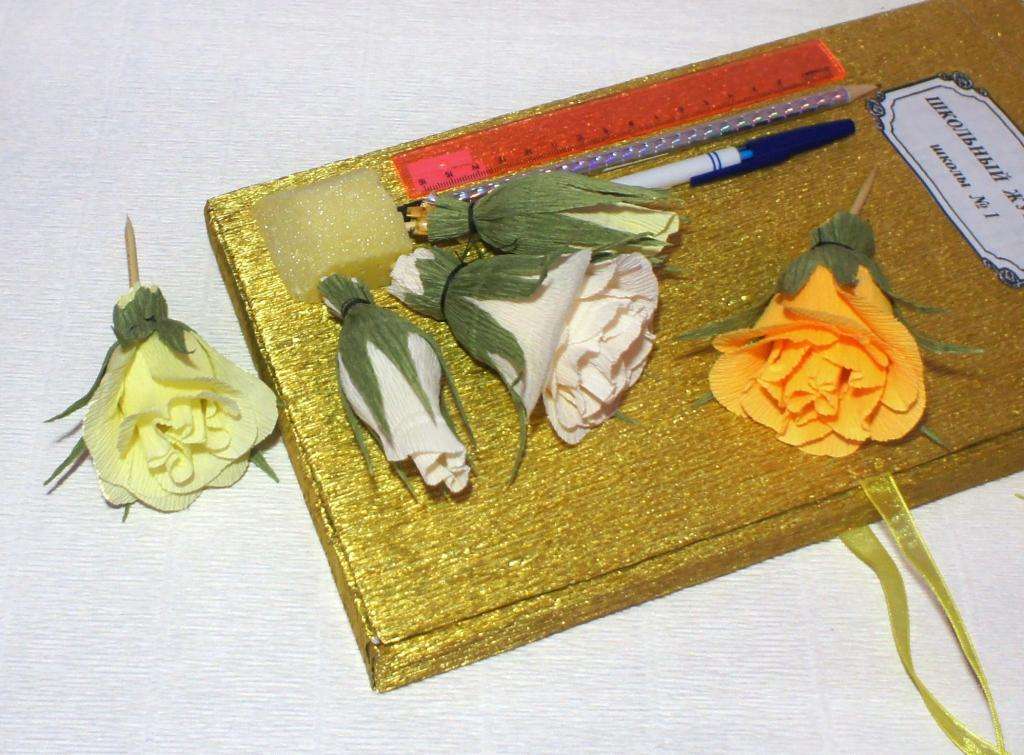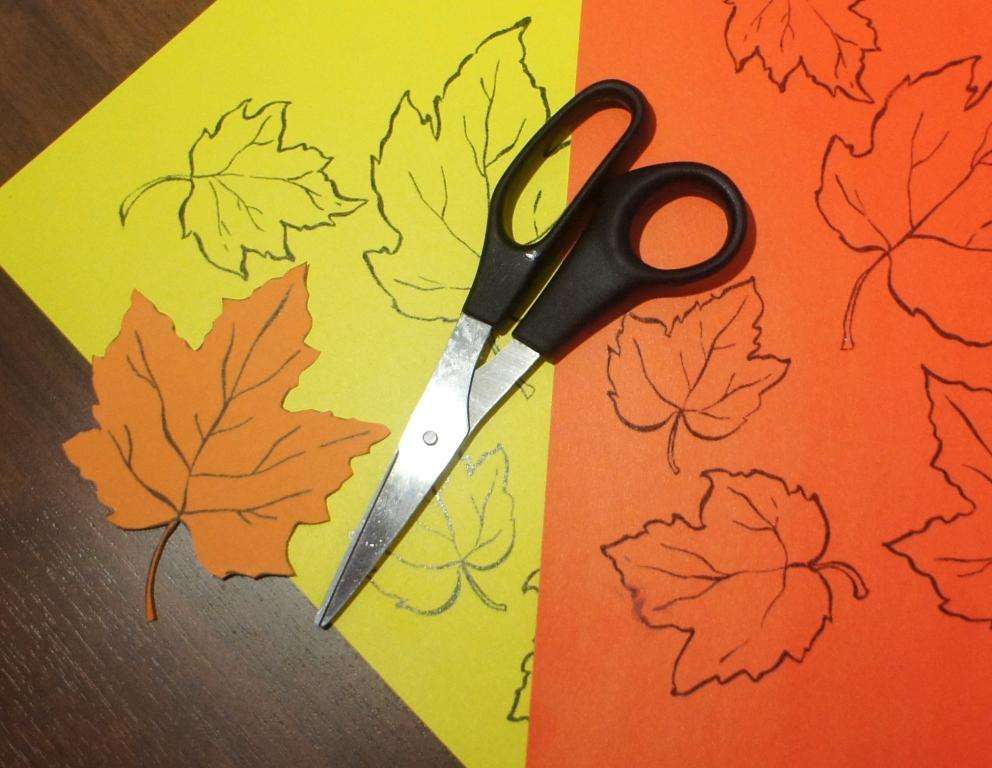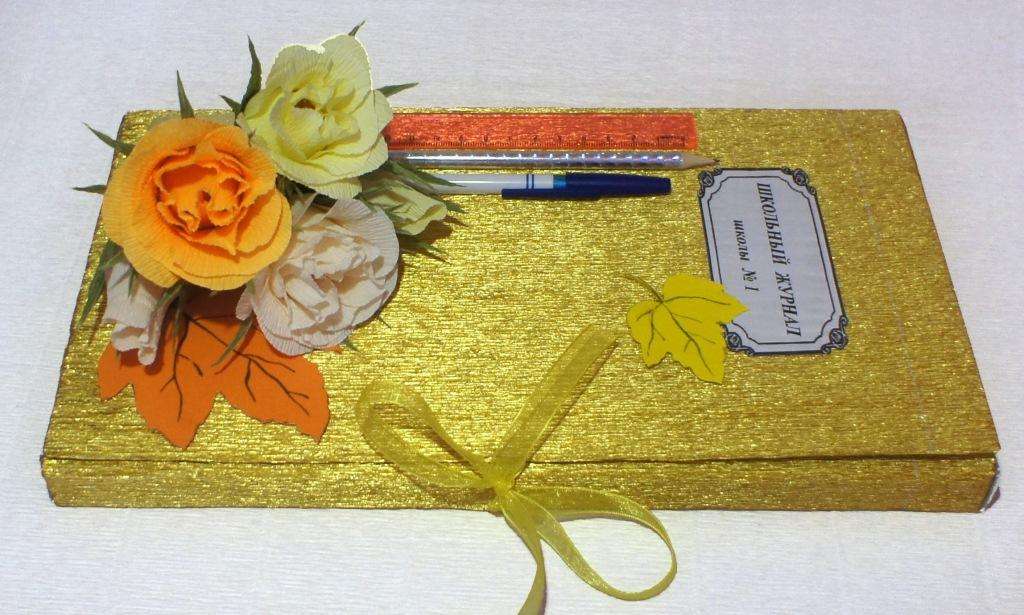 Finally
We hope that you can make a great gift for the teacher from sweets with your own hands. Be aware that such products can please the teacher and leave only fond memories in his memory..