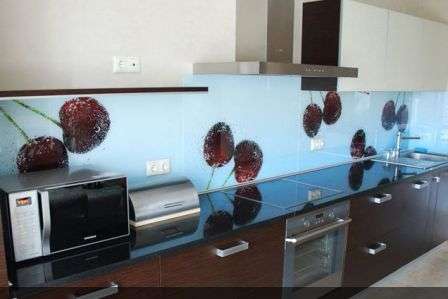 Glass apron in the kitchen
Some, having learned that glass can be used to install a kitchen backsplash, consider this not a good idea. In their view, glass is not a practical, fragile material, which is certainly not suitable for such purposes. But today's glass processing techniques make it possible to create ultra-strong, impact-resistant glass. But can it be considered practical? Let's figure it out.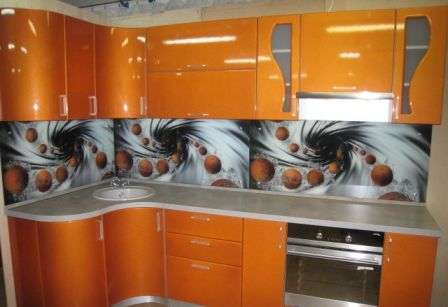 Glass apron in the kitchen – photo work
What is skinned?
Skinali, or in other words a kitchen apron, are made of glass. For this, manufacturers use several types of glass:
This type of glass is the most popular. The production process itself takes place in several stages. At first, the material is heated to a high temperature (over 600 degrees), and then very abruptly placed in a tank with a supply of cold air. Thanks to this technology, the outer side of the glass is hardened, becoming incredibly strong, and the inner layer remains in a slightly melted consistency. These panels are perfect for a kitchen backsplash. They do not require special care and you can not be afraid that the panel will break..
But there are some disadvantages. Tempered glass, with an incredibly strong surface, does not tolerate pinpoint impacts. Therefore, even before hardening, it is important that the customer determines the presence of sockets, holes and everything that may be needed to work in the kitchen. Otherwise, after processing, you cannot even drill fasteners into such glass – it will immediately crumble. This is the price for durability.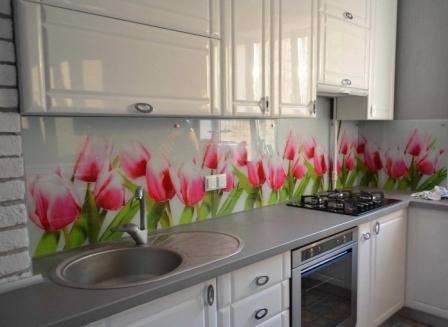 Skinali, or kitchen apron
If you wish, you can order skins with photo printing. This is a great way to create an atmosphere of elegance and originality in your kitchen. What kind of photo will be applied by photo printing with special paints, everyone can decide for himself. For some, an interesting idea is a mountain landscape, a beach or plants, flowers, etc. Any fantasy can immediately turn into reality.
The cost of such panels for the kitchen is very high, but it's worth it. In addition to the amazingly beautiful interior, you will receive the strongest glass that will last for more than a decade..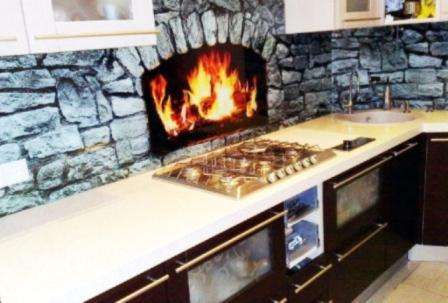 This type of panel is cheaper. It is called "raw" because it does not undergo any additional processing. The glass is installed as it is. However, it is thicker. Its main difference from others is that it can be cut, drilled and performed any other technical actions without fear that it will burst or crumble..
With regard to decorating "raw glass", then the situation is much simpler. A decorating film is glued to the back of the panel. Thus, a wonderful backsplash panel is formed. Due to their affordable cost, many buyers can afford it. With a careful attitude, such glass will last a long time. Care consists in wiping with a damp cloth.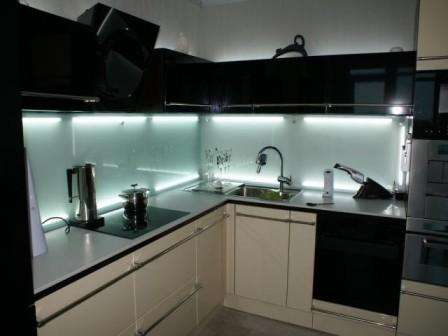 This type of skin is considered the most expensive. And all because the resulting glass has increased strength, safety and does not react to temperature extremes. The manufacturing process is very complex. Two layers of glass are held together by gluing a polymer film between them. Further, due to high temperatures, the film melts and finally consolidates by pressing. They also use the vacuum method. In any case, such a work apron will look very beautiful and will last a very long time..
Many designers often use triplex for decorating a kitchen apron. The fact is that it has a unique property – elasticity. Thanks to this, you can create amazing design solutions in the interior..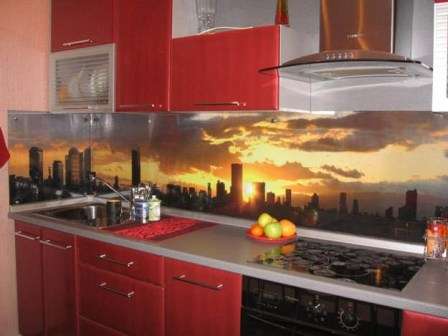 To get a drawing, a special film with a photograph or drawing is placed between the glass plates, even before it is processed. Thus, it turns out to be eternal and is not subject to any outside influence. This glass is very convenient to use for a kitchen backsplash for another reason. Now there is no need to worry about cracking, because the triplex easily transfers if it is drilled or cut.
We recommend reading: We clean the tiles with our own hands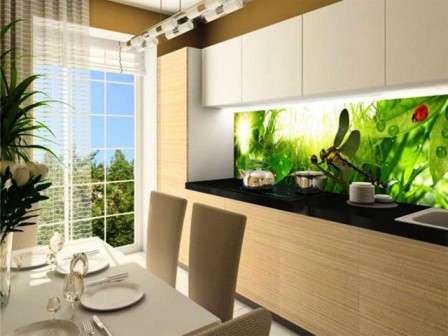 Advantages of a glass apron
Unlike tiles, skinals have a number of undeniable advantages:
Easy cleaning. The glass is easy to maintain. It can be cleaned with soapy water and a damp cloth.
The absence of joints allows not only not to worry about their pollution, but also guarantees complete hygiene, since there is nowhere to accumulate dirt.
Fast installation. It doesn't take much time to install skins. They are attached using simple fixtures..
Huge selection of designer colors. This makes it possible to experiment with different ideas and realize your own, interesting desires..
With their help, you can visually increase the size of the kitchen. For example, this can be done thanks to glossy glass panels..
Affordable cost. Unlike other materials, skins have a completely democratic price and will be affordable for many buyers..
The main feature of glass panels is their decorative effect. Simple glass can be turned into a real work of art. The surface itself can be glossy or matte. And with the help of interesting solutions, it is possible to achieve amazing effects. For example, by placing a layer of cracked tempered glass between the glasses, it is possible to obtain a cobweb effect. Or, to create beautiful frosty patterns, the outer side of the skin is slightly etched. Such patterns will look very aesthetically pleasing in any kitchen..
The modern innovation introduced by 3D panels has helped to achieve an amazing result. The 3D drawings applied to the glass create a stunning result. These pictures seem to be alive. And special lighting between the work surface and the skin makes it possible, as if, to plunge into another world.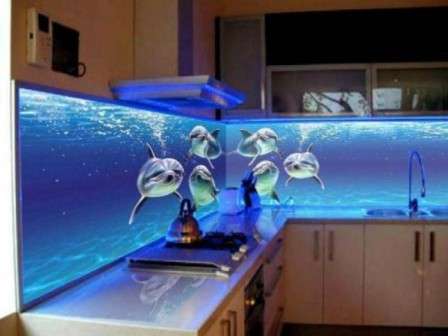 Many people like the mysterious and alluring panoramas of exotic countries or cities. They bring a piece of themselves into the kitchen interior..
All these advantages make glass the best option for a kitchen backsplash. And since it does not lend itself to the influence of temperatures, it is allowed to place it right next to the stove..
Glass kitchen apron: photo catalog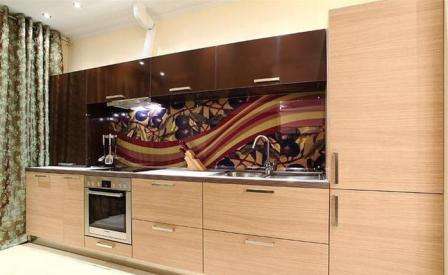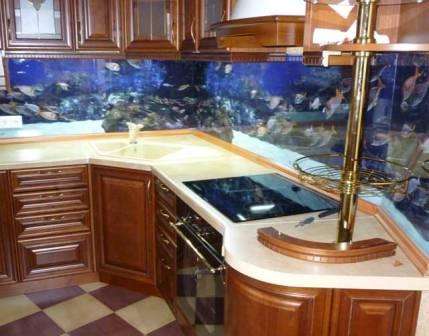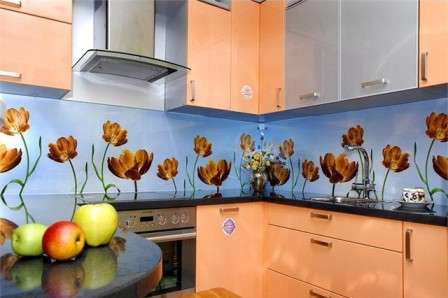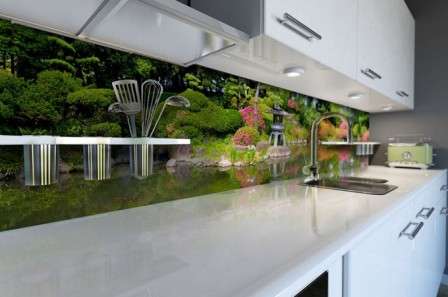 Skinali for kitchen image catalog photo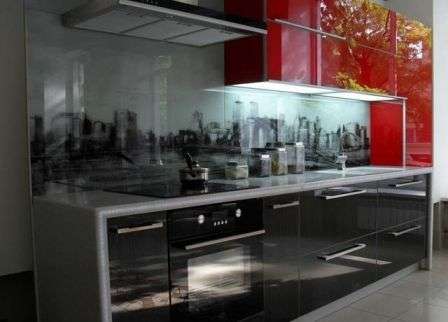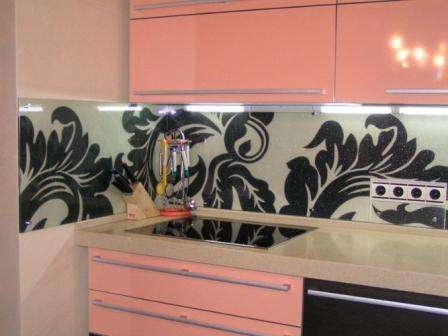 skinned for the kitchen photo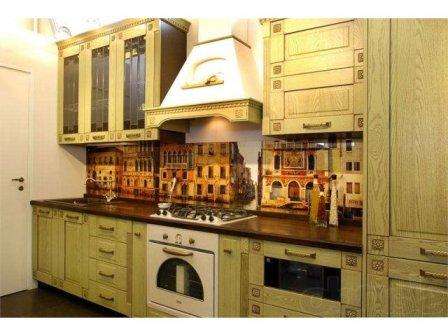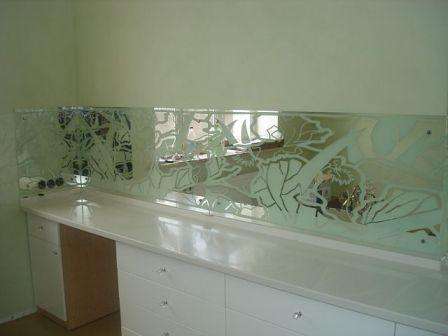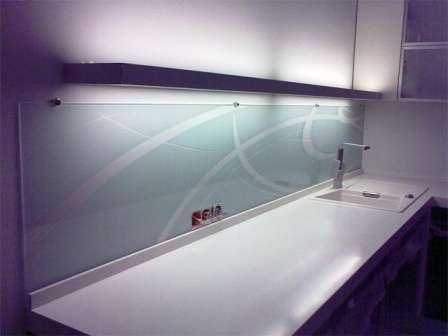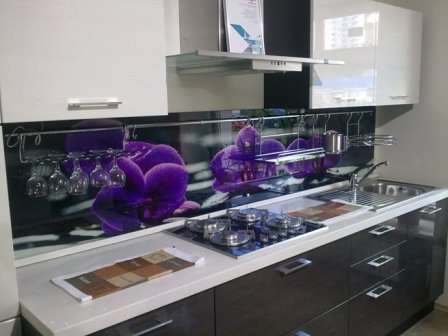 Glass panels on the apron for the kitchen, photo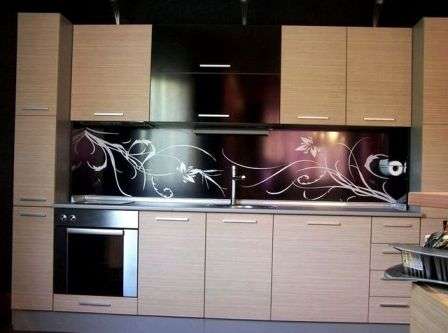 Tips for choosing a kitchen apron
Before choosing a kitchen apron, it is important to consider some guidelines:
First, decide on your financial capabilities. The choice of glass panel will depend on this. More expensive, triplex panels, ideal for those who care a lot about the safety of their family.
If you decide to purchase tempered glass, please note that all dimensions and required holes must be calculated in advance and provided to the manufacturer. Such glass cannot be cut.
Each manufacturer has its own set of services for skinning. For some, the declared amount includes the services of a measurer, the cost of glass, preparation of the layout, hardening of the material, drawing, trimming, drilling and delivery. Therefore, take an interest in what services are included in the price of the manufacturer you have chosen..
Also check out the huge selection of glass kitchen aprons  in the catalog by link. Here you can choose an option at an affordable price for any interior style and taste – from classic landscapes to futuristic 3D images.
Watch a helpful video: Skinali – glass kitchen apron
How to install skins with your own hands?
Installation is started only after the kitchen furniture has been assembled and placed in its places, sockets and lighting have been installed, and wallpaper has been glued. Before proceeding with the installation, the surface is wiped, the sockets are dismantled, and their glasses are pushed forward.
The most common options for installing glass backsplash panels in the kitchen are with dowels or glue.
Advantages

disadvantages

Mounting on self-tapping screws

With the help of dowels, it will be possible to securely fasten a structure of any type and size.

No careful preparation of the walls is needed. It will be possible to fix skins even on old wallpapers or swollen paint.

If necessary, skinned will be easy to remove – for example, if repairs are planned in the near future.

The protruding parts of the plugs can spoil the appearance of the skin.

Glue mounting

There is no need to drill holes in the wall and product, which significantly speeds up installation.

The walls must be perfectly flat.

Can't dismantle the panel.
Experts recommend using the first method of installation, since it is more reliable and does not require additional preparatory work. Here is a step-by-step instruction.
Skinali are applied to the wall and outline where the mounts will be placed.
Holes for dowels are drilled in the wall (usually used with a cross section of 6 mm).
Dowels are fixed in the wall.
The apron is attached to the wall. To install the skin, use special fasteners with silicone and brass bushings and decorative caps. First, a silicone sleeve is inserted (it is needed to prevent contact between glass and self-tapping screws), then a brass sleeve, and only a self-tapping screw is screwed into it. It is advisable to install in such a way that the panel does not press into the wall, but hangs freely on the fasteners.
Return to place sockets and switches.
Seals the joints between the panels and the space between the panels and the worktop.
It only remains to note that there will always be fingerprints or stains on the skin. Therefore, such a panel must be treated with suitable means. Materials for the article from open sources Wikipedia | Svoimi-rukamy.com