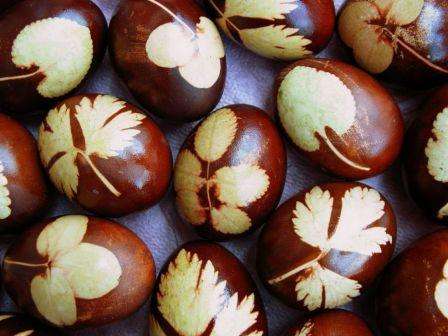 For the entire Christian world, Easter 2021 is a great holiday of the year, which heralds the arrival of spring and the beginning of a new life. Divine services take place in all Christian churches on this day. Painted eggs are the main symbol of this holiday. Red is preferred. On our festive table, Easter cake and eggs have become a common dish and attribute of the holiday. In addition, we will give colored eggs to our friends and family..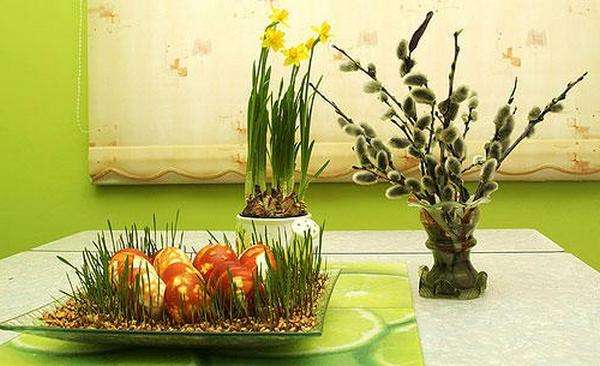 Various dyes are used to color eggs. They are natural and artificial. They paint eggs on Maundy Thursday. These days, in stores and on the market, dyes, stickers are sold that make the task easier. But we try to make everything with our own hands, so that it is doubly appreciated. And natural dyes and crafts are not harmful for health..
Preparation for coloring eggs
So, let's first prepare the place where the eggs will dry. Immediately, we note that eggs will be used for Easter, both as food and as decoration. For edible eggs, predominantly natural dyes will be used. As for decorated eggs, you can use anything you like. Today we provide some ideas for decorating the interior and the table with painted eggs..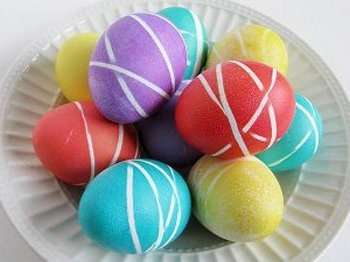 How to make striped Easter eggs
First of all, we will tell you how to make colored eggs in the simplest way. These will be striped eggs. To do this, we cut the rubber bands from the bicycle camera and put them on the washed eggs. After that, you need to place the eggs in water with dye. We use only natural dyes for food. When the eggs are boiled, remove the rubber bands from them. Multi-colored stripes remain. You can re-put the gum in a different location and then, when boiled in a different dye, the strips will have a different color.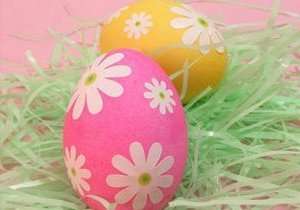 We decorate with flowers
If, for some reason, it was not possible to find ready-made flowers from adhesive tape, you can independently make flowers from paper and stick them on an egg. Then you need to boil the eggs in the dye. The application is removed and ready.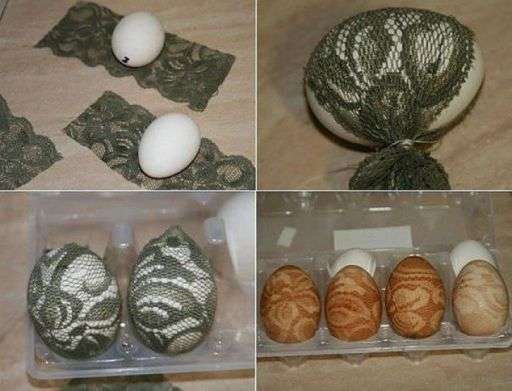 Easter 2021: painting eggs with natural materials
How to dye eggs in fabric or tights
The most common way is to dye eggs using old nylon tights and natural materials. So, we take old panty hoses, put an egg in them. We put, for example, a gooseberry leaf. Next, you need to rewind the part where one egg is placed. We do this until the galoshes in tights are filled.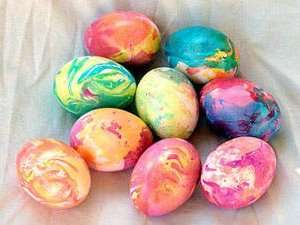 Marble eggs 
Marble eggs will look original. To do this, pour vegetable oil and a little vinegar into the dishes. Everything is mixed, and already boiled eggs are put into the mixture. Oil will cause uneven color.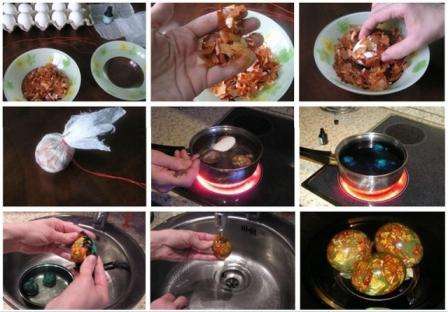 Step-by-step production of marbled color
In order for the product to be finally ready, you need to pull it out of the solution and dry it. To get a more complex pattern, you need to dip the eggs in a solution of a different color..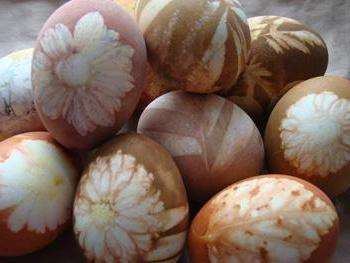 We paint with a toothbrush
In order to make variegated eggs, you do not need to use a lot of tools. All you need is a toothbrush. If eggs will not be eaten, then paint can also be used..
So, boil the egg in the desired dye, and then brush over it. Part of the paint will be removed and will give the desired arbitrary pattern.
Personalized eggs will be an excellent gift for relatives and friends. You will need wax, which, in molten form, is applied to the eggs in letters. You can also use special tools for painting, which are sold in stores..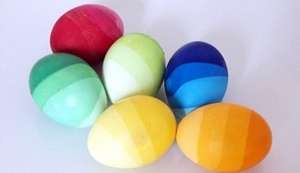 The so-called "designer Easter eggs" look unique. They can be brought to work in the office to decorate the Easter tree. For this, many dyes are used. They are applied constantly with new layers..
DIY Easter egg decorations
Now we will tell you how to make real masterpieces. Before that, only eggs were painted that will be eaten. Mostly they will not be stored for long. Now you can even buy an Easter set for decorating eggs. Take natural protein instead of glue. If the eggs are to be used as a decor item, then you need to extract the contents from the egg. In order for the egg to be stable, it must be covered with wax..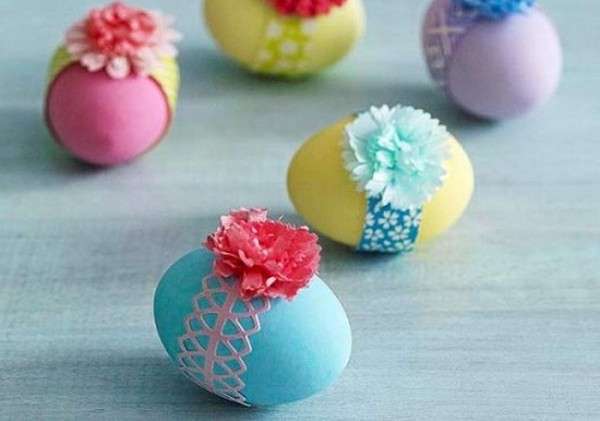 In addition, eggs are made for decoration from plaster, wood or even concrete. In stores, you can buy ordinary white eggs (artificial) for decoration. They also sell a lot of decorations, paints, stencils and much more that will be needed to decorate Easter eggs..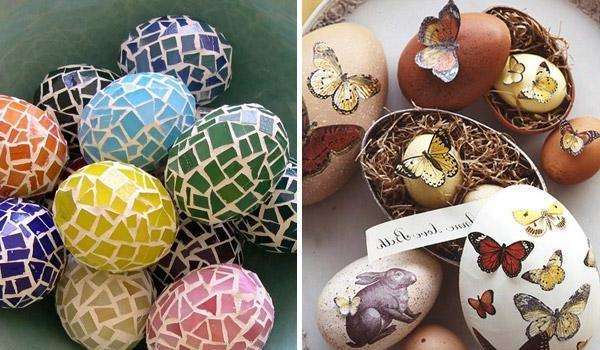 So, here are some more examples of Easter egg decor. The craft is called "mosaic". You will need an egg shell. The egg is pasted over with shells, which are then manually painted. Acrylic paints are used.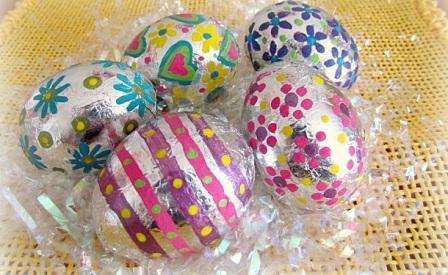 Foil decor
Foil, colored tape are great for decorating eggs. Eggs can be wrapped in foil bags and tied with ribbons and bows. Queering is a new technique. Colored paper is used. Decoupage technique is considered modern.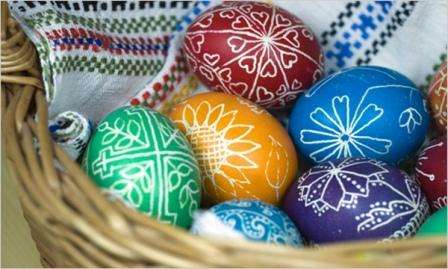 This is a technique when separately cut fragments are glued to the egg, which are then painted with paints and varnished..
Eggs decorated with ribbons look beautiful. For this, tape and tape are taken. One end of the tape is fixed to the bottom of the egg. Then the tape is simply wrapped in turns to the top, where it is again fixed with tape or glue.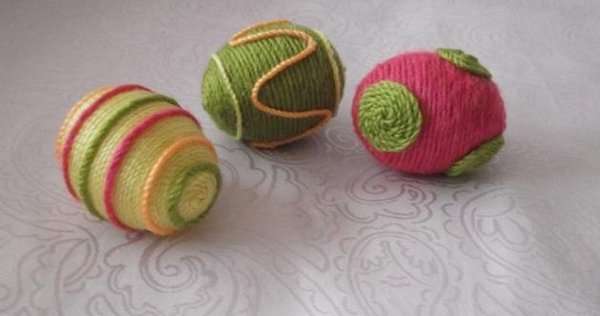 For those who have decided to seriously "tinker" with Easter crafts, we advise you to do artistic painting of eggs. Everything that can be thought of for decoration is used, up to beads.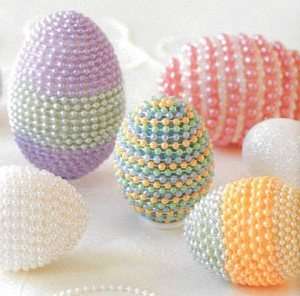 Children's crafts take a special place. Various heroes, animals and other elements are glued to the eggs.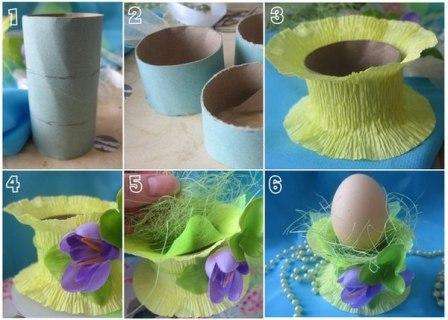 DIY basket for decor
In order to give Easter eggs, you need to take care of their packaging. It is best to make your own basket or Easter tree. To make a paper basket, you need to cut out the corresponding rectangular shape. The bottom will be oval or round. Be sure to make a handle with your own hands. Then everything is glued together, the basket is decorated – and you're done. Only it is worth saying that it is exclusively decoration. The basket will not work for carrying eggs.