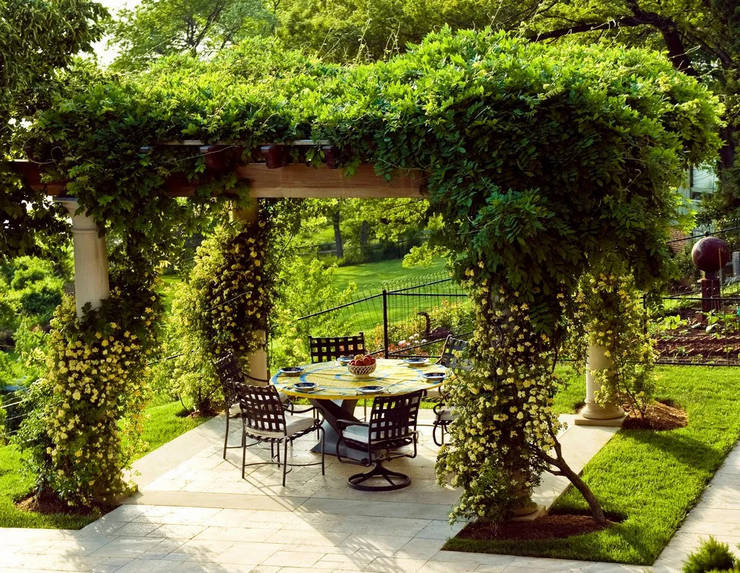 Climbing plants are an excellent "material" for landscaping garden pavilions. Any summer outdoor building looks much more attractive under a bright green veil, and it can reliably protect it from wind and rain. Greenery and flowers covering the walls and surface of the gazebo give it a cozy look and turn a small pavilion into a real decoration of the garden area.
Flexible shoots or tightly clinging tendrils of many climbing plants quickly and easily twine around the support and move up. Blooming specimens serve as a decorative role and captivate with their beautiful floral scent. The most suitable climbing plants for these purposes and common among gardeners and florists are wild grapes, nasturtium, decorative pumpkin, clematis, honeysuckle, hops, climbing roses and bindweed..
Planting and leaving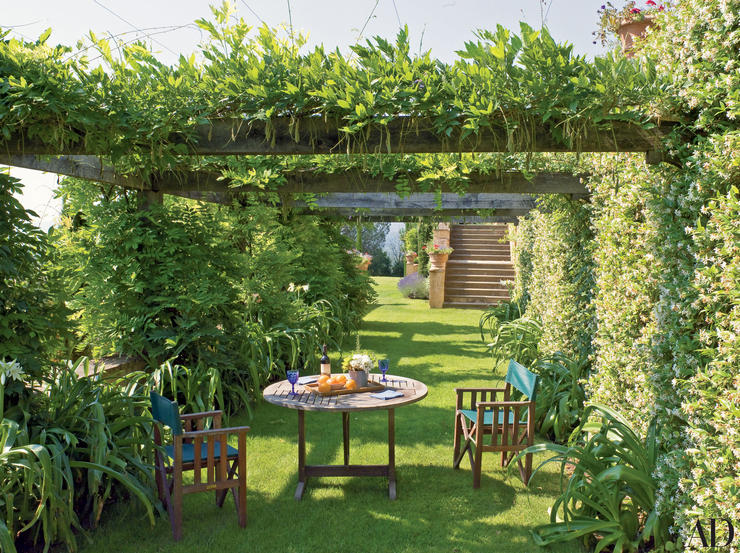 The landing site should be at a short distance from the walls of the gazebo so that the water that will drain from the roof after rain does not fall on the shoots. It is advisable to prepare special grooves for planting about 50 cm long and from forty to 60 cm deep, depending on the number of planting rows.
The soil for climbing plants needs nutritious loamy soil. It is recommended to add mineral and organic dressings to it..
Supports will contribute to the even distribution of plant shoots around the entire perimeter of the structure. As supports, you can use strong ropes of medium thickness, which are pulled vertically at a distance of 10-15 cm from the walls of the arbor. Young vines need help from time to time to wrap themselves around the rope. A dense green carpet of weaving plants with a perfect appearance with good care will turn out only after a few years.
Pruning climbing plants is needed in isolated cases..
Selection of climbing plants
For landscaping a garden gazebo, you need to choose such plants that will fulfill the goal set by the gardener. After all, some weaving cultures can be just a symbolic decoration of the space, while others – a dense green "curtain" that will create shade and protection from the vagaries of the weather. Before choosing a plant, it is recommended that you familiarize yourself with the conditions of its maintenance, the rules for caring for it and its size in adulthood. When buying several different types of vines, it is very important that the plants get along with each other, do not interfere with each other's development and look harmonious.
Popular climbing plants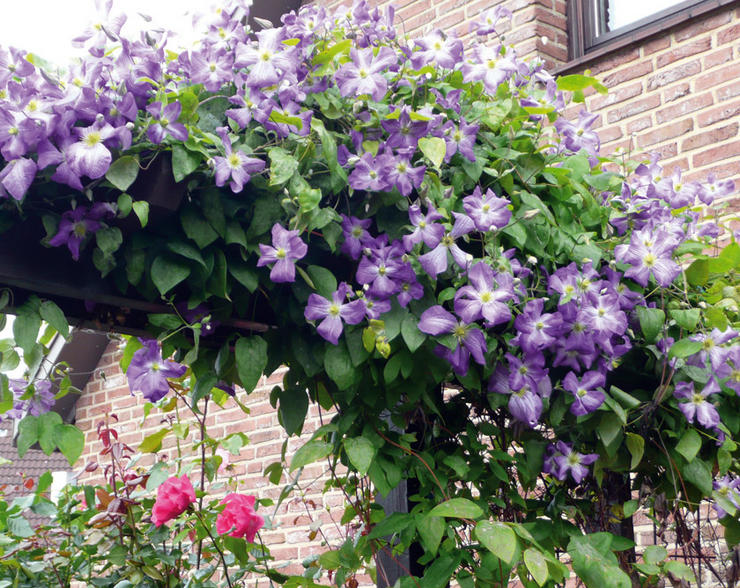 Ivy – an unpretentious perennial plant that feels great both in a sunny area (with systematic and timely watering) and in shady conditions. Can grow in one place for more than a dozen years.
Maiden grapes – an unpretentious climbing plant that can become an ornament from early spring to late autumn. Caring for him is needed only in the first year after planting. It consists in abundant and regular watering. For grapes, the composition of the soil and the place of cultivation do not matter..
Honeysuckle Is a climbing perennial flowering plant with a pleasant sweetish aroma that requires a lot of attention and care. Caring for her consists in pruning shoots (in the spring), in regular feeding and timely watering.
Highlander – fast growing plant for dense vertical gardening. The planting site should be partial shade, and the soil should be fertile..
Clematis – the most popular flowering plant suitable for decorating gazebos, which has several species with different shades of flowers and shoot sizes. For planting, you need to choose a place with light nutritious soil and an obligatory drainage layer. The lower part of the plants should be in the shade, which can be created by low perennial plants planted nearby with clematis.
Clematis – a very capricious and demanding curly culture, but with an attractive and original appearance. The plant has a large number of different species and varieties that differ in color. The walls of summer garden pavilions will very quickly be covered with a flowering multi-colored carpet (with mixed plantings). Shoots of clematis reach a length of about 3 meters.
Climbing plants. Care and types of climbing plants (video)
Climbing plants. Care. Types of climbing plants