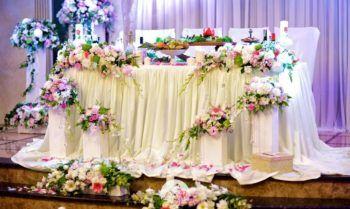 The design decoration of the banquet hall, in which the celebrations will take place, always begins with the decoration of the festive table, which is set for the bride and groom. The newlyweds will be on the podium in order to be visible to their guests. And to emphasize the importance of this table, you can use lighting, textiles, and using floral arrangements. To make them, you will need both artificial and natural flowers, which will be collected in a bouquet or garland. First, let's find out how it should be bride and groom wedding table decoration.
Thinking about how the composition will look on festive wedding tables, many organizers of celebrations begin to build on the general theme, the design features of the hall, the basic floristry techniques used in drawing up the bride's bouquet. It is imperative to take into account what color the tablecloth will be, what textiles are present in the design of the space. Holding a banquet is also important..
Holding a celebration outdoors will help you take advantage of a huge number of fresh flowers and plants, which can retain their freshness and attractive appearance for a long time. To decorate the banquet hall in the restaurant, both natural and artificial flowers are mainly used, making garlands from them to decorate columns or walls, complementing them with a bouquet placed on the tables of the guests.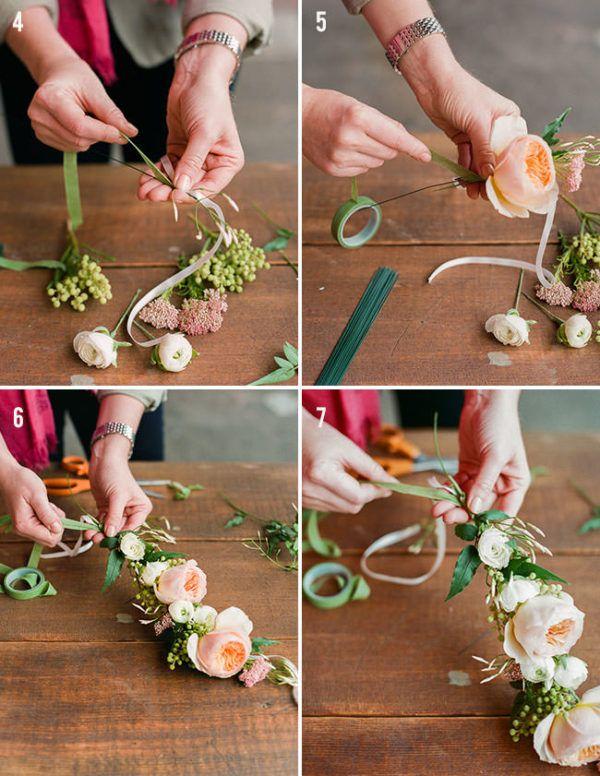 How can you decorate the table of the newlyweds
If you know certain secrets, then you can decorate the wedding table with your own hands. The Presidium of the Young is the most important furniture in the banquet hall. The table must definitely attract the attention of others and arouse their admiration. You can achieve this goal by decorating this area with fresh flowers. When composing compositions for decor, one should take into account the fact that the newlyweds will have:
specially designed champagne bottles,
glasses,
candles,
fundraising chest or book of wishes.
All these items must be in full view of the guests. Based on this, very large and lush bouquets are attached to the front area of ​​the furniture, they can be installed in tall flowerpots on the sides of the presidium. For this type of decoration, it is most convenient to use artificial compositions. You can make them yourself, based on roses, peonies, or other flowers. To do this, you will need: three, four types of artificial flowers, artificial leaves and stems, frame, base, thin wire, but strong enough.
The magnificent decoration of the presidium of the bride and groom will be a bright and magnificent composition, which will be composed of artificial flowers of different sizes, and fixed in the very center of the outer edge. Of course, decorating a wedding table with flowers is a very pleasant process, which should be considered carefully..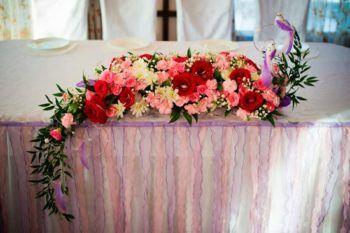 You can make this decoration yourself, using as a base: fern leaves made of polymer materials or laurel twigs. They should be held together with a thin wire. After placing the base, you need to attach flowers to it..
It is necessary to start from the edge and direct to its center. In the very center of the bouquet, you need to place the largest flowers, which will attract attention. Perhaps it will be white or red roses, lilies or calla lilies..
Decor for guest tables
In order to decorate the wedding table with flowers, you need to use our recommendations. Immediately, we note that decorating guest tables with artificial plants and flowers will not take much of your time and effort. To do this, you first need to choose the required number of items that you will use as a stand: wine glasses or mugs, wicker baskets, even empty bottles will do.
The main advantage of this decoration is that there is no need to use water to keep each flower fresh. Plants made of plastic or paper can be assembled into miniature bouquets, fastened with wire or ribbons.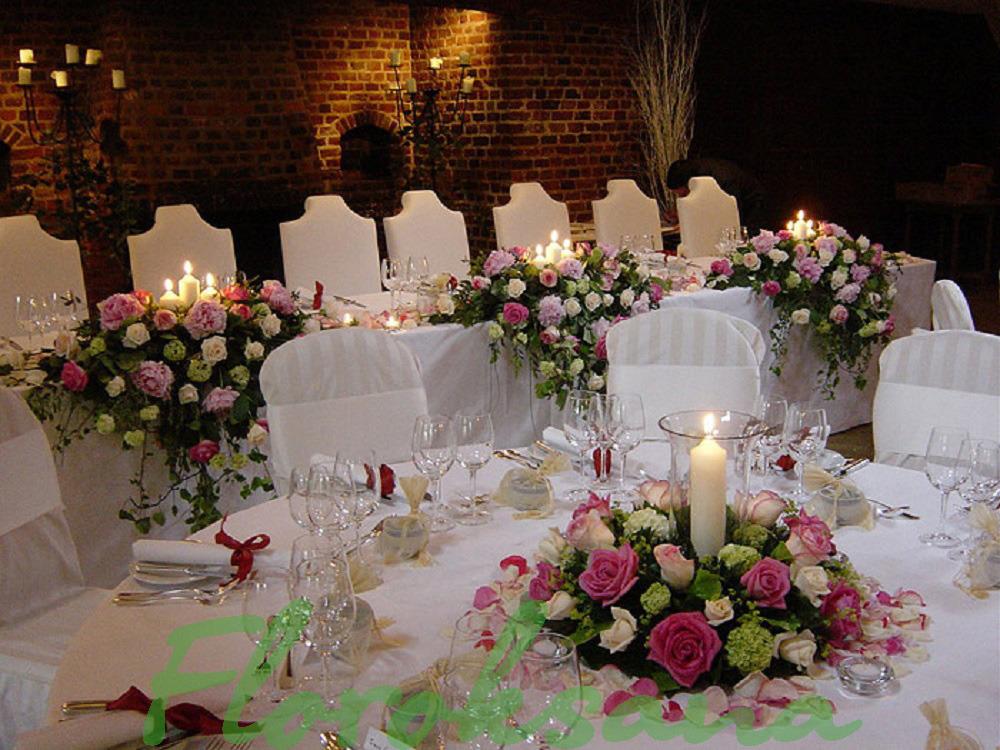 DIY wedding flower arrangements from live plants
Despite the fact that there is no need to worry about the state of artificial flower arrangements, made with the use of living plants, will be very popular. This is especially true for decorating the table of the young. You can make this bouquet yourself, but you should still contact an experienced florist. A specialist will be able to tell you:
How to correctly compose a flower arrangement?
Which plants can keep their freshness and attractiveness longer??
How can you provide moisture to live flowers??
At the time of preparing the base for the bouquet, you need to buy a special sponge, which should be soaked in water. It can be used as the base of the composition. Flower leaves, stems, buds should be fixed in this sponge, ensuring reliable and high-quality fixation and constant moisture supply. You can decorate the newlyweds' table with fresh flowers using a variety of plants. In this case, it is imperative to take into account the peculiarities of the color gamut, as well as the ability of the colors used to remain visually attractive (i.e. not fade) for the required period of time..
In no case should you allow individual plants or flowers in a bouquet to fade earlier or lose their attractiveness..
Floral arrangement for wedding table
This article will showcase wedding flower arrangements that can be set on the table. It is very easy to decorate wedding tables for present guests with fresh flowers if you use for this purpose:
dahlias,
roses,
calla lilies,
carnation.
Be sure to take care of the free access of flowers to water. For these purposes, small but stable vessels or tall flowerpots are used. The ability to combine various plants, different vessels and other additional decorative elements in one flower arrangement will help you create very beautiful and original bouquets that will decorate the tables for guests, as well as the presidium of the newlyweds.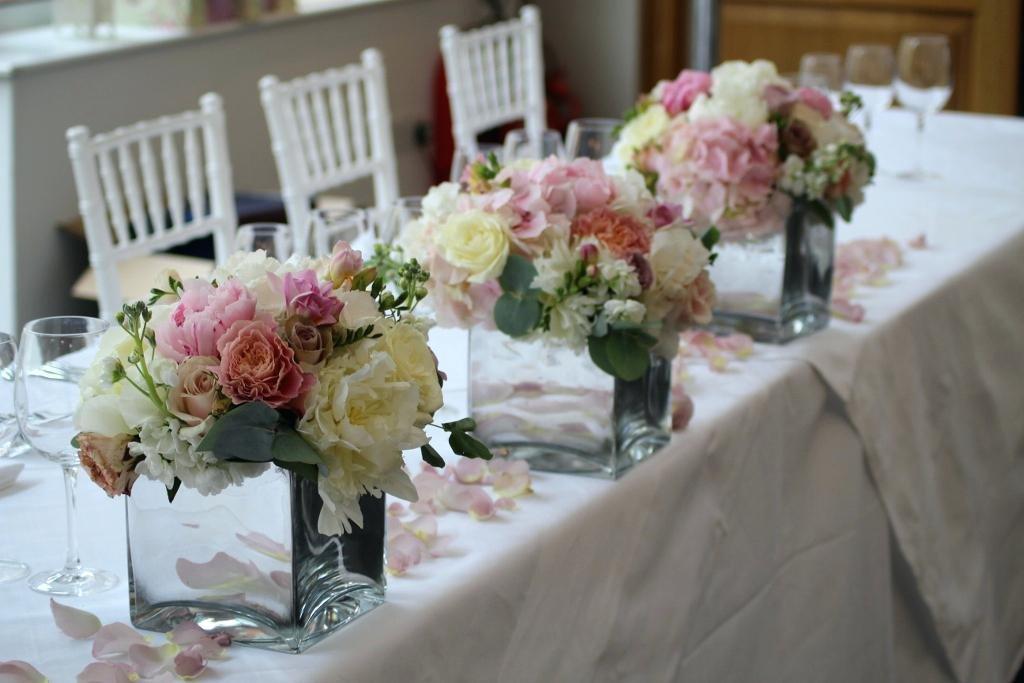 In this master class, you will be able to see how you can make an original and beautiful composition consisting of fresh flowers on the table of the newlyweds: the most original and unusual flower arrangements are born at the time of the creative process, in which the bride and groom will take part. They can put a particle of their soul into making each flower bouquet. Garlands and bouquets can become an original decoration, in the manufacture of which both artificial and natural plants and flowers were used..
Gallery of ideas: