Halloween is a holiday that should be prepared in advance. The most important thing here is the costume. In order to get them, you just need to buy it in the store. But if you consider your personality to be creative, then it will be easy to make it yourself. In this case, you can save your money and get a great mood..
What costumes can be made
Zombie Suit.
If you are looking for a Halloween costume for a girl, then this option will be successful. And this is all because the reanimated dead will be a hot topic for creating horror films for a long time. This costume will look great if it looks unkempt. But if the costume looks really intimidating, then it may not make a very good impression on children. They may just get scared. To make such a costume, it is worth preparing: old things, red lipstick and shadows.
In order to make this costume, you should put on already worn clothes. And those clothes that are not needed just cut with scissors. Apply red spots on clothes and skin with red lipstick. And to make traces of dirt and cadaveric spots, you should use dark shadows..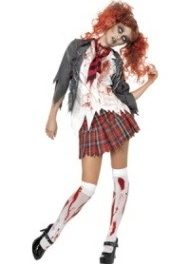 Mummy costume.
Here we tell you how to sew a halloween costume. However, most of the costumes can be created without needles and threads. The mummy costume is very popular on the feast of evil spirits. The advantage of this costume is that it is created very quickly and is quite cheap. There are also disadvantages to this suit. For example, after a night of celebration, this costume can be thrown away. Since it is disposable. In addition, this suit causes inconvenience while a person goes to the toilet. In general, it is not recommended to wrap important places too tightly here..
A suit is created from a large number of rolls of toilet paper or bandage.
It's easy to make a toilet paper suit. But this is not a durable option, since the paper tears quickly enough. Therefore, the best option is bandages. And to make them look more frightening – you need to pour coffee on them. After the spots dry up, it will seem to others that you just got out of the tomb made of sand and clay. Bandages can be loosely wrapped around while creating a costume. Remember that pieces that have sagged will give a shabby look.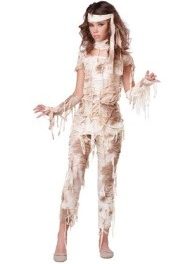 Vampire costume.
As you can see, a Halloween costume is easy enough to make with your own hands. And this can be shown to you by a photo, as well as descriptions to them. The vampire image is sexy and passionate. Such a suit has one big plus – it can be used many, many times. An integral part of the costume is teeth. But while you eat them you will have to shoot.
To create a costume they use: black clothes and shoes. Makeup from black eyeshadow and red lipstick complements the look. Of course, you shouldn't forget about the fangs..
So, it's worth choosing black clothes. Men can also wear a white shirt. Of course, a cloak or cape is required here. This attribute is made of black fabric, ties are sewn to it, which will be tied around the neck..
For a vampire costume, black dresses or dresses of dark colors are suitable for girls. It will be possible to complete the image with the help of false fangs..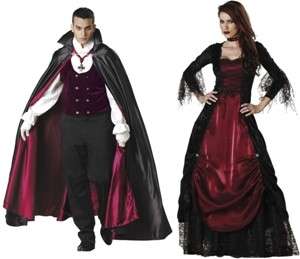 Angel of the underworld costume.
You are probably aware of the fact that there are wings in a variety of colors on sale in stores. In general, if a Halloween-themed party is expected, then there is no need to seriously strain with the choice of a costume. For this case, black wings are suitable. Such a suit can also be used for quite a long time. But your friends will like this image and they will definitely surround you with their attention..
This costume is created from black clothes and the same color of the wings. Put on your wings and your image will change.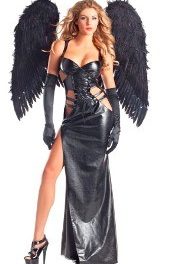 Death suit.
For a party, Halloween is the most spectacular costume of death. This costume implies a complex make-up. But you can do without it. This makeup can replace the skeleton mask. It will be very easy to buy it in the store. You won't have to do your hair here either. You only need to put a hood on your head.
As mentioned above, this suit is easy to make. You can replace the mask and complex makeup with a pale powder that is applied to the face. The cassock is replaced by black trousers and a hoodie.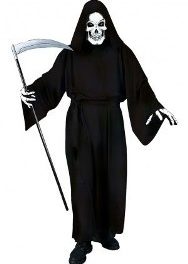 Freddy Krueger costume.
The multi-part horror film "A Nightmare on Elm Street" is familiar to everyone, without exception. The main character is Freddie. And this image is considered the best for Halloween. Such a suit has many advantages. He is the most recognizable. For such a suit, gloves are required, which will be very difficult to find in stores. Therefore, this moment is worth considering.
To create the next look, use: an old sweater with stripes, a hat, gloves. The sweater can have red or green stripes. It is also worth wearing a Freddie mask. And if it is not there, then burns on the skin are drawn through cosmetics. But even without these details, this outfit will look attractive..
If Freddie decided to dress up as a man, then here you need a sweater and dark trousers. For girls, a more sexy outfit is suitable. Here you can pick up a striped tunic. And to make everything look sloppy, it is worth making a few cuts that will imitate Freddie's fingerprints.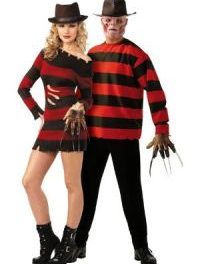 Catwoman costume.
Of course, the looks of men are attracted by the image of a dangerous and at the same time beautiful cat. The most important plus of such a suit is that men will just stick to you. In addition, it will not be difficult to find the necessary elements of the costume..
This costume requires: tight-fitting black clothing. Best to use: stockings and a short black dress. A short top and black leggings or trousers are also suitable. This look is complemented by a mask and false ears.
So, a black mask and ears are just enough to buy in a store. The cat mask can be successfully replaced by special cat makeup. Here it is worth drawing arrows near the eyes, as well as a nose and a mustache..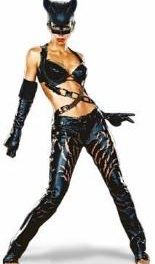 Alex's suit.
Earlier in this article, we have listed scary Halloween costumes that you can make with your own hands. If you are a fan of the Stagley Kubrick movie, then you might like the costume of Alex, who is the main villain in this movie. This costume looks very interesting. And accessories for this suit are quite easy to buy. But here it is worth remembering that this hero is considered little recognizable..
For a suit, you should find or purchase: a black bowler hat, white clothes and suspenders. Women can choose black shoes for this look..
The most important element of this look is Alex's gaze. Therefore, it is worth using makeup here. So, it is worth drawing thick eyelashes around the right eye. And to make the look seem more expressive – you can use false eyelashes.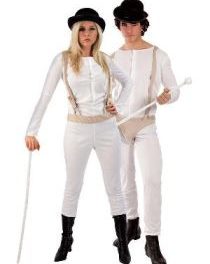 Werewolf costume.
The Werewolf is the most popular character on Halloween night. And not only men, but also women can put on this image. This costume will look great if your friend chooses the Little Red Riding Hood costume. The good thing about this suit is that it can be worn annually. However, it will take a long time to create such an image..
Any old clothing should be used for the costume. Also find: Gloves, Fur Pieces, and a Werewolf Mask. False fangs will also be required.
So, first pieces of fur are sewn to the clothes. They should resemble that picture, as if bits of wool are making their way through clothes. Fur can be attached to clothing with glue. However, it may fall off after washing. Pieces of fur are also attached to the gloves. If you do not have a werewolf mask, then with the help of a cosmetic pencil, thick eyebrows are drawn, as well as a wolf's nose..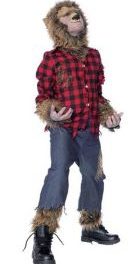 Wicked witch costume.
Different countries have their own unique image of a witch. But, almost everywhere, a witch on Halloween appears in a cone hat. Such an outfit is beautiful. It is also durable. And this means that you can appear in it at the holiday more than once. Since this suit is dark, it can be considered not easily soiled..
You can not only buy a cone-shaped hat, but also make it yourself. In this case, you should carefully study the step-by-step master classes. And in addition to black clothes, the image is complemented by a broom.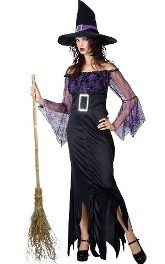 Finally
For you, we have brought a lot of options for costumes for a masquerade dedicated to Halloween. We hope that with the help of our information you can make a light Halloween costume with your own hands..
Halloween is a celebration of makeover. Some people choose a costume that reflects its essence. Other people choose outfits that make them unrecognizable. In general, we want to choose the best costume for you and have a fun famous holiday of evil spirits..