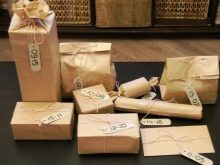 Paper bag
Let's start with the packaging, which is most pleasant to remove from the gift – from the classic, so pleasantly rustling paper bag. We offer ideas on how to hide a gift.
If the holiday memento fits in a box, you can simply glue it over with beautiful paper. You don't need anything other than double-sided tape to get it tidy..
Nobody forbids moving away from the traditional rectangular shape and making a bag out of paper. Simply place your gift in the center of a square piece of paper and connect all four corners on top using a ribbon, elastic band, or bow. It will turn out to be a kind of bag. The option is simple, but due to an interesting print on paper it can look very impressive.
If it is important for you that the gift keeps its shape, but making a rigid frame out of paper is problematic, use a basket or the bottom of a regular box in the base, leaving the top open so that the package can be shaped like a bag.
Recently, regular, non-branded craft ready-made gift bags have become popular. They come in different sizes and are very easy to decorate. You can decorate the surface with a suitable size ikebana made of branches, balls and ribbons, you can apply some kind of pattern or decorate the bag with ribbons made from natural fabrics.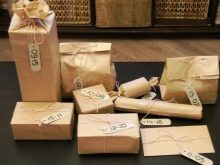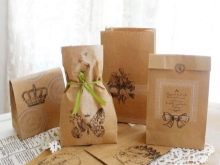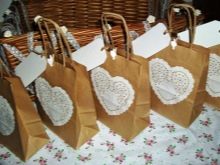 Cloth bag
Paper is a great option, but not the only one. Some people choose textile packaging for decoration: fleece, silk, velvet. This is a fairly economical and convenient option. It is difficult to break such a container ahead of time, it does not shine through, nothing will happen to it, even if it gets wet, but the options for colors and textures for fabric bags simply cannot be enumerated! Consider some types of work with fabric bags.
If you love handicrafts, you can sew a real bag. The easiest way to do this is on a typewriter, but if the gift is small, you can do it by hand. A simple buttonhole or stitch stitch holding the edges in place will look pretty dramatic..
Make a pattern based on the size of your gift, and in just a few minutes prepare an excellent case.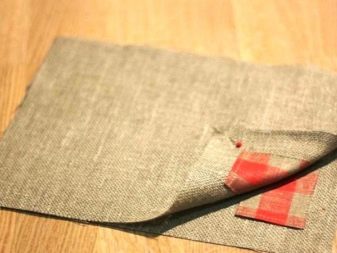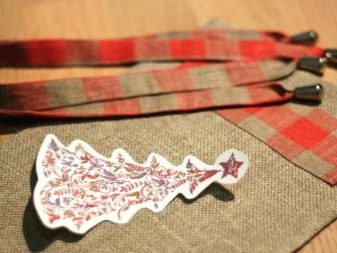 If the fabric was plain, for example, a noble red velvet natural canvas bag or a soft fleece – decorate the "facade" with applique. You can sew on a ready-made patch or create your own composition. You can cut a pattern or design from other pieces of fabric. Some create mosaics from buttons, others use feathers, ribbons, or a little embroidery. There are a lot of options, it all depends on your free time and skill.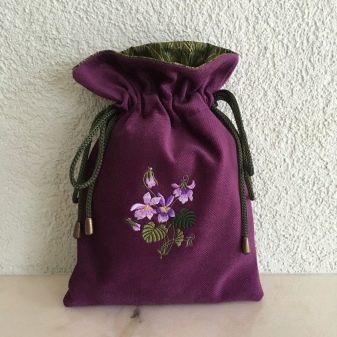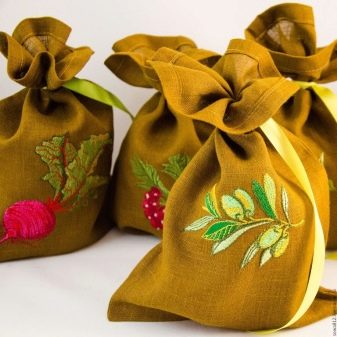 If sewing is not a strong point, but you still want to use weaving for finishing, do not worry, you can make a bag using fabric and any ribbon. There are two options. First: by analogy with paper, choose a piece of fabric that fits your gift, put the present in the center, connect the 4 ends of the package (or tighten the edges up if you cut a circle) and tie the structure on a tight knot, gently straightening the folds. Second: wrap the gift like a candy. You also place the main content in the center of the fabric, but closer to one of the edges, and roll the gift like dough..
All that remains is to tie the packaging on both sides to fix the item inside..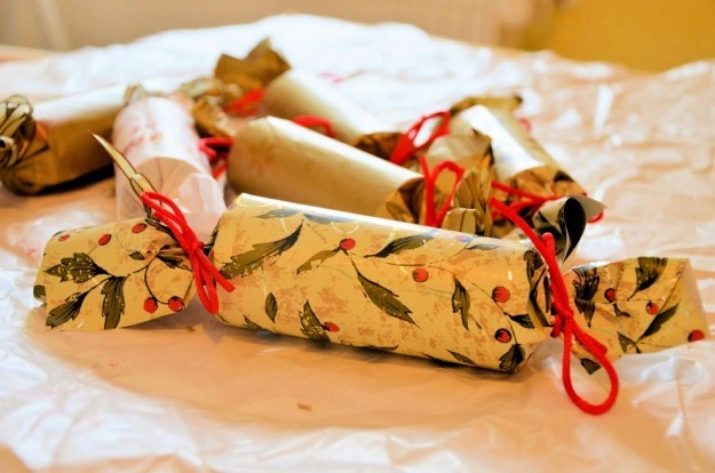 Knitted pouch
The last packaging option that I would like to talk about is a crocheted or knitted bag. Here you will need a certain amount of skill, but such a bag is already a gift in itself. It is more difficult to make such packaging than from fabric, but you must admit that it is pleasant for loved ones to try.
If you do not know how to knit, but the idea requires it, you will find many master classes online where you can learn how to make simple forms of elementary knitting in a few minutes.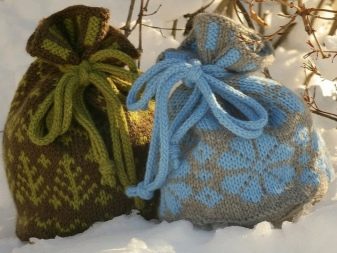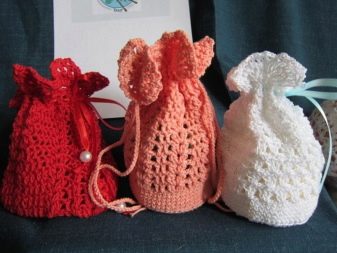 Start lightly – try making a solid color bag. The knitted bag looks really original, it gives off a special festive mood, so this packaging is worth the effort. You can decorate it not only with a pattern, but also with all of the above finishing elements..
Do not be afraid to be creative, the holidays are made for a special mood!
Decorating ideas
A little higher, you could already find several ideas, but let's dwell on the finish in a little more detail..
The first option is applique. It can be made from fabric, buttons, paper, dyed or natural cotton wool. All the materials at hand can easily turn into finishing materials if you have inspiration.
The second option is Christmas tree decorations. Small balls, bells and bells, beautiful fishnet figurines that can be hung on a string that fits a bag.
Another way to be original is to use sweets or cookies in the decoration. This is not only beautiful, but also delicious packaging, which children will be especially delighted with..
Use beads or beads to decorate. Make embroidery or, using large beads, supplement the usual tape that secures the package.
Self-adhesive rhinestones can be used for packaging. This is an elementary finishing method that does not require any special skills, in addition, rhinestones can often be found in a format where they are already sold in the form of a specific pattern, for example, a snowflake or a herringbone..
Nowadays, sacks of burlap are often made, it can be very beautifully decorated with natural spruce branches and cones, or you can make a kind of ikebana. In this type of design, it will be appropriate to use any natural elements, from flowers to dry twigs tied with ordinary twine..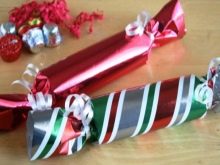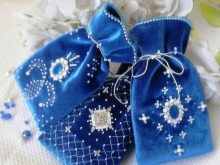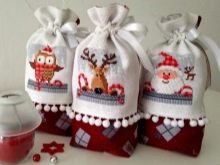 What are beautiful fabric bags used for?
Do-it-yourself things always look attractive, because the master puts a piece of his own heart into them.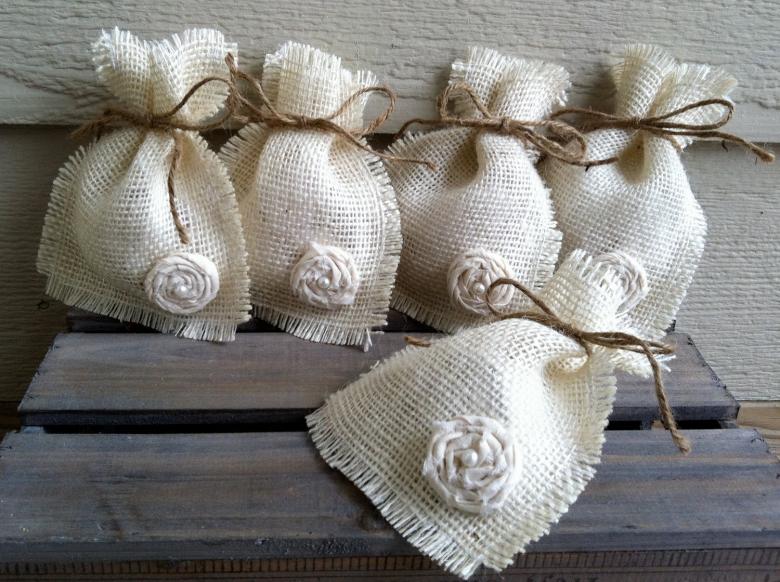 Creative crafts can be used for a variety of purposes, and beautifully designed fabric bags are no exception:
beautiful packaging of holiday gifts. You can make a New Year's bag or gift wrapping from a beautiful fabric for a birthday, anniversary or wedding celebration;
decoration of souvenirs for guests for the holidays. The foreign tradition of presenting souvenirs to guests at such celebrations as bachelorette parties, birthdays and weddings requires packing surprises;
production of room fragrances. Decorate your own home with bags of aromatic herbs, garnished with cinnamon sticks and dried citrus fruits, anise stars;
organization of storage of various little things. Medicines and small items, buttons and threads can all be stored in bags with ties; for a children's room you can sew bags for Lego parts or other baby toys;
sewing original amulets for the house. Home decoration with amulets is an ancient and revered tradition; such products can be sewn as a housewarming gift or for your home.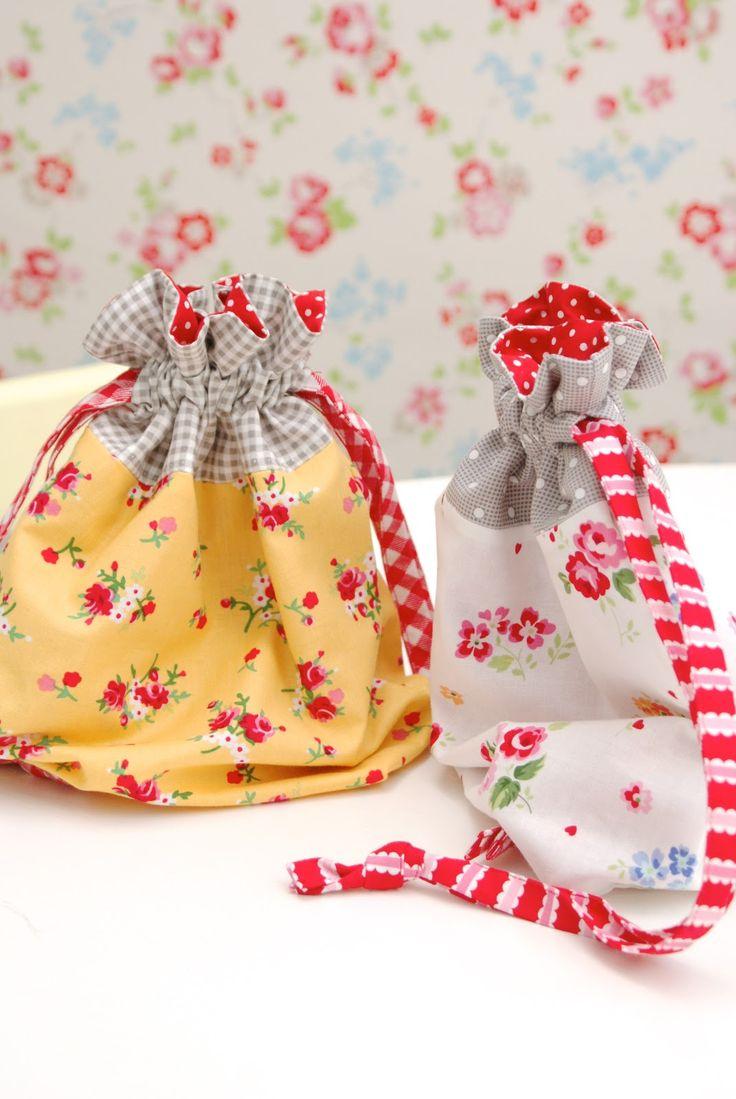 Pouches with different designs are not just gift wrapping; a practical item always has many uses. You can take durable products made of natural fabric with you on a trip, packing jewelry and the necessary little things in them, you can pack treats for children in them.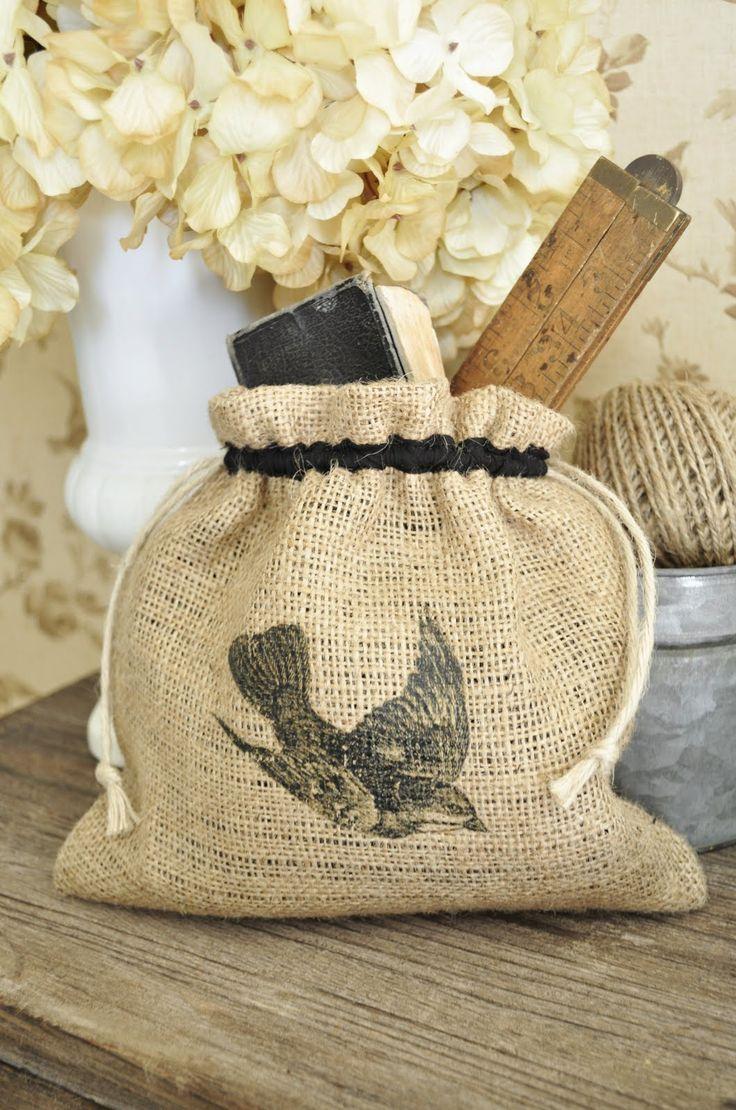 What materials can be used for sewing
Before sewing a product, it is imperative to study its design, select materials and need tools. The purpose of the manufacture depends on which pattern is chosen for the bag and what dimensions it will have, while the following points should be taken into account:
material for sewing the base of the bag. The material for the bag is selected depending on the intended use of this product. It is better to check natural or synthetic fabrics in advance for strength and only then use them in the creative process;
the choice of material for the manufacture of the lining. A lining is needed for products used for storing branded items. If the bag will store liquid medicines or hygiene items, it is better to make a lining from a plastic bag;
construction of ties to fix the contents. To tie the finished bag, you can use different options and solutions. It can be a drawstring (threaded tie) or a ribbon sewn on the side, the tie can not be sewn to the bag itself;
external decor and how the bag will be decorated. As with any good gift or beautiful thing, it is recommended to decorate the bag. For this process, you can use various accessories and techniques, and it is important that the design style coincides with the theme of the holiday..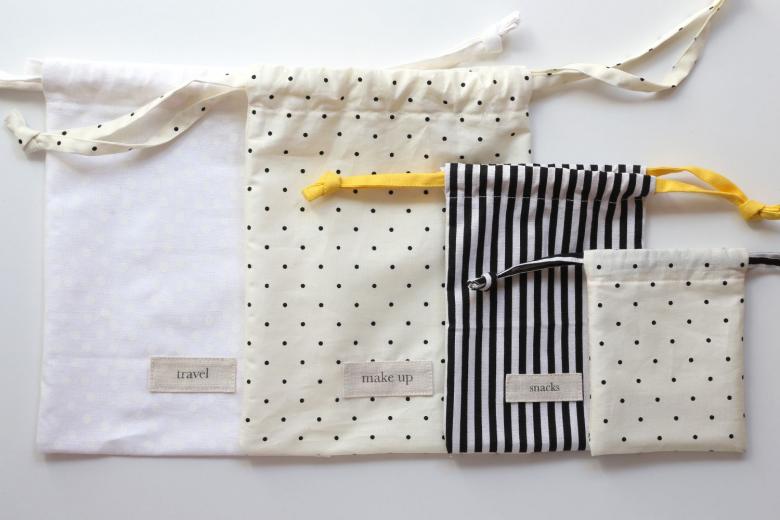 A large enough bag, designed as a gift wrap, can be easily converted into a beautiful bag, especially if it is sewn from durable fabric. Any product made from natural and high-quality materials can be given a second life with a minimum of effort and spending a little money..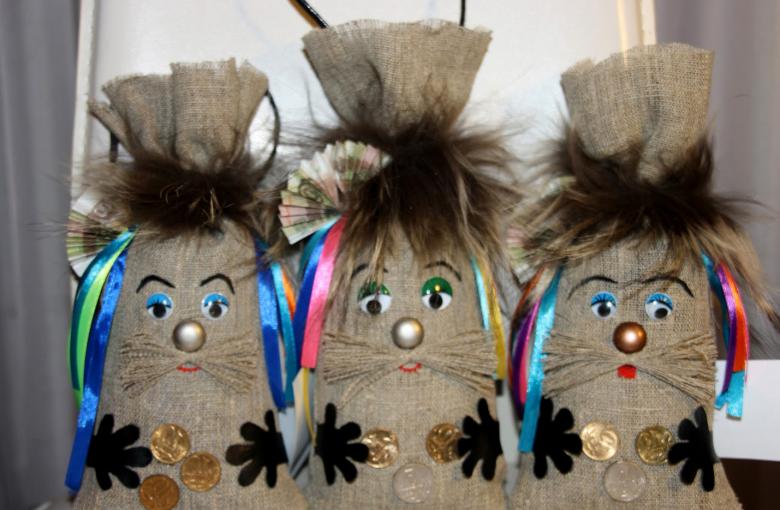 Practicality and beauty
Herb bags (they are made exclusively from natural fabrics with their own hands) are laid out on the shelves of cabinets or hung on hangers. They should be wrinkled periodically to release essential oils and restore the scent. It is believed that such a set is enough for a whole season, that is, when folding winter clothes for storage, you can not fear for its safety..
Features of bags for gifts and sweets
The bags that will be used to decorate gifts and surprises necessarily require a beautiful design. To decorate and decorate them, you can use different techniques and materials, and you don't have to limit your imagination:
beautiful embroidery, it can be done with a sewing machine (by stitching along a pre-drawn contour), with a cross or satin stitch, beads and ribbons;
fabric applique, contrasting materials are selected for the applique, or those that differ in shade for an expressive composition;
applying stamps, in order to implement this technique, you will need the stamps themselves (you can make them yourself) and special paint on fabric;
use of improvised means, the bag can be decorated with buttons and sequins, create an overflow picture or sew flowers from textiles;
decorative ornaments for the bag can be beautiful lace and satin ribbons, original drapery or the use of two layers of fabric.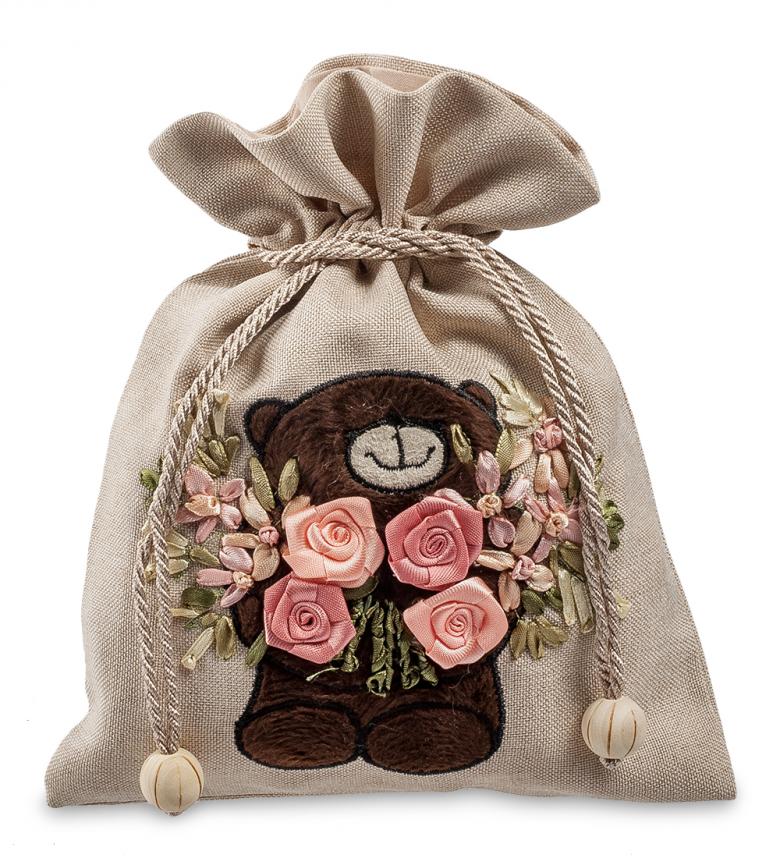 Often, minimalist decorating techniques are used to give bags a festive and elegant look. To use them, it is enough to choose a beautiful fabric, bright bows from external strings or glued rhinestones, beads and ready-made jewelry.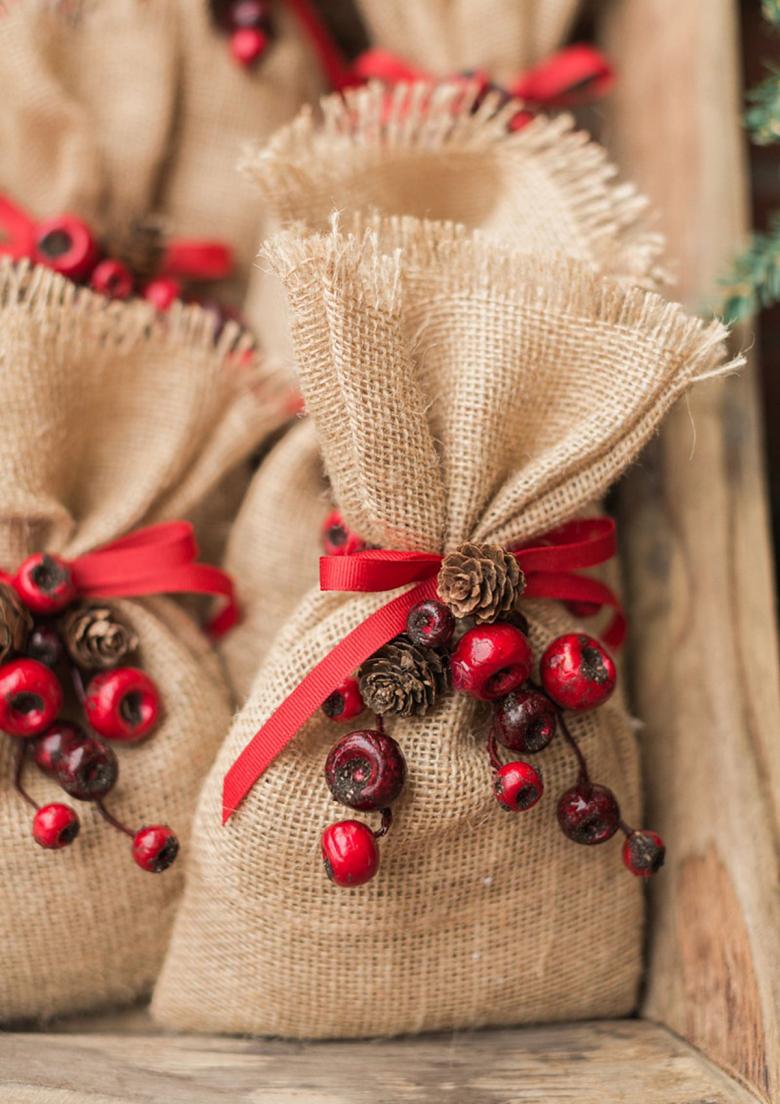 How to sew a beautiful bag yourself
You can easily and quickly make a bag for souvenirs using a sewing machine and for this you will need a small piece of fabric, 22×10 cm.A satin ribbon (15 cm) will be used as ties, and for decoration you will need a cardboard star template:
initially you need to decorate one of the sides of the bag, for this, an asterisk made of cardboard is applied to its front side and its contour is neatly outlined;
along the contour of the figure, it is necessary to make a neat seam, you can use a sewing machine, it is better for this to use bright or contrasting threads in color with the fabric;
the fabric blank is folded with the front side inward, and stitched on both sides of the length, the upper parts are folded by 0.5 cm and also stitched on a typewriter;
it is better to process all the edges of the finished product on a typewriter with an overlock, you can sew them manually, this will take a lot of time;
the bag turns out to the outside and you need to sew a ribbon-tie to it, for this you should step back 2-3 cm from the top edge, and sew a ribbon to the side seam.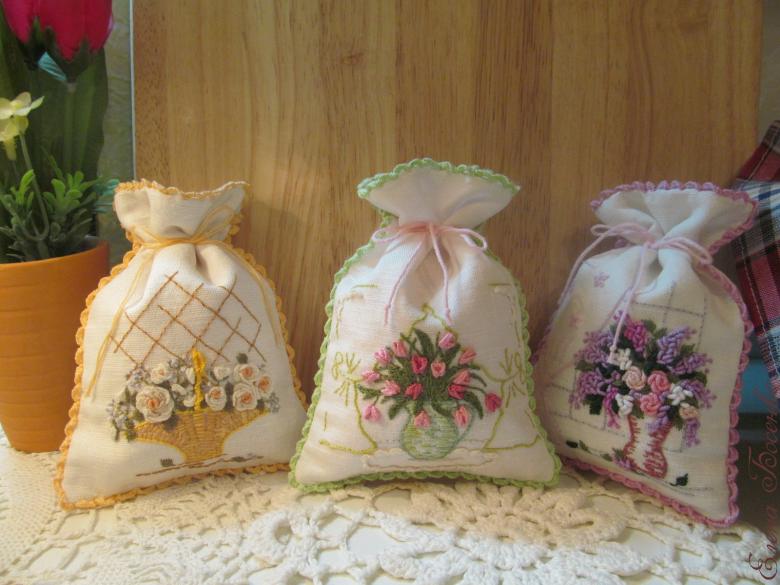 A fairly easy master class is perfect for novice craftsmen who are just mastering the sewing technique. For those with excellent skills, you can use complex patterns and make bags with lining or choose delicate fabrics for sewing..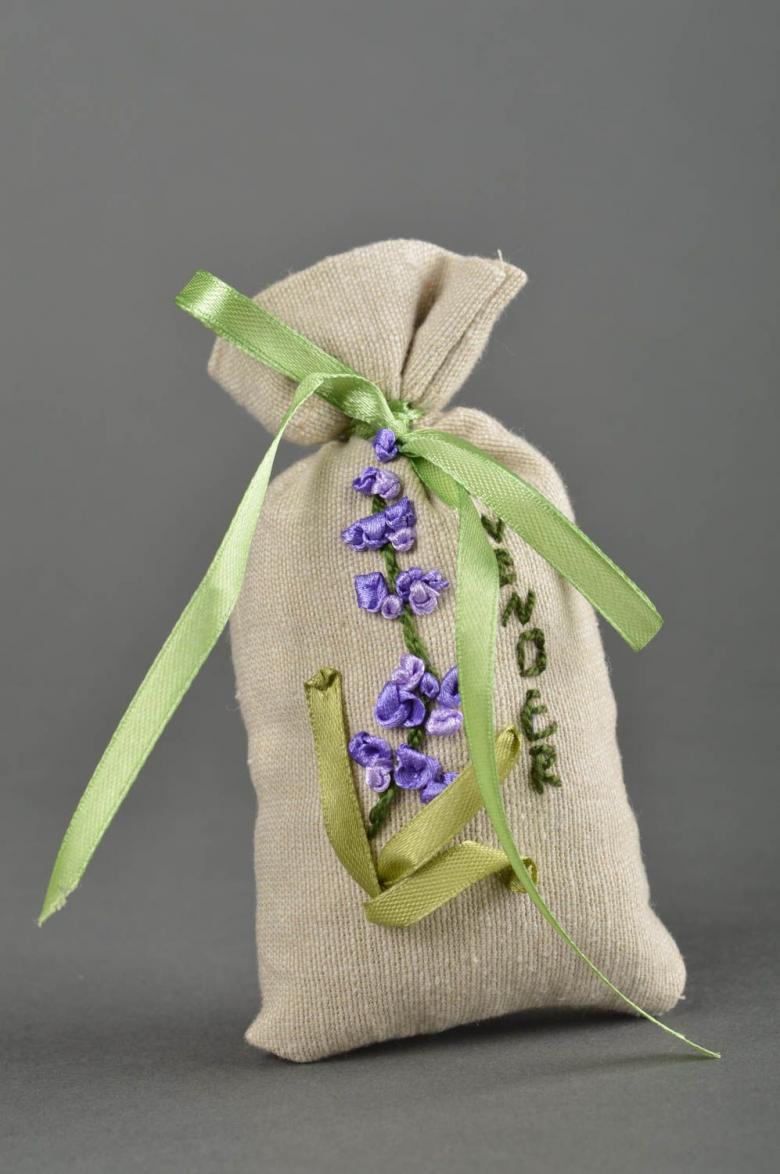 Textile bags, sewn by oneself and decorated with applique or embroidery, are a wonderful and useful gift. The creative process will bring a lot of pleasure and help you organize your own leisure time by taking up an exciting and rewarding hobby..
Photo of the idea of ​​homemade bags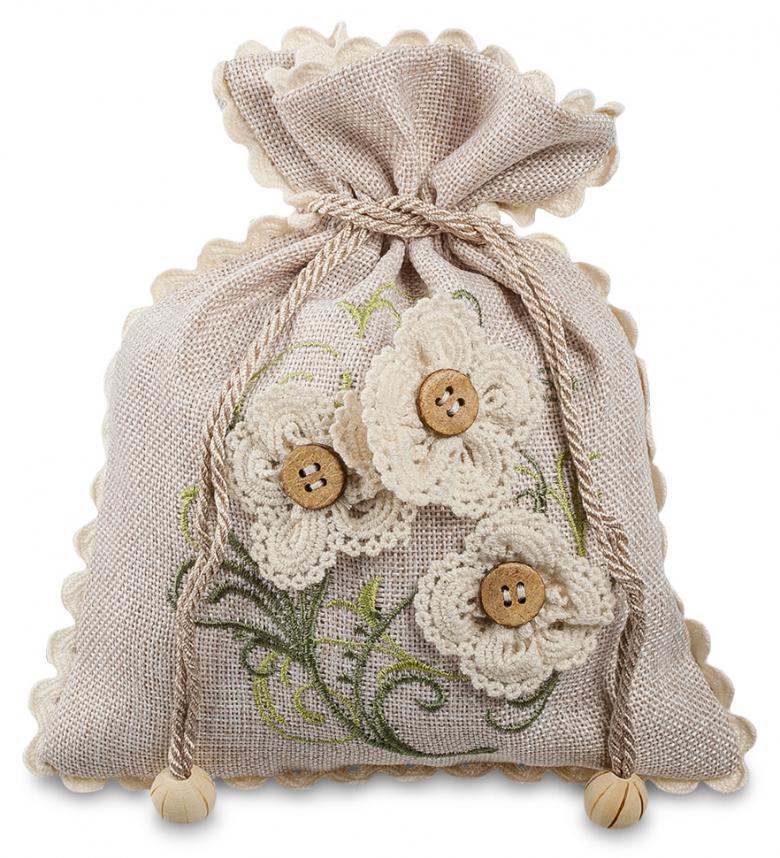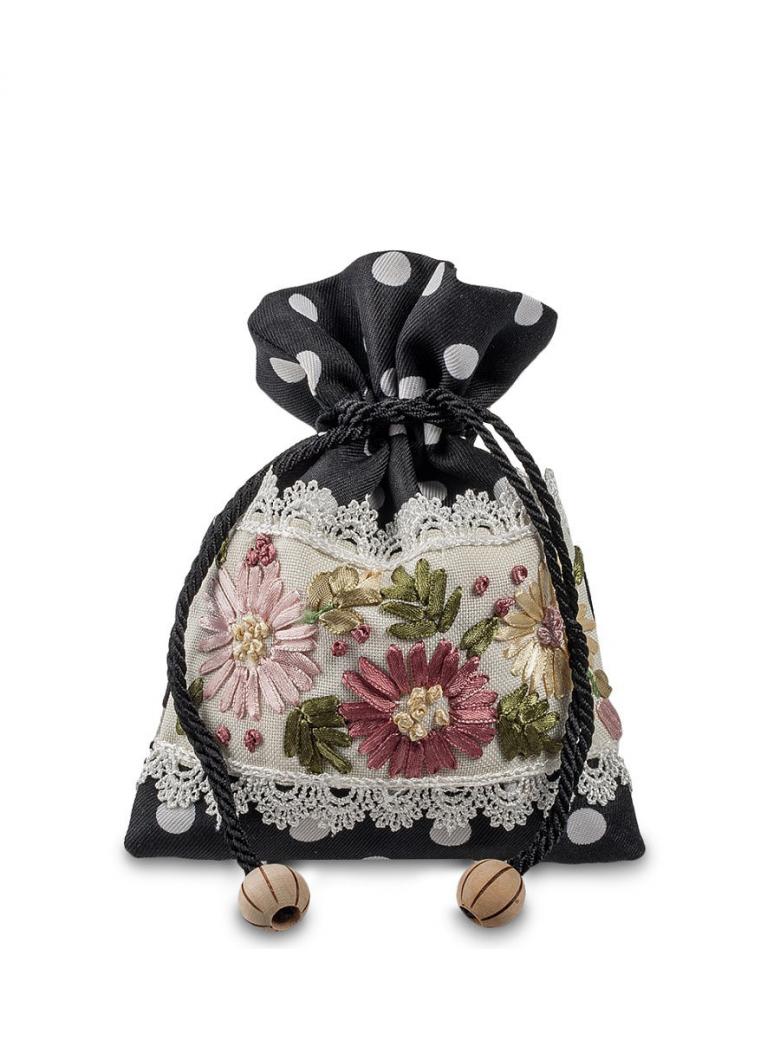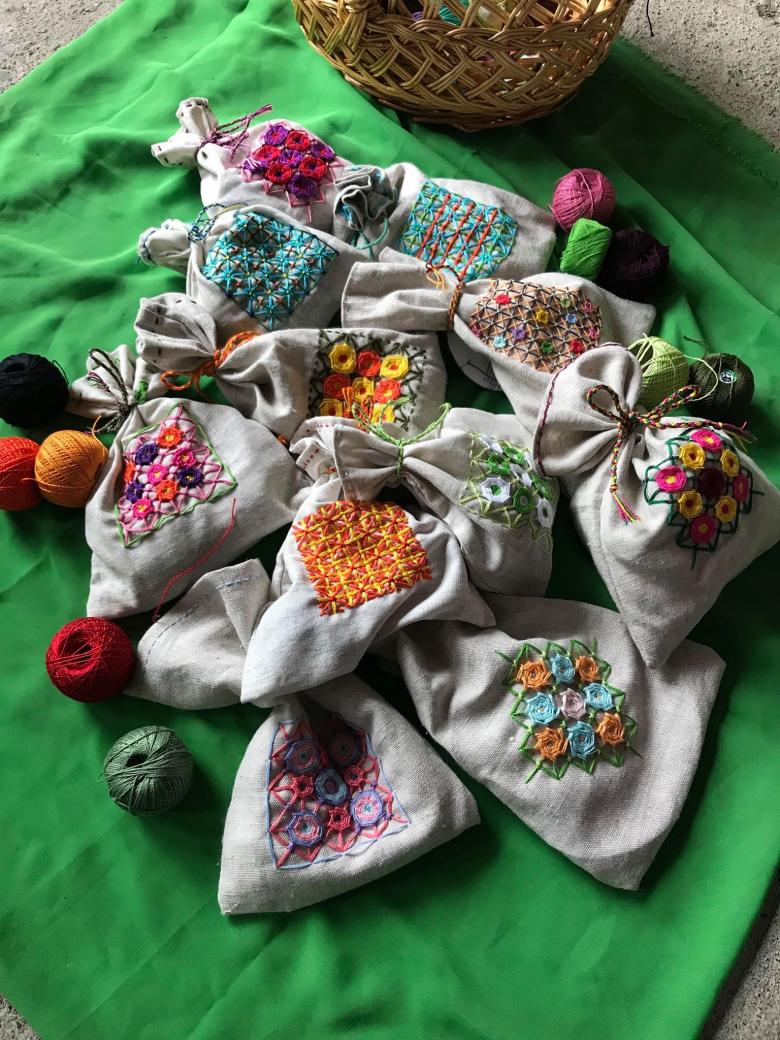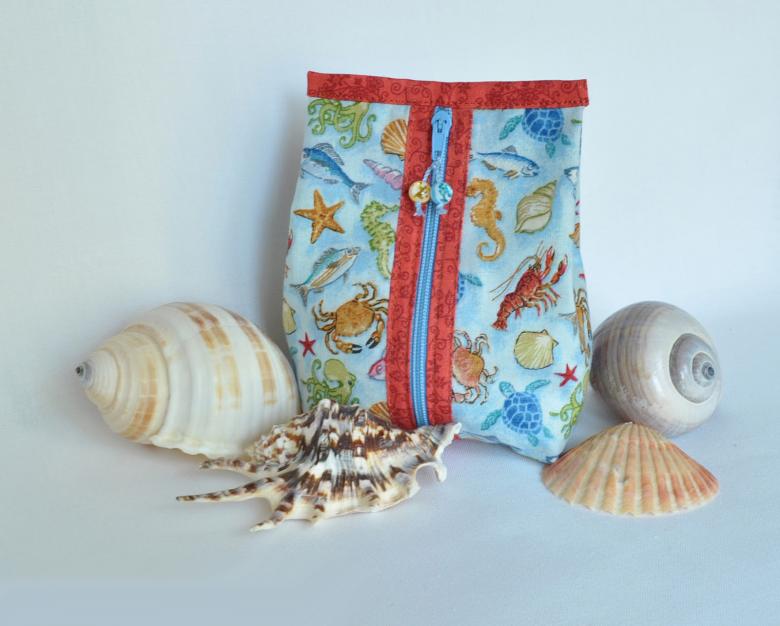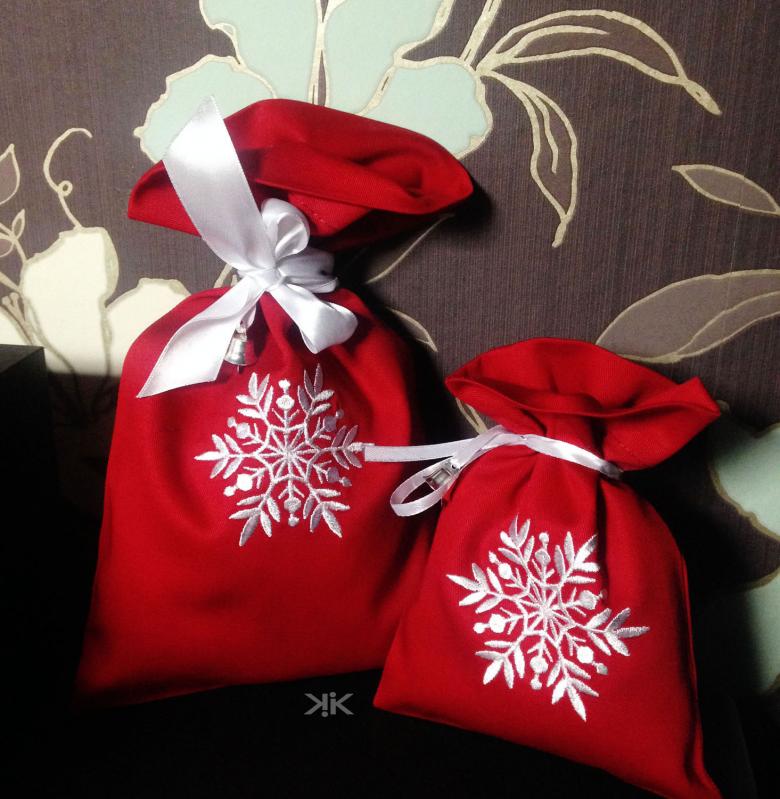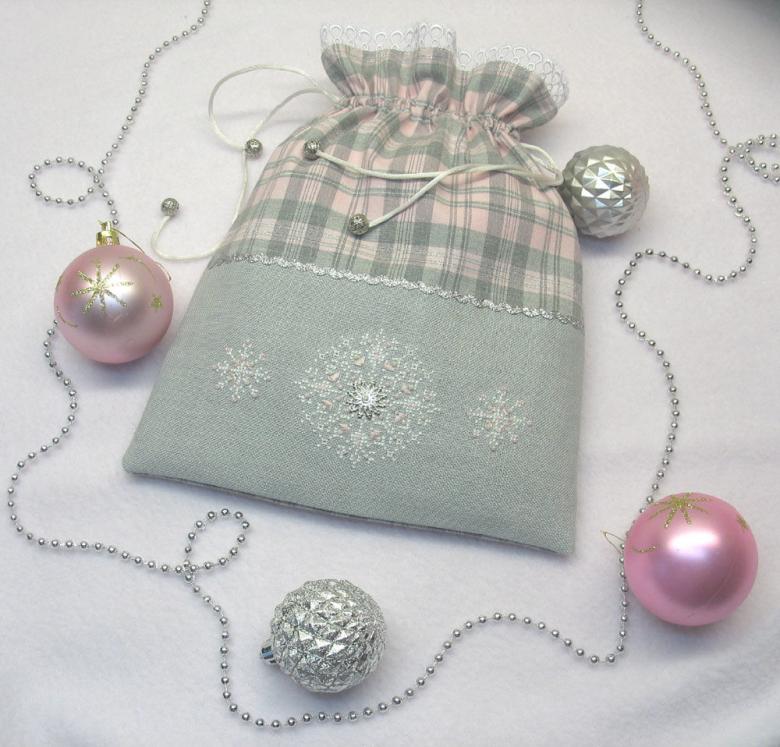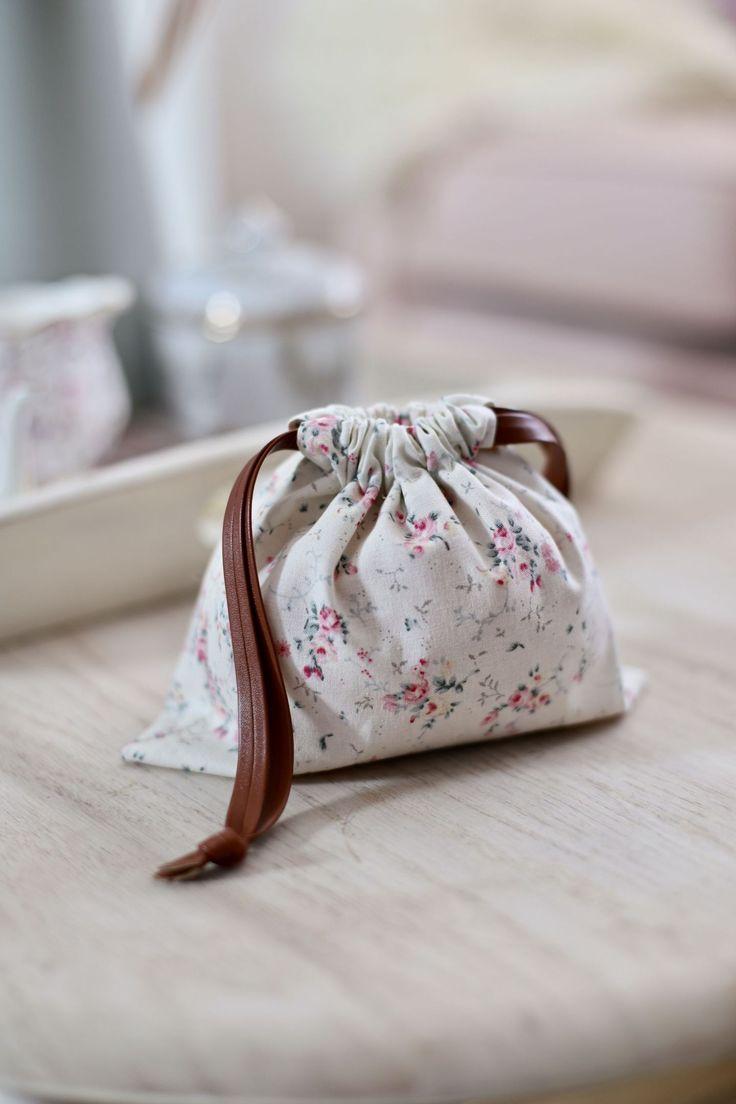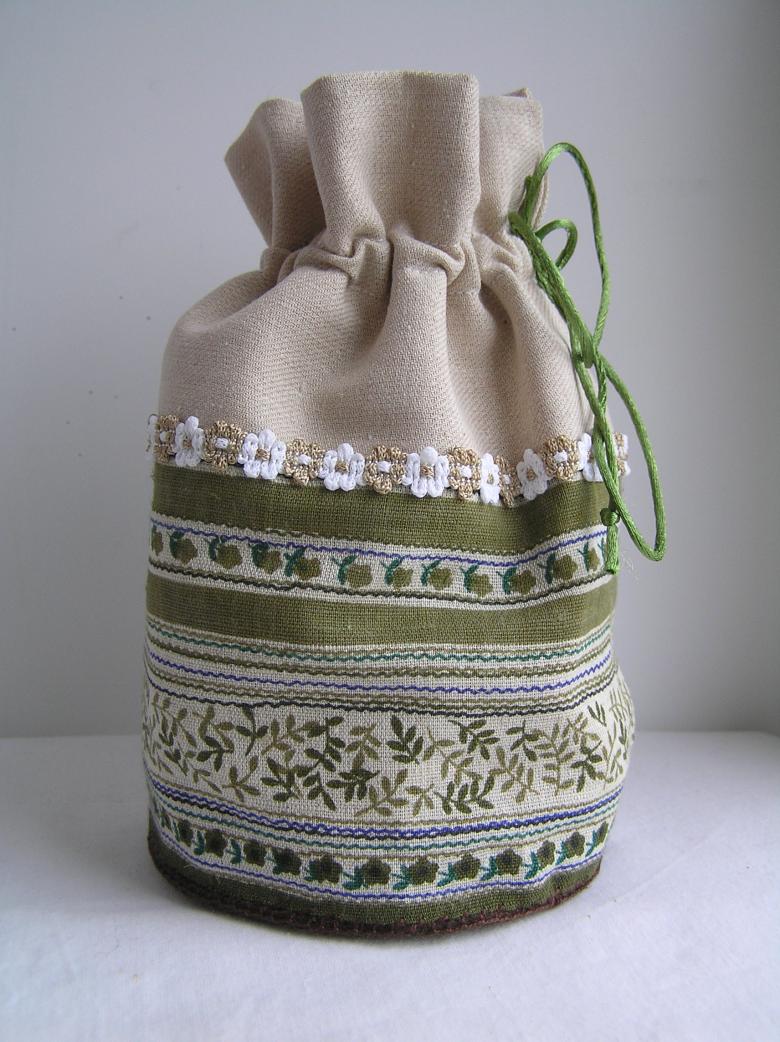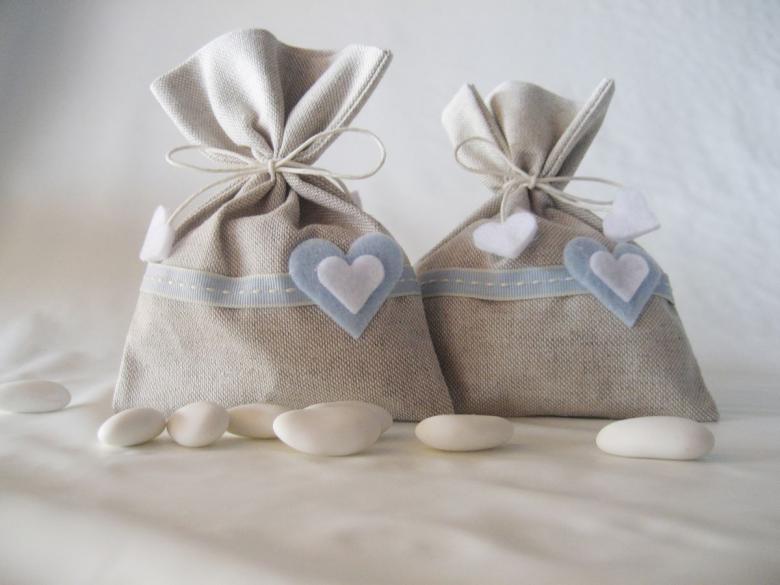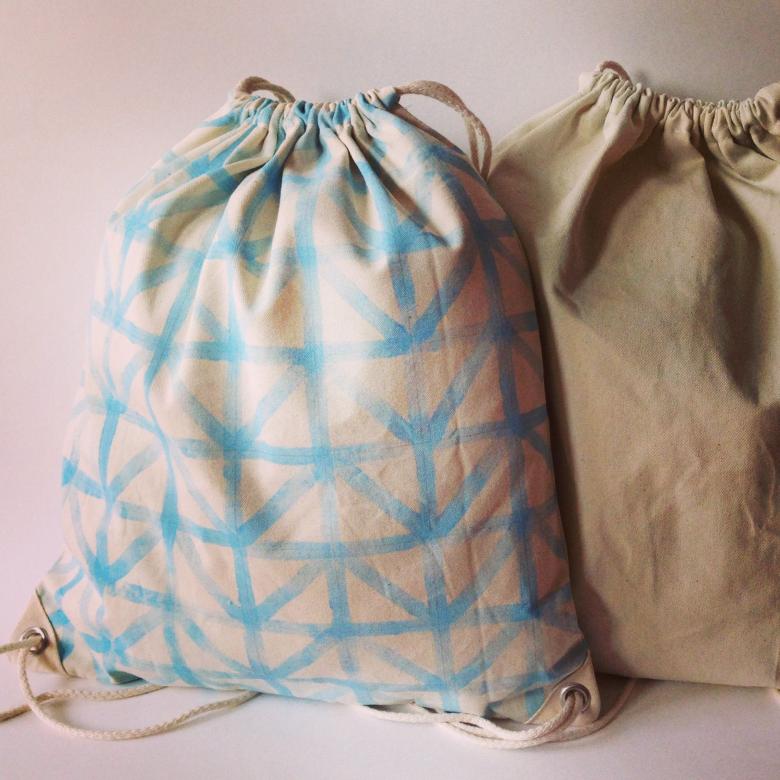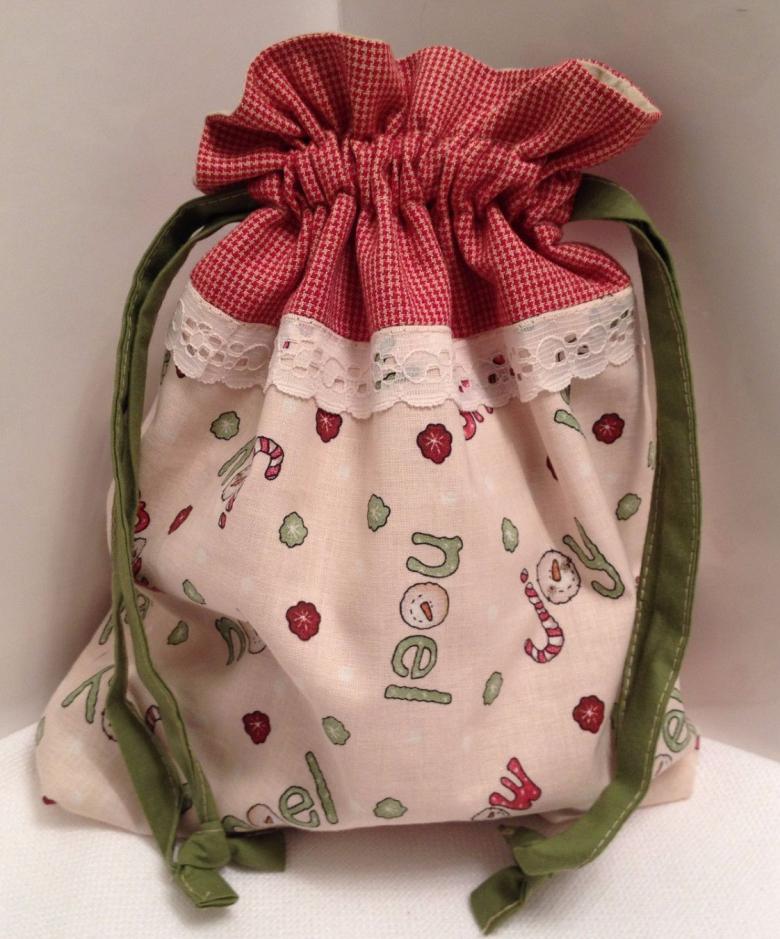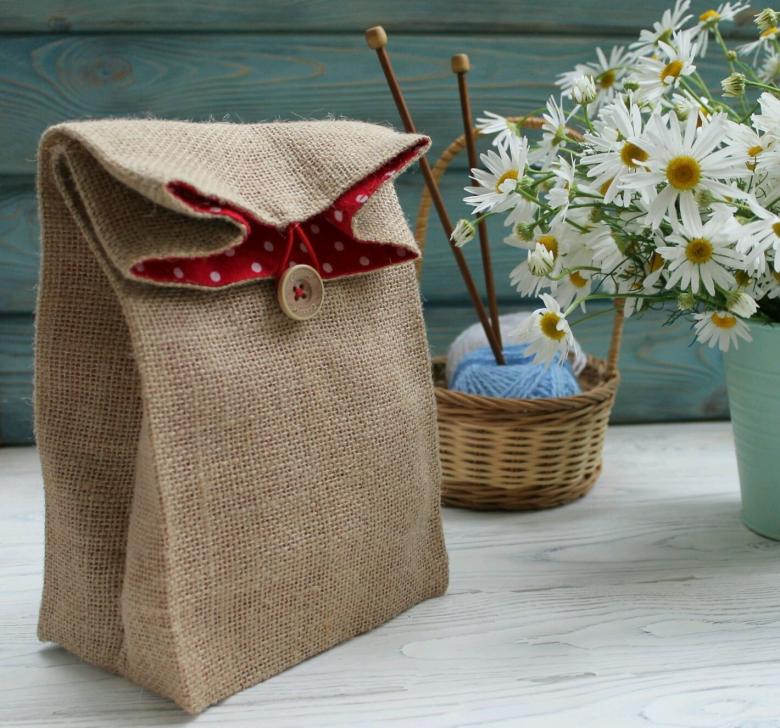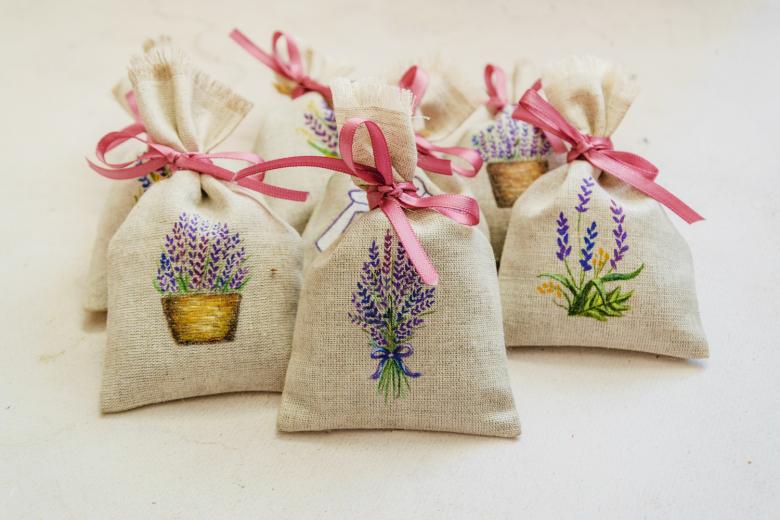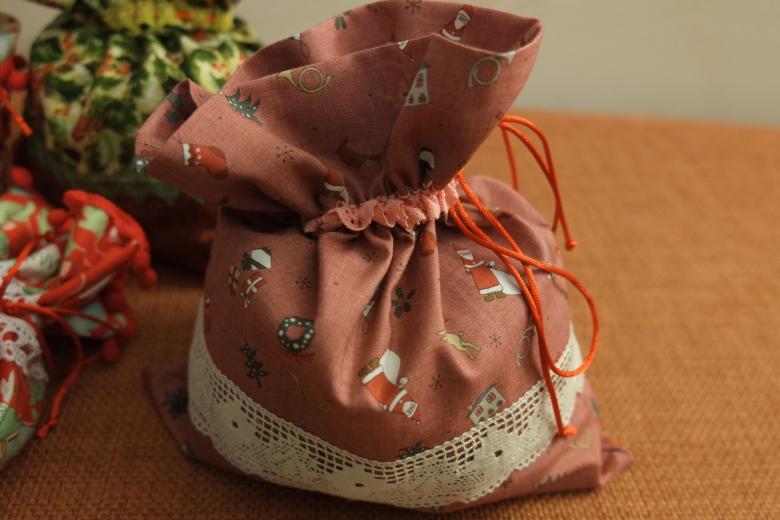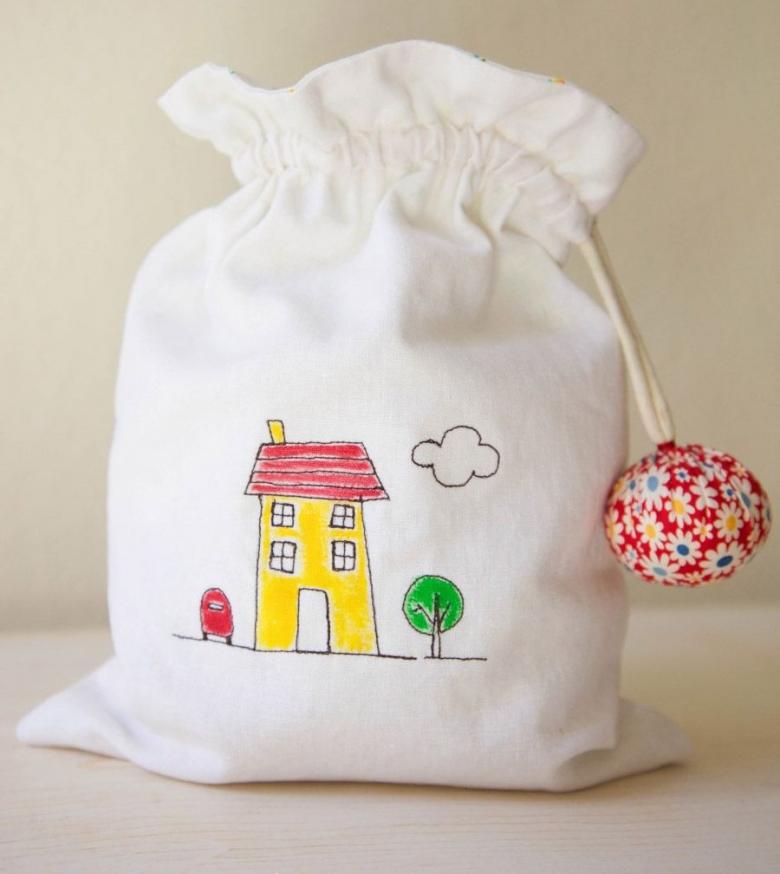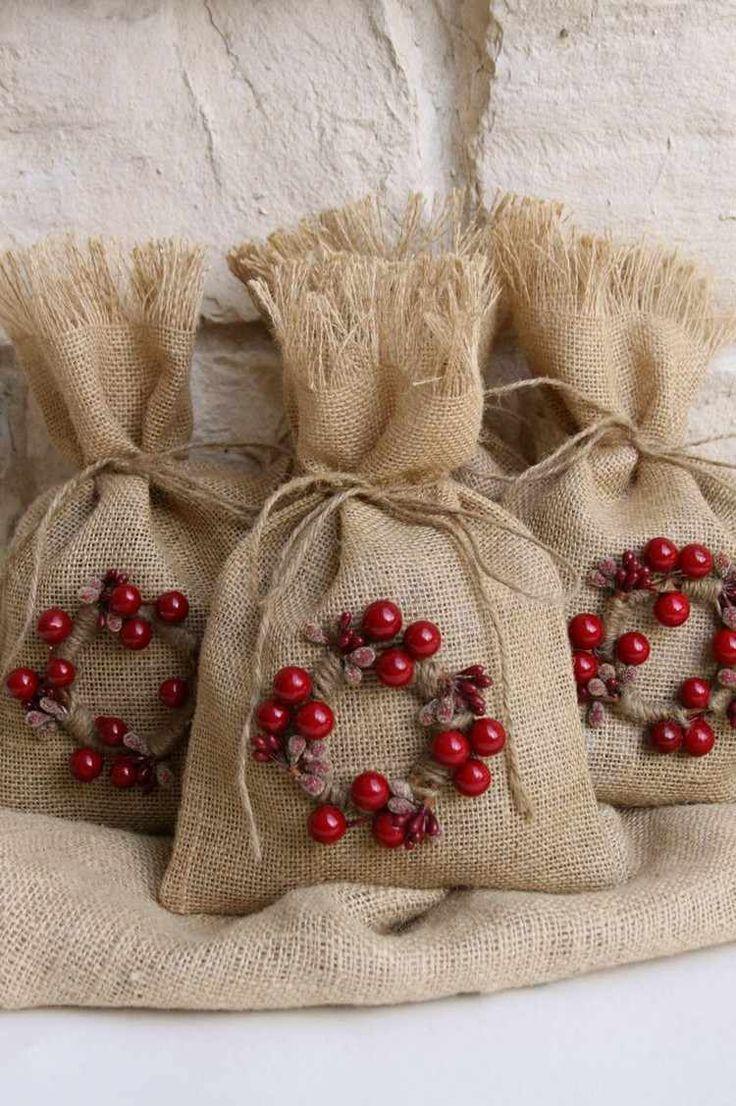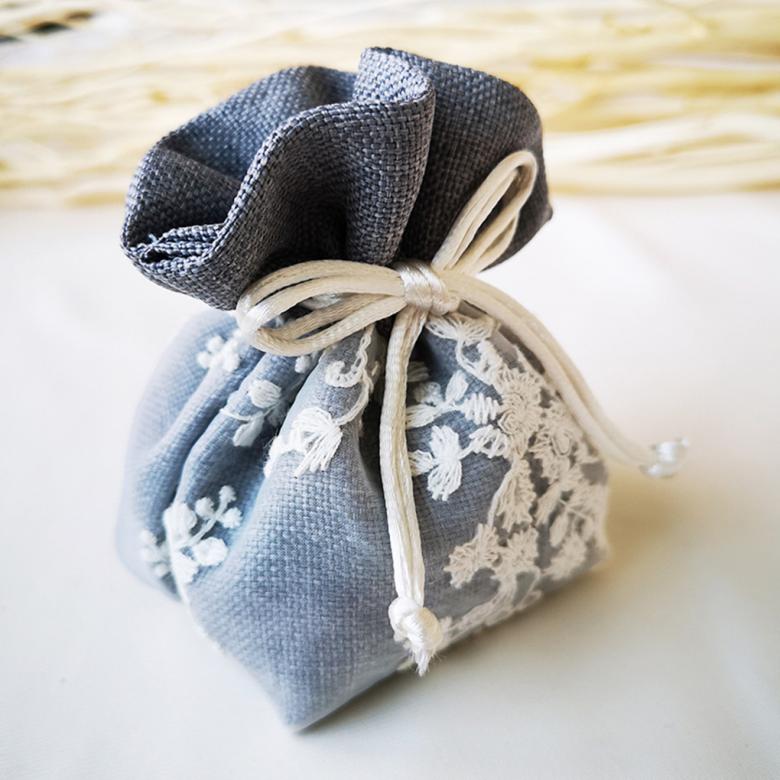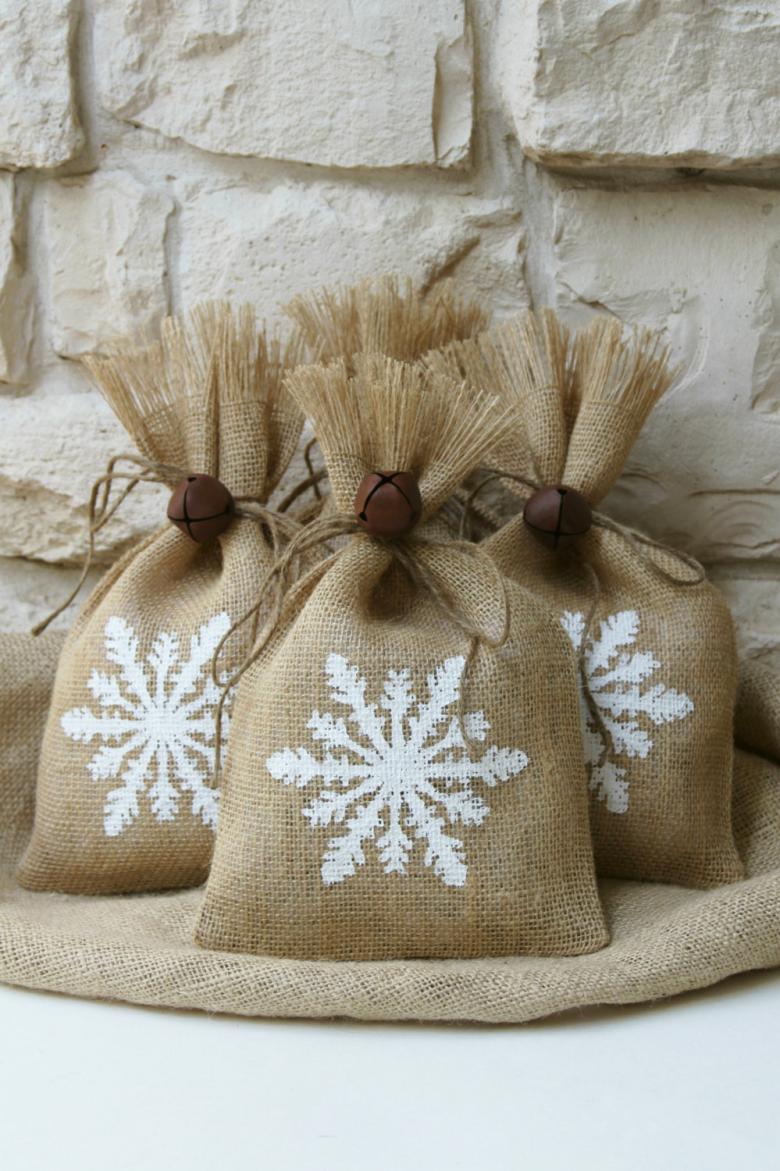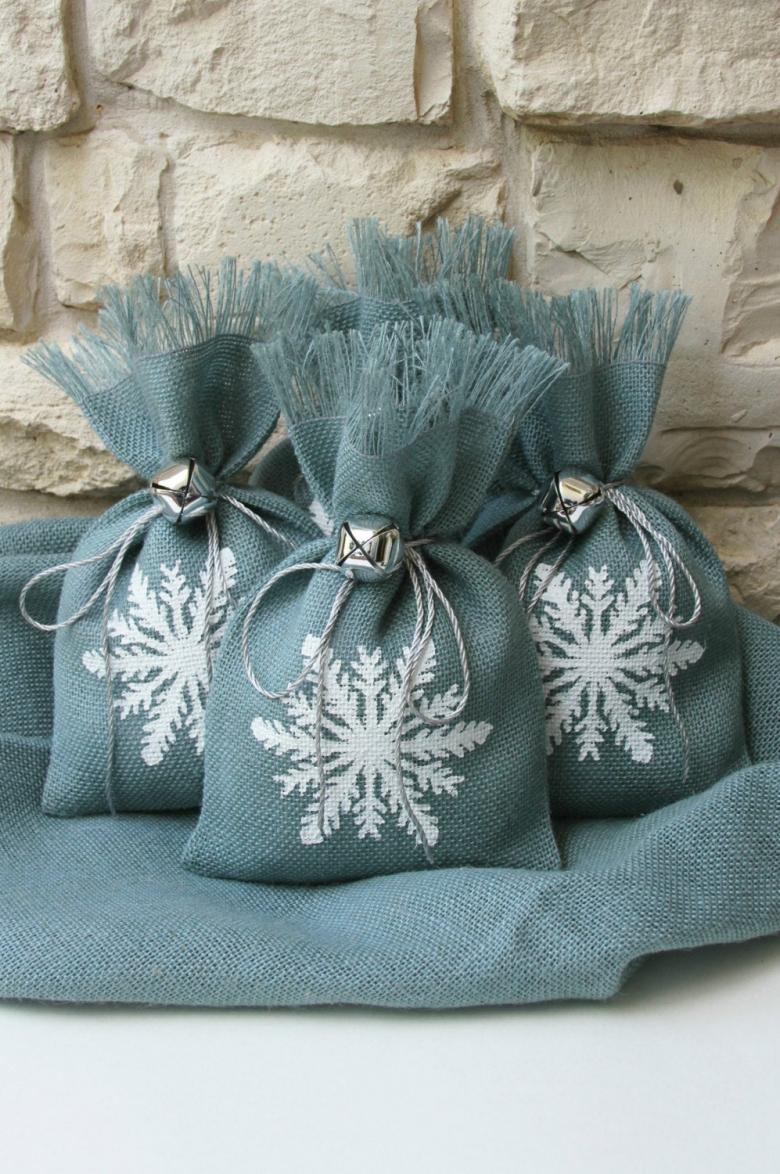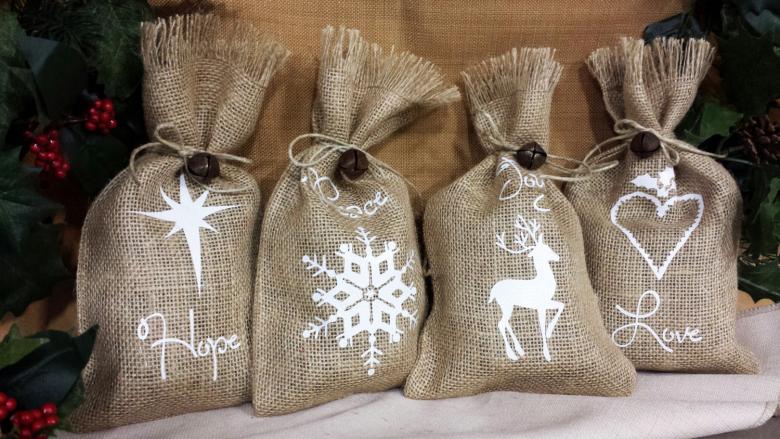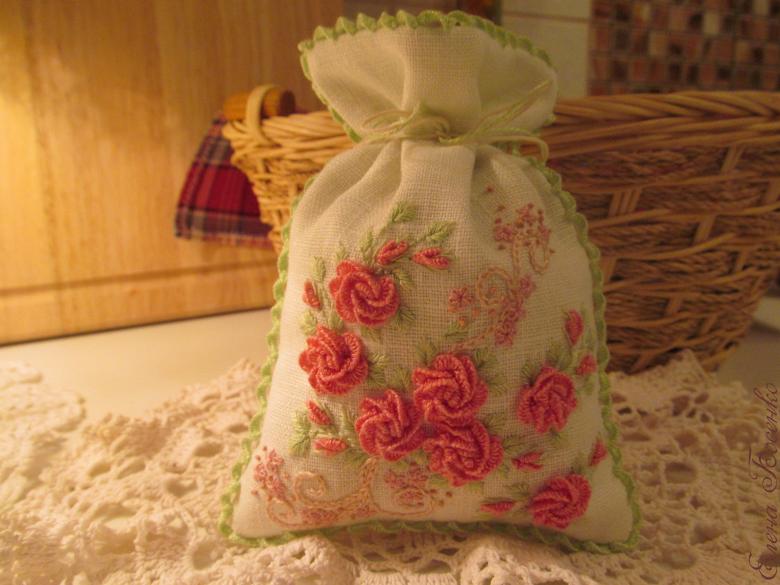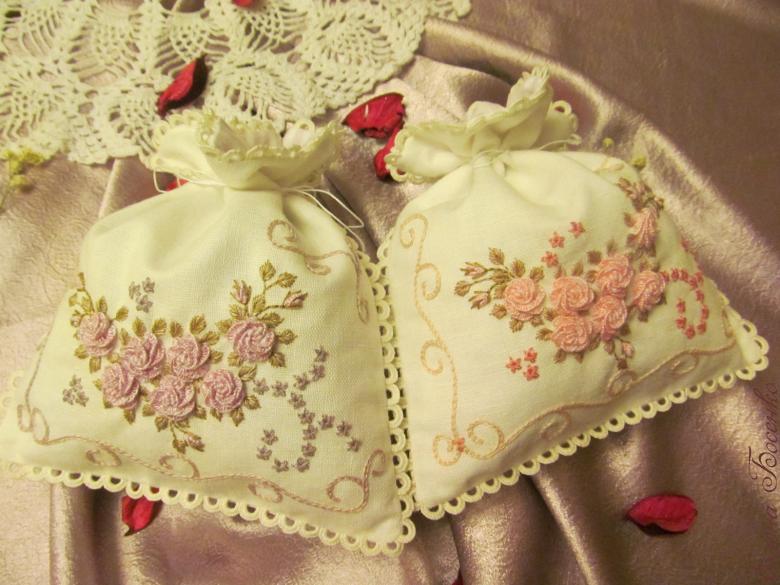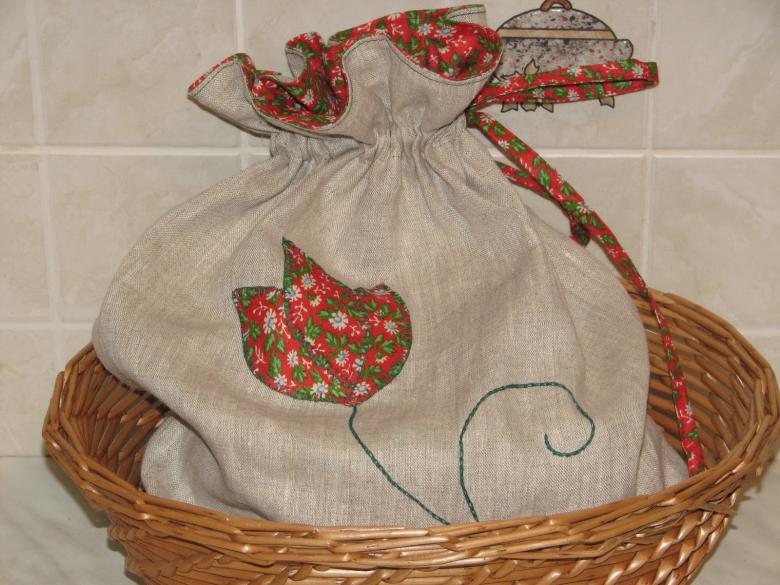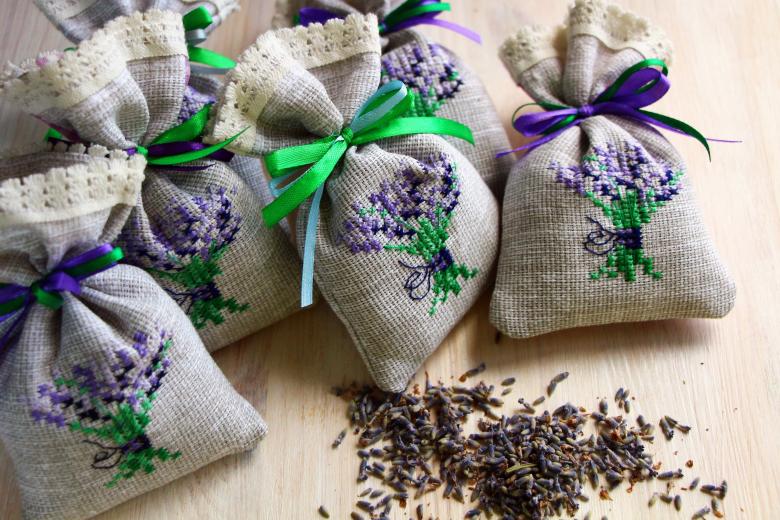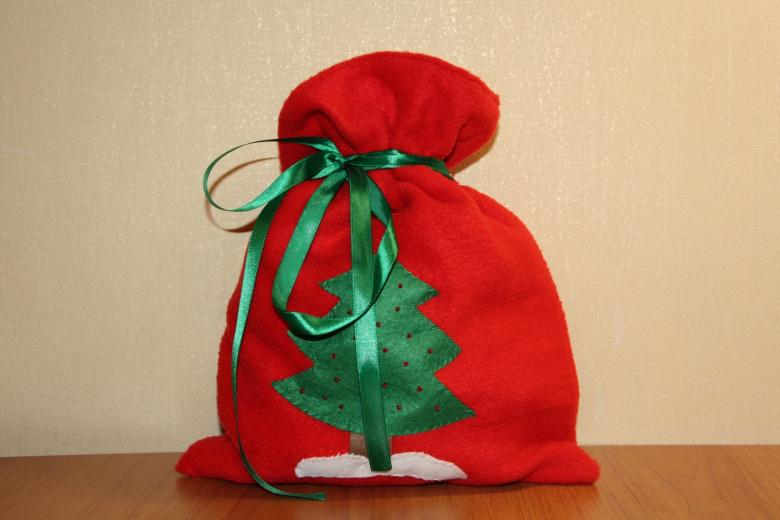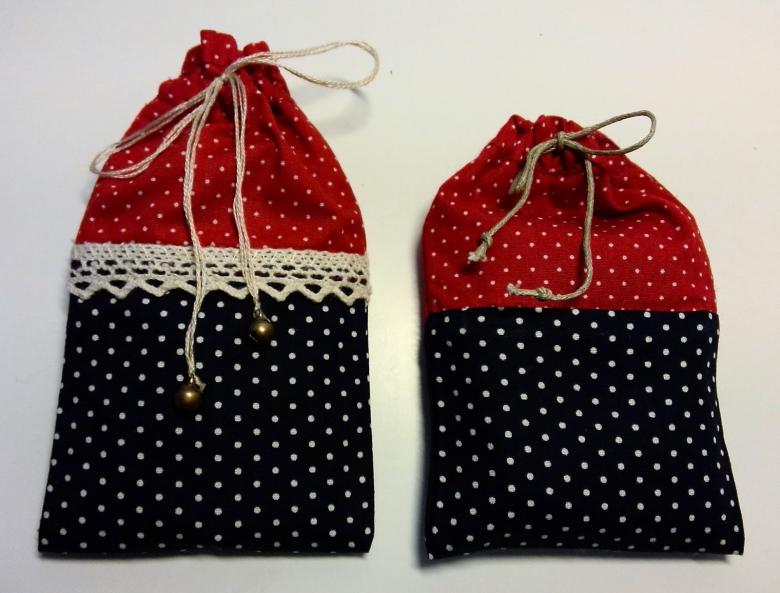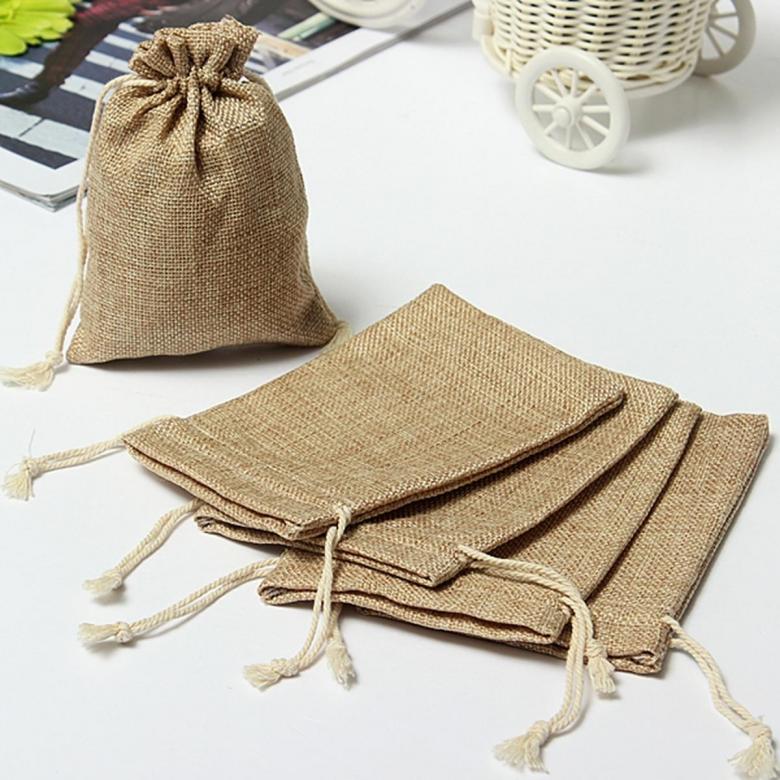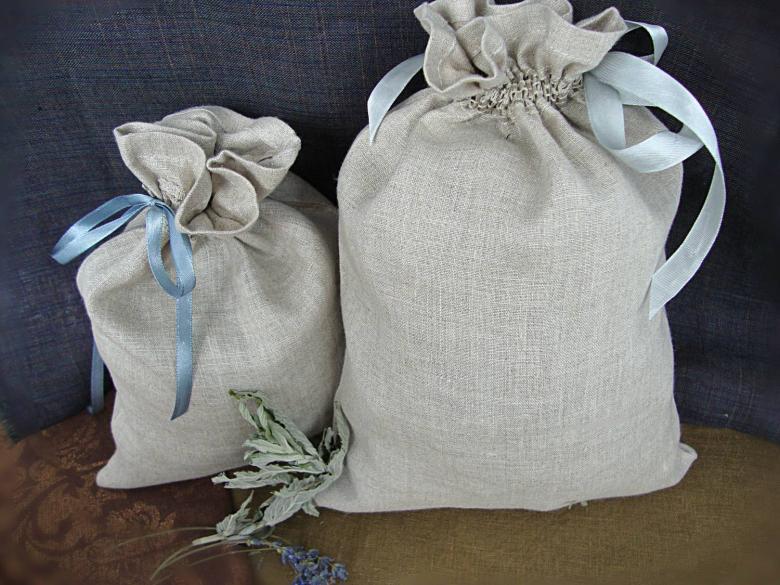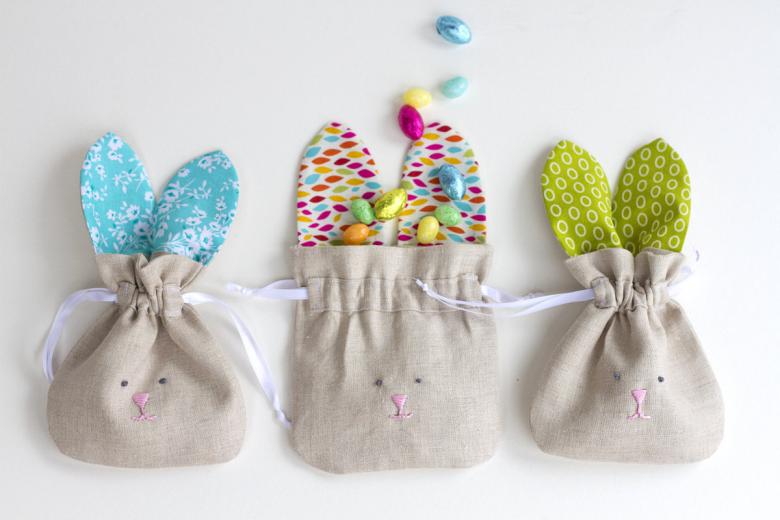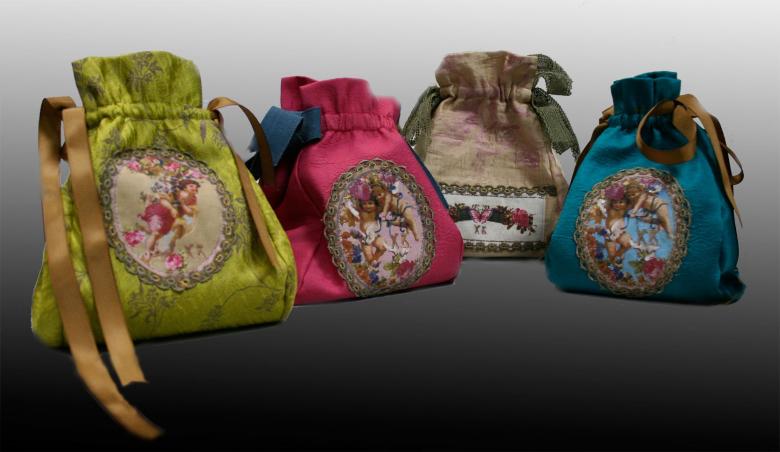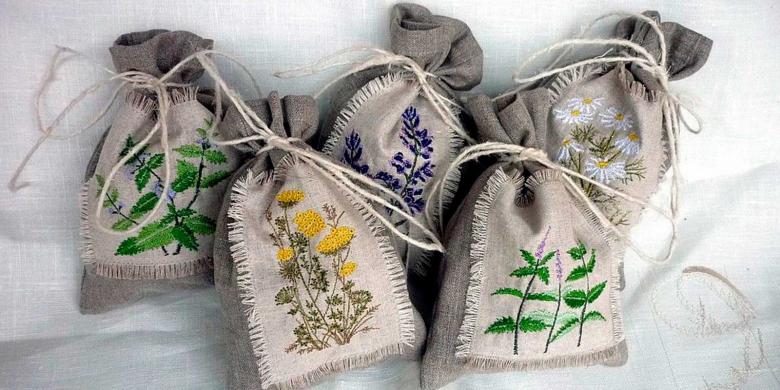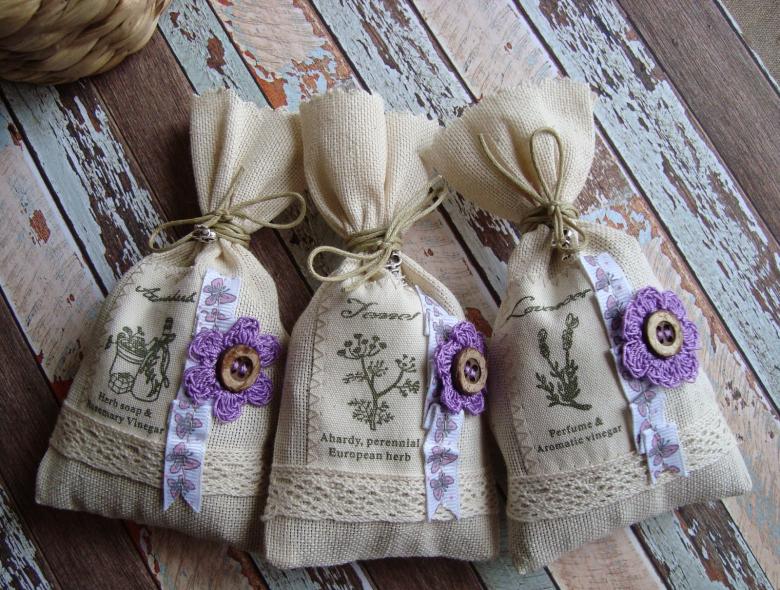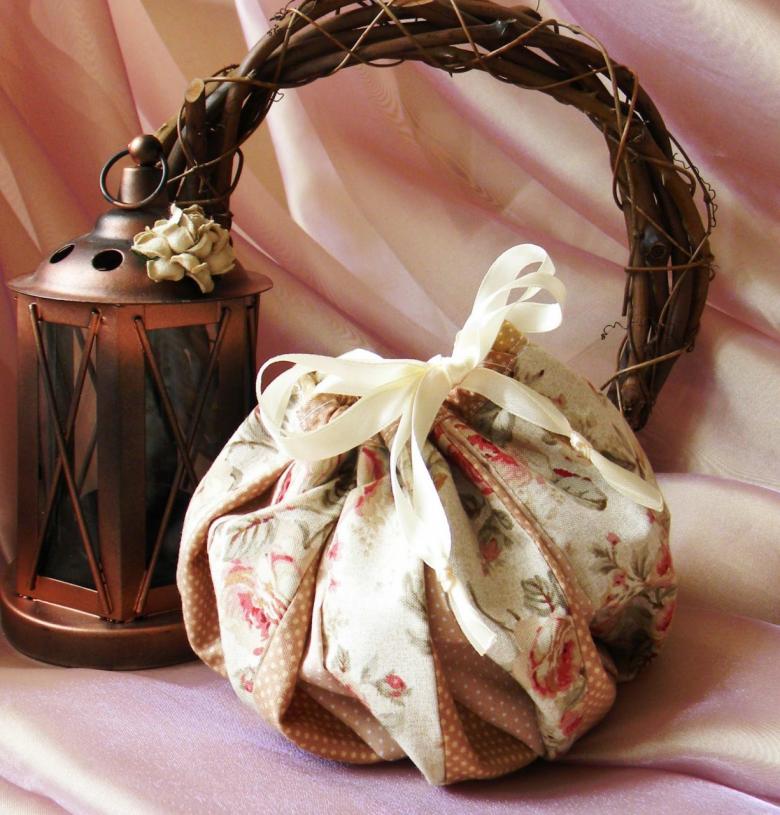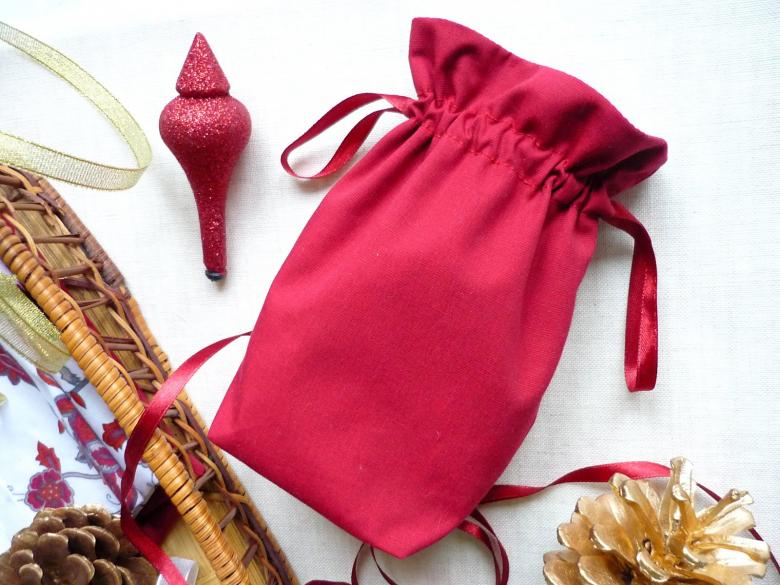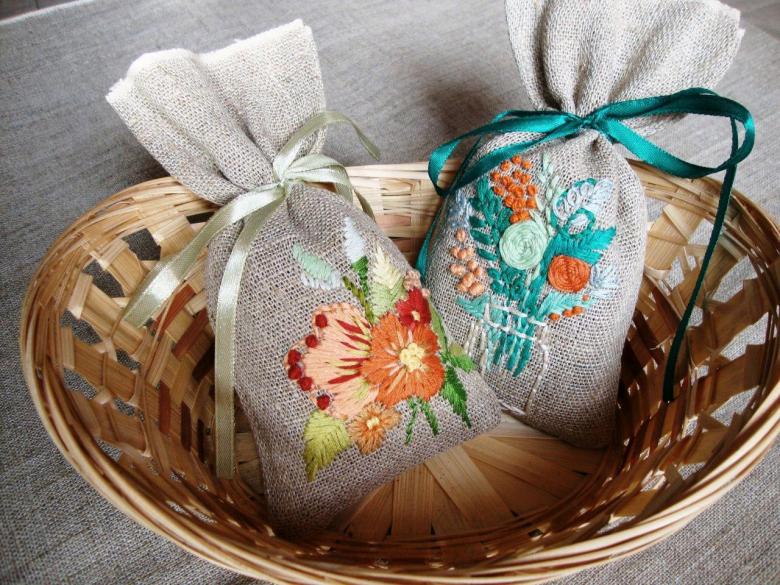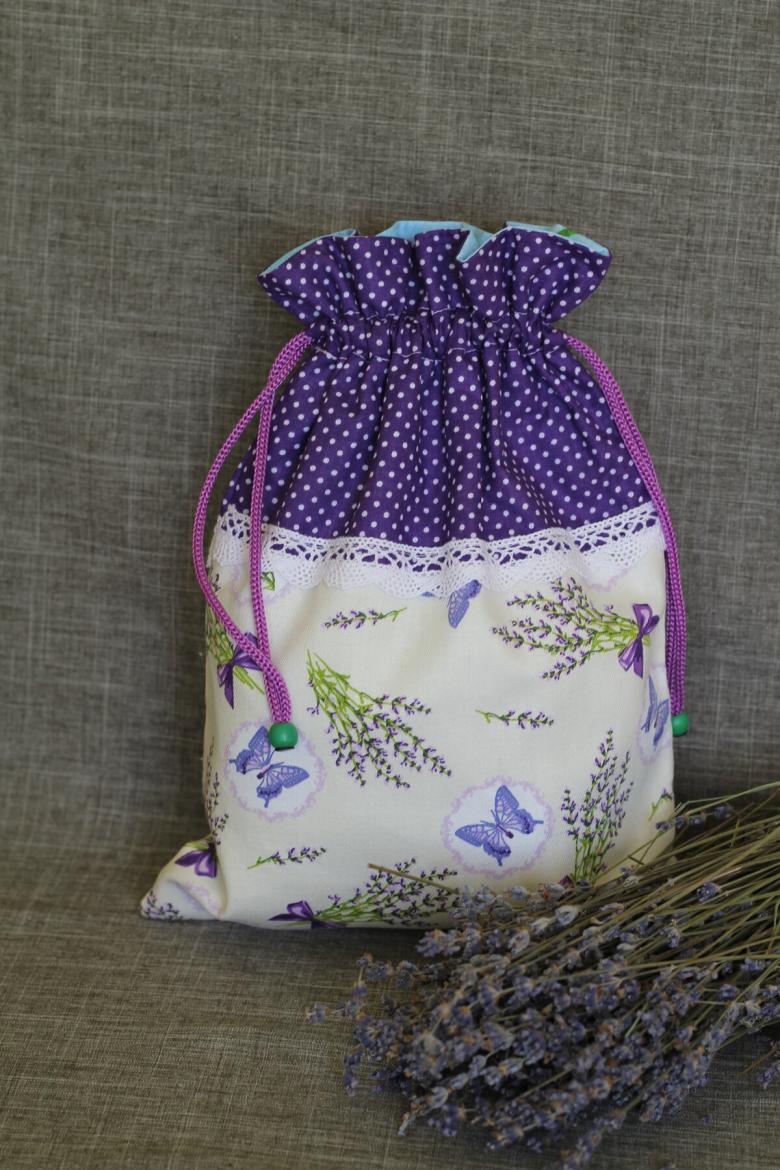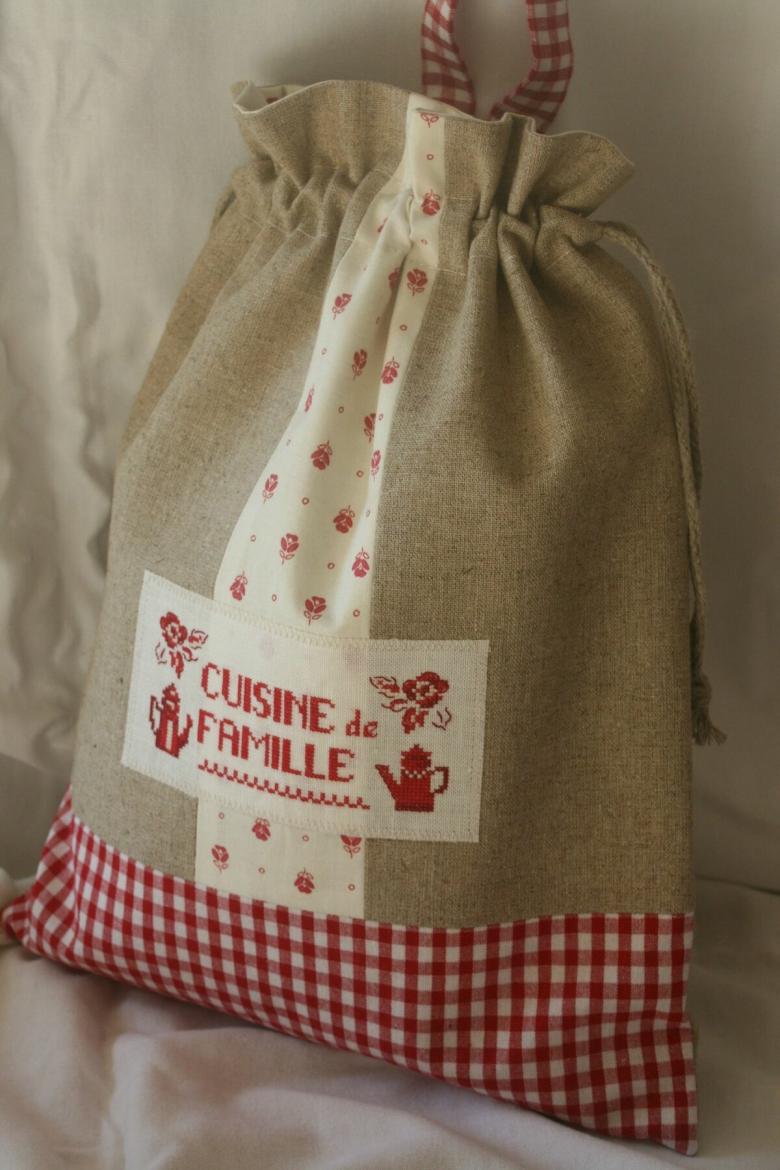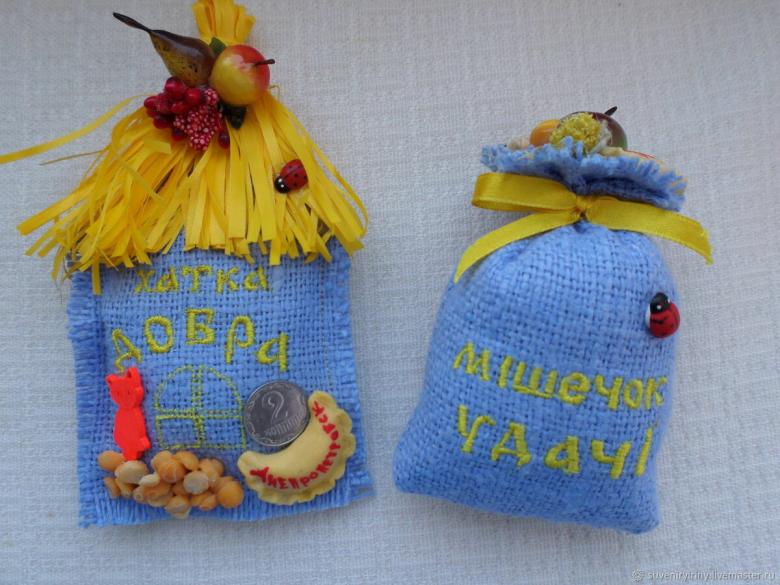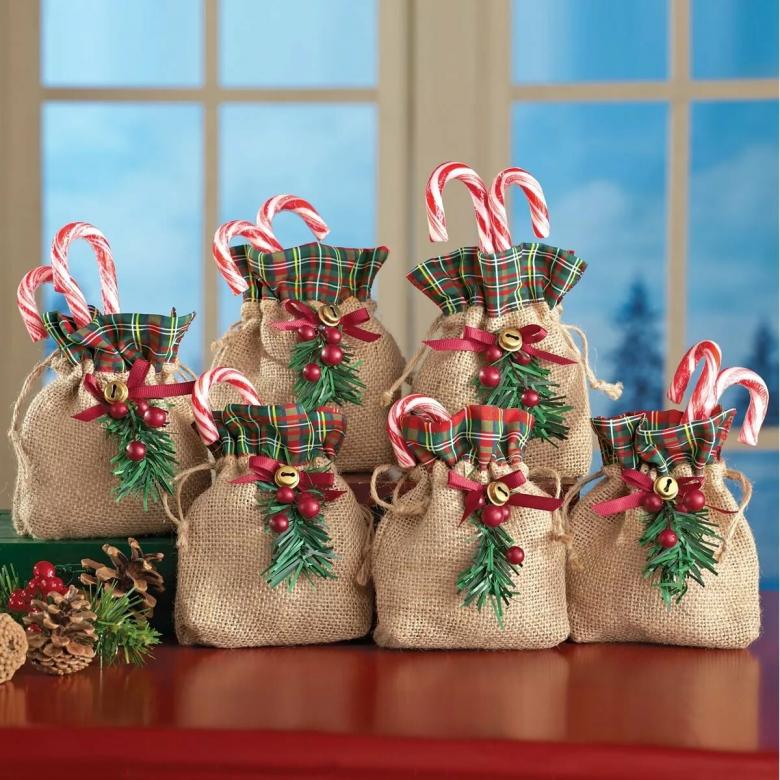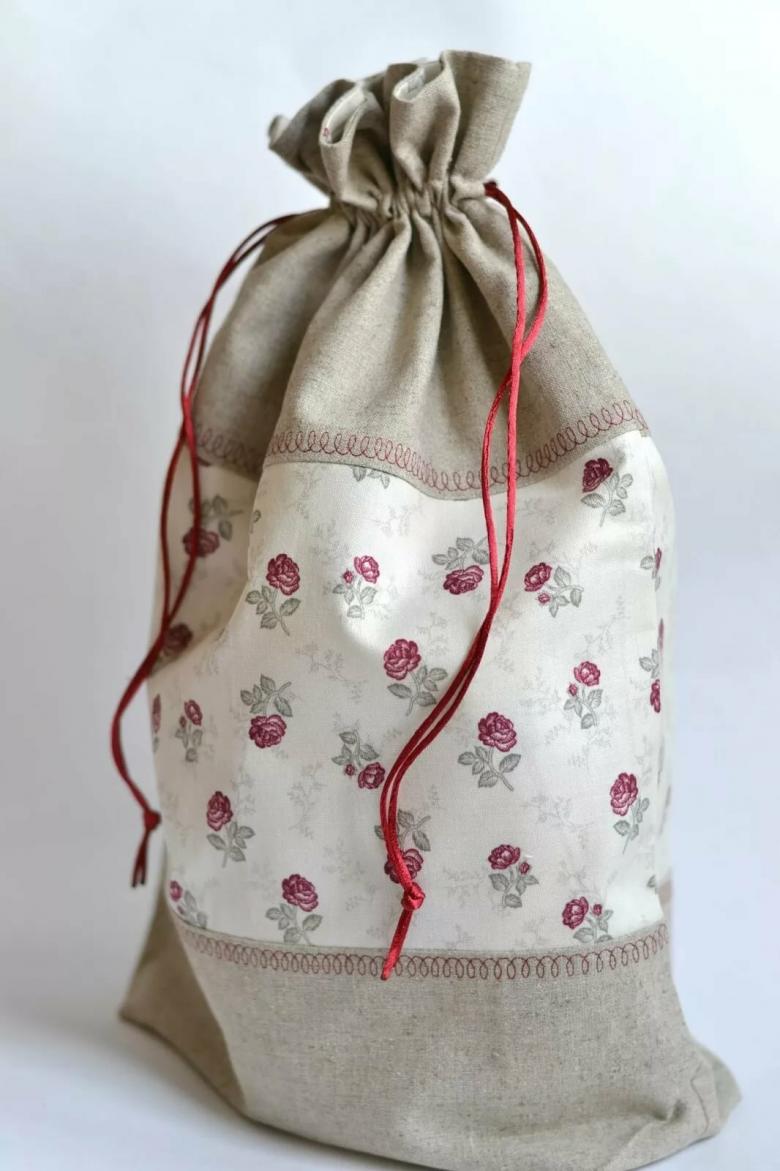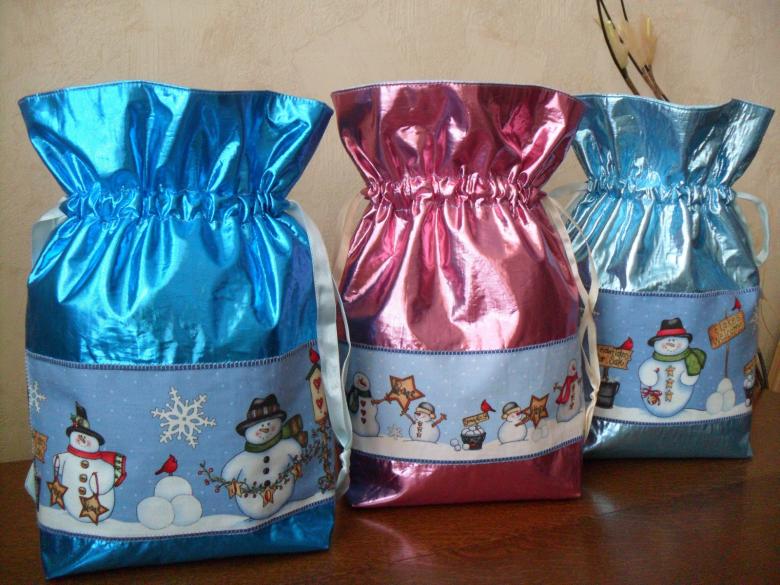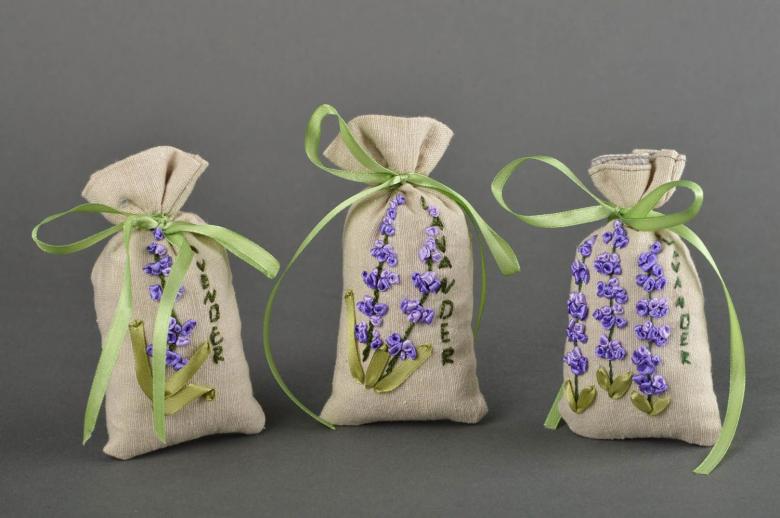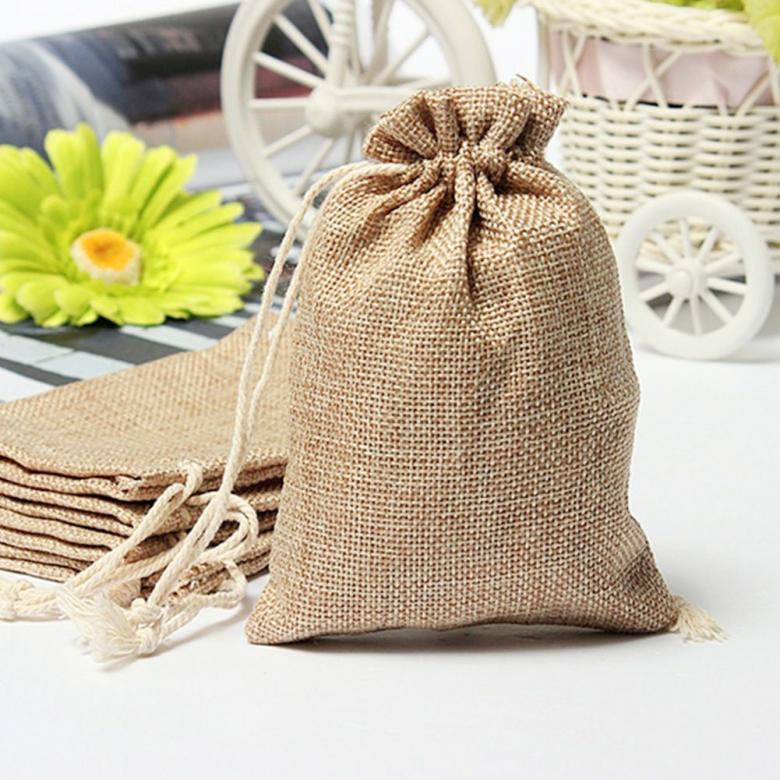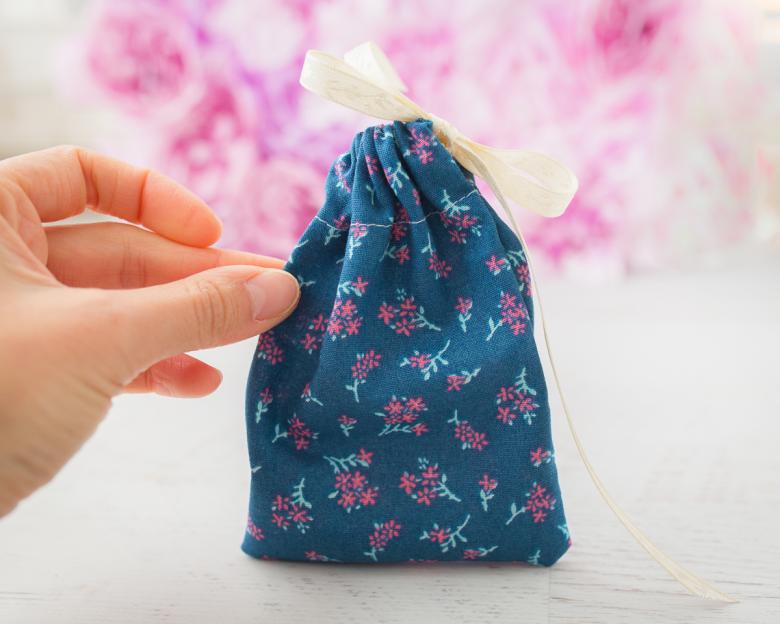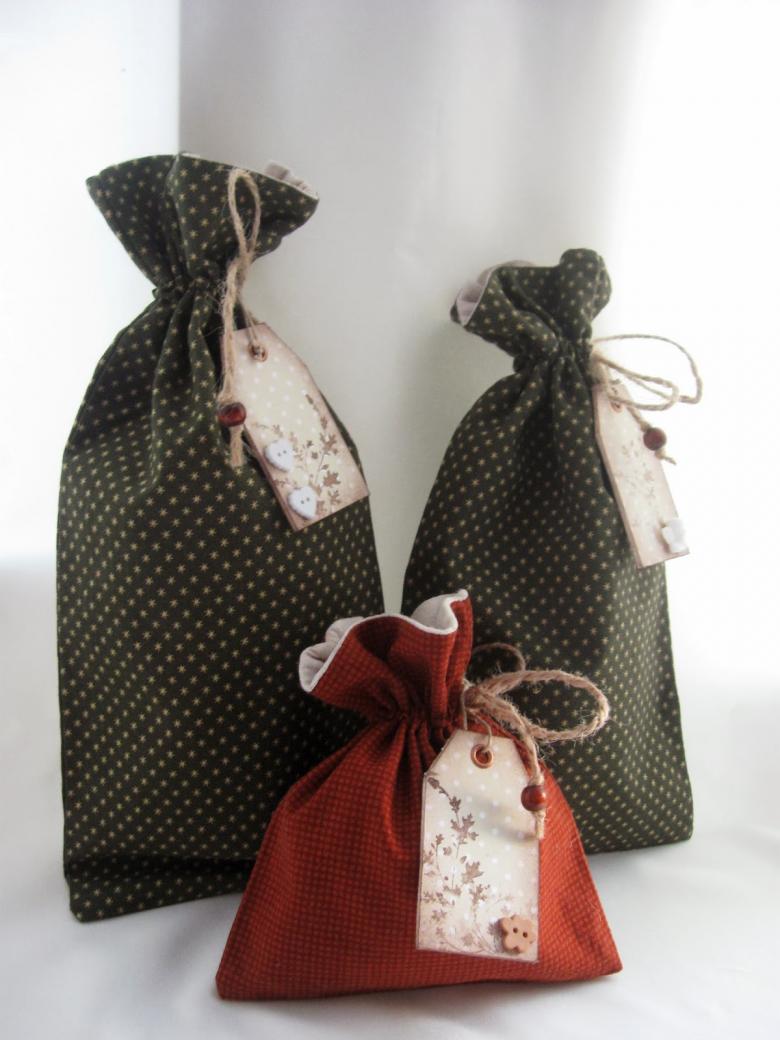 Ideas for creativity
Sew cute long ears to your bag to create bunny bags.
If the fabric is used with a pronounced print, then the decor should be minimal. Use plain, plain ribbon or twine.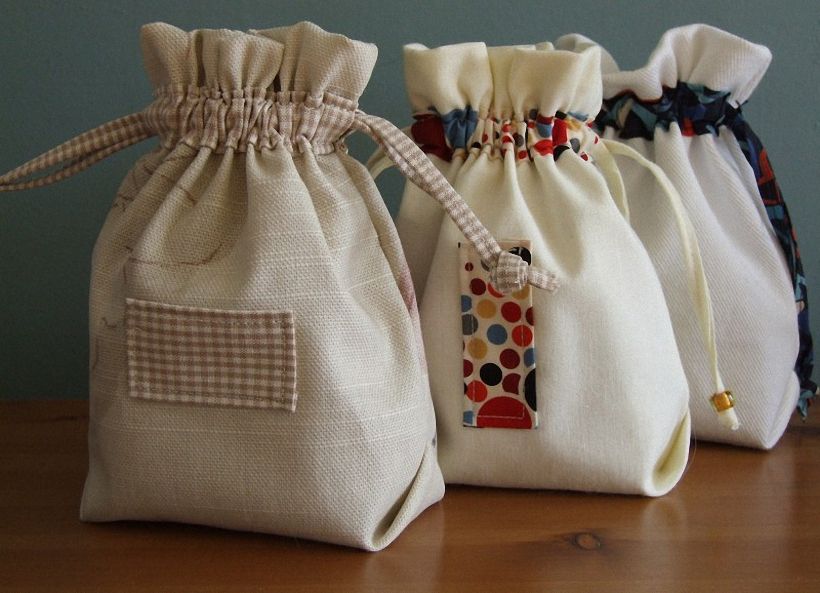 Having mastered the technique of sewing a simple bag, you can turn ordinary pouches into a handbag or backpack.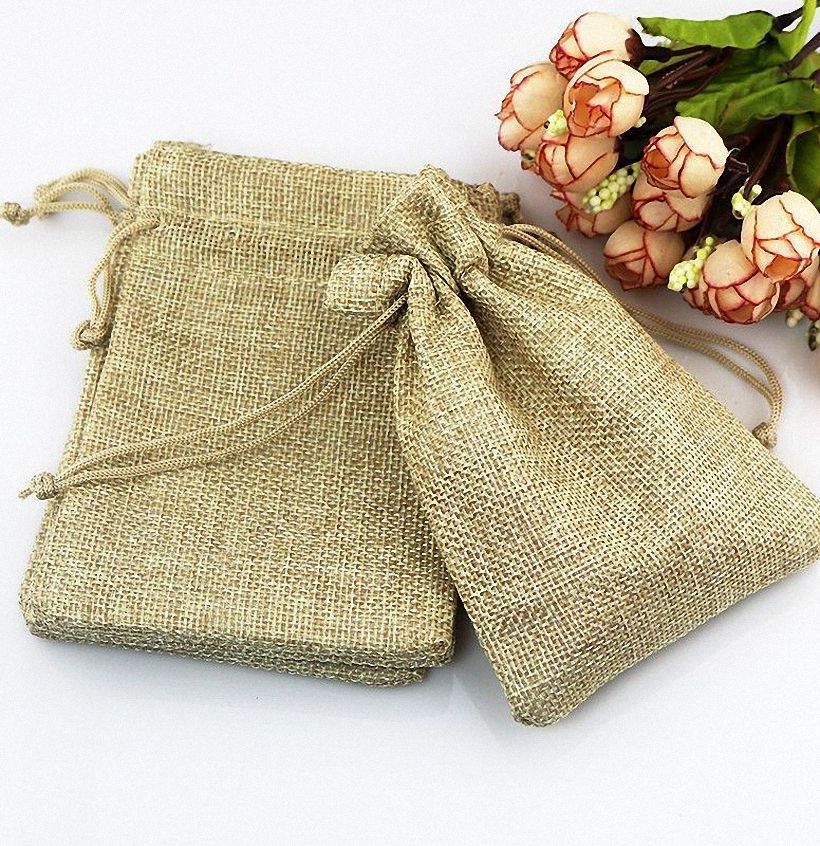 Sewing a bag is a simple task. Decorate as you like. And these examples will help you make original gift wrapping that everyone will like..
Style and decor
It is better to decorate the bag in advance, while the details of the bag are not yet sewn.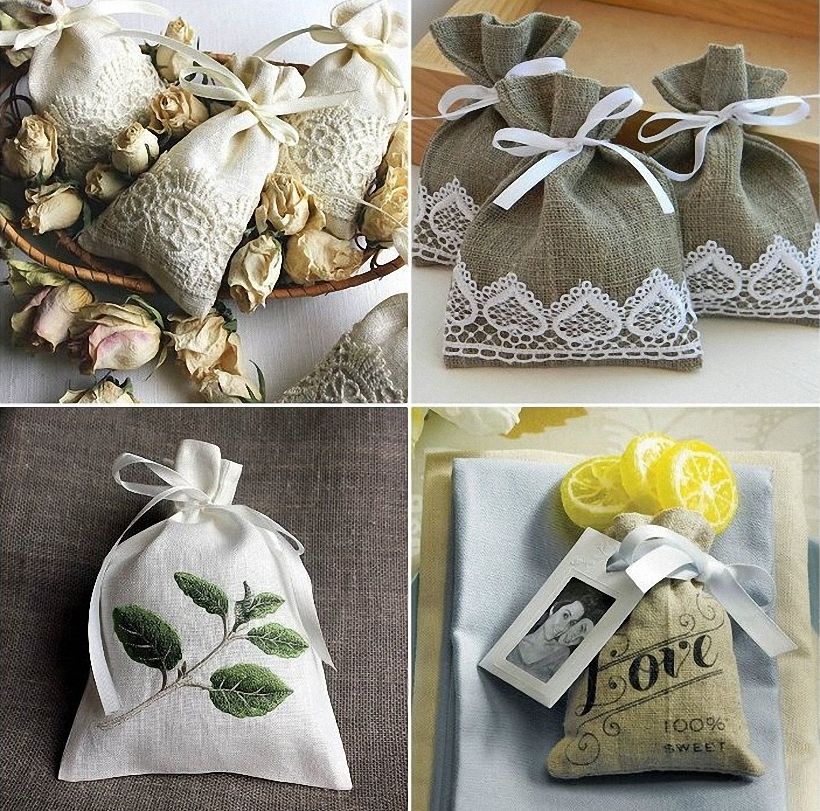 You can use embroidery as a decoration. Even the simplest cross-stitch pattern will make your bag unique. What to say about complex satin stitch embroidery. You can also make a three-dimensional composition using satin ribbons. The result is an iridescent relief embroidery. Embroidered floral motifs look great.
Bright beads, sequins, rhinestones can be an interesting addition to the decoration – whatever your imagination wishes.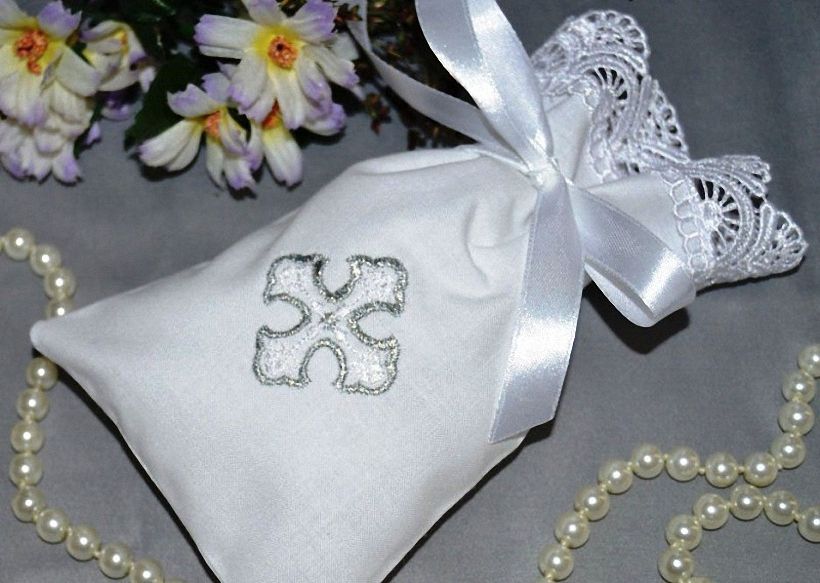 A stencil is also used for decoration. Having previously fixed it on the product, acrylic paints are applied. Thanks to this simple method, you can get an interesting floral ornament or even inscriptions. You can use lace as a stencil.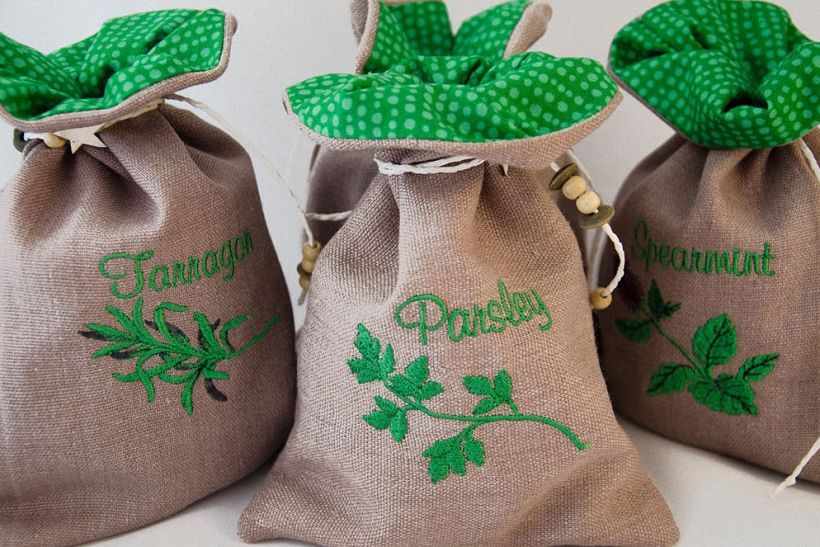 A small bunch of dry twigs or even berries will add zest to the gift bag. Lavender or lemon balm is great.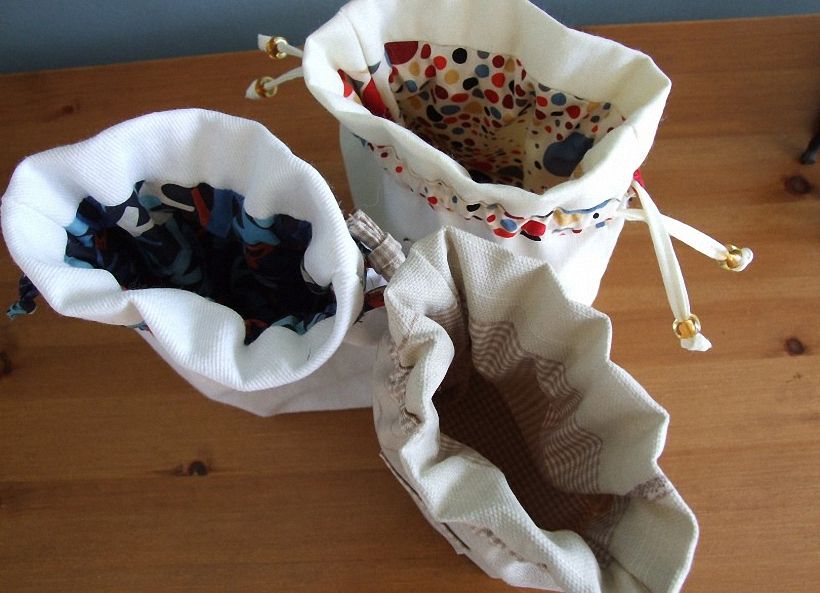 Material selection
Before you sew a bag with ties, you need to decide on the fabric. The most elegant and most suitable for packaging is organza. However, organza bags are a little more difficult to sew than other materials (cotton, linen, wool or synthetics). This fabric "floats" and constantly crumbles. This means that all the seams must first be carefully basted and ironed, and only then sewn on a typewriter. In addition, the organza is transparent, so all the edges will have to be carefully processed with an overlock or small zigzag..
If the craftswoman is frightened by such difficulties, you can perfectly do with a beautiful cotton fabric. Now the stores sell a variety of materials with amazing colors. The best part is that many of them can be bought in pieces from 30 cm.This is enough for several bags of the same or different sizes..
What you need for sewing
To make gift wrapping, you should prepare:
Textile.
Threads in color or contrasting (in accordance with the plans of the craftswoman).
Igloo, scissors and tape measure.
Beautiful cord or ribbon.
Decorative items: appliques, beads, embroidery threads and other materials.
Any bag pattern is a rectangle. The length of its sides varies depending on what size of the item is planned. The selected fabric for the pouches is very convenient to cut.
If a craftswoman needs several of the same products, she can speed up the process by automating each step. For example, you should cut out several rectangles at once, then baste them all, sew, iron and supply with laces.
If we are talking about the manufacture of embroidered tops, then the decor should be taken care of even before stitching the bag with ties. The embroidery is performed on the cut rectangle, otherwise it will be very inconvenient to do it later..
Making strings
When we sew a bag with ties, you need not only to pay attention to the product itself, but also to the selection or manufacture of ties. The options for making the ties depend on the base material:
Nylon or satin ribbons only require processing in the cut area. It is enough to singe the tips with matches.
You can use jute, yarn, rope as a tie. The edges of such ties can be simply tied with a knot..
Braided laces and guipure ribbons can also be actively used as ties..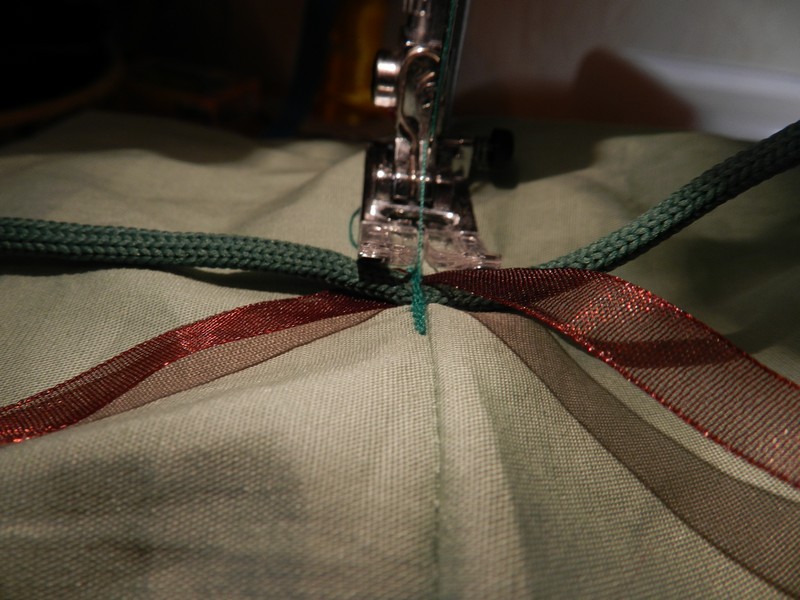 Strings
The finished tie is inserted into the drawstring and fixed with a button, a button or a special clip.
If you use a step-by-step algorithm for making a bag, then there will be no problems with sewing the product. Usually the work comes down to sewing the sides of the rectangular base and fixing the tie outside the body or in a specially made drawstring. If you choose the right algorithm of work, then there will be no problems.
Preparation for work
So that a novice seamstress does not have any questions about how to sew a bag for herbs, gifts or cereals, it is worth using ready-made master classes with a partial description. First you need to prepare sewing equipment and pick up a sketch, only then you can get to work.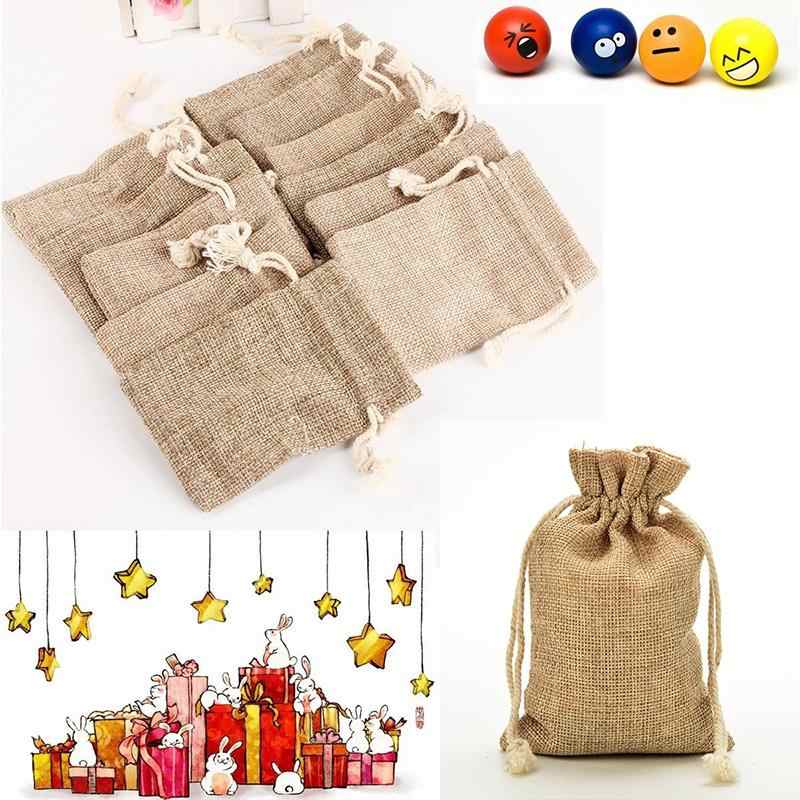 Making aromatic herbs bags
Sewing bags for herbs with your own hands, the patterns of which are not difficult, can be done pretty quickly. Depending on the type of herbs stored in the bag, you need to immediately decide on whether to prepare double or single bases for sewing.
Another feature of herbal sacs is that they are small. Usually, filled products are placed between things in a closet, hung in a room, and used as a fragrance in bathrooms. Therefore, the product must be small.
The principle of making a herbal pouch:
Draw a sketch of the future product, which will indicate the approximate dimensions of the workpiece.
Prepare a pattern. Immediately decide on the layers of fabric (how many there will be). Draw a base (square or rectangle) on paper, cut it out. Place the paper backing on the fabric. Circle the template with chalk, having previously attached the paper to the textile with safety pins.
Cut fabric blanks. It is advisable to overlay the slices. If the fabric contains synthetic fibers, then the disheveled threads can simply be scorched.
Fold rectangle overlapping edges evenly. Secure the shape with safety pins.
Sew with any suitable stitching on the edge.
Turn out the finished base. To give some volume and aesthetics, you can make a small lapel at the top.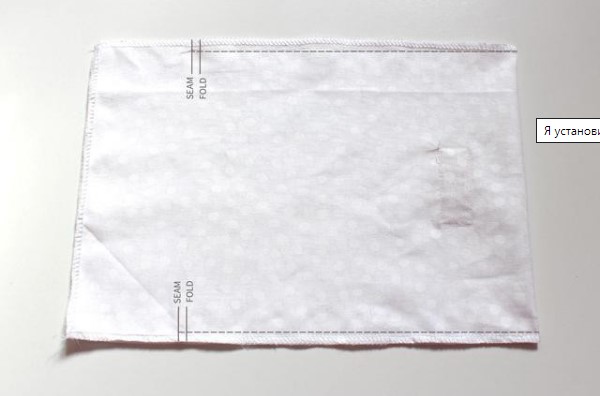 Herb bag
Additional Information! Round bags can also be produced, which will additionally have a more attractive appearance..
Sew a tape or cord to one of the side seams at a distance of 3-4 cm from the edge. Measure the length of the future tie, fold in half and fasten the element at the bend point with a few stitches. By tightening the top of the bag, the attached element is tied.
How to decorate herb bags
There are tons of options for decorating herbal bags. The most popular way is embroidery. The principle of embroidery formation depends on the texture of the fabric. You can do satin stitch embroidery, cross stitch, ordinary stitches. In this case, it is not necessary to use only plant prints. You can, for example, use marine motifs to decorate the product..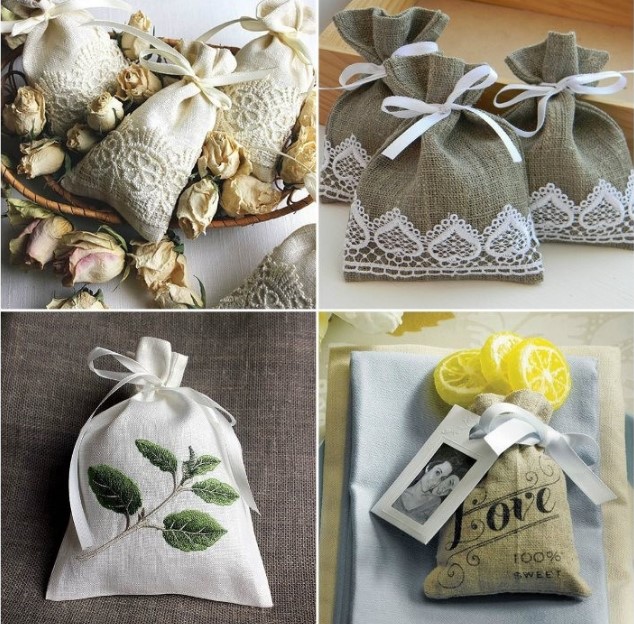 Decorating herbal pouches
You can paint the canvas with a textile marker or special paints. Lace and guipure, which are sewn along the base of the product, are a popular decoration. Fabric applique technique can be used.
Materials and tools for the New Year's bag
First, a guide with the dimensions of a New Year's bag: for this, lay out the intended capacity on the table and estimate how much space it should take inside the package. Keep in mind that a couple of cm should be left for allowances. Better to make the bag more spacious than later it turns out to be small.
In the course of work, you will need the following materials and tools:
Cloth or felt. Choose a flap with a festive color and not fluffy. Before opening, wash the fabric thoroughly in warm water and iron it to avoid shrinkage of the finished product. It is better to sew a bag from a single piece so that there is no seam at the bottom..
Small bright pieces of felt or other material with a non-flowing edge for appliqué work. Before choosing a color, think about what exactly you plan to depict on the bag.
Red nylon braid, about 1 cm wide.
The burgundy ribbon is the same width.
Multicolored floss for embroidery.
Thick or medium thick white and red yarns.
Scissors: large for cutting and small manicure for cutting small parts.
Needle and sewing pins.
Chalk, a bar of soap or a pencil – for transferring the drawing.
Measuring tape and regular long ruler.
Transparent glue Moment Crystal.
Pattern: it is better to immediately print it on thick cardboard and transfer it from paper to cardboard by hand.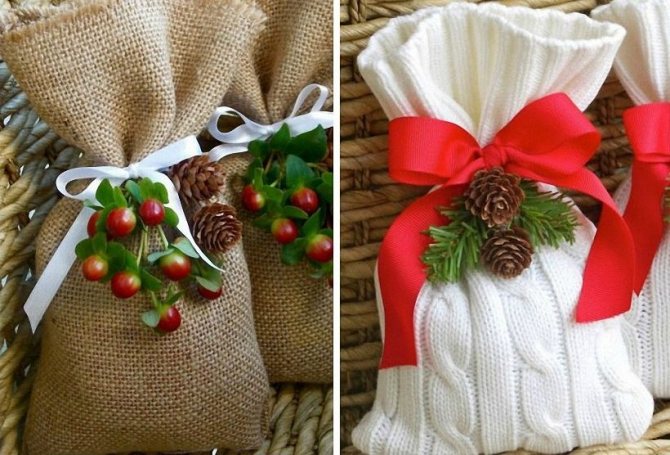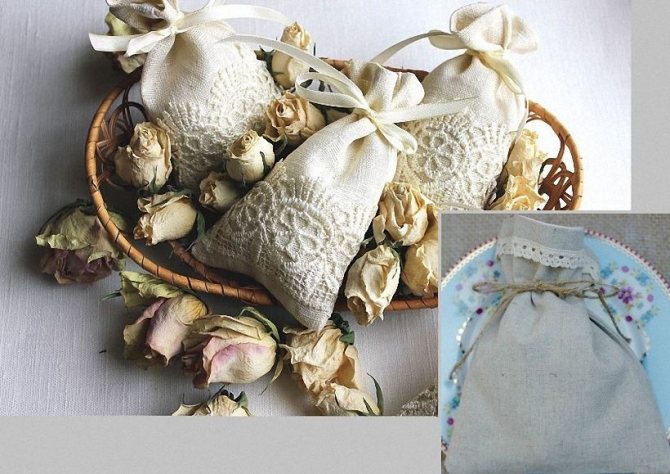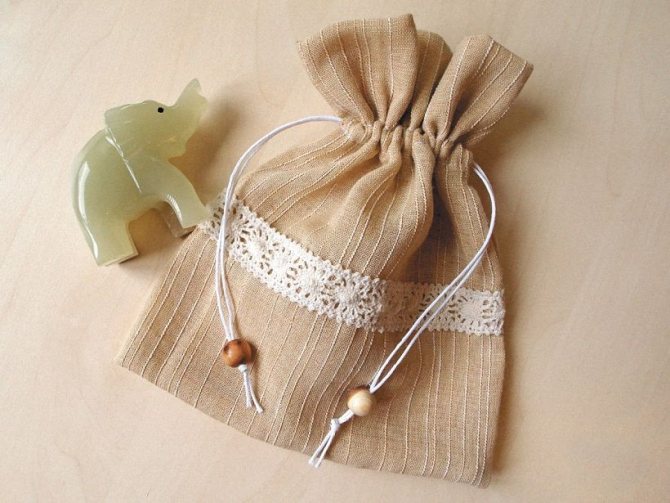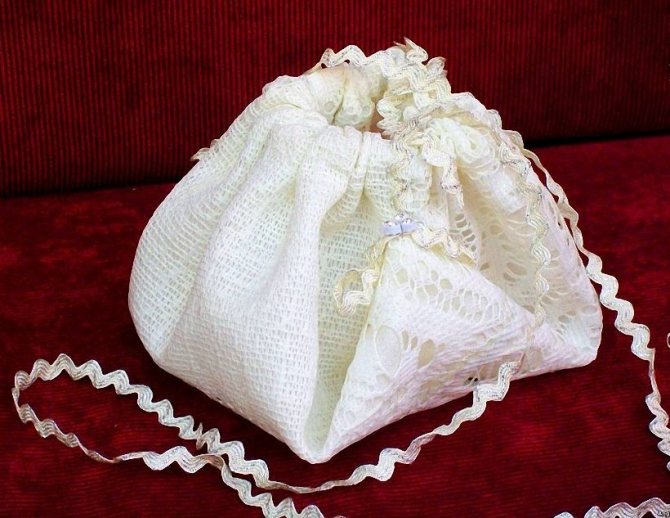 Christmas gift bag
The New Year holiday brings many pleasant impressions. Usually gifts for this day are carefully selected and prepared in advance. After all, they always give joy and create a special mood. One of the important nuances of the presentation is the packaging. Thanks to which, the gift will be presented with a special mood.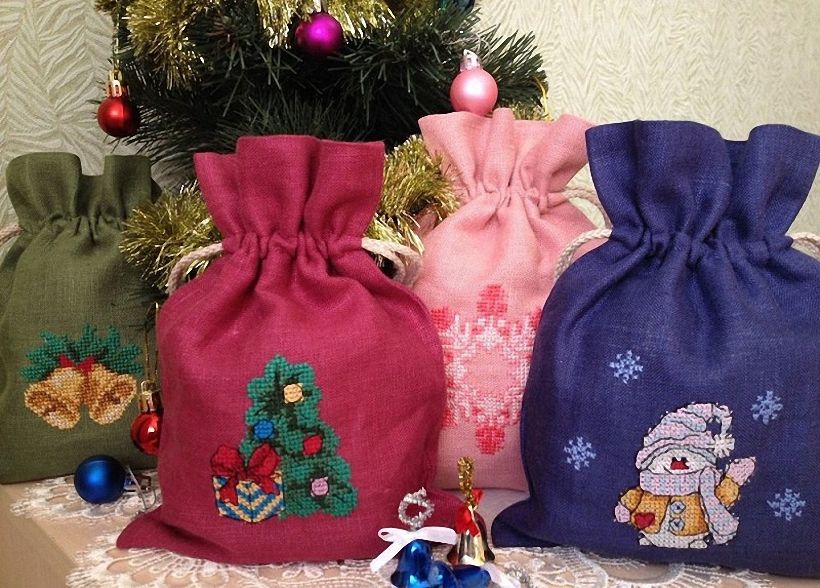 To decorate such bags, various materials are used that have a New Year or Christmas motive. A volumetric patch made of dense fabric or an applique made of felt is also used..
Sewing a bag for wrapping a New Year's gift is no more difficult than for herbs. First, a sketch is prepared, in accordance with which the entire product will be formed. Schematic principle of making a gift bag with drawstring: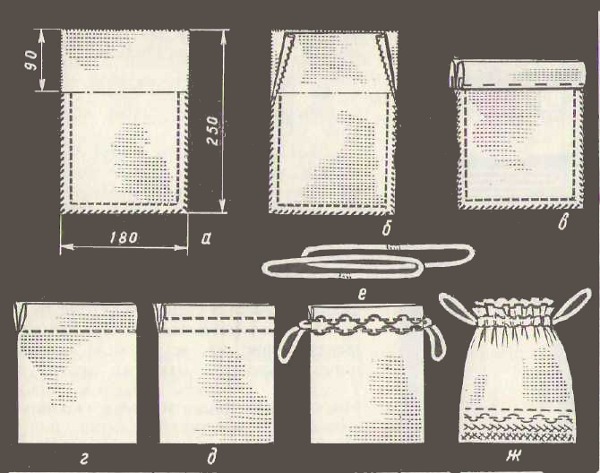 Sewing scheme with a pattern
The bag pattern can be more original. If we take a square, cylinder or circle as a basis, then the shape of the product will differ from the standard rectangular bag. But a lot also depends on the decoration..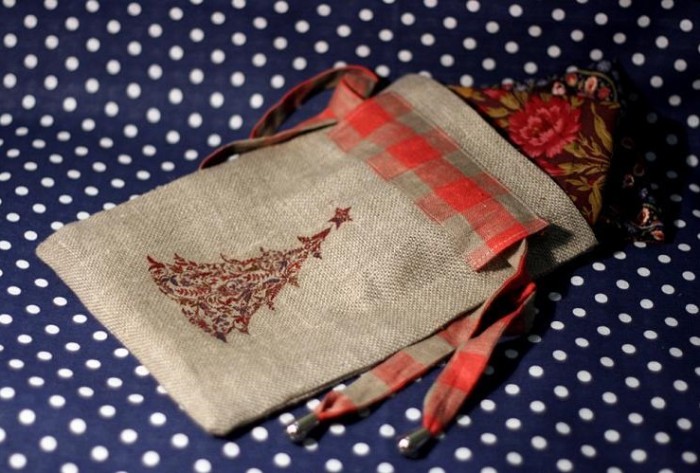 New Year option
If you use the standard scheme for sewing a gift bag, then instead of a pull-on tie, you should make a drawstring. Then the gift will be securely wrapped thanks to the securely fixed ties. Drawstring formation principle:
After the base of the bag is made, you can start processing the top to fix the tie.
From the seamy side, bend the top 5-10 cm, much depends on the design of the drawstring, it can be located at the very edge or in the middle of the fold, creating an original comb after the tie.
Sew the edges of the fold to the base from the seamy side. Any seam can be used. Then, stepping back from the first seam 2-3 cm towards the edge, make another stitching.
In the process of forming the second line, you need to leave a hole in the area of ​​the side seam of the bag itself. The tie will be pulled in here.
Drawstring making
Then you can start decorating the base of the bag..
Snowman bag
As the New Year holidays are approaching, it is worth considering how to please your children. For gifts to the smallest family members, a do-it-yourself bag in the shape of a snowman, made according to patterns, is perfect. You need to put only prepared souvenirs in it and hand it to the recipient, who will only be happy and truly impressed..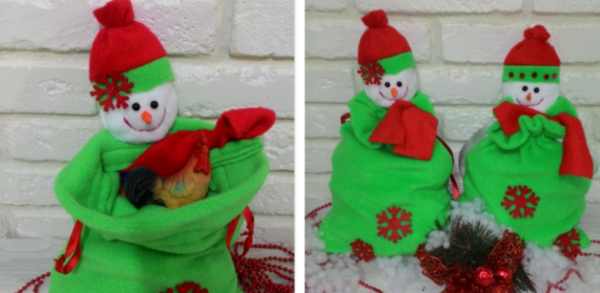 To turn an ordinary bag into a New Year's attribute, it needs to be decorated with fairy-tale characters. In this case, it will be a snowman. To create an unusual masterpiece, you need to prepare:
orange felt;
peephole beads;
ruler;
measuring tape;
glue gun;
threads;
compass;
paper;
scissors;
red thread floss;
satin ribbon;
a needle;
crayon;
fleece (green, red and white);
details for decoration;
filler.
Progress:
Cut out a detail from green fleece (width 30 centimeters, length 40 centimeters). Bend the fabric on top by 5 centimeters, fix it with needles. Step back 3 centimeters and make two lines.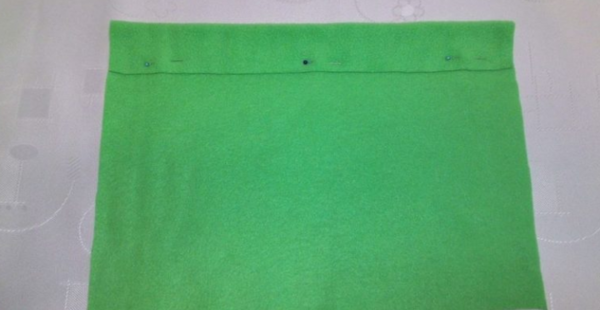 Fold the outside of the fabric in half, pull back 1 centimeter and sew.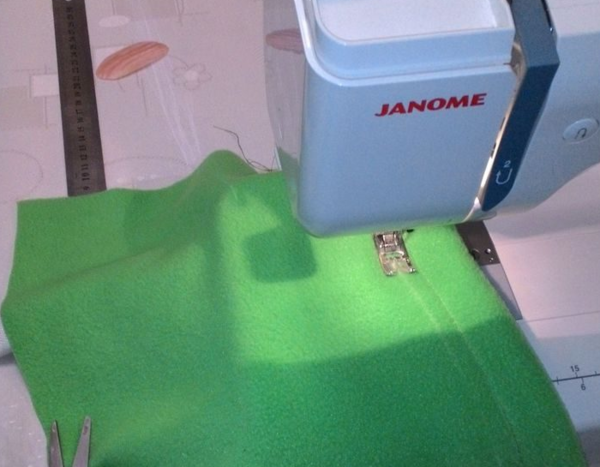 Sew a snowman. Draw a round piece with a diameter of 7 centimeters on paper. At the top, retreat one and a half centimeters and draw a line along which to cut off the resulting element.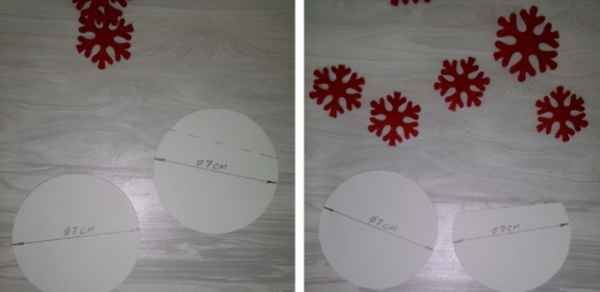 Transfer the patterns to the white fleece. There are two details to be done. Turn the blanks with the right side facing each other, and then sew along the contour of the circle. Unscrew the product – you get the head of a snowman.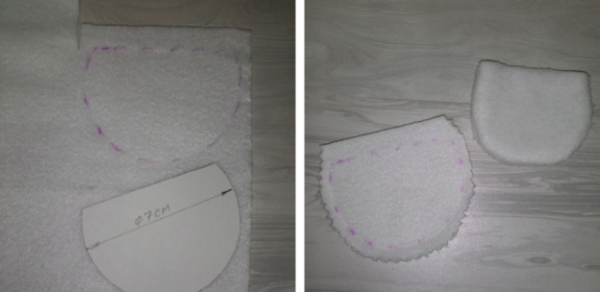 Cut a rectangle out of red fleece, the width of which is 6 centimeters and the length is 17 centimeters. Get a hat. To make a scarf, you need a piece, the size of which is 4×20 centimeters.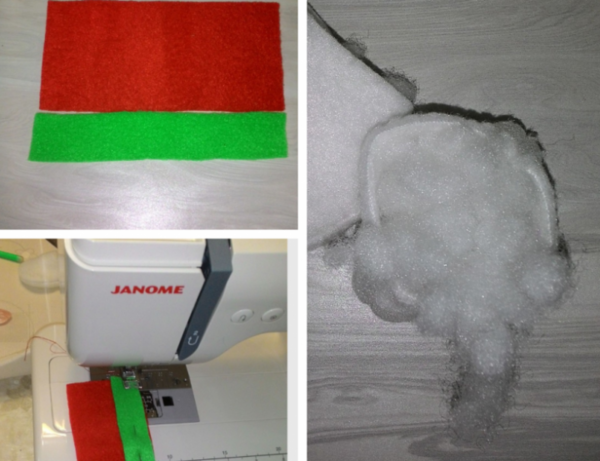 Cut a strip of green fabric (width 2.5 centimeters, length 17 centimeters), then attach it to the cap. Place a filler in the head, sew a hat.
Attach eyes. Make the nose out of orange fabric, then attach it to the product. Sew the hat with red threads, add a smile to the face.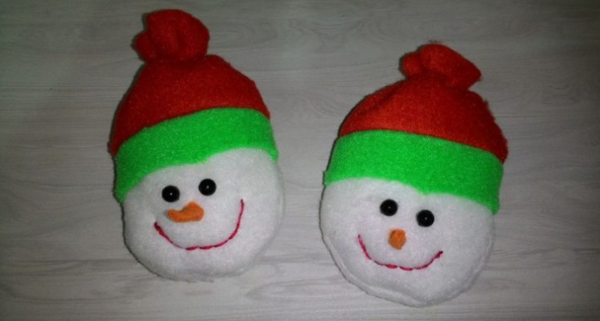 In the place where the double seams are, cut holes into which to stretch the satin ribbon. Singe the ends.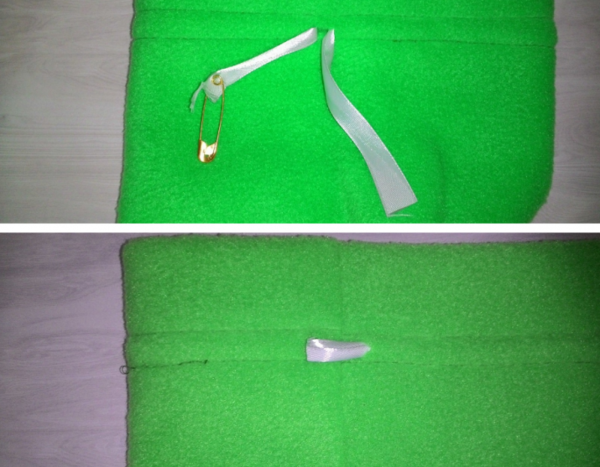 Tie the scarf into a knot and attach to the pouch.
A handmade felt and fleece gift pouch will be a wonderful New Year's surprise for both children and adults. It will suit sweet gifts, various festive souvenirs.
Knitted gift pouch
Preparing for the New Year's celebration and buying gifts for family and friends, you can knit and crochet cute bags for them with your own hands, as in the photo below. This presentation packaging option is suitable for knitting lovers and creative personalities..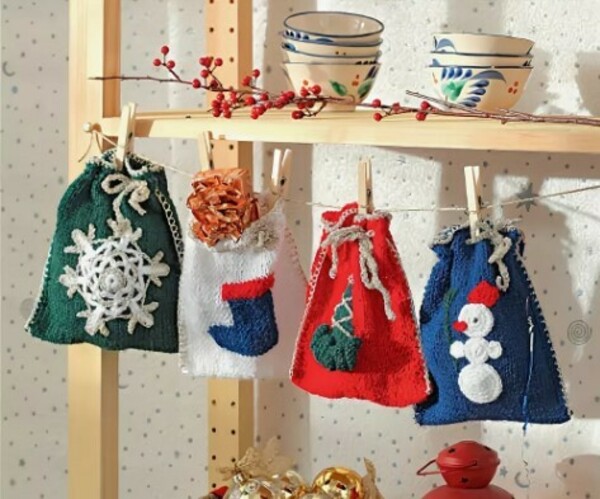 To make a bag, you need to stock up on:
yarn for knitting;
knitting needles;
crochet for knitting.
Progress:
Cast on 35 loops on the knitting needles and start knitting the fabric for the future bag in a very simple way – alternating purl and front loops. In the process, you need to introduce threads of a different color and knit the image of the boot.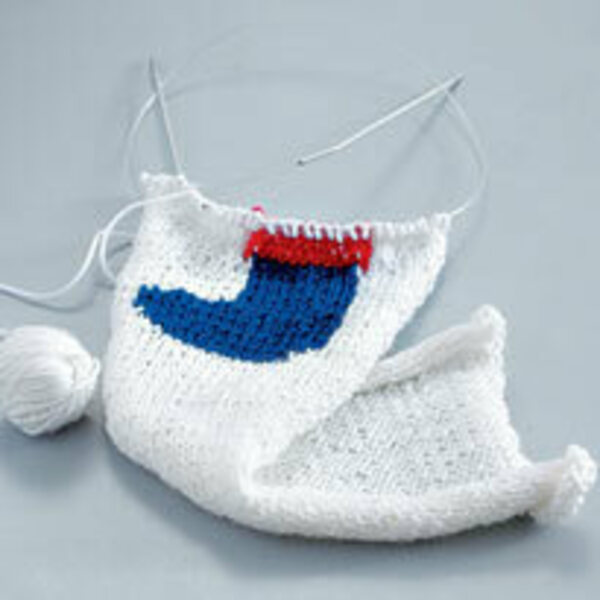 Fold the resulting knitted ribbon in half with the wrong side inward, and then carefully sew along the sides. This should be done using knitting threads and a needle with a large eye.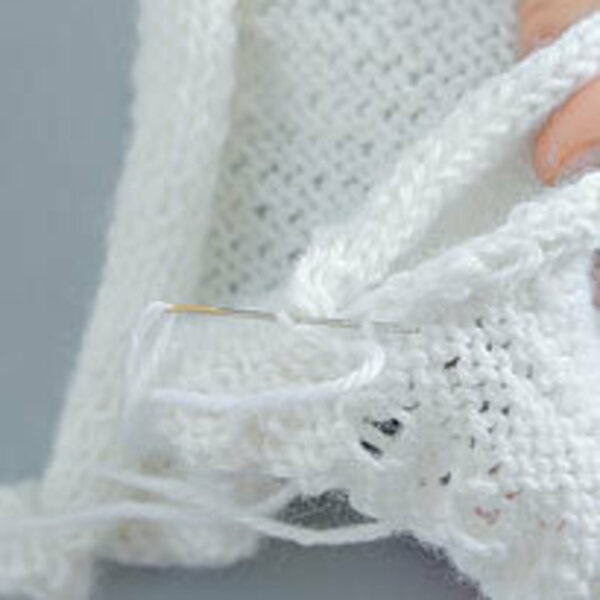 The finished gift bag needs to be tied with lurex.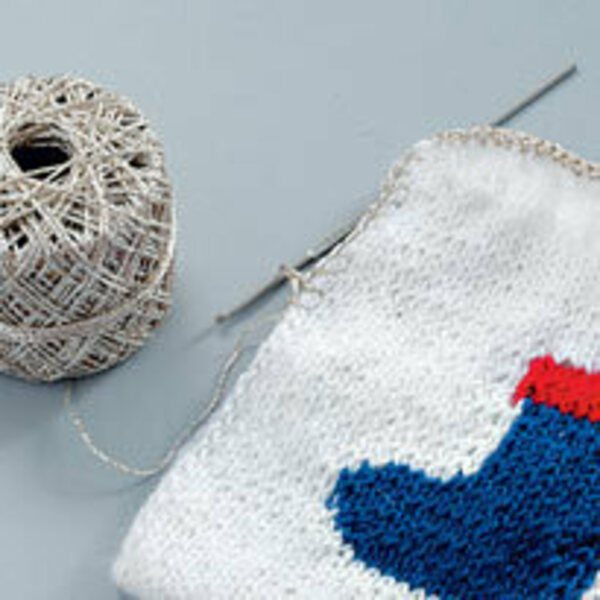 Crochet a lace, that is, dial a chain of air loops and return to it, making single crochet. Pull the lace through the fabric in the neck area.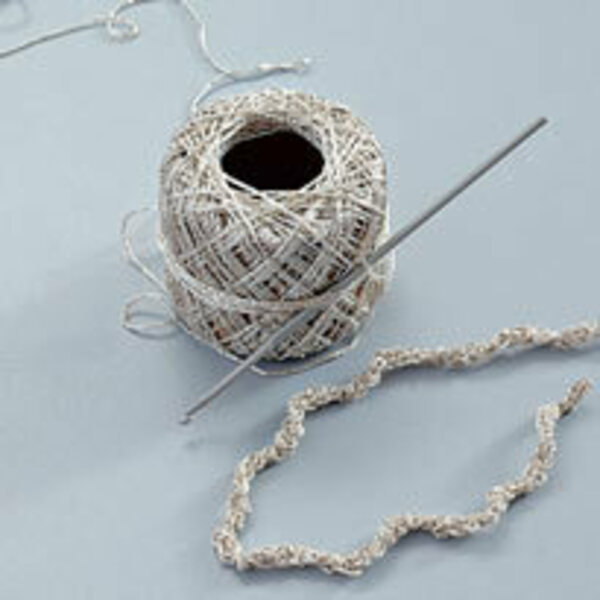 Other bags need to be tied in the same way. It is recommended to crochet decorative elements. Sew on top of the bag.
Gift bag in the form of a mitten
A few days remain until New Year's Eve, and already now in every house they begin to decorate the windows with garlands, put up elegant Christmas trees and prepare gifts for each other. To pack them, you can use special hand-made bags, so an instruction with a photo for making such a product in the form of a mitten will come in handy.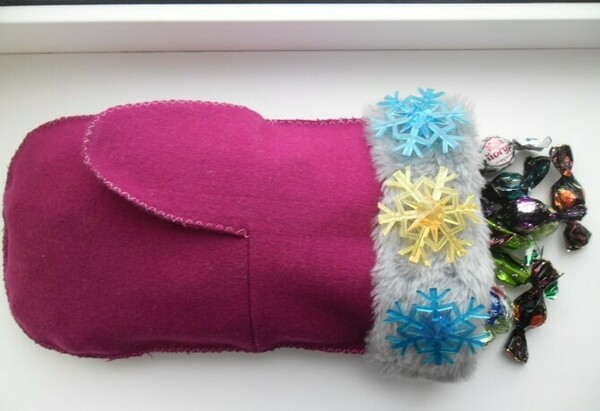 To create a cute mitten you will need:
crimson drape;
faux gray fur;
scissors;
threads;
needle;
decor elements (plastic snowflakes, beads, sequins, rhinestones).
Progress:
Make a mitten pattern on a sheet of A4 paper. The length of the mitten should be 34 cm, width – 20.5 – on the back (see details in the photo).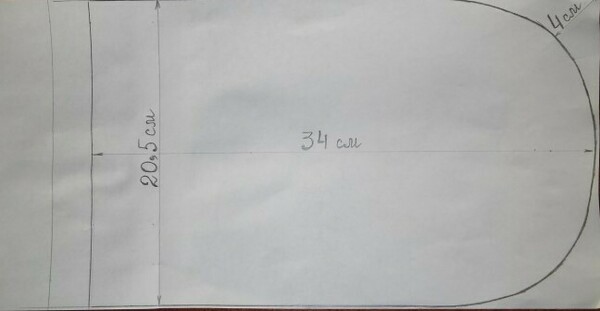 This side needs to be cut out with a single piece of cloth, then step back into two parts with a thumb – this will be the inside of the mitten. It is important not to forget about the seam allowances.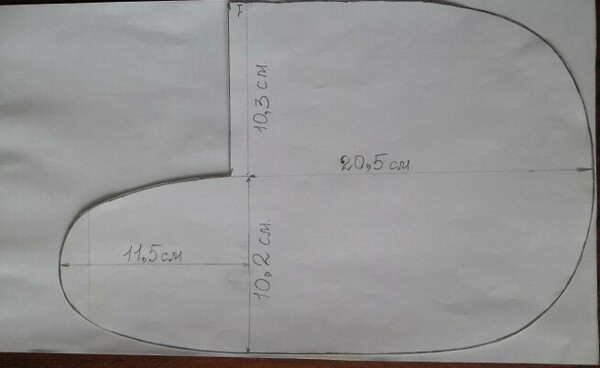 Sew the thumb, then two pieces of the inner side. It will turn out to be one large internal detail.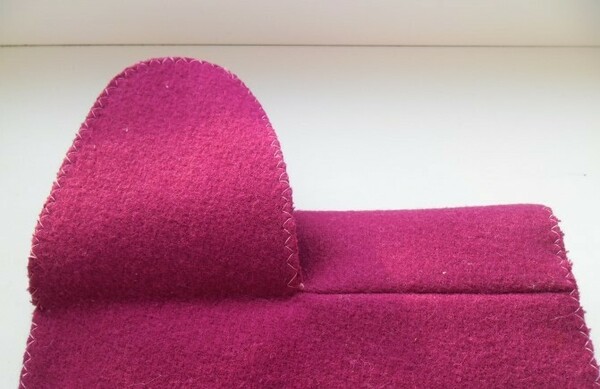 Fold the back and the inside, joining the edges. Sew by hand or with a sewing machine.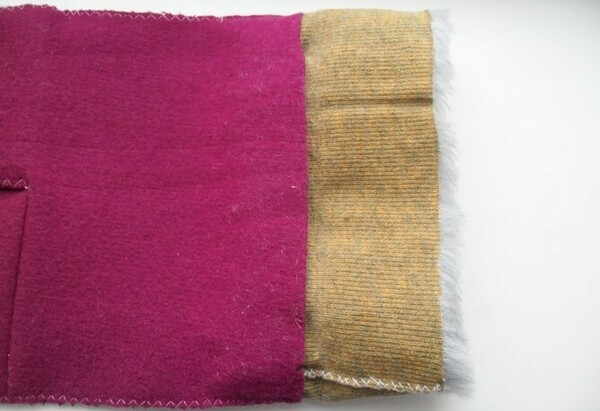 Sew a strip of gray fur 10 centimeters long, attach to the base of the product and turn off the fur.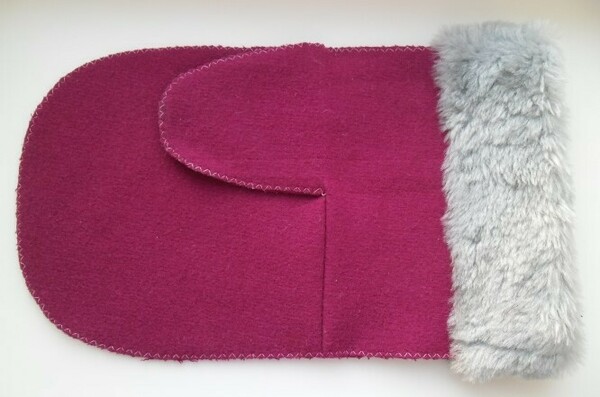 The mitten needs to be decorated according to your own preferences..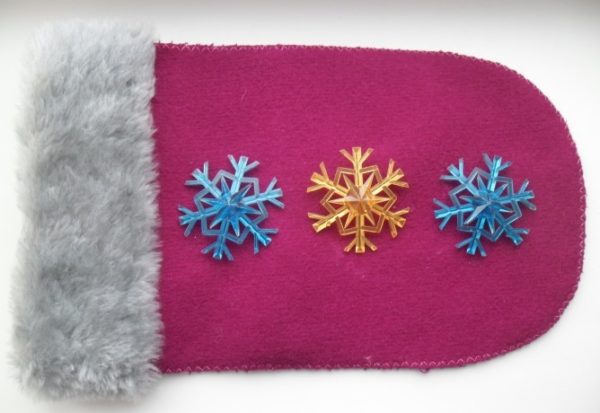 In this example, sweet gifts were put in the bag, it can be filled with anything.
The mitten can be put under the tree so that the recipient can pick it up at the right time. He will be infinitely happy about such a surprise, especially if there are sweet delicacies in it..
Advice!
Good packaging can turn any gift into a real surprise, after which the mood will improve and the preparation for the holiday will become even more exciting..
You can buy bags for presents, but it is better to make them yourself, the more it is so interesting, and it is much more pleasant to receive such products.
Felt gift pouch
On New Year's Eve, it is customary to make gifts and present small souvenirs. To make New Year's gifts look more interesting and original, they can be placed in cute gift bags that can be easily made with your own hands using step-by-step photos.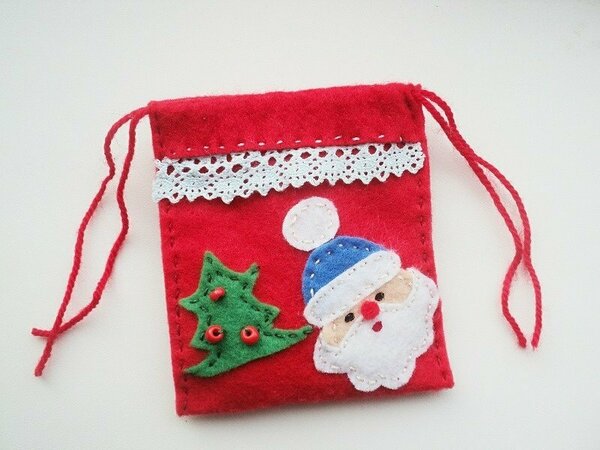 You need to prepare the following:
red, blue, beige and green felt;
floss threads;
scissors;
red beads;
knitting thread red.
Progress:
Draw a Santa Claus pattern on a piece of paper. Separately, depict the head, cap and braid for the cap, as well as the beard. After that the templates are cut.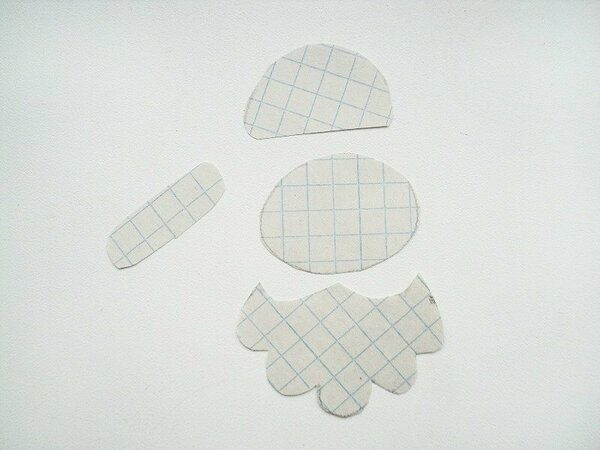 If the bag is intended for small presents, then its size will also be small. Cut a rectangle out of red felt with a width equal to the width of the planned bag. Fold the rectangle in half, thereby obtaining the height of the future product.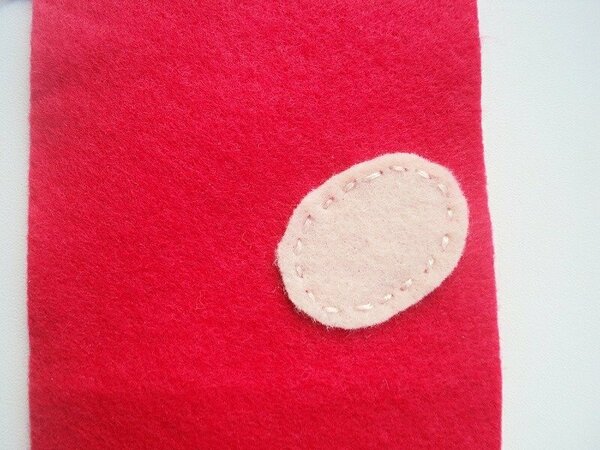 You do not need to stitch at this stage, you just need to fold the rectangular part. Sew on applique. Cut an oval piece out of beige felt. Attach it to the bottom of the pouch folded in half.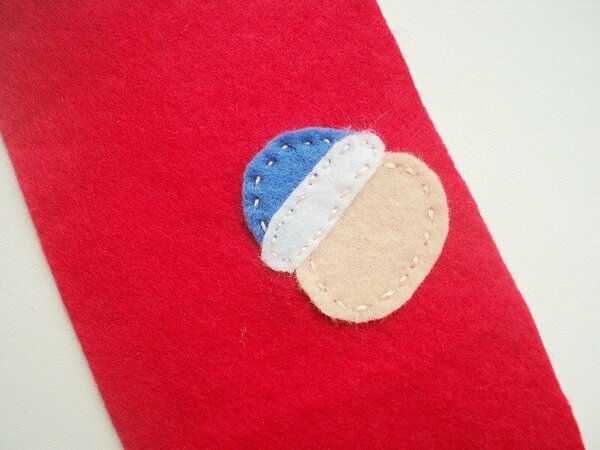 Sew on a hat, which must first be cut out of blue felt. To make a frill for a hat, you need to take white felt and cut out the necessary decor according to the template. Sew on the resulting shuttlecock.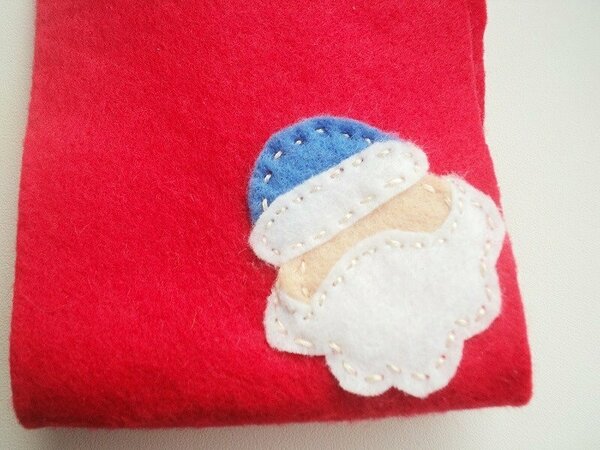 Using the template, cut out the beard and then sew on.
Decorate the hat with a pom-pom. It can be cut out of white felt in the form of a round piece, and then sewn to the cap at the top..
Cut a herringbone out of green felt. For convenience, you can draw a sample on paper and then transfer it to a fabric base. Sew trees near Santa Claus.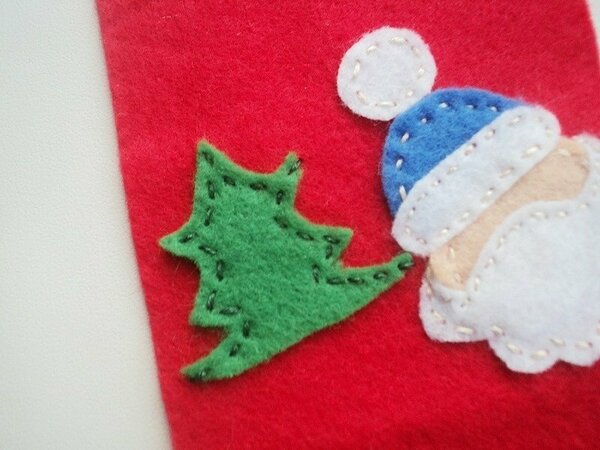 You need to decorate the spruce with red beads, and then start sewing the bag. Tuck one side on top and do the same on the other. After that, sew the two sides.
At this stage, you can do nothing or add lace under the tucked part of the bag. Next, you need to make strings of red thread for knitting.
Cut off two small pieces and, using a needle, pull the thread under the folded edge. Pass the second thread under the back collar, as shown in the photo. The bag is ready.
Textile bag
It is impossible to imagine the New Year without cute things and original presents. To be a valuable gift, they need to be beautifully wrapped. Why not make a small pouch and put something special in it. Such a present will cause a lot of positive emotions, joy and delight..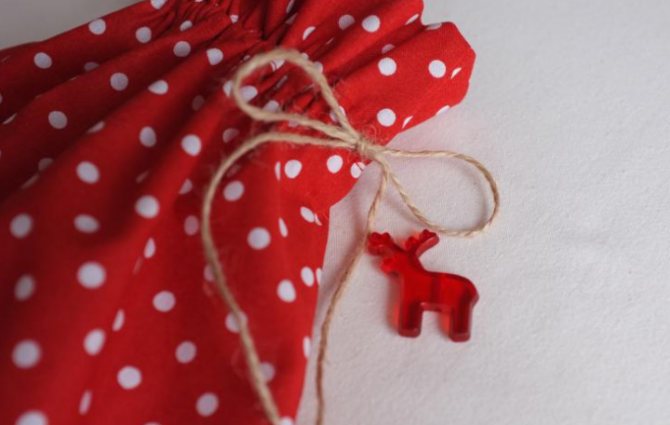 Materials:
jute thread;
tape measure;
threads;
ruler;
pins;
cotton;
chalk;
scissors;
sewing machine;
coarse calico;
needle.
Sequence of execution:
We start making a New Year's gift bag, it will not be difficult to make it with our own hands. To begin with, we determine the size of the product. To get a bag 24 cm wide and 23 cm high, cut out a blank from the fabric. Its width is 26 cm, height is 57 cm.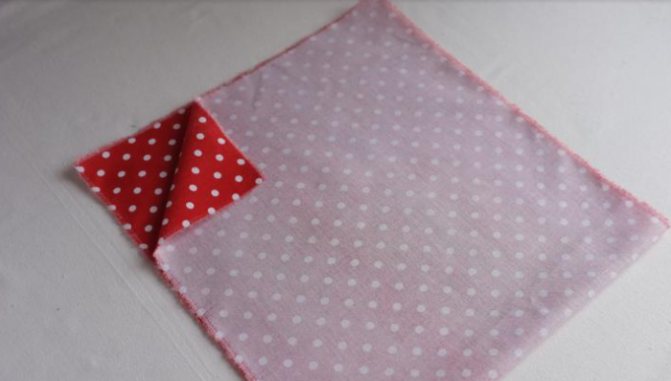 We fold the resulting product in half, with the front part inward. We pin pins on the sides.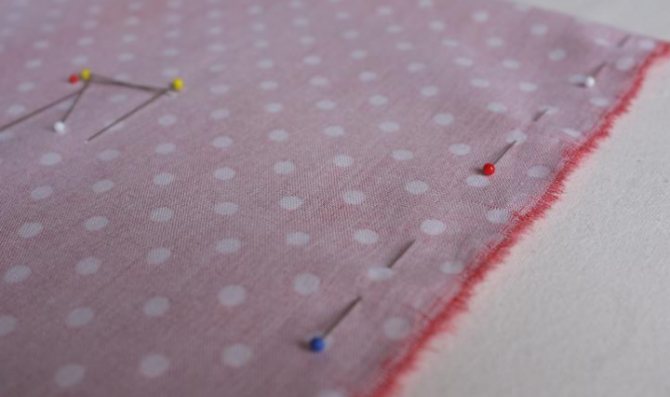 We make a wide overlock stitch, iron the seams.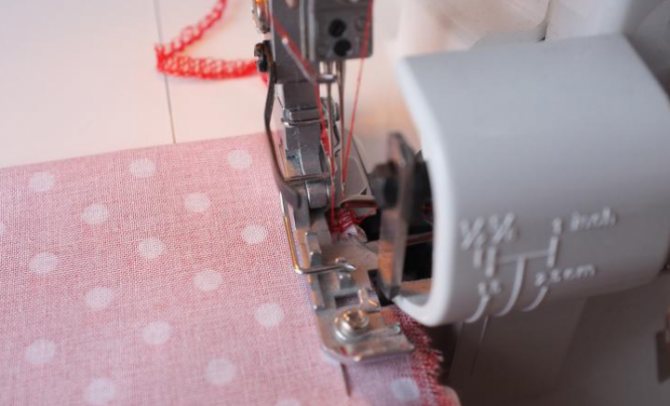 At the end of the line, we fix the thread in the form of a knot..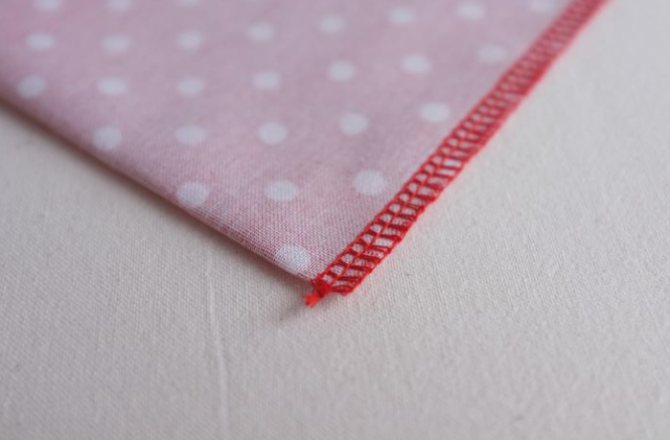 We process the top cut. To do this, bend the fabric to the wrong side, iron.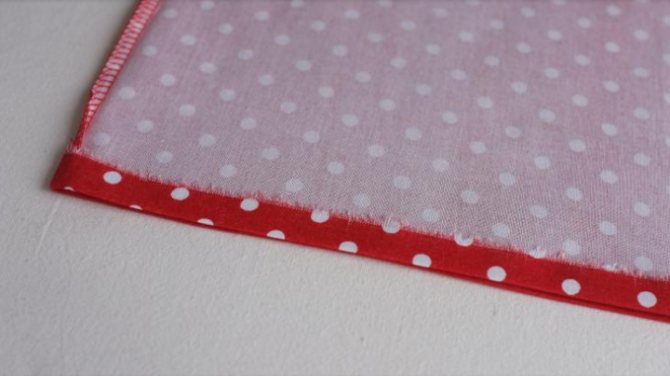 We make a hem, about 4.5 cm. Iron it well.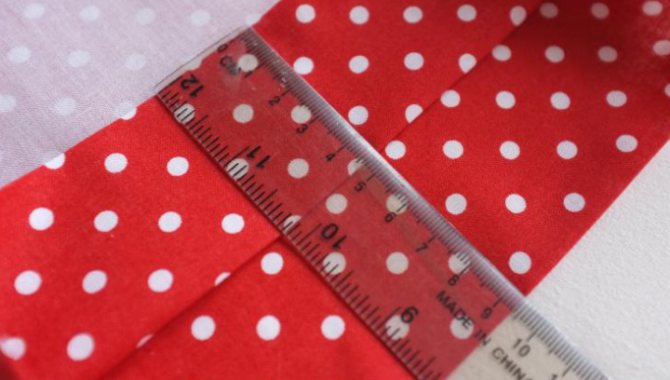 We attach along the edges of the pins, sew with a machine.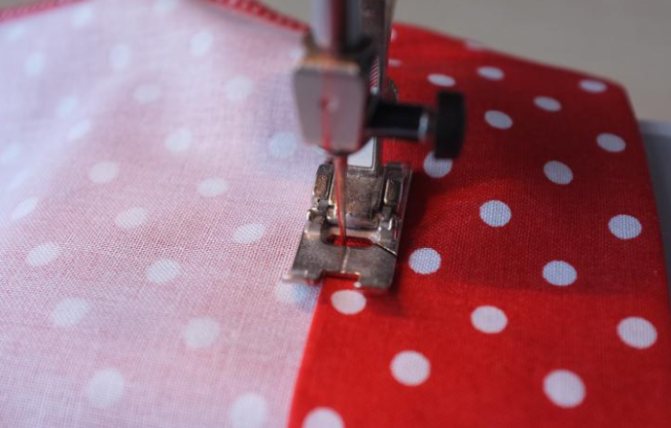 We make one more line, it should be parallel to the first. We choose any distance. It all depends on what the product will be pulled together: with a cord, tape.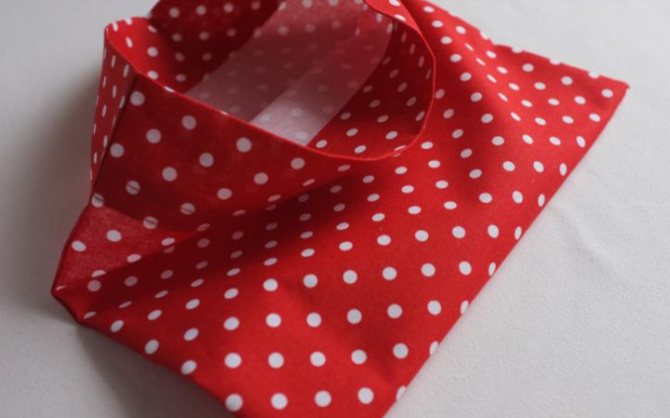 We turn the bag to the front side, align the corners.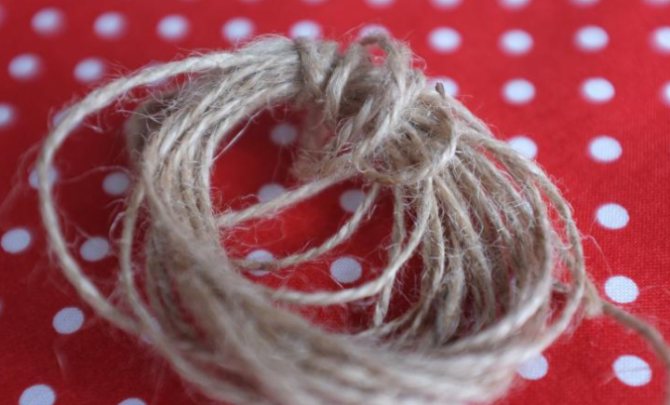 We take a needle, thread a jute thread, stretch it.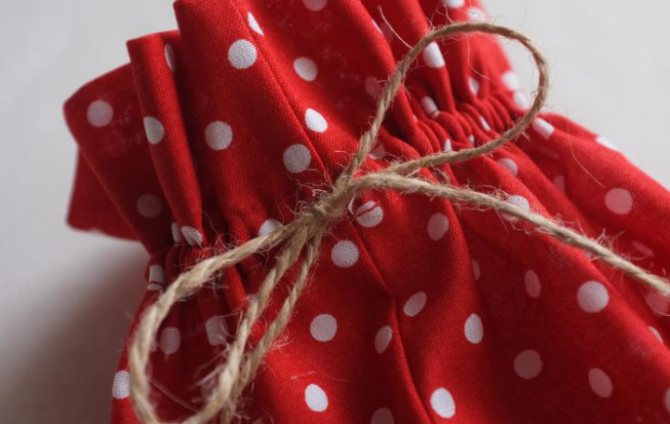 We remove the needle, tie a bow. The photo shows the finished work.
Interesting: Do-it-yourself nylon pig New Year 2021: a master class with a photo
It remains to put a surprise in the bag, and you can give a present. Such original packaging is not often found, it will delight the recipient. At first glance, you can't say that the product is made at home. It looks interesting and funny, it will be a great addition to a surprise..
Advice!
The craft can be slightly diversified. For this, it is worth using various decorative elements. Beads, rhinestones or appliques will perfectly fit into the New Year theme.
Transparent pouch packaging
Sewing such a bag is easy enough. It does not take much time, it can be done either by hand or using a sewing machine..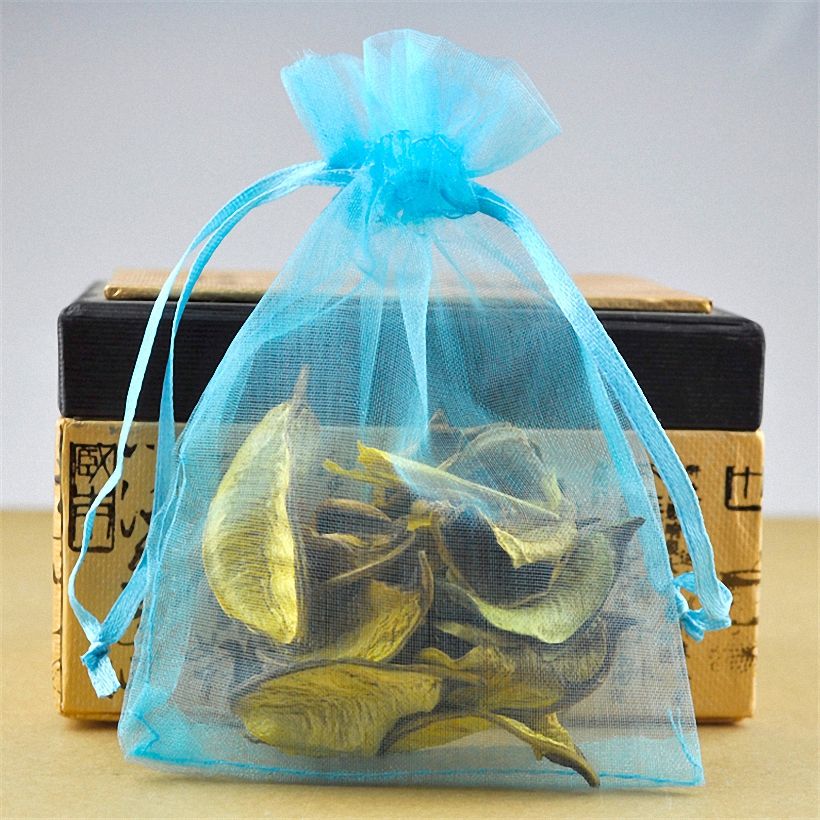 Necessary materials:
Transparent thin fabric (organza, nylon or veil is perfect);
Needle, thread;
Chalk;
Scissors;
Decorative variegated ribbons.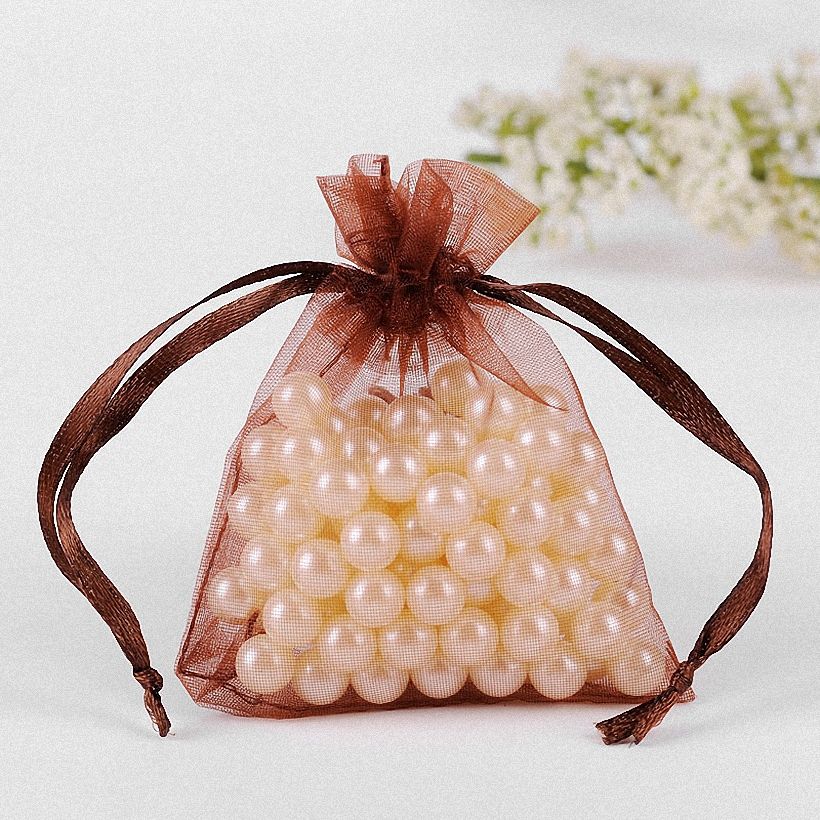 An interesting and easy way would be to create a bag from a round piece of fabric. The diameter of the fabric must be more than three lengths of the gift.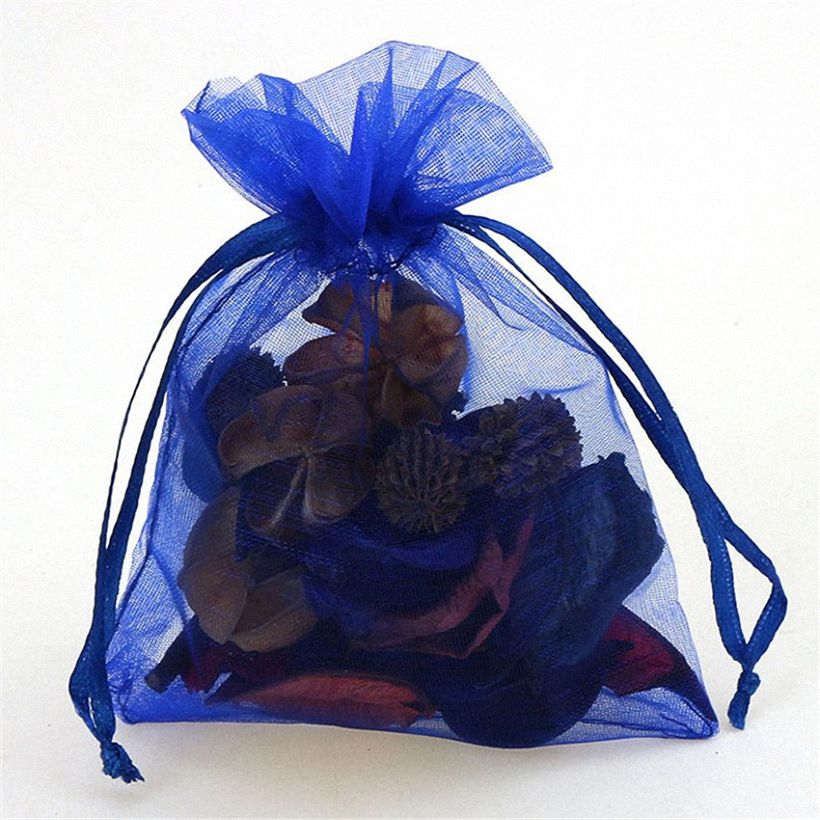 You need to cut a circle of the required diameter. Mark the hem with a chalk and sew the hem. Place a gift in the center of the wrapping and collect the edges. Tie up with a beautiful ribbon. Present is ready.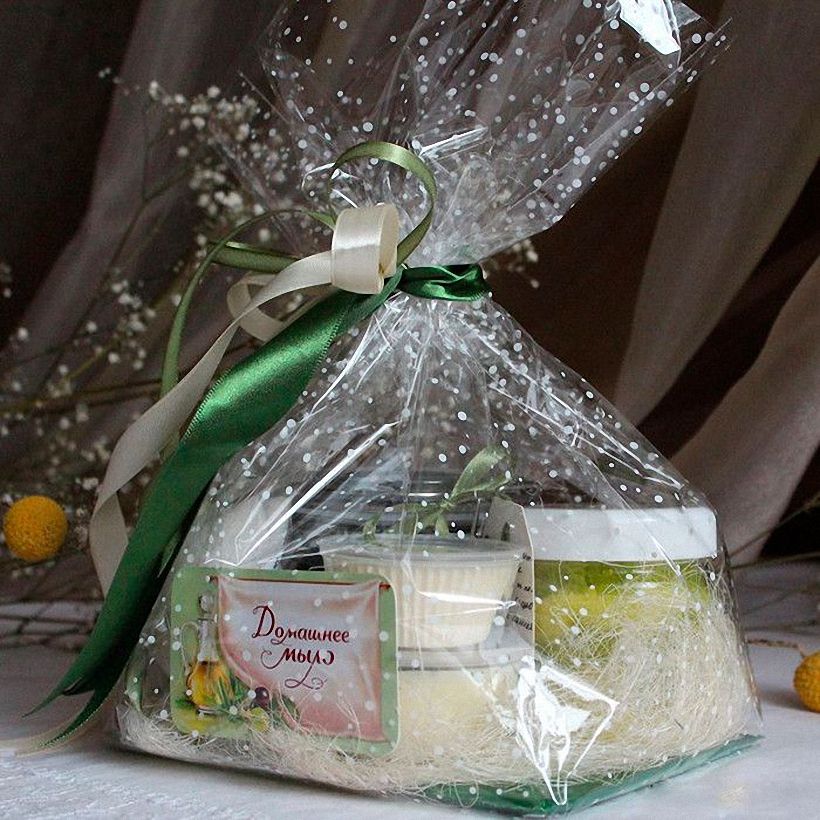 Satin ribbons are great for this type of packaging. You can choose them in the color of the bag or pick up contrasting ones. Colorful strings look interesting, which contrast in tone and color..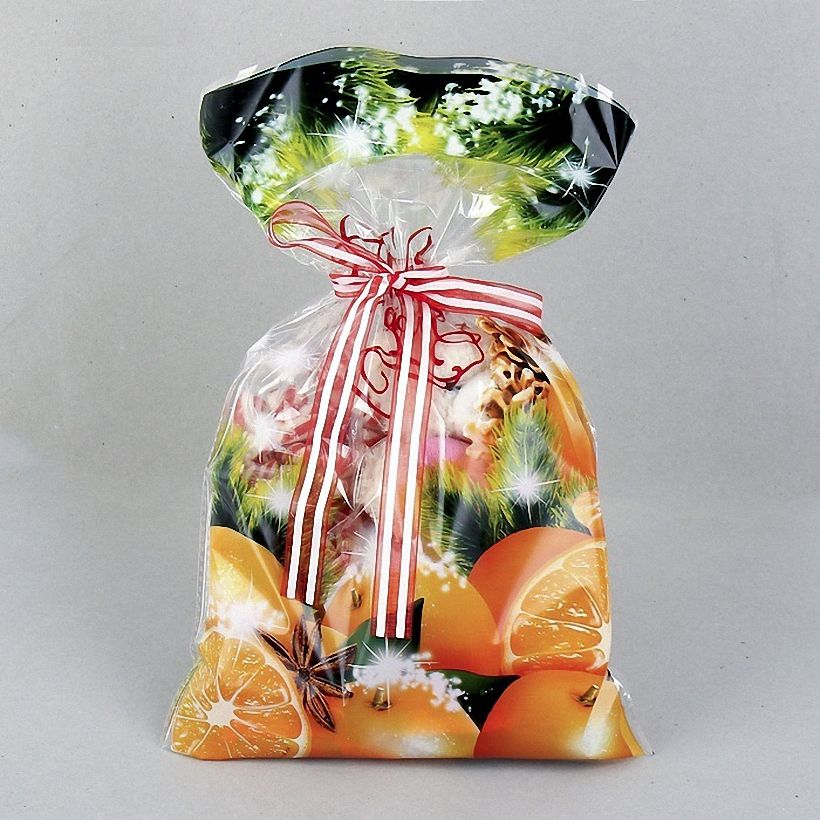 Tip: If you do not sew on a sewing machine, and you do not even have a needle at hand, you can process the edge of the nylon fabric over the fire of a lighter or candle.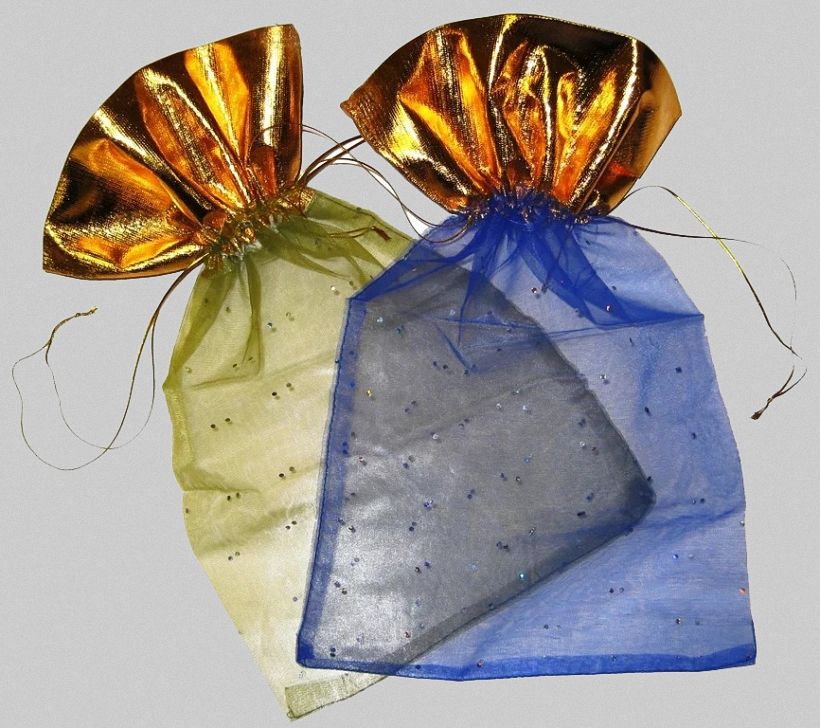 Photo of bags with your own hands