In order to prepare meals for the New Year's table, you need to plan everything in advance. Our article provides examples of new and interesting New Year's dishes, describes the preparation of children's and adult desserts, in general, everything that will delight the Metal Rat coming in 2020. There are also recommendations on what and how best to meet this new year (video and photos are attached).
Metal Rat clothing preferences
Of course, in this article we have provided a lot of useful information. But first, let's briefly tell you about what to wear for the new year 2020. First, first of all, the hostess of the year respects the lush and rich New Year's table, at which she is greeted. And in order for the wishes made to the chimes to come true, it would be better if the preferences of the hostess of the new year 2020 are observed in clothes..
According to eastern beliefs, the rat is a purposeful and active animal, the smart and resourceful White Metal Rat will patronize those who are not afraid and reveal their leadership qualities in the new year, and the year will generally be favorable for changes in work or even life, believe in yourself and don't be afraid of anything!
Well, since the year is going to be active, then the clothes for his meeting need to match – free, comfortable. The rat does not sit in one place, so guests will need to be entertained with active games and activities. The main thing for the new year is not to get bored, singing, dancing, a lottery or a quiz will also come in handy.
If you decorate a table, a Christmas tree, a room with figurines of rats, hang a calendar with her image, then luck will certainly help you in the coming year. In gifts to family and friends, also try to use the theme of the hostess of the new year, and she will certainly appreciate your efforts and repay with kindness..
A beautiful outfit of a loose fit, patronizing the rat in color, which does not hinder movement and other activities – this is what you need to wear on New Year's Eve. And about the color – the choice is wide enough. This could be:
sand.
green.
khaki.
black.
Brown.
coral.
yellow.
White.
Gray.
Red.
Marsala.
Metal jewelry and bijouterie with stones – a must-have element of New Year's clothes!
If you meet the New Year in the company of only pleasant people, then you will definitely have a great mood for the holiday, and, accordingly, for the whole coming year too!
Creative ideas for decorating New Year's table 2020
A very gluttonous creature Rat will appreciate the abundance of snacks and other dishes on the festive table. Guests are supposed to get up from the table well-fed and happy. If you do not know what to cook, then traditional New Year's dishes are suitable..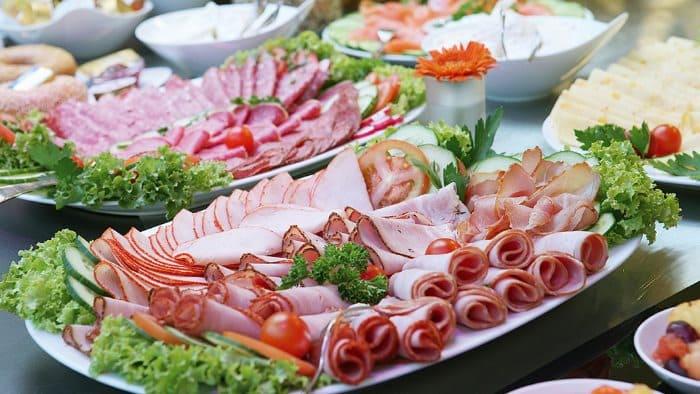 Ideally, there should be a little of each type of meat dishes – chicken, pork, beef. They can be boiled, stewed and baked / fried. Try to put the following on the table from the obligatory dishes:
Various cuts of fruits / vegetables, cheese, meat, fish.
Seed snacks – cheese, vegetables or seafood.
Salads, preferably several different types of them, so guests can choose their favorite.
The main hot dish is usually meat. Can be with or without garnish. For example, pork loin kebab. chicken fillet in batter, chops, tobacco chicken, baked boiled pork. Mashed potatoes, pilaf, French fries are suitable as a side dish.
And at the end – dessert. Sweet on the table – it will be sweet all year long, there is such a sign. There can be anything you want – from cake to jelly and other sweet pleasant treats.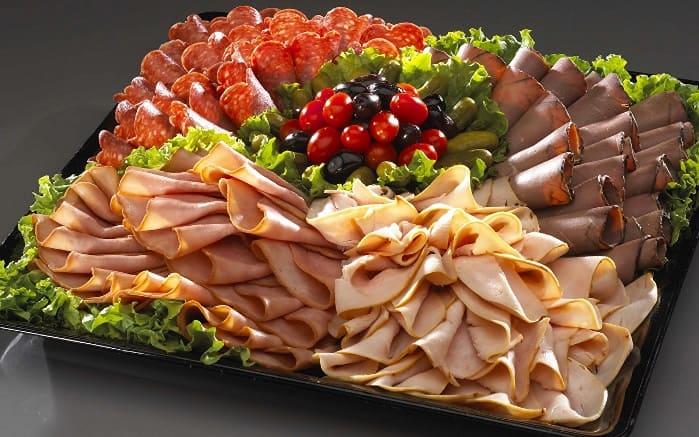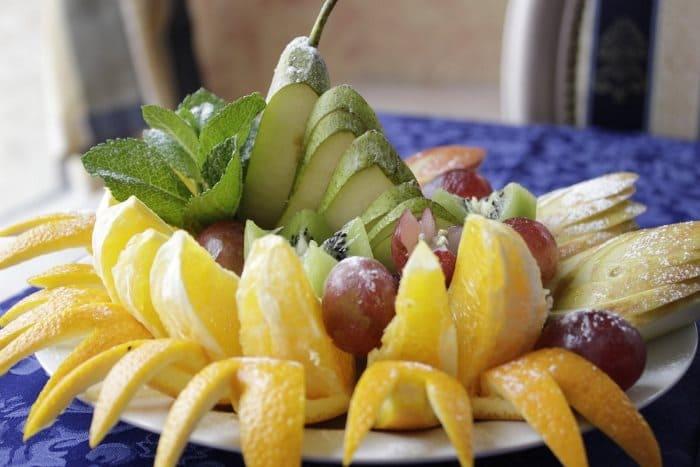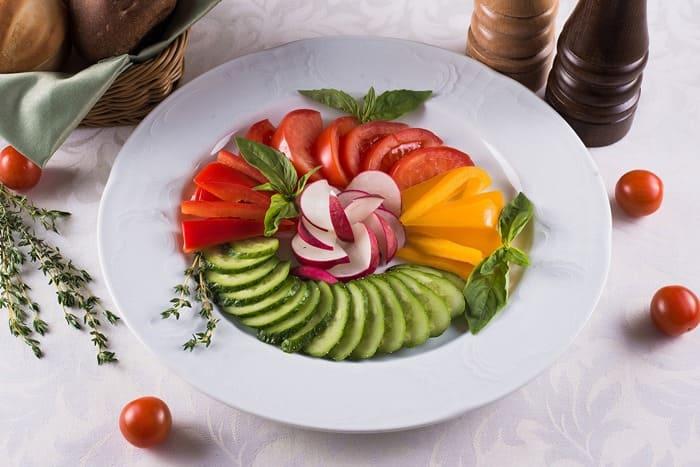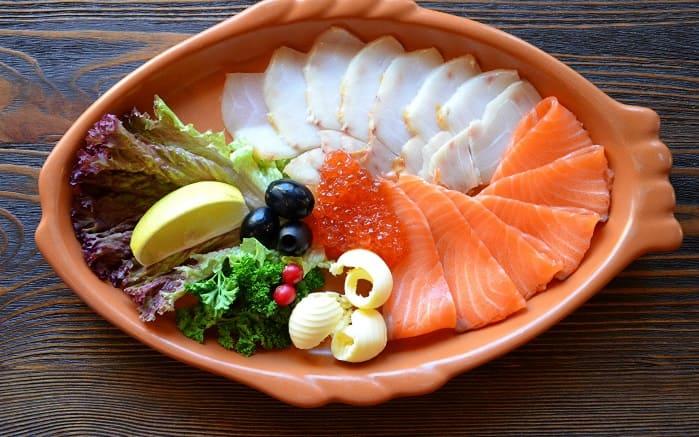 Decorations in the design of the festive table for the new year 2020
It is also important to learn how to decorate the New Year's table. The general rule when decorating a table is that it should become the center of attention and please at first sight. So the brighter the dishes are decorated, the better. You can dream up in advance and figure out which dish would be better to decorate with a rat's face, and which one to make in the form of a Christmas tree, a New Year's twig with toys, etc. Berries and fruits will add a lot of colors to the New Year's table. In the midst of a white winter, they will be like bright lights.
Here are some photos with examples of decorating New Year's dishes:
Snacks 2020
There must be festive New Year's snacks on the New Year's table. They should be hearty and beautifully decorated, ideally should be like alcoholic beverages..
They can be from any product – vegetable, meat, cheese, mixed.
Below are a few sample recipes, you can add your own "zest".
Canapes with cheese and sausage.
Ingredients:
sliced ​​sausage, preferably dry-cured – 80 gr.
baguette – 150 gr.
hard cheese – 50 gr.
olives with seeds – 10 pcs.
1 cucumber.
small tomatoes 3 pcs.
Preparation:
Cucumber with tomatoes must be washed and dried.
Cut the loaf into pieces 1 cm thick.
Place the sliced ​​baguette in a baking dish and dry until croutons.
The cucumber must be grated or cut thinly in a vegetable cutter.
Cut olives in half, tomatoes – into circles, cheese – into slices, or cut out circles from them with a glass along the diameter of baguette pieces.
Take out the form with croutons and cool.
Put cheese on a baguette, on it a tomato.
We take skewers and put on half an olive oil on each.
Now we string the cucumber slices on a skewer, like waves. Behind them we stumble on a sausage skewer.
Now it remains to stick the skewers into the baguette with cheese and tomato. The dish is ready and you can serve it to the table..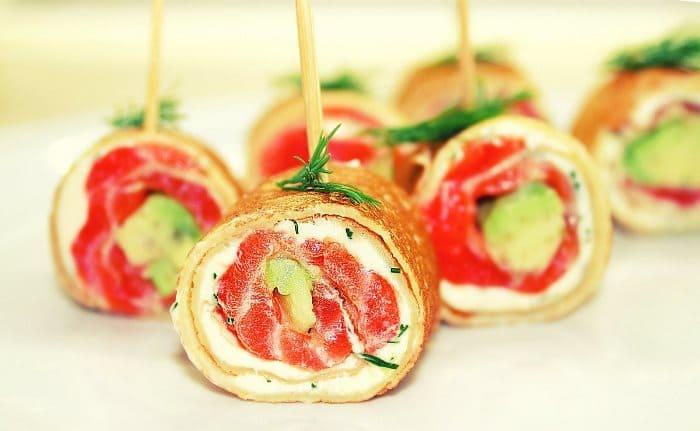 Pancakes with trout, avocado and cream cheese.
They will both decorate the table and delight your guests with their unique taste..
Ingredients:
a pinch of salt.
1 egg.
flour – 3.5 tablespoons.
granulated sugar 5 r.
vegetable oil – 3 tsp.
milk 300 gr.
trout – 0.12 gr.
processed cheese – 100 gr.
avocado – 50 gr.
dill – 20 gr.
lime zest – 5 gr.
Preparation:
First, we bake ordinary pancakes – pour milk into a bowl, drive in an egg, add salt and sugar, add butter. Beat everything with a mixer, add the rest of the milk and beat again.
Grease the frying pan with vegetable oil and heat it well on the stove. We start baking pancakes.
Finely chop the dill.
Knead the cheese with a fork and mix with herbs
The fish needs to be cut into thin slices.
Lime zest should be finely grated and sprinkled on the fish.
First cut the avocado into strips, then peel.
Now grease each pancake with a mixture of dill and cheese.
We spread trout and avocado on a pancake.
We wrap the pancake in a roll and cut it in portions, stick a skewer into each portion. Done, it's time to bring the dish to the table.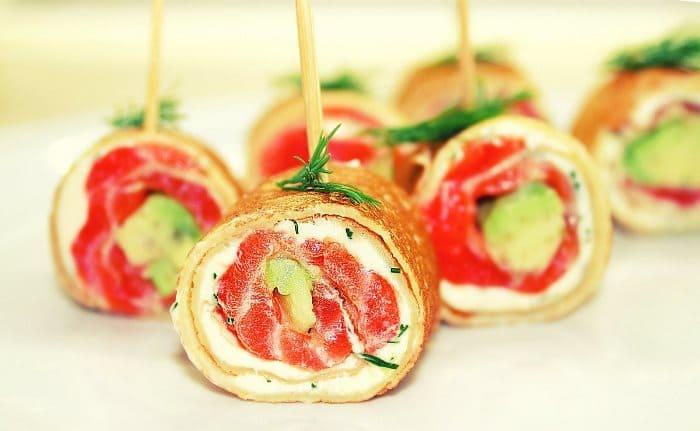 Crab sticks in batter.
After reading this article, you can find out about what New Year's dishes to cook for the holiday.
Ingredients:
crab sticks 400 gr.
mayonnaise 60 gr.
flour 80-100 gr.
1 egg.
pepper and salt to taste.
vegetable oil – 20-30 gr.
Preparation:
First, prepare the batter – in milk, mix salt, pepper, flour and mayonnaise with an egg.
Pour oil into a frying pan and put it on fire.
Dip crab sticks in batter, fry them on both sides.
Then we lay them beautifully on a dish and decorate with herbs..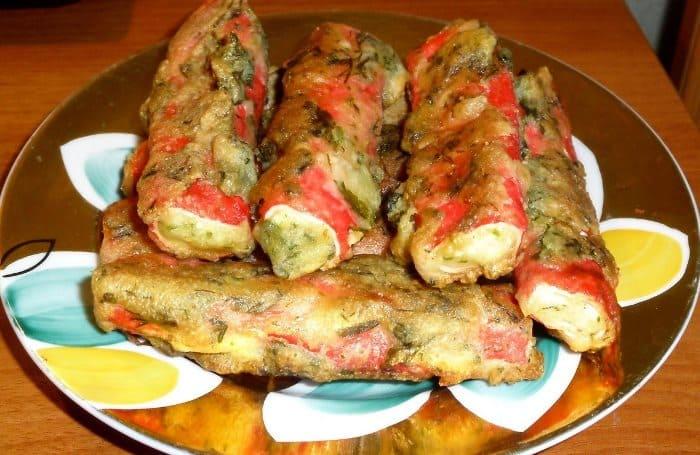 Simple and delicious salads for the New Year's table 2020
Also on the table there should be New Year's salads 2020. The rat is omnivorous, so there are no restrictions on the New Year's table for products. All types of animal or bird meat can be used. The main thing is hospitality and abundance.
Examples of salads:
Mistress.
Beetroot in Korean.
Male dreams.
Watermelon wedge.
Crab salad.
Homemade adjika or cucumbers in tomato sauce will pleasantly surprise guests and dilute the everyday dishes on the festive table. Spicy lovers will definitely like them!
Here are examples of quick but delicious salads for the New Year's table:
Salad with corn, squid and Chinese cabbage.
Ingredients:
a pound of squid.
half a clove of garlic.
1 can of corn (canned).
Beijing cabbage 300-400 rub.
mayonnaise 40-60 gr.
a couple of eggs.
spice garlic 1-2 gr.
pepper and salt to taste.
Preparation:
Wash and peel the squids. Then we cook them separately from each other in salted water. After boiling water, small squids cook for 10 seconds, large ones – 15 seconds.
Cut the cabbage into small squares
Cut boiled eggs into small cubes.
Cut small squids into circles, large ones into pieces.
We mix all the components, drain the liquid from the corn can first.
It remains to fill everything with mayonnaise and add garlic with spices.
"Spicy" – meat salad.
Ingredients:
beef 125 gr.
1 fresh cucumber.
100 gr pickled gherkins.
parsley 5-10 gr.
200 gr tomato.
30 gr sour cream.
pepper and salt to taste.
mayonnaise 20 gr.
1 tsp mustard.
granulated sugar 2 gr.
Preparation:
Boiled meat needs to be cooled.
Finely chop the meat, gherkins and fresh cucumber.
Cut the tomatoes into strips.
Finely chop the greens.
Mix sour cream with mustard, add spices and sugar there.
We put everything in a beautiful salad bowl and decorate with a mixture of sour cream and mayonnaise, and on top – with herbs.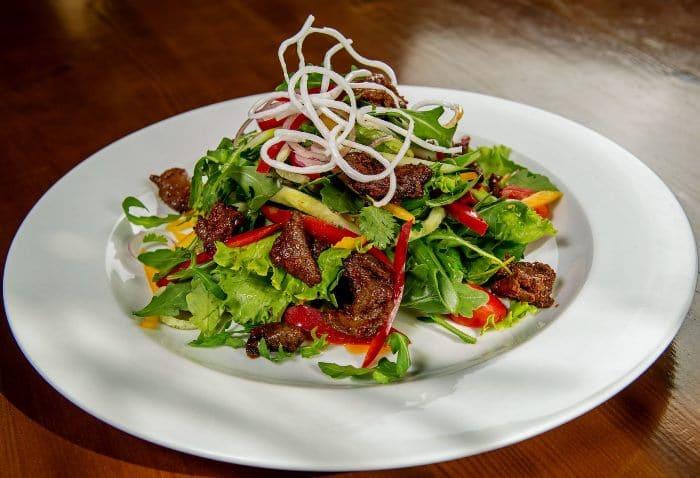 Salad "Anthill".
Ingredients:
chicken fillet 300 gr.
1 tomato.
1 cucumber.
3 green onion feathers.
5 tablespoons of vegetable oil.
1 clove of garlic.
Gouda (cheese) – 40 gr.
half a liter of water.
a couple of potatoes.
salt to taste.
mayonnaise 5 tablespoons.
Preparation:
Cook meat in salted water for 20-25 minutes. Then leave it right in the broth to cool, then it will become juicy.
Then we cut it into cubes and put it in a deep bowl..
Peel the peel from the cucumber and grate it for Korean carrots. Cut the tomato into cubes and put it in a bowl with the meat together with the grated cucumber.
Rub the cheese on a coarse grater, and pass the garlic through a press. We also put all this in a common bowl..
Peel potatoes and grate three for Korean carrots too.
It then needs to be washed 3-4 times, changing the water and put on a towel to dry..
Pour oil into a deep saucepan and fry the potatoes in 2 or 3 passes until a golden brown crust appears.
We spread the finished portions of potatoes on paper towels so that excess oil drips off of it.
Put the salad in a bowl with a dome shape, and then turn this bowl onto a flat plate, we get a salad in a slide, decorate it in a circle with potato straws and herbs.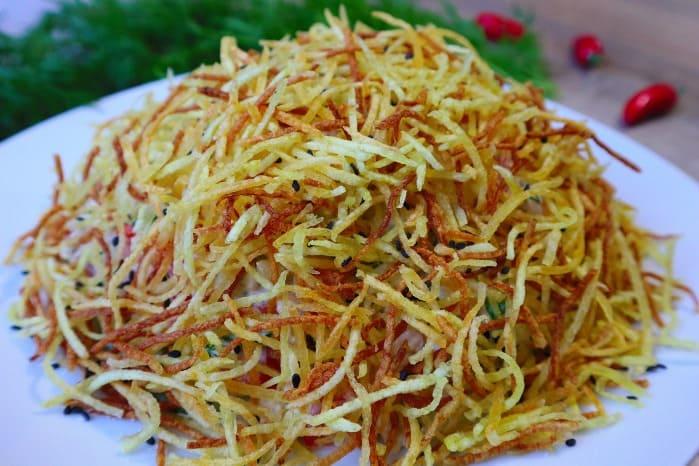 New Year's hot and main dishes
Also in this article we will present the hot dishes of the New Year's table. In the harsh Russian winters, meat dishes occupy the main line in the menu, especially in the festive one. Therefore, they will become relevant on the 2020 New Year's table. We invite you to familiarize yourself with hearty and at the same time simple dishes that can decorate your holiday.
Sturgeon, baked in the oven.
Ingredients:
sturgeon 1 kg.
balsamic vinegar 3 ml.
2 tablespoons of olive and butter.
1 lemon.
4 eggs.
sour cream 6 tablespoons.
salt and pepper to taste.
2 tablespoons of ground nutmeg.
bread crumbs 100 gr.
vegetables and herbs to decorate the dish – bell pepper, salad, herbs.
Preparation:
We wash the fish with cold running water, remove the scales from it and cut it – gut it, remove the fins, then rinse it again.
Bring the water in a saucepan to a strong boil and lower the sturgeon there for a few seconds, then immediately place it under cold water. This will make it easy to remove skin and spines from the fish..
We rub the fish with salt and leave for an hour until it lets out the juice.
Cooking the sauce – for hard-boiled eggs, separate the yolk and from the protein.
Grind the yolks in a bowl and add crackers, nutmeg, sour cream, vinegar and butter to them. Mix everything well until a uniform yellow color is obtained..
Grease a baking sheet with olive oil and cover with baking paper. We put the fish on it and fill it with sauce, and then sprinkle with half a lemon.
We put the baking sheet in a preheated oven 190C, for 20-30 minutes.
When ready, we put the fish on a beautiful dish and decorate with vegetables and herbs.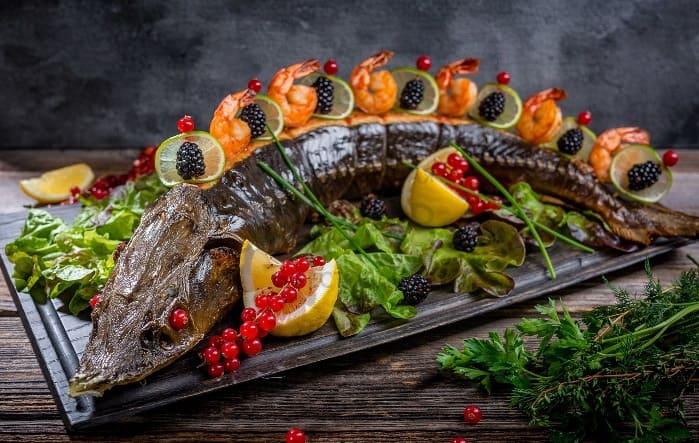 Khashlama.
Ingredients:
1 kg lamb.
800 gr tomatoes.
table salt 30 gr.
1 chilli pod.
a pound of bell pepper.
cilantro, parsley – 30 g each.
5 cloves of garlic.
a pound of onions – turnips.
10 peppercorns.
ground black pepper 10 gr.
4 bay leaves.
ground paprika 30 gr.
Preparation:
Pour boiling water over the tomatoes for a few minutes and peel them off. Then cut into large slices.
Cut the meat into small cubes, onion – turnip – in half rings, bell pepper – in large pieces, and finely chop the greens.
Put the tomatoes in a saucepan with a thick bottom so that the bottom is not visible, and salt them.
Then put a third of the onion and half of the meat on them, half of the sweet pepper on it.
Salt everything, add peppercorns, chilli, paprika 20 gr, and half a teaspoon of ground pepper.
Repeat all layers, salt with 1 teaspoon of salt, herbs and bay leaf.
At the end, put onions and bell peppers, add paprika.
Simmer the dish over low heat and covered for 3 hours.
Sprinkle with herbs and serve.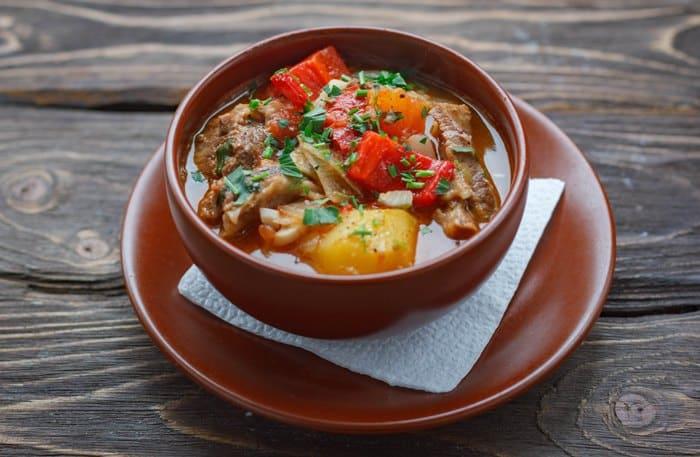 Turkey breast (stuffed).
Ingredients:
turkey breast 800 gr.
1 zucchini.
1 carrot.
salt one and a half tsp.
1 bell pepper.
vegetable oil 5 tablespoons.
100 gr Parmesan.
1 onion.
100 gr Doctor's sausage.
a couple of cloves of garlic.
40 g flour.
1 egg.
baking powder – 5 gr.
Preparation:
Finely chop carrots, zucchini, peppers, onions, sausage, cheese, garlic and a boiled egg.
We put all this in a deep bowl, salt and mix.
Mix baking powder and flour and add to a bowl of food.
Wash each breast, dry it and cut out recesses in them with a knife. You need to carefully make a pocket in the meat..
Fill the pockets with filling and stab with a skewer.
Put the breasts in a baking dish, pour on top with butter and 4-5 glasses of water.
We put the mold in a preheated oven 180C, for 80 minutes, and every 10-20 minutes you need to pour over the breasts with sauce from the mold.
How the breasts are browned means that the dish is ready.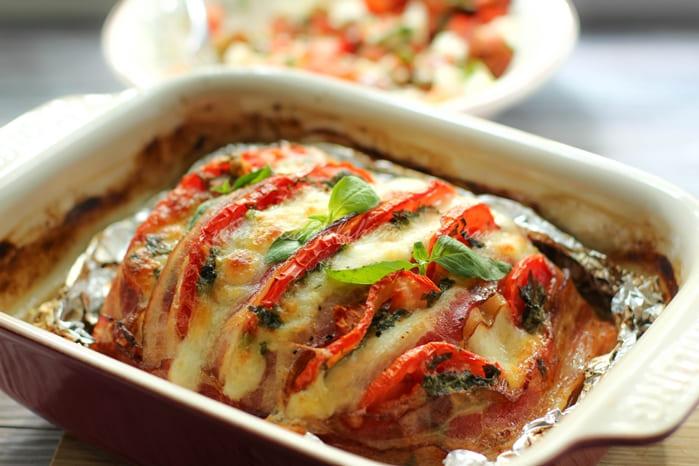 New Year's desserts 2020
New Year's desserts recipes These are exactly the dishes that will delight not only children, but also adults. Here are some of them that you should definitely get acquainted with:
milk cocktails in a blender.
apple and curd casserole.
cottage cheese pancakes.
yoghurt cake.
"Three chocolates" – cake.
apple charlotte on kefir.
And then we will acquaint you with some recipes that are definitely worthy of the New Year's table.!
Gingerbread cookies.
It can be either on the table as a dish or on the Christmas tree as a decoration.!
Ingredients:
100 grams of honey.
50 gr ginger root.
cold water 80 gr.
a pinch of salt.
5 grams of cardamom.
2-3 gr baking powder.
350 gr flour.
brown sugar 5 tablespoons.
butter 125 gr.
Preparation:
Add honey, salt and sugar to a pot of water, bring everything to a boil until all the sugar dissolves there.
Rub the ginger root on a fine grater and take 1 teaspoon from the whole mass.
Add grated ginger, oil, baking powder, cardamom to the pan removed from the heat, mix everything well and wait for it to cool.
Pour flour into the warm mass in parts and knead the dough.
When it's ready, wrap it in plastic wrap and refrigerate for 12-16 hours.
We take out the dough, roll it out on a board with flour.
If there are molds, cut out figures from the dough with them, if not, use a glass or a cup.
It is better to immediately make holes in them for New Year's ribbons..
In a preheated oven 280C we send a baking sheet with cookies for 8-10 minutes.
If you like crunchy cookies, then leave them on the wire rack until they cool. And if soft, then after cooling, put it in a dry box..
Decorate it.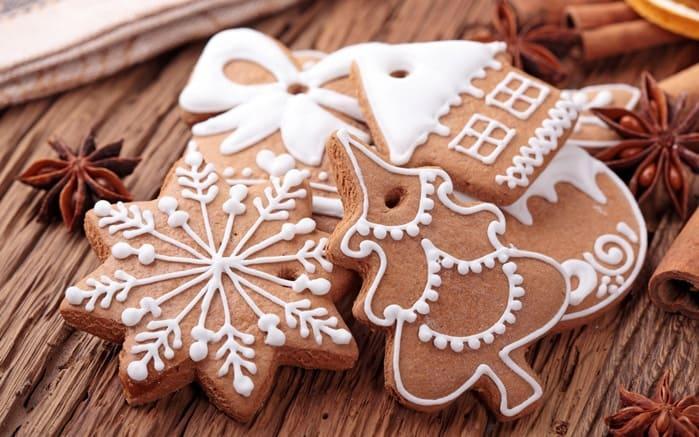 " Snow drifts" – cake.
Ingredients:
130 gr butter.
vanillin 3 gr.
powdered vanilla sugar to taste.
baking powder 5 gr.
sour cream 2.5 tablespoons.
a couple of eggs.
wheat flour 250-300 gr
granulated sugar 6.5 tablespoons.
Preparation:
The softened butter should be rubbed with yolks and sour cream, and the baking powder should be mixed with flour.
Then you need to mix everything and knead the dough, it should not float, and it should not be too hard either.
Divide the dough into walnut-sized balls. They need to be refrigerated for half an hour..
We knock down the proteins with sugar into a good foam. Add flavoring at the end. Preheat the oven to 180 C.
Each ball needs to be rolled out to translucency and whipped foam cream should be put in the middle..
Fold the dough in half and again in half, the total is a lush triangle.
We put them on a baking sheet at a distance that allows them to grow and not stick to each other..
They are baked in the oven for about 15 minutes, until they are browned..
After cooling, it remains to sprinkle them with powdered sugar..
Cake "Lady fingers".
Ingredients:
100 gr flour.
250 ml water.
4 eggs.
a pinch of salt.
100 gr butter.
1 liter sour cream.
200 gr icing sugar.
1 tablespoon vinegar.
3 strawberries.
3 sprigs of fresh mint.
50 gr dark chocolate.
Preparation:
Cover the bottom of the colander with 3-4 layers of gauze and leave sour cream in it overnight.
Making choux pastry – dissolve butter in boiling salted water. Then you need to quickly add flour and quickly mix everything right on the fire until you get a tight lump.
Remove from heat and cool for 1-2 minutes. Then, in turn, drive 4 eggs into it and after each stir the dough until smooth.
For the same cookies, you need to mark the parchment. We draw the first line, stepping back a couple of cm from the edge. After 6 cm from it we draw the next one. Then we repeat everything.
Turn the parchment over and put it on a baking sheet. We put strips of dough on it in a checkerboard pattern, you can do this using a culinary bag.
Preheat the oven to 200 C, put a container with water on the bottom, put a baking sheet in the middle. The oven needs 30 minutes, periodically checking the readiness. If the cookies begin to fall off, it means that the shell is not baked enough yet, and you can bake further.
Cool the finished profiteroles by taking out of the oven.
We knock down sour cream from a colander with a mixer, start at low speed, then add speed gradually.
In the process of churning, add the icing sugar a little – a little. The total time of churning is not more than 5 minutes.
If you do not have a 24 cm split mold, you can use a regular one or take a saucepan and cover it with cling film so that the cake can be easily pulled out..
Spread 4 tablespoons of cream on the bottom and level with a spatula.
We smear each cookie in a cream and put it in a mold, all in one direction.
The second layer is the same, only perpendicular to the first, we put it in a mold / pan, so it will be easier for the cake to keep the desired shape.
3-4 tablespoons of cream must be saved in order to fan the sides of the cake later. And pour the rest of the cookies on top, and level them. We close the mold / pan with cling film and place in the refrigerator for 3 hours.
We make caramel decorations, sprinkle sugar evenly in a saucepan.
Pour vinegar into the middle and put the stewpan over high heat for 3-5 minutes. You can't stir sugar with a spoon, move the stewpan back and forth.
When the caramel is brown, put the saucepan in cold water..
Now very quickly pour the caramel onto the parchment with a spoon, you should get a lot, and after a few minutes the caramel will start to stretch.
Lay out a beautiful dish around the edge with foil.
We take out the cake mold from the refrigerator, use a knife to separate it from the edges and remove the side of the mold.
Spread the cake on a dish with a spatula and grease the sides with deferred cream.
Melt the chocolate in a water bath and decorate the cake in a chaotic manner. On the sides, anoint with chocolate too, until beautiful smudges.
On top we decorate our cake with berries, mint, strawberries. We put it in the refrigerator for 15 minutes, then you can serve it on the table.
Drinks for the New Year's table 2020
On the New Year's table, there can be both alcoholic drinks and homemade options for tonic or vitamin non-alcoholic cocktails or drinks, for children or for those who should not drink alcohol. And this is not just a variety of jams diluted with water or open country compotes preserved in autumn. We list for you the famous New Year drinks.
Mulled wine non-alcoholic.
This drink will delight both children and adults. Only for its preparation it is better to take dark grape varieties..
Ingredients:
half a liter of dark grape juice.
cloves 5 sticks.
1 cinnamon stick, or 1/2 teaspoon ground.
100 g of water.
2-3 grams of ground ginger.
4 kernels of cardamom.
30-40 grams of raisins.
1 apple, lemon and orange.
Preparation:
Pour the juice into a saucepan with a thick bottom, add all the spices to it, you can add something from your favorite to ours.
Remove the zest from the orange and lemon with a special cleaner..
Cut out the middle from 1 half of the apple and cut the half into slices.
Add zest, apple slices and raisins to the saucepan to the juice and light the fire.
Without bringing it to a boil a little, remove the pan and cool it for 10-15 minutes, it just infuses.
It remains to strain the drink through a sieve and pour into glasses, decorating them with cocktail tubes, citrus slices, etc..
Aperol syringe (cocktail).
Ingredients for 1 serving:
90 ml champagne.
Liqueurs Aperol or Campari 60 ml.
1 orange.
30 ml sparkling water.
3-5 ice cubes.
Preparation:
Pour champagne into a voluminous glass, wait for the foam to subside.
Add ice, liquor and soda to it (you can take Schweppes).
Cut the orange into thin slices and put them on the bottom of the glass. The cocktail is ready. You can prepare several glasses at once for all guests.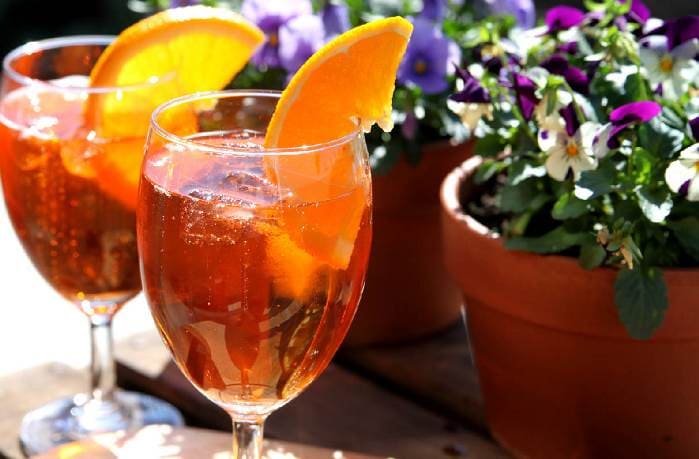 Egg leg (cocktail).
There is an alcoholic option, and there is also a non-alcoholic option for children. They are both made on the basis of a mogul..
Ingredients:
1 liter of milk.
4 eggs.
5 g ground cinnamon.
100 gr granulated sugar.
1 cinnamon stick.
to taste cognac, dark rum or wiki.
vanilla sugar and nutmeg also to taste.
Preparation:
Beat the yolks with vanilla and plain sugar.
Put milk in a saucepan on the fire, boil with a cinnamon stick (for flavor).
As the bubbles appeared in the milk, pour it into the whipped yolks in a thin stream, mix and pour everything back into the saucepan.
Boil the cocktail over low heat for 8-15 minutes, until thickened, stirring constantly. To prevent the yolks from curdling, in no case add heat..
During cooking, add ground cinnamon and grated nutmeg to it.
If you are making a drink for adults, then it is time to pour the alcoholic component into it. The cooled cocktail can be stored in the refrigerator for a day, but it is still better to drink it hot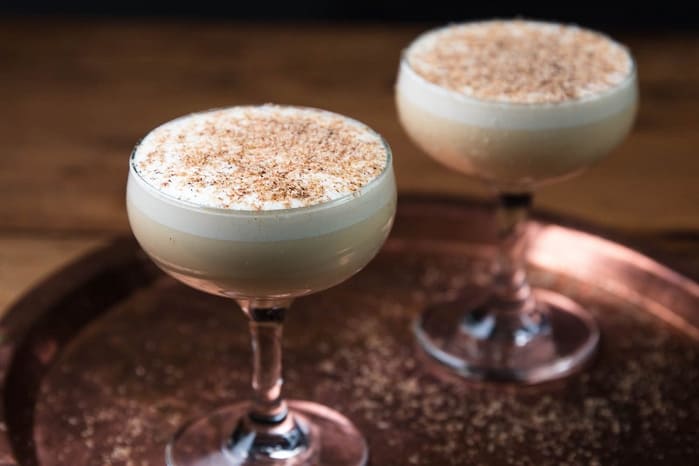 Some more useful tips for New Year's Eve 2020
In this article, we have introduced menu for the New Year. Now you know what to cook. To avoid embarrassing moments, it is better to plan the entertainment scenario, as well as the festive table menu in advance. Here are a few points to consider if you are gathering more than just close relatives..
It is better to learn from each of them about taste preferences or allergic reactions, then it will be possible to avoid unpleasant or awkward situations at the table..
We take champagne and wines for women, vodka with cognac – for men.
You can agree and distribute between the guests who will buy drinks and who will bring their dish to the holiday, then save your time and effort in the kitchen.
Gifts also need to be thought out. For colleagues at work, cute New Year's souvenirs will come in handy, but family members or relatives should pick up more serious gifts. Now many retail chains, beauty salons, fitness rooms practice gift certificates for products or their services, a good option for a gift.
We have armed you with a variety of recipes and tips, we hope all this will tell you how best and unforgettable to meet this new year 2020 of the Metal White Rat.