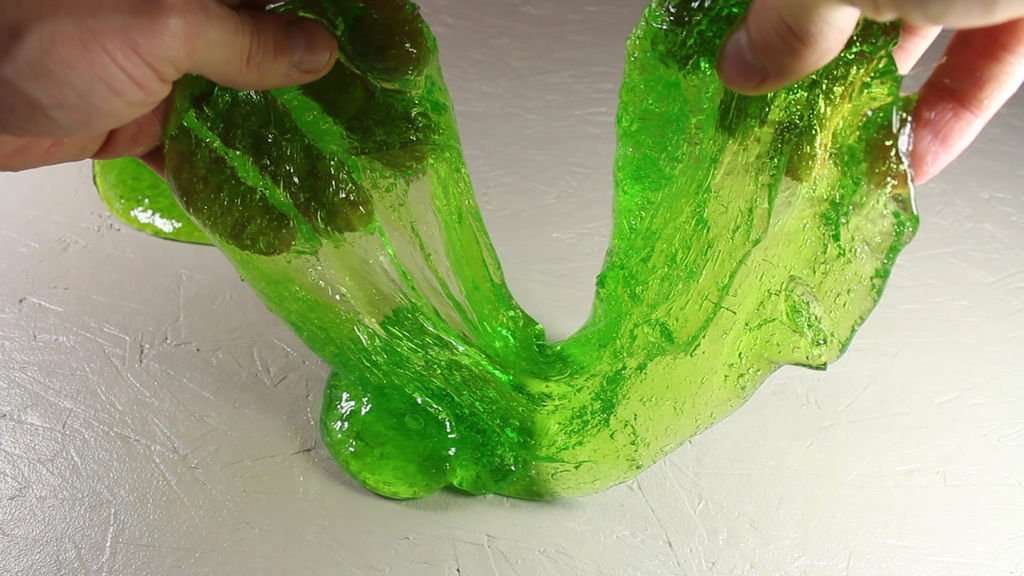 Summer is now unstable with its weather. What to do on a rainy day, and most importantly, what to keep your child busy with? Here is an interesting idea for you, now fashionable Lizun, made with your own hands from a minimum of handled funds.
In this article, we will talk about how to make a slime without PVA. In addition, you can give it the color you want, and its size can be truly gigantic, which you will never find in stores. And immediately after that, you can start a game in Ghostbusters, from where this character was taken as a basis.
Detergent slime
If you are wondering how to make a slime without PVA glue, then the first recipe is right for you. All you need is shampoo and shower gel or dishwashing detergent. In a container, it is necessary to mix these components equally and if they do not contain granules, then the slime will turn out to be completely transparent. Stir until smooth, and then put everything in the refrigerator.
The next day the toy is ready, just explain to the child that it is better not to take it in his mouth, and after playing it is imperative to wash your hands. You can play them for about a month, but store only in the refrigerator, and it will fail earlier, if a lot of excess garbage sticks to it, then it risks losing its wonderful properties.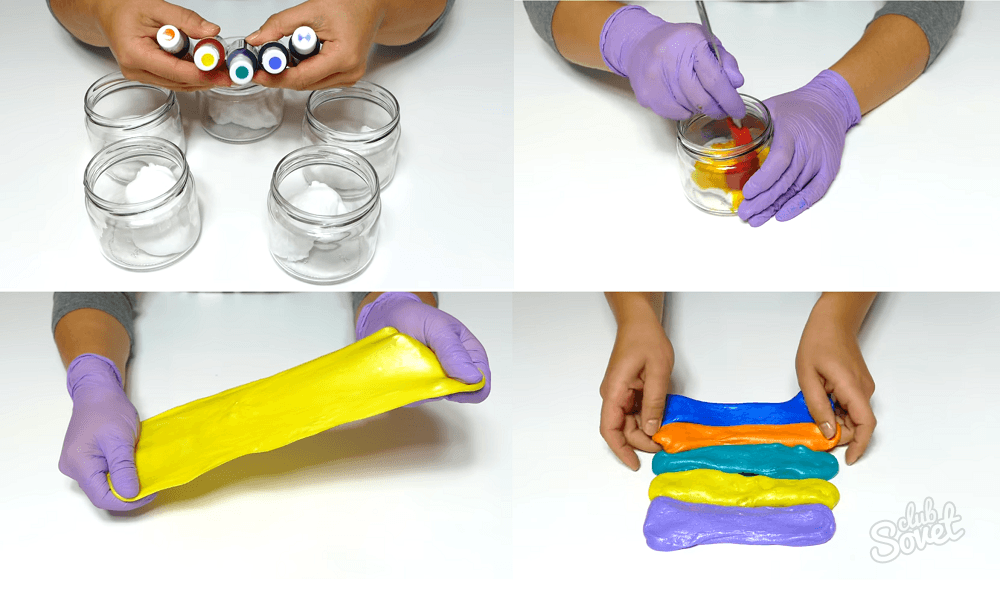 Flour slime
I wonder how to make a slime with children, then the following recipe will come in handy. Indeed, this option is suitable even for the smallest, in terms of safety in case they pull it into their mouths. It is better to take natural dyes, they are not as bright as chemical ones, but they are harmless to children..
You don't need PVA or tetraborate for it. And here's what you need to take:
flour,
cold water,
hot water,
dyes.
Sift 2 cups of flour into a deep container, it will cook better in sifted form. Add a quarter cup of cold water first, then hot, but not steep boiling water. Now we mix everything, we try not to form lumps.
Now let's add the dye of the desired color. Stir the already sticky mass and put it in the refrigerator. After a few hours, when the mass hardens, it can be used in games.
Water slime
Also an environmentally friendly option for the little ones. We need:
We mix a mass of starch and water (equally), mix it without lumps. It remains to add the dye and roll the mass into balls – that's it, the toy is ready. Do not overdo it with starch, slime can become hard, and water is needed exactly warm, not hot and not cold, so that it would be easier to knead the mass.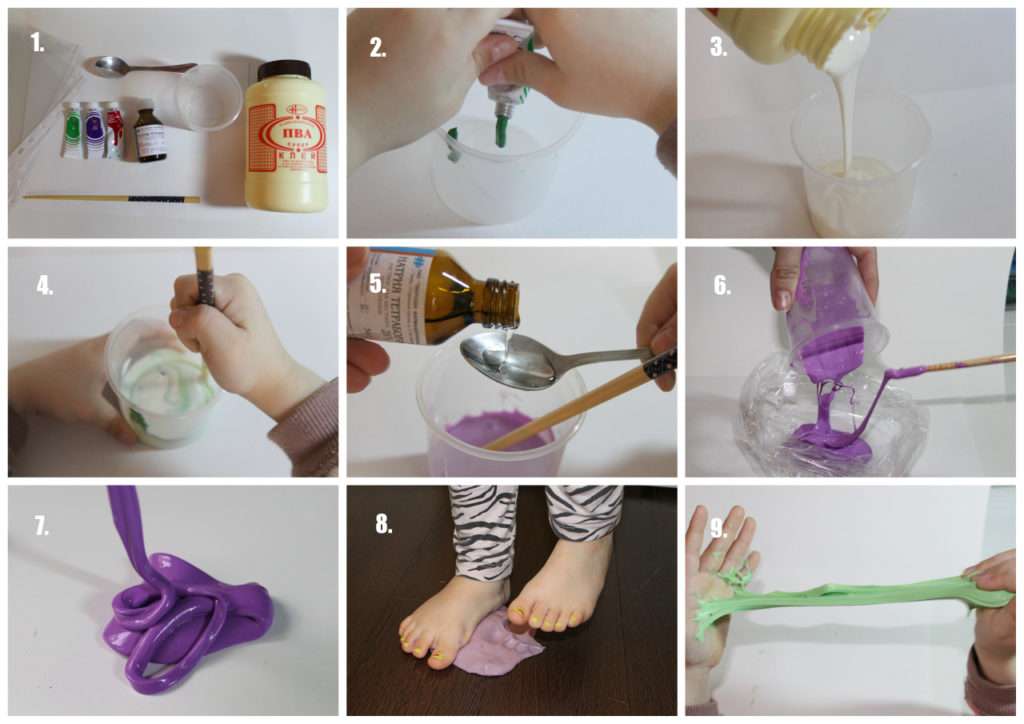 Plasticine slime
In this publication you can find out how to make a slime with your own hands. The next option is more reliable. It won't go bad quickly. And they create it from gelatin and plasticine.
So, we take cold water in a bowl, Dissolve gelatin in it according to the instructions on the package. We insist this all for an hour and put the bowl on fire until it boils. As it begins to boil – down with the bowl from the fire. Now we warm in our hands 100 g of plasticine. Then pour 50 grams of water into another container and mix it with plasticine. But then we pour gelatin there, mix both masses into one homogeneous mass. Remove the resulting product in the refrigerator for complete solidification.
A couple of helpful tips
Now you understand how to make slimes at home. But some useful information will come in handy in this case. It happens that everything was taken in the right proportions and mixed according to the instructions, but Lizun did not work out. Do not be discouraged, now we will outline a few points for you that can improve the situation..
It is important that the ingredients are fresh, as well as the proportions can be taken by eye, with experience you will already find your golden mean.
If the Slime does not stretch as it should, knead it for a few more minutes, and it will reach the desired condition..
And if it is too sticky and does not want to lag behind your fingers, then you need to add a little liquid.
If, on the contrary, he does not want to stick, then you can drain the excess moisture and add flour or starch.
Well, the toy is ready. But make sure that children do not throw themselves into the walls, greasy stains will remain, and if they fall on the carpet, the adhering fibers will quickly disable your Lizun.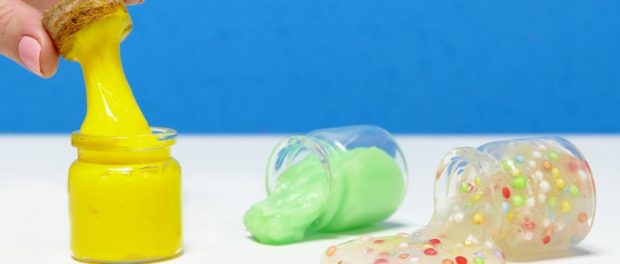 For one and a half to two weeks, your children are busy. Outside the game, put Slime in the refrigerator, just not in the freezer. And close the lid of the container tightly or tie the bag tightly with it, it is harmful for it to be in the air, it can dry out and lose its wonderful properties.
And rubbing with alcohol to remove excess debris will somewhat extend its life and performance. It is better not to rinse it in the sink, it can slip into the drain. If it is still dry, then add water to it..
In order to avoid children's allergies, after playing with Lizun, it is advisable to wash the child's hands and those parts of the body on which Lizun was on with soap..