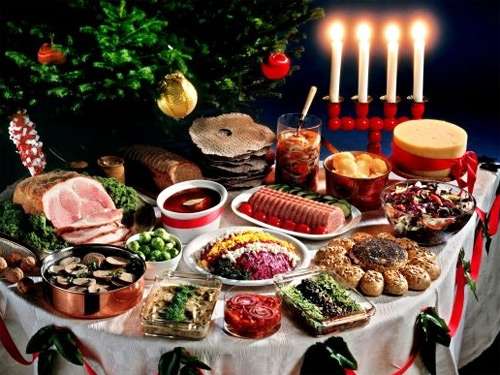 The most favorite holiday of all Russians is the New Year. Indeed, this holiday is celebrated with pleasure by both adults and children. But in order for the New Year to leave only pleasant memories in everyone's memory, it is necessary to prepare for it in advance. Therefore, in this article we decided to tell you about how to celebrate the New Year 2017 and what to cook in order to appease a proud bird so that it will be supportive of you throughout the year..
Basic rules for preparing the New Year's table
It is worth noting that the festive New Year's menu must necessarily be hearty and varied. However, the Rooster, the symbol of the new year, does not like delicacies and various delights. For the New Year's table, take the menu of Russian cuisine as a basis. In this menu, as a rule, vegetables and herbs should be present. It is also recommended to prepare meat dishes. But chicken meat is not recommended. It is also worth noting that light snacks should be present on the table, which will be prepared without adding mayonnaise..
On New Year's Eve, you can't do without sweets. Therefore, dessert dishes must be present on your table. And all because the rooster loves sweets. And in addition to cakes and other sweet desserts, do not forget to place light cocktails, sweet wines and liqueurs on the table.
What to cook for the New Year's table
We described the basic rules for organizing a festive table above, now it's worth talking about what to cook for the New Year 2017. So, immediately I want to say that on your New Year's table a worthy place should be taken by everyone's favorite salad "Olivier". Also, do not forget about "Herring under a fur coat." But there should be very few such heavy salads on your table. After all, the Rooster is more supportive of everything light and natural.
Laura salad.
For example, in this case, you can prepare lard called "Laura". This light salad is very easy to prepare..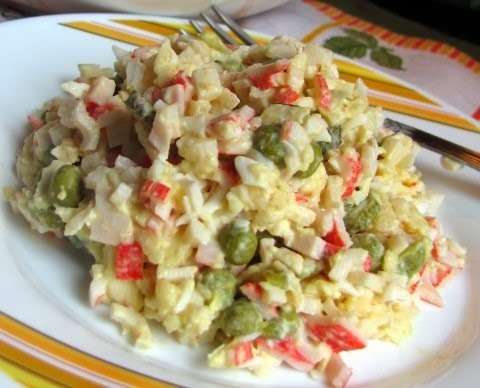 To prepare an easy salad, prepare the following ingredients:
a couple of fresh cucumbers,
50 grams canned corn,
a bunch of lettuce leaves,
a bunch of any greenery,
use mayonnaise and salt to taste.
How to cook?
Cut the cucumbers into strips. And here are the greens and lettuce with crumbling hands. Add the rest of the products to these ingredients and mix everything. Place in a salad bowl. And use bunches of greenery as decoration..
Favorite salad for the New Year.
In addition to this salad, we would like to offer you another light salad. This salad is called "Favorite".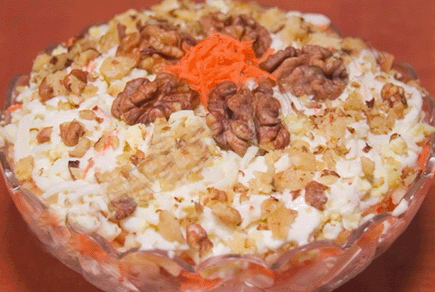 It is also very easy to prepare. It is also very lightweight. To prepare it, take:
fresh tomatoes in the amount of 3 pieces,
200 grams of crab meat also works with crab sticks,
50 grams of hard cheese,
a couple of boiled eggs,
mayonnaise, salt to taste,
a bunch of any greenery.
How to cook?
Cut the crab sticks together with the tomatoes into cubes. But we grate cheese and boiled eggs. We mix all the ingredients, season with mayonnaise and salt. We put it in a salad bowl. Do not forget to decorate everything with greenery. Serve the salad chilled.
Hearty salad. 
In addition to Olivier salad and herring under a fur coat. Another hearty salad may appear on your table, which will include mushrooms.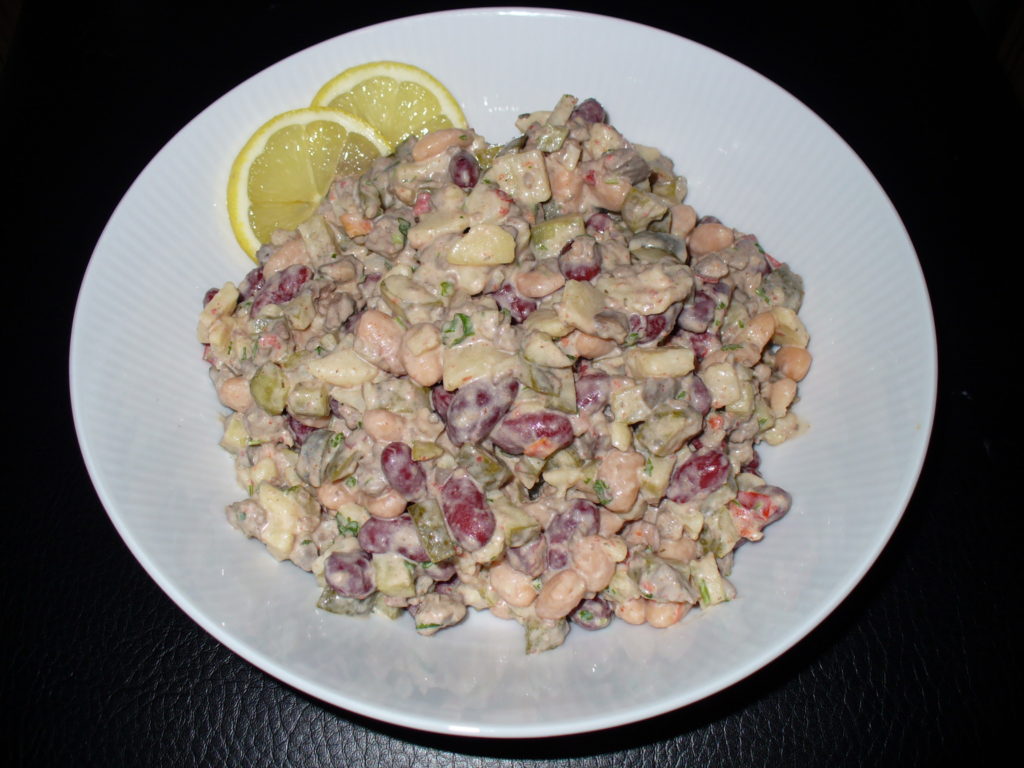 For cooking we take:
200 grams of boiled meat,
200 grams of champignons,
100 grams of Chinese cabbage,
1 onion,
3 boiled eggs,
sour cream or mayonnaise and water,
vegetable oil 2 tbsp. spoons and curry seasoning in the amount of 1 tbsp. spoon.
Use salt to taste.
How to cook?
First, fry the onions and mushrooms in vegetable oil. At the same time, we cut the mushrooms into slices, but the onion into half rings. Now it is worth making an omelet, in which we add water, eggs and spices. The omelet should be browned on both sides. Your omelet should now cool down. Then cut it into strips. Cut the meat or ham into cubes. And finely chop the cabbage. We mix all the products and put them in a salad bowl. Add salt to taste and season with mayonnaise.
Salad – Cockerel.
This salad is recommended to be placed in the center of the festive table..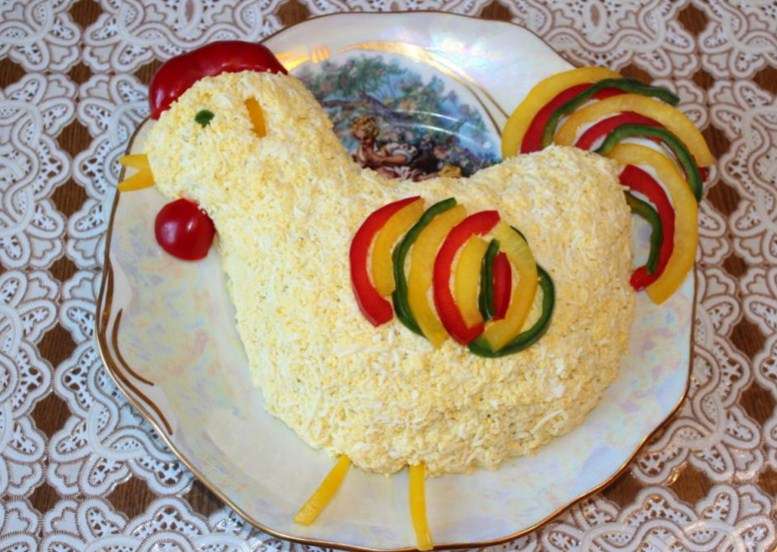 For its preparation we take:
smoked sausage in the amount of 200 grams,
potatoes in the amount of 350 grams,
pickled mushrooms in the amount of 250 grams,
200 grams of apples.
How to cook?
Cut the boiled potatoes into cubes and cut the sausage into strips. We also finely chop the mushrooms. Peel the apples and cut into strips. Mix all products and season with small.
Lay out the cockerel from the food and decorate it with bell pepper feathers.
Original dishes for the New Year 2017
What a festive table can be imagined without original dishes. Therefore, now we will offer you several festive dishes that will not leave anyone indifferent..
Oven-baked pink salmon.
To cook baked pink salmon, take:
frozen fish,
mayonnaise,
vegetables,
carrots and onions,
tomatoes and spices,
sunflower oil and lemon.
How to cook?
First of all, you must butcher the fish. Be sure to rinse the fish and cut off the fins and head from it. Then cut along the ridge and cut into fillets. And cut the fillet into several parts.
Now grease the baking sheet with oil and put the fish fillet pieces on it. After that, sprinkle everything with spices and salt. Drizzle with lemon juice.
Next, we take mayonnaise and grease the fish well with it. We leave the fish to soak in this sauce. And at this time we are engaged in vegetables.
Cut the onion into half rings, and grate the carrots.
We send carrots with onions to a frying pan and lightly fry.
Put the vegetables that we fried on top of the fish. Sprinkle with seasonings.
Lay a layer of tomato on top.
Next, we put the dish in the oven, set the temperature to 180 degrees and bake for 45 minutes.
We serve fish hot.
Fragrant potatoes with cheese and sour cream.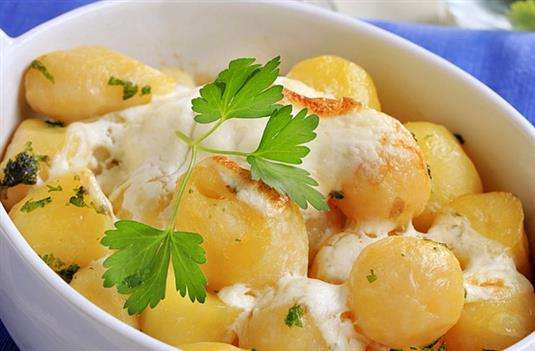 Potatoes baked with cheese and sour cream will be a wonderful and hearty New Year's meal. Such a dish will enchant many with its taste. Moreover, such a dish can be an excellent side dish. To prepare this wonderful and delicious dish, take:
kilogram of potatoes,
450 grams of sour cream,
200 grams of cheese,
butter,
spices and salt.
How to cook?
Cut clean potatoes into thin circles.
We spread a layer of potatoes and pour sour cream over it abundantly. Sprinkle with spices and salt on top.
Add hard cheese.
Now alternate layers.
We put the form with potatoes in a preheated oven up to 200 degrees. It is worth baking for 25 minutes..
After which we lay out the finished dish on plates..
New Year's canapes with red fish.
Delicious and mouth-watering canapes can be used as an original snack on the New Year's table. In order to prepare canapes with red fish, you need to prepare the necessary ingredients:
small pieces of loaf,
100 grams of red fish,
100 grams of processed cheese,
1 pickled or fresh cucumber,
half a can of olives.
And also prepare sharp skewers.
How to cook?
First, cut the loaf into small squares.
Next, fry slices of bread on all sides in a greased frying pan. Cool golden slices of bread.
Now grease the slices of bread with melted cheese.
We also cut the red fish into small pieces..
Put the fish on the cheese, then put the olive.
Be sure to put everything on skewers and serve on the New Year's table.
Another canapé recipe.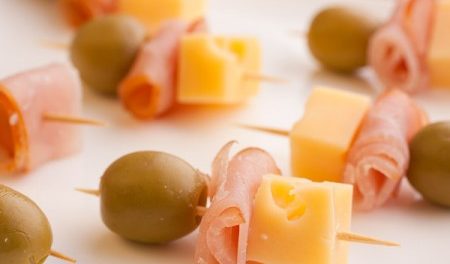 For the next recipe, we prepare:
We put everything on skewers and you will have a simple but very tasty canapé.
Canape with herring.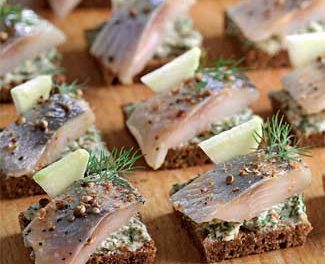 Herring is served at any celebration. And for the new year you can make original mini herring sandwiches. Just take a slice of bread and a slice of herring. Sprinkle coriander seeds over the snack.
In conclusion, watch the video: how to properly celebrate the New 2017
https://youtube.com/watch?v=3StR3n9tUPU
Now you have learned about what dishes are recommended to be prepared for the New 2017. In addition to these dishes, also make delicious and original desserts. Do not forget to dream up and then your guests will be satisfied with the festive dinner..