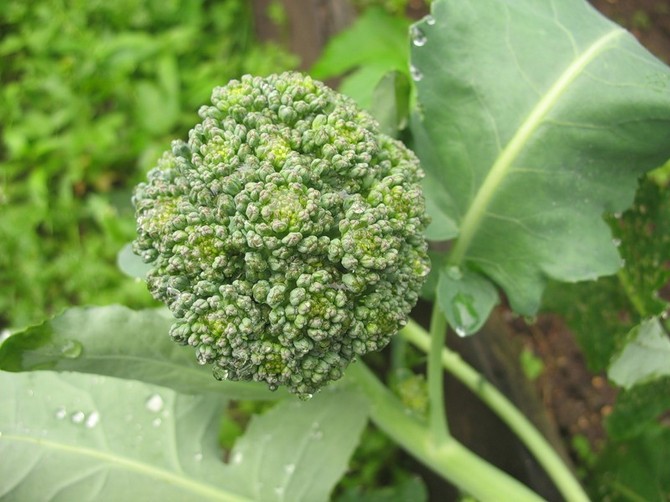 This vegetable, which until recently was a real exotic for us, is advised to be consumed by many nutritionists. And for good reason. Broccoli is just a storehouse of vitamins, sugars, micro and macro elements. Its active substances help with kidney diseases and atherosclerosis, remove toxins and heavy metals, and also strengthen the body's ability to resist the development of malignant neoplasms..
Is it possible not to be interested in this culture? Let's take a closer look at agricultural techniques and the most important rules for growing this cabbage..
Types of broccoli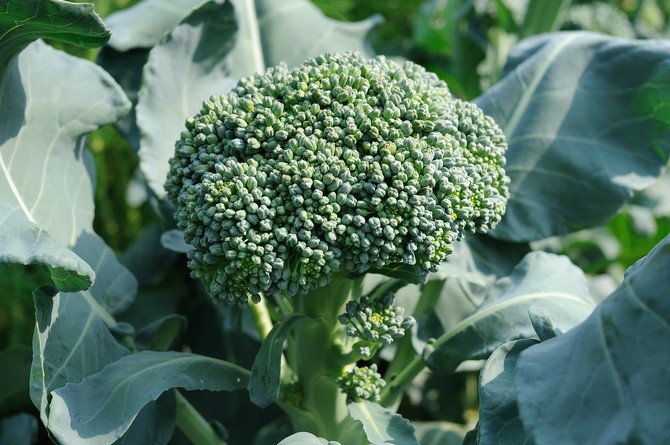 In appearance, broccoli resembles cauliflower, only of a grayish-green hue. Also, like a relative, a dense head is eaten, which consists of unopened flower buds.
It is interesting to know that broccoli as an agricultural crop is grown in two types:
Common – in which a thick stem is crowned with a large head of cabbage, made up of dense groups of inflorescences;
Italian or asparagus – it has many thin stems with small green heads.
Features of broccoli cabbage that you should pay attention to
This cabbage, like its sisters, loves good lighting and humidity. Optimum indicators of moisture level in the soil – 70%, and in the air – 85%.
Broccoli is more hardy than cauliflower, it feels better both in heat and in freezing (it can survive at -7 ° C). But the best for her are moderate temperature limits – from 16 to 20 ° С.
Broccoli actively releases lateral stems from the axils. So do not rush to say goodbye to the plant after you cut the central head of cabbage. A good harvest can also be harvested from the sides..
If the cauliflower needs to be shaded, then broccoli does not require this at all..
The vegetable develops well on a loggia or balcony.
Growing broccoli seedlings and planting in open ground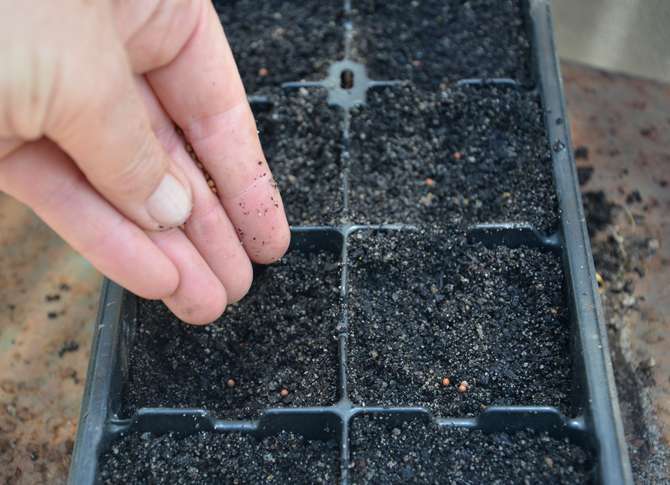 As a rule, broccoli is grown by seedlings, however, its sowing time is quite possible not to suffer with boxes at home, and in the last days of April or the first of May to sow seeds for seedlings in a greenhouse. When young plants release the fifth and sixth true leaves, broccoli can be transferred to open soil..
To harvest cabbage later than usual, some of the seeds are laid directly in the ground in the first days of May..
Broccoli loves loose, rich soils where the pH is slightly alkaline or neutral. Try not to plant the vegetable where cruciferous crops were grown last summer: radishes, turnips, cabbage. It is best to plant our beauty after potatoes, legumes or carrots.
Someone from summer residents prepares soil for broccoli in advance in the fall: adds potassium and phosphorus – with the help of superphosphate, manure, potassium nitrate, makes liming (it is good to use powdered egg shells).
Those who do not carry out autumn preparation can make up for the lack of nutrition with the help of dressings..
When the time comes to designate broccoli permanently, do so in the afternoon or cloudy weather. Planting scheme: distance between holes – 40 cm, row spacing – 50-60 cm.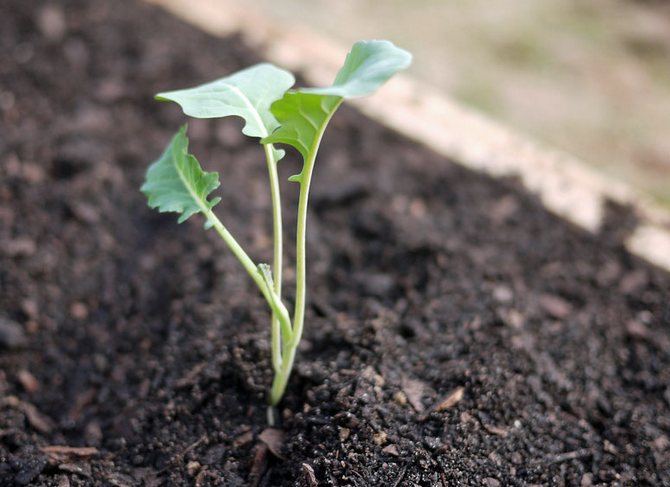 You need to dig deep holes. If the soil has not been fertilized in advance, a composition of compost, dolomite flour and ash is placed in the holes. Each seedling is sprinkled with soil a little (2-3 centimeters above the root collar), trying to keep the main part of the stem in the hole. As the seedlings grow, soil should be poured into the grooves before they are compared with the general level of the garden..
To protect the newly planted young from cruciferous flea beetles, it is advised to cover the seedlings with a light non-woven cloth. When folk methods cannot calm the unbelted pest, the plants can be sprayed with Iskra. However, the procedure must be carried out no later than three weeks before the appearance of the inflorescences. Further, flea beetles are fought by dusting with a mixture of crushed tobacco and ash or spraying with ash infusion.
Watering, care and feeding broccoli cabbage
After young broccoli plants take root in a new place, caring for them is expressed in systematic weeding, timely feeding and watering, as well as in fluffing the soil after these procedures.
You need to water the cabbage every other day (in the heat – up to 2 times a day) in the evening. For broccoli to grow and develop well, the soil must be 12-15 cm moist.
The vegetable loves additional nutrition, therefore, even if you have applied a sufficient amount of manure or other fertilizers to the soil, broccoli is still pampered with dressings..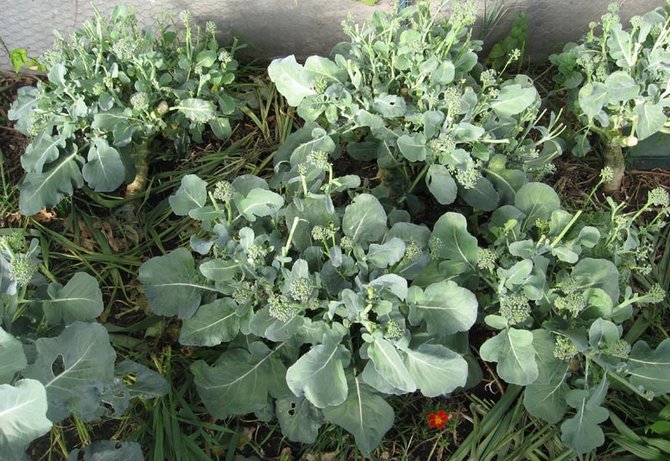 After rooting in a new place and the beginning of active growth, the plants are fed with an infusion of chicken droppings (one in twenty) or an infusion of mullein (one in ten). After 2 weeks, the procedure is repeated..
The third feeding is carried out during the formation of the first inflorescences. Here you can apply organic matter with potassium humate or mineral fertilizers in solution: superphosphate is taken for 10 liters of water – 40 g, ammonium nitrate – 20 g, potassium sulfate – 10 g.
Subsequent feeding is done after cutting the central head of cabbage in order to stimulate the growth of lateral stems. For the same amount of water, 30 g of potassium sulfate, 20 superphosphate, 10 g of nitrate are used.
In addition, broccoli has a positive attitude towards watering with nettle or comfrey infusion and adding ash to the soil (one glass per one square meter).
Harvesting and storing broccoli
The heads of this cabbage do not need to be re-grown – they are harvested green, before the buds open and bloom with small yellow flowers. An overripe vegetable in dishes is absolutely not tasty..
The central shoot is cut first (after it reaches ten centimeters in length), then they wait for the harvest from the side stems. Not only inflorescences are used, but also the shoot itself, since its top is as juicy and tasty as the buds.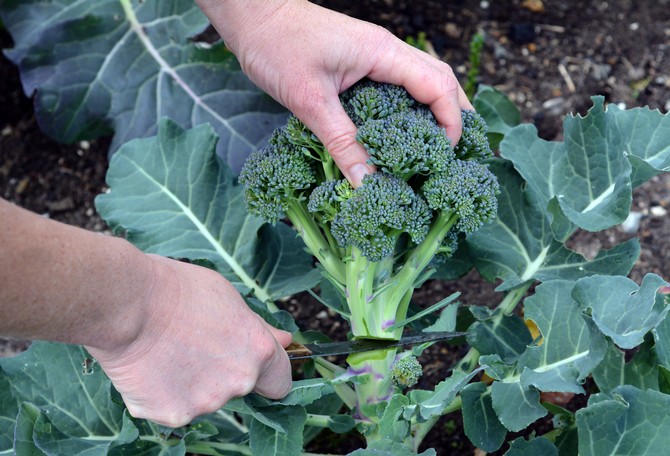 It is better to harvest early in the morning so that the broccoli heads do not have time to plant under the hot rays. Cabbage harvested in early summer does not lie for a long time – it can be stored in a cool place for about a week or two. It is better to cook the vegetable right away or freeze it. But late broccoli, ripe in October, is perfectly stored in the refrigerator or basement at a temperature of 0 ° C.
There is another interesting feature to keep in mind when removing broccoli. After pulling the plants out of the ground, do not immediately transfer them to the compost pit – let them just lie in the open ground for a month. Broccoli tolerates light frosts well, so even plants dug from the soil will try not to miss the scanty chances to tie small inflorescences. And you will harvest another late, almost wintry, harvest!